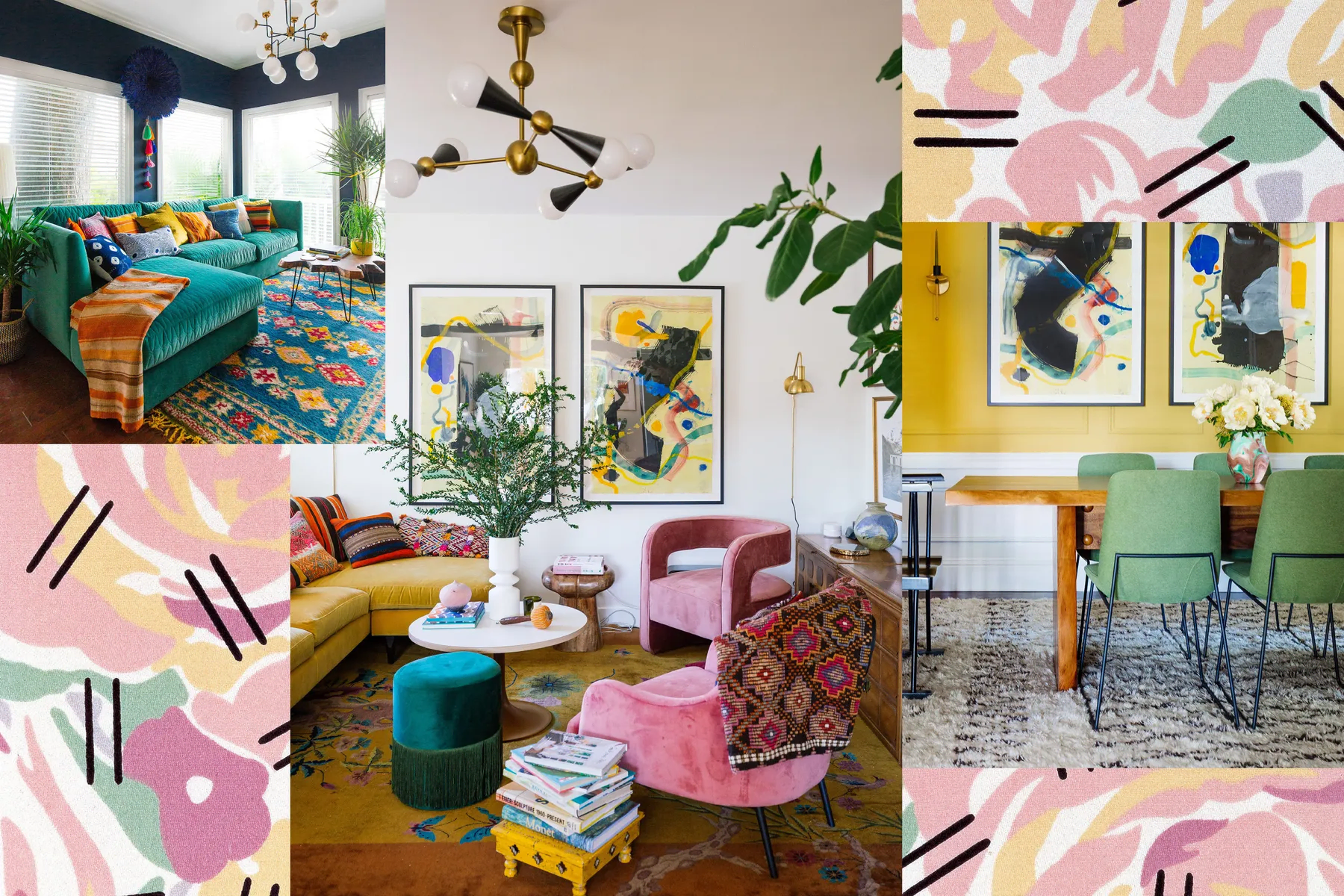 Go bold or go home! Photo Source: Curbed
Maximalism, the alternate universe of minimalism.
A world full of colours, patterns, texture and freedom!
Game-changer for your home.
Get inspired by these three maximalist influencers to embrace your creativity in home designing.
Maximalism, the opposite of minimalism, which embraces simplicity, is one method for those with creative spirits to allow themselves to embrace the freedom of blending colours, textures, patterns or practically anything in their house. 
Good news for the creative people out there because maximalism might be your ticket to a world of endless possibilities for interior design. The rules for maximalism design are very straightforward, where all you need to do is to be bold and use your creativity to your fullest extent when experimenting and playing with your furniture. Check out and learn the joy and thrill of enjoying maximalism through these three maximalist influencers!
1/ Maitri Mody (United States)
IG: @honeyidressedthepug
TikTok: @honeyidressedthepug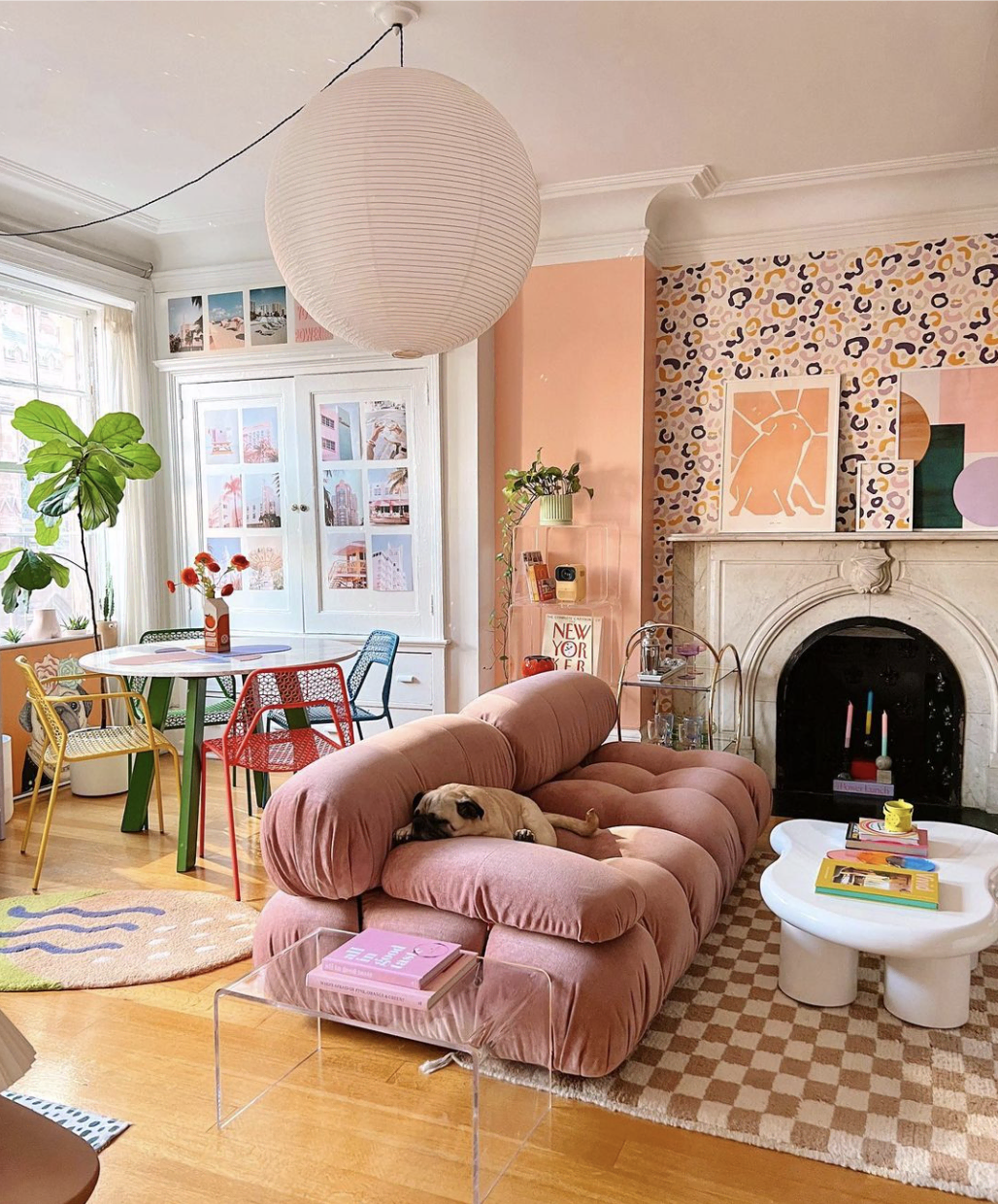 Oh, to be a dog who can sleep soundly on a pink sofa! I love PINK! Photo source: Instagram
Famous for her hobby of matching outfits with her pug, her colourful home is also her speciality! Talented in mixing colours and patterns, it is guaranteed that her house would never bore you. Growing up in a colourful city, Mumbai, colours have always been Maitri's biggest inspiration. As soon as you enter the house, you would be welcomed by the cheerful coloured and fancy shaped furniture in her home. Not to forget, her cute little pug, Ari, who would also brighten your day! 
As an animal lover and a pet owner, I personally had so much fun checking out her every single daily update of her lively house and her pug. Such a wholesome content! It is inspiring and relatable for pet owners to be showing off their home and pets together, displaying healthy relationships between them.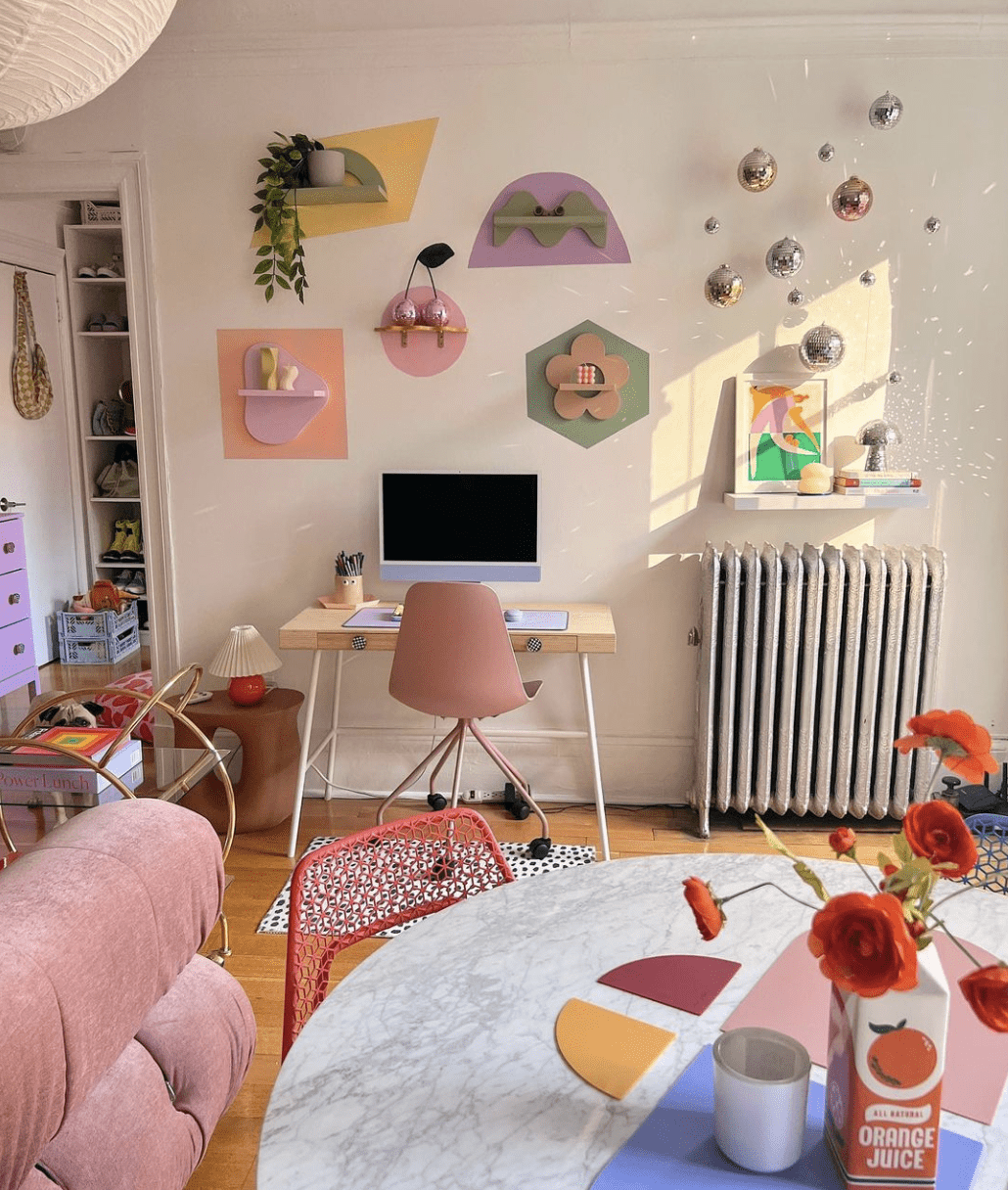 The colourful working space. Perhaps, no more Monday blues? Photo source: Instagram
2/ Dani Klarić (United States)
IG: @daniklaric
TikTok: @daniklaric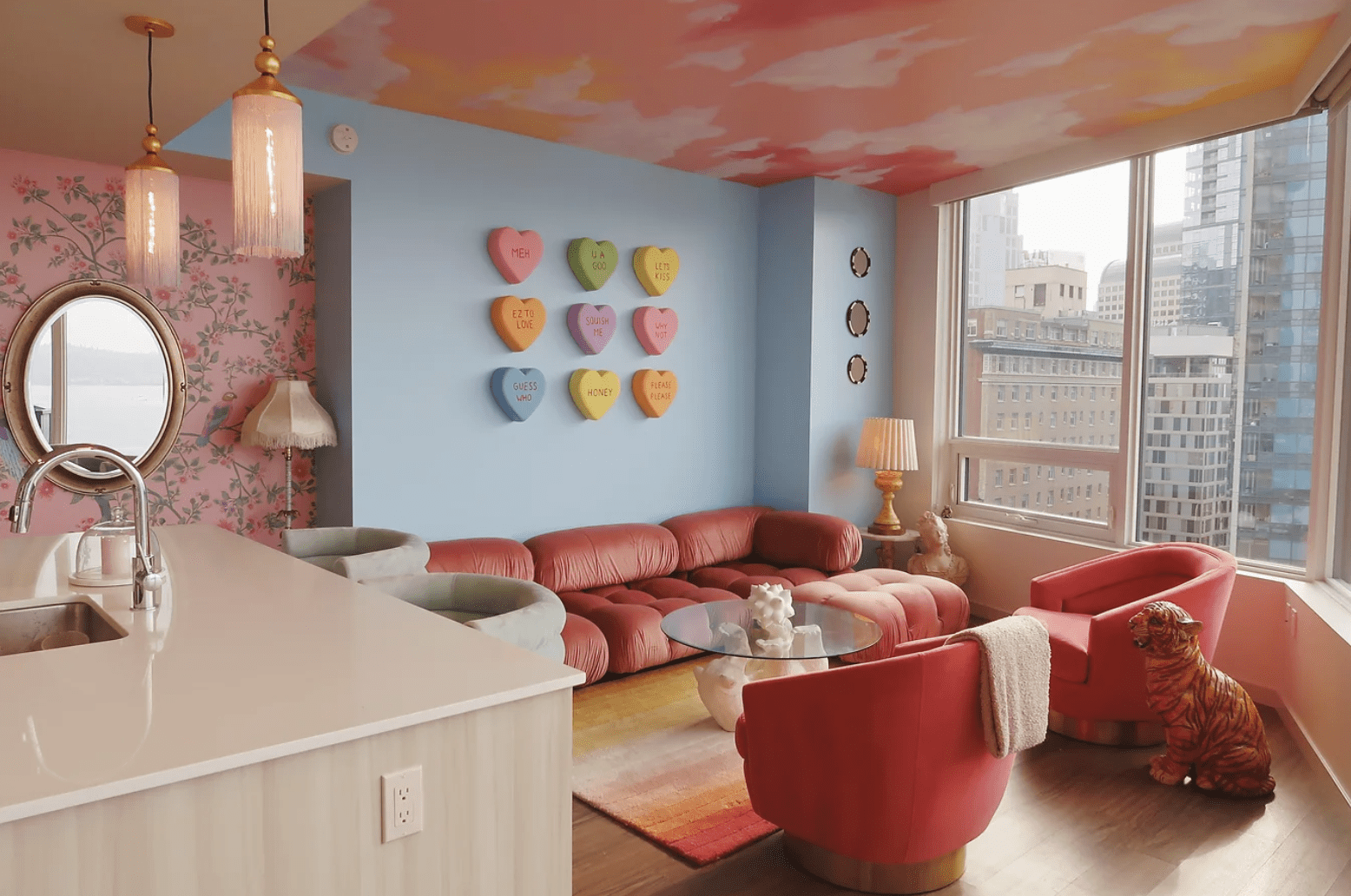 Those colourful little hearts on the walls are definitely a must-have decoration for your home. Photo source: Romeo & Juliet, Dani Klaric
Meet our next maximalist influencer, who is known for her playful and eclectic decorating style! Dani, a Mexican interior decorator, surely knows her way of playing around with a variety of elements when decorating. From her own house to all her numerous projects, we can see how she perfectly blends multiple colours and patterns, making each element in the room seem like a complete union.
One special thing about her TikTok is every little process of her interior design projects that she shares with her followers. From sketching everything on her iPad to making it a reality, every little step is important. It is fascinating to see all the processes and her efforts. The results are also very satisfying every single time, so you can always look forward to her updates. Trust me, it is worth the wait!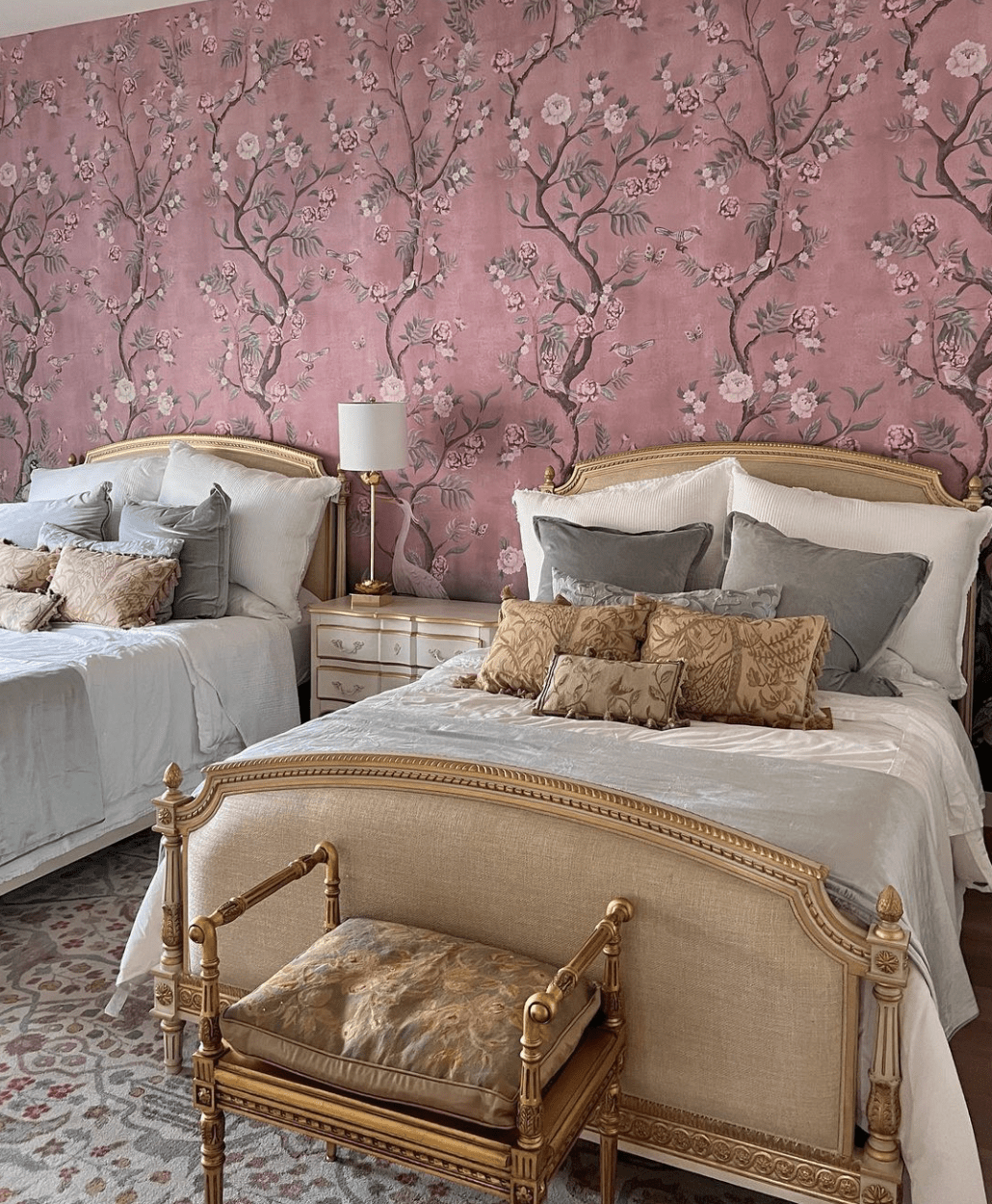 The final look from one of her projects. Are you obsessed? Because I am obsessed with the elegant furniture and that flower wallpaper! Photo source: Instagram
3/ Josh & Matt (Australia)
IG: @joshandmattdesign
TikTok: @joshandmattdesign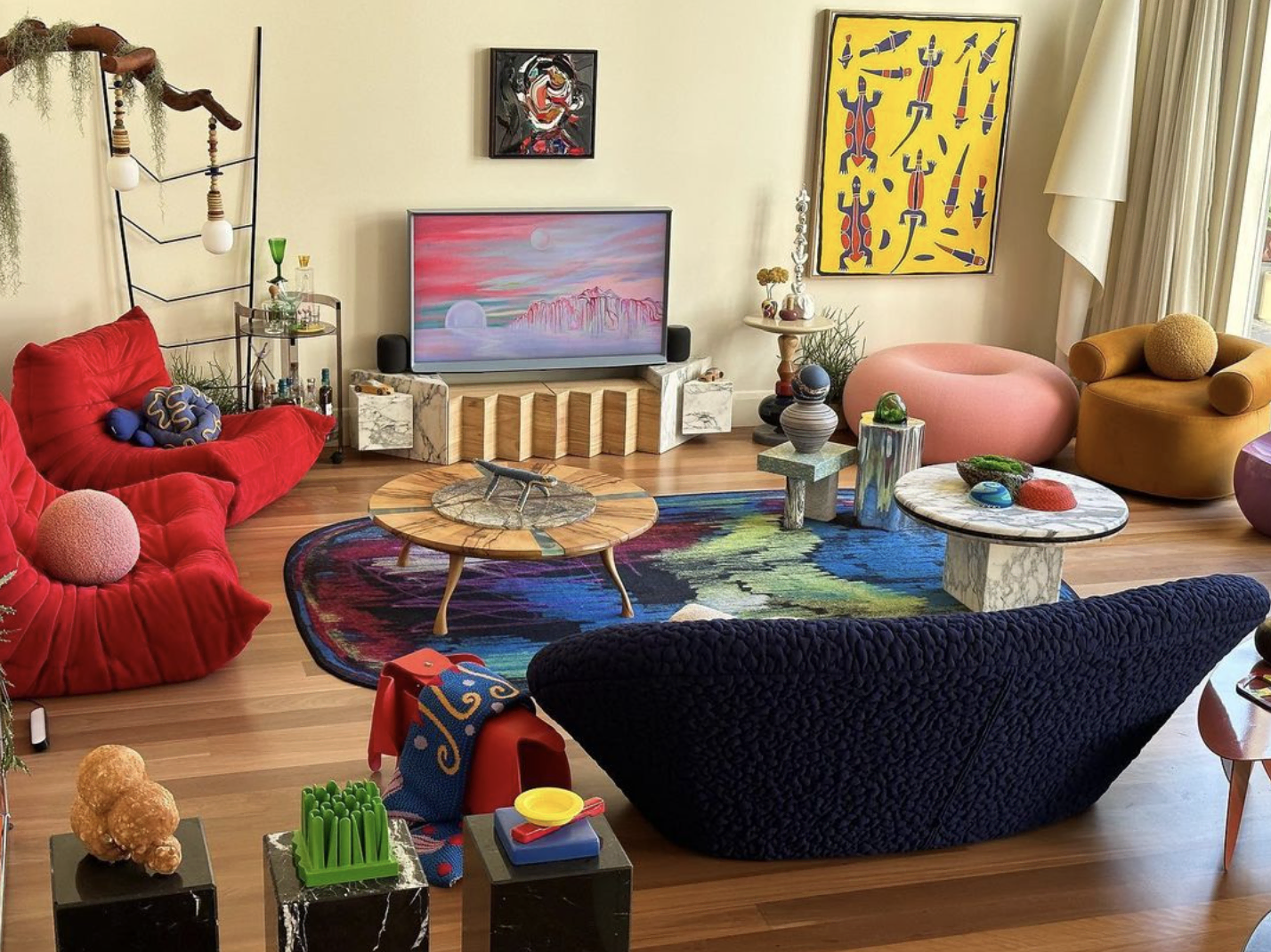 A lot of different elements and decorations matched perfectly, just like the maximalist couple itself. Photo source: Instagram
A match made in-heaven couple, Josh and Matt is another maximalist designer duo that is amazing in their own ways in taking maximalism interior design to a whole new level. Every part of their cool house is decorated with various colourful furniture and some bizarre sculptures and artwork that complement the rooms. If you are looking for some inspiration to decorate your house with some funky decorations, this account is definitely a must-follow!
Not only that, I am very interested in this couple as they frequently promote recycling vintage decorations from vintage stores. Being a thrift lover myself, I really love seeing influencers who encourage people out there to invest their money on thrifting. All those stuff in vintage stores or preloved stores have so much potential to be reinvented into something more than just what they already are such as for your home decor, and Josh & Matt are talented in doing so! So, don't miss out on this!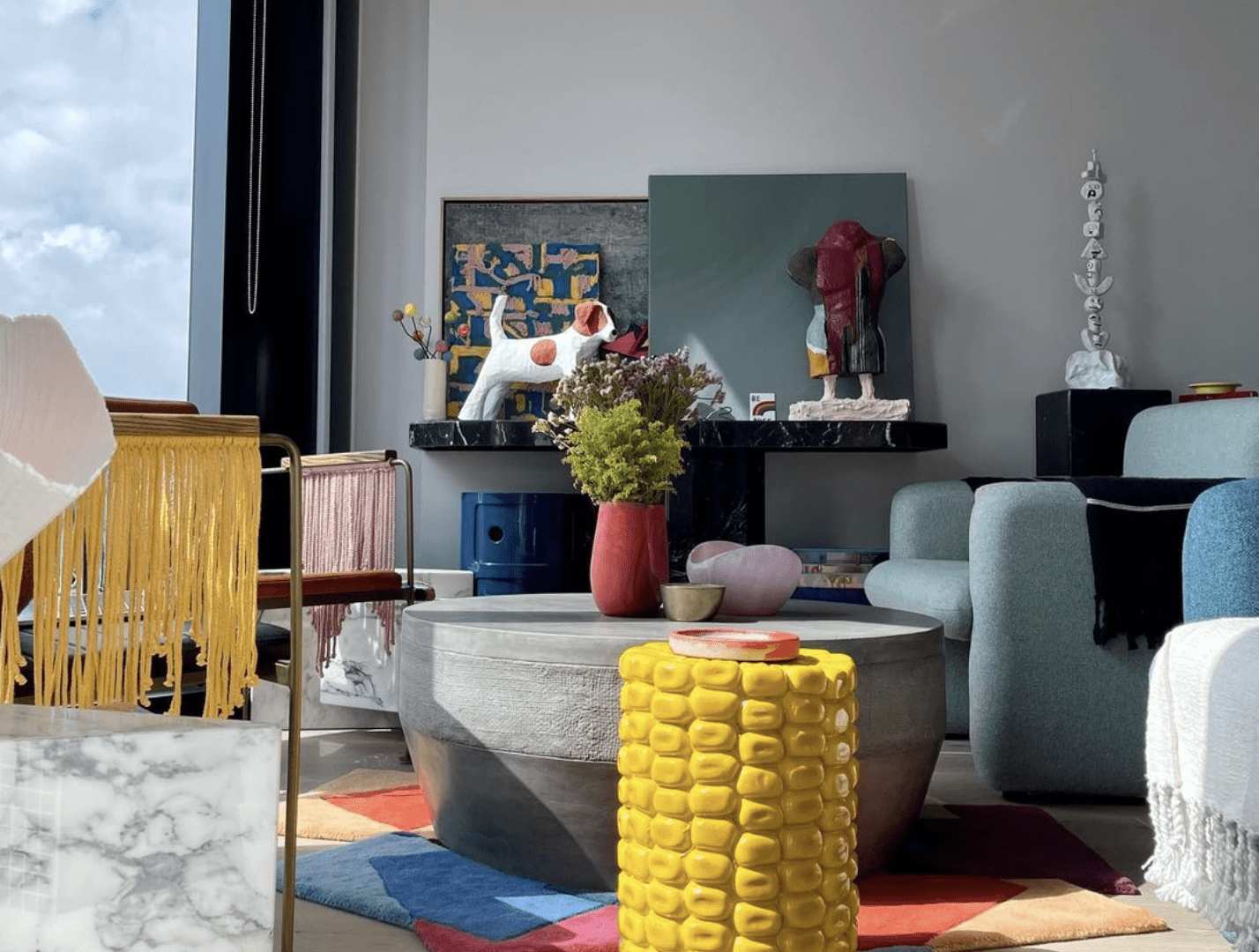 Who would have thought that corn could be one of your home decorations! Photo source: Instagram
As I'm writing this, I gained a lot of knowledge on maximalism which never fails to amaze me in such an interesting way. As amazing as minimalism, I believe that maximalism has its own uniqueness and charms. I can see that maximalism will never put a stop to our creative minds where we can always express ourselves endlessly. As someone who believes in freedom of life, maximalism would be something that I would like to try in the future and I think everyone should try as well!
Click the link below for more awe-inspiring content!
Using Antiques In Your Home: A Beginner's Guide