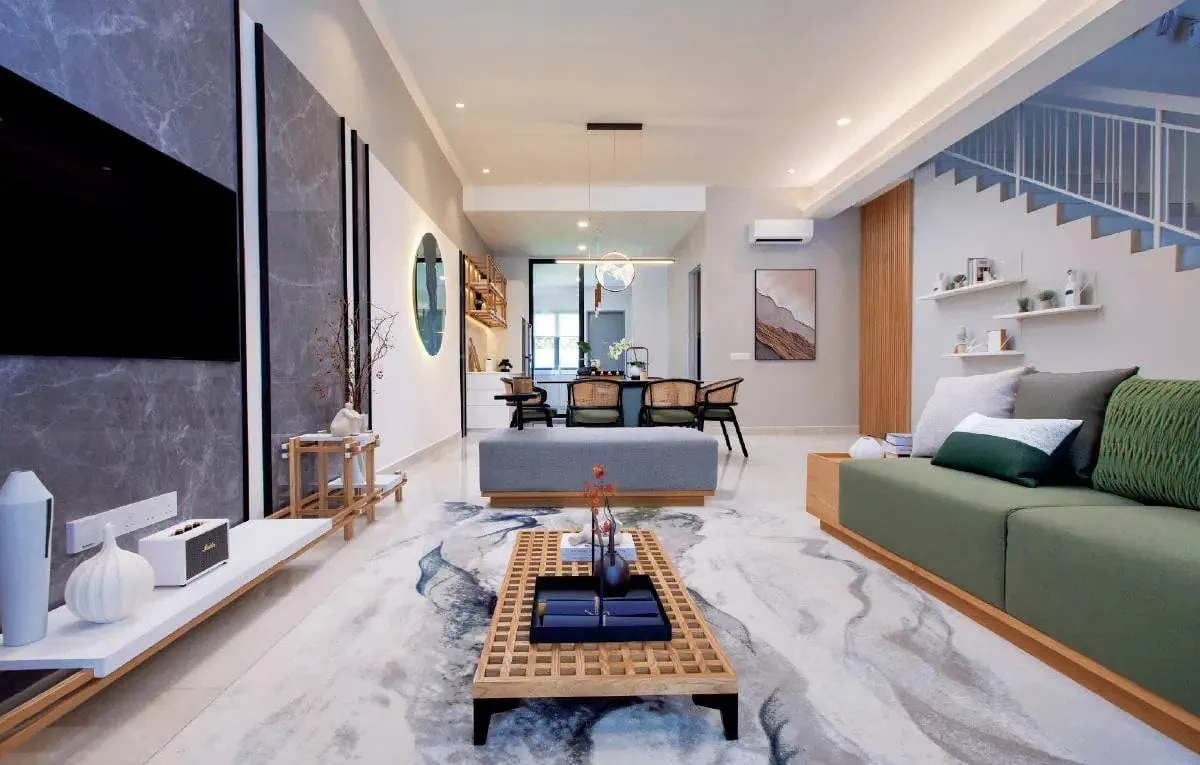 Elevate Your Relaxation Game in the Exquisite Living Room of Avela: Where Style Meets Comfort
Discover the perfect harmony of family, comfort, and community at Avela, IJM Rimbayu's newest gem.
Get ready to embark on a journey where generations come together to create an extraordinary living experience.
Are you on the hunt for the perfect home that caters to your entire family? Look no further than Avela at IJM Rimbayu! This remarkable development by IJM Land is rewriting the rules of multigenerational living, where families can flock together under one roof, creating a support system that lasts a lifetime. Get ready to spread your wings and explore the endless possibilities of this inclusive and grateful community.
IJM Rimbayu: A Township That's Soaring High! 
When it comes to township and property development in Malaysia, IJM Land is undoubtedly at the forefront. And IJM Rimbayu is their shining star, captivating homebuyers with its visionary planning, creative flair, and remarkable growth. As IJM Rimbayu celebrates its 10th anniversary, it has become one of the most sought-after addresses in the southwest of the Klang Valley. Now, let's dive into the latest addition to this thriving township—Avela!
Avela Homes: Where Generations Unite 
Imagine living in a home where young and old come together to create a beautiful tapestry of love and support. That's exactly what Avela offers! These homes are designed for multigenerational families who cherish the bond between parents, children, and grandparents. With Avela, you can live under the same roof or even on the same street as your loved ones, creating a community that celebrates the achievements of the past and paves the way for future success.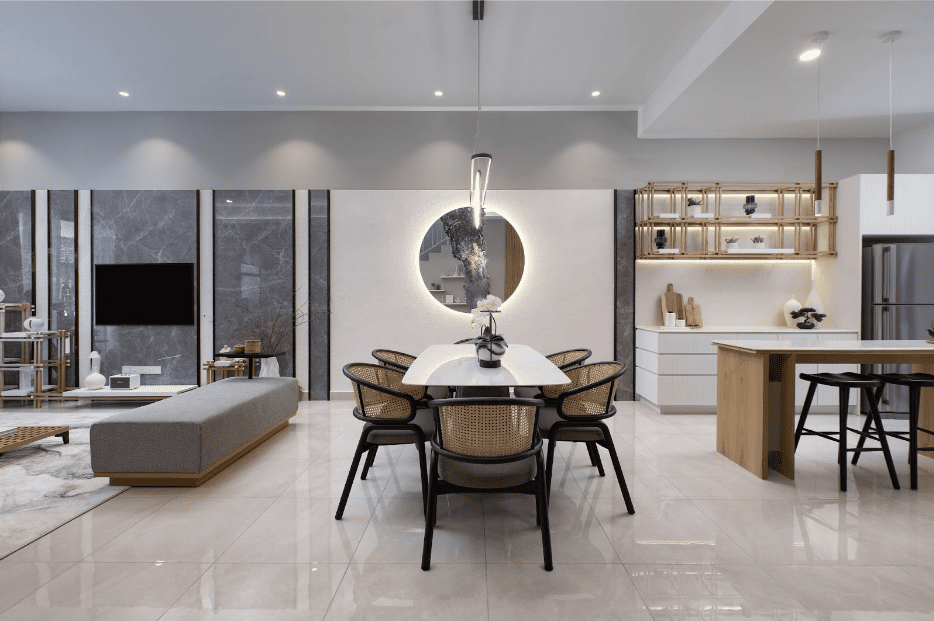 Embark on Epicurean Journeys and Unforgettable Bonds in Avela's Living Room-Kitchen Symphony
Where Every Detail Matters 
Step inside Avela, where spacious and thoughtfully designed homes await you. Choose between the 22′ x 70′ double-storey Link Homes (Type B), priced from RM1,062,800, or the larger 30′ x 70′ double-storey Garden Homes (Type A), priced from RM1,436,800. These modern abodes feature angular designs that exude a sense of openness and freedom. With four bedrooms, there's ample space for your entire family. The industrial touches, such as metal and vent blocks, add a contemporary flair to the charming white facade. Experience the perfect blend of style, functionality, and affordability at Avela.
But the excitement doesn't stop there! The Garden Homes showcase unique tilted triangular roof lines, while the Linked Homes feature a low pitch and cantilever design. The homes are strategically oriented to keep the harsh afternoon sun at bay, ensuring a naturally cool and comfortable environment. And let's not forget the ample gardens and two master bedrooms in the Garden Homes, perfect for creating unforgettable multigenerational memories!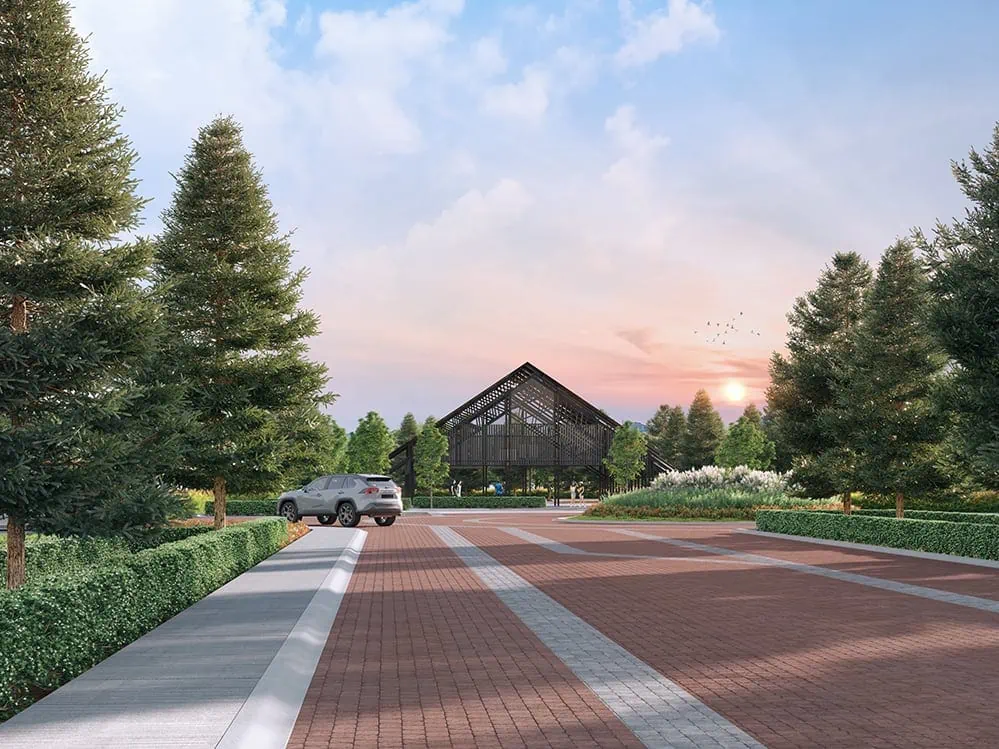 Discover the Enchanting Beauty of Avela: Explore the Serene Park, Signature Pavilion, and Picturesque Pine Walk
More Than Just a Home, It's a Lifestyle! 
Avela isn't just a collection of stunning homes—it's a vibrant community that offers an array of amenities to suit every lifestyle. From the moment you enter, you'll be captivated by the grand entrance, leading you to the Signature Pavilion and Pine Walk, where you can take leisurely strolls and admire the meticulously designed landscapes. Throughout the development, you'll discover Rain and Pocket Gardens, injecting a touch of greenery into your daily life. 
But that's not all! Avela goes above and beyond to provide facilities that are typically reserved for high-rise living. Picture yourself meditating in the serene pavilion, working out in the outdoor gym, or enjoying a refreshing jog along the 2 km jogging path. Sports enthusiasts will find joy in the skateboard and rollerblade park, as well as the rock climbing wall. And for a dose of friendly competition, head to the basketball court, which doubles as a multipurpose hall. Avela truly knows how to create a lively and engaging environment for all ages!
Join the Club: Unforgettable Experiences Await! 
As an Avela resident, you'll also have access to The Club @ IJM Rimbayu, an exclusive clubhouse offering a wide range of amenities. Dive into the Olympic-sized swimming pool, challenge friends and family to a game of badminton or squash, or break a sweat in the fully-equipped gym. And for some well-deserved relaxation, indulge in the sauna or showcase your singing skills in the karaoke room. The Club @ IJM Rimbayu ensures that your leisure time is filled with unforgettable experiences.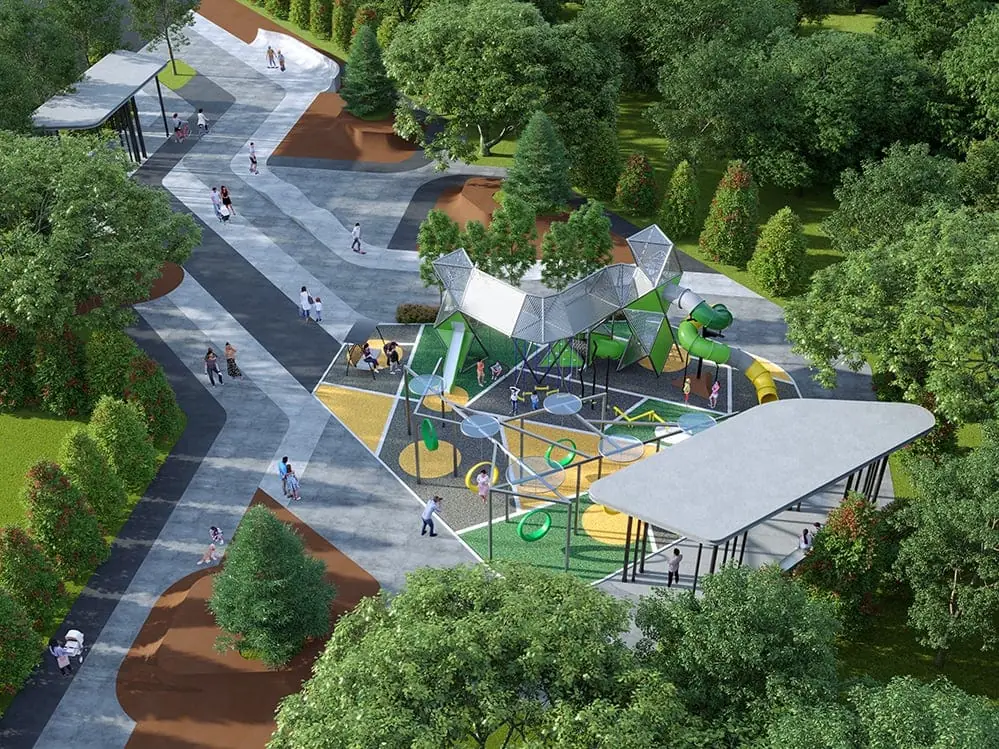 Embrace Youthful Bliss at Avela's Multigenerational Play Area: Swing Together, Cultivating Healthy Routines for All
Avela at IJM Rimbayu is not just a housing development—it's a gateway to a vibrant and caring multigenerational neighbourhood. Embrace the concept of inclusive living, where family bonds are cherished, and social connections are fostered. With Avela, you can build a lifetime of memories alongside your loved ones, creating a legacy of togetherness for generations to come. Don't miss out on this opportunity to soar high and make Avela your new home sweet home! Discover Avela's unparalleled offerings at www.rimbayu.com.
Click the link below for more awe-inspiring content!
Sierra Hijauan, A Masterpiece Of Style And Sophistication