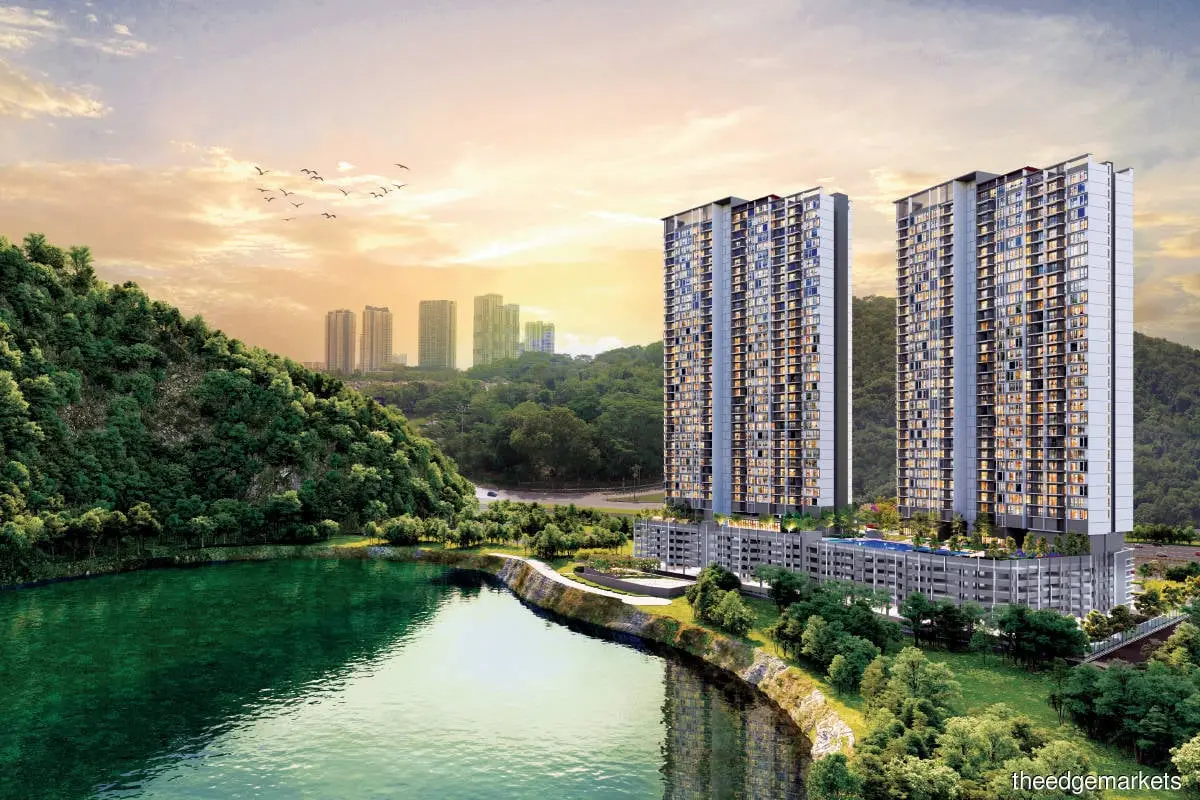 This article was originally published by Rachel Chew on The Edge Malaysia
Lakeside living is not common in a ­bustling city such as Petaling Jaya, therefore, ­Ehsan Bina Group was extra cautious in planning the RM450 million 4.39-acre ForestHill Residences within ForestHill in Damansara Perdana.
"ForestHill is our single largest property development in terms of GDV (gross development value) so far. The two-phased residential development carries a combined GDV of RM700 million. Our first phase, ForestHill Damansara, which consists of 70 bungalow villas and semidees, was launched in 2012 and completed in 2016. It is 95% sold and the occupancy rate has been high at above 80%, and mainly owner-occupied," Ehsan Bina executive director Jamie Lai shares with City & Country in an interview.
"Most of our buyers bought this place for the rare and exclusive natural setting. We have a seven-acre lake with the forest as a backdrop. In the morning or after it has rained, you will see mist rolling over the hill and lake. You will not feel like you are living in one of the busiest cities in Selangor," says Jamie as she walks us through the new sales gallery that overlooks the blue-green lake.
While the lake does not have a name, Jamie says it is widely called Scenic Lake by residents of ForestHill Damansara.
"It was an ex-mining lake. We do not know the exact depth but it is not shallow for sure, judging from the emerald colour of the water. Our founder decided to preserve the lake when we purchased the tract sometime in 2010. We installed a full set of filtering systems and we have an in-house maintenance team to maintain the lake to ensure it is always clean and pleasant. Today, it is also ForestHill's stormwater retention pond," she notes.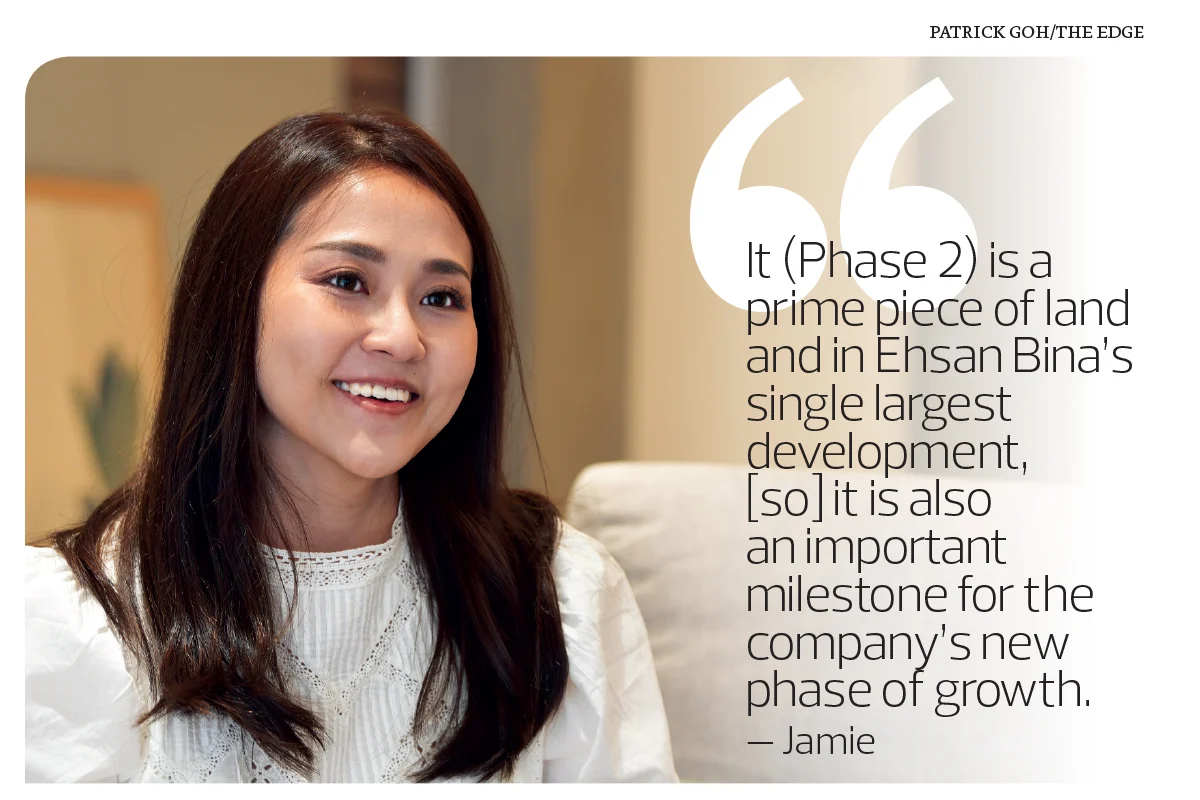 The lake is exclusively for the residents of ForestHill. Currently, ForestHill Damansara's residents get to enjoy an overall view of the lake and mountain from the clubhouse, which boasts an event space, an infinity swimming pool, a children's playground and a gym.
"The design of ForestHill Damansara was inspired by the natural setting. And it was a successful launch. In our second phase, we will not only carry on with the natural concept, but also incorporate more green and sustainable features," says Jamie's sister Adelynn, who is also an executive director of the company.
Flexible living amid nature
ForestHill Residences offers 618 condominium units in two towers — Tower A (38 storeys) and Tower B (35 storeys). Built-ups range from 953 to 1,527 sq ft with a minimum of three bedrooms and two bathrooms. At least two car parking bays are included. Selling prices start from RM580 psf.
"We are targeting nature lovers who want to be close enough to amenities. We are also looking to attract first-time homebuyers as our selling price is very competitive in this area. We are fairly affordable as we have only 618 units in a 4.39-acre parcel," Adelynn notes.
She highlights that ForestHill Residences is an inclusive project designed for one-of-a-kind city living that is suitable for raising a family or enjoying life. "Be it young professionals, small families, multigenerational families or downsizing retirees, we have something for everyone. It is why we have five layout types."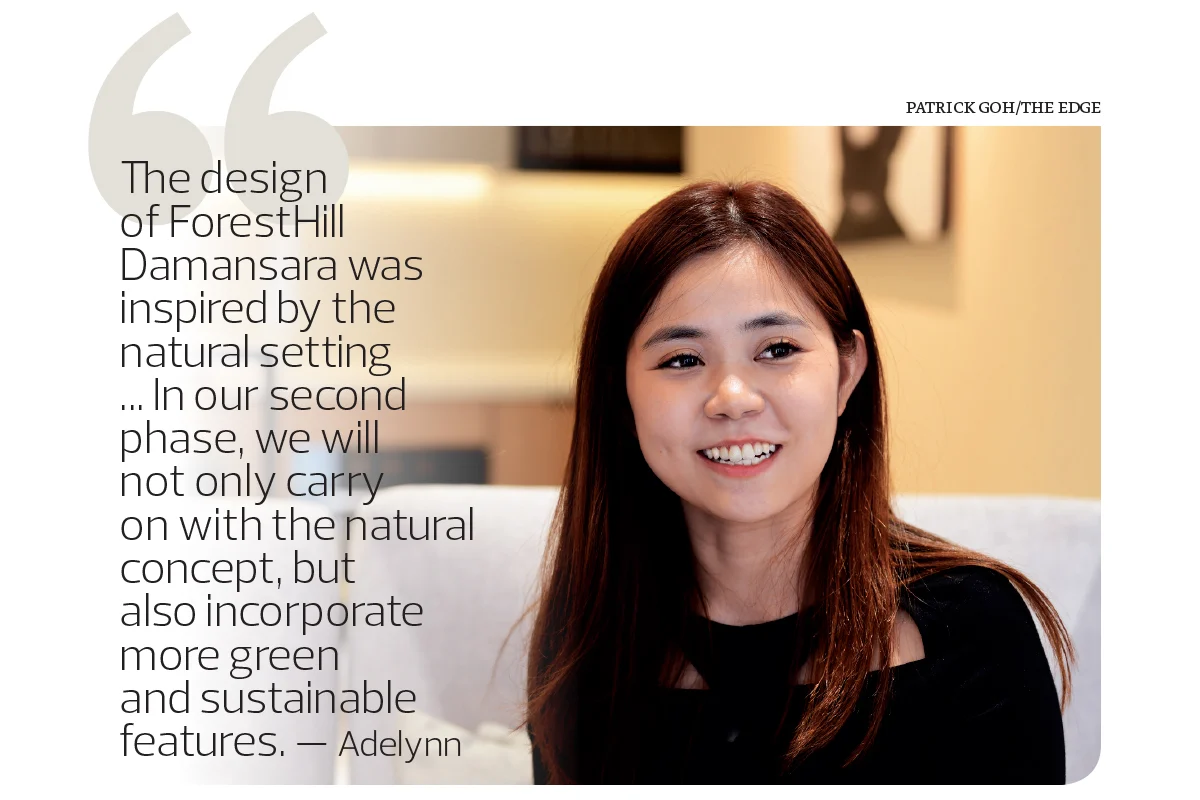 Additionally, for the limited larger units, buyers are able to add a partition wall to make it a dual-key unit. "In our initial plan before the Covid-19 pandemic, we had fewer layout types and built-ups were smaller. As the pandemic has changed what buyers want in a property, we adjusted our layouts to be more spacious and flexible. For example, not everyone appreciates a dual-key unit. But, in case the owner wants it to be dual-key for privacy or investment purposes, our 1,401 and 1,527 sq ft layouts are designed to be able to be converted into a dual-key unit by simply building a partition wall in the foyer area.
"I think it is important to highlight that homebuyers today are very knowledgeable and know exactly what they want. As a developer and contractor with almost 35 years of industry experience, we believe flexible layouts will be appreciated by the market today," Adelynn explains.
Apart from that, Ehsan Bina has sacrificed some built-up areas to position the two towers to face the lake or hill, so that all units will have a natural view with sunlight and ventilation entering through full-size windows and sliding doors.
"We also maximised the open spaces in the facilities deck located at Level 5 and the rooftop of each tower to encourage a natural healthy lifestyle," Adelynn notes.
ForestHill Residences offers a range of family-oriented facilities such as full-size basketball and futsal courts, putting green, open lawn, children's playground, botanical garden, forest cabana, viewing deck, BBQ area, multi-purpose hall, infinity pool, wading pool, gym, reading room, sauna and lounges. There will also be a sky deck on each tower. The estimated maintenance fee is 35 sen psf, including sinking fund.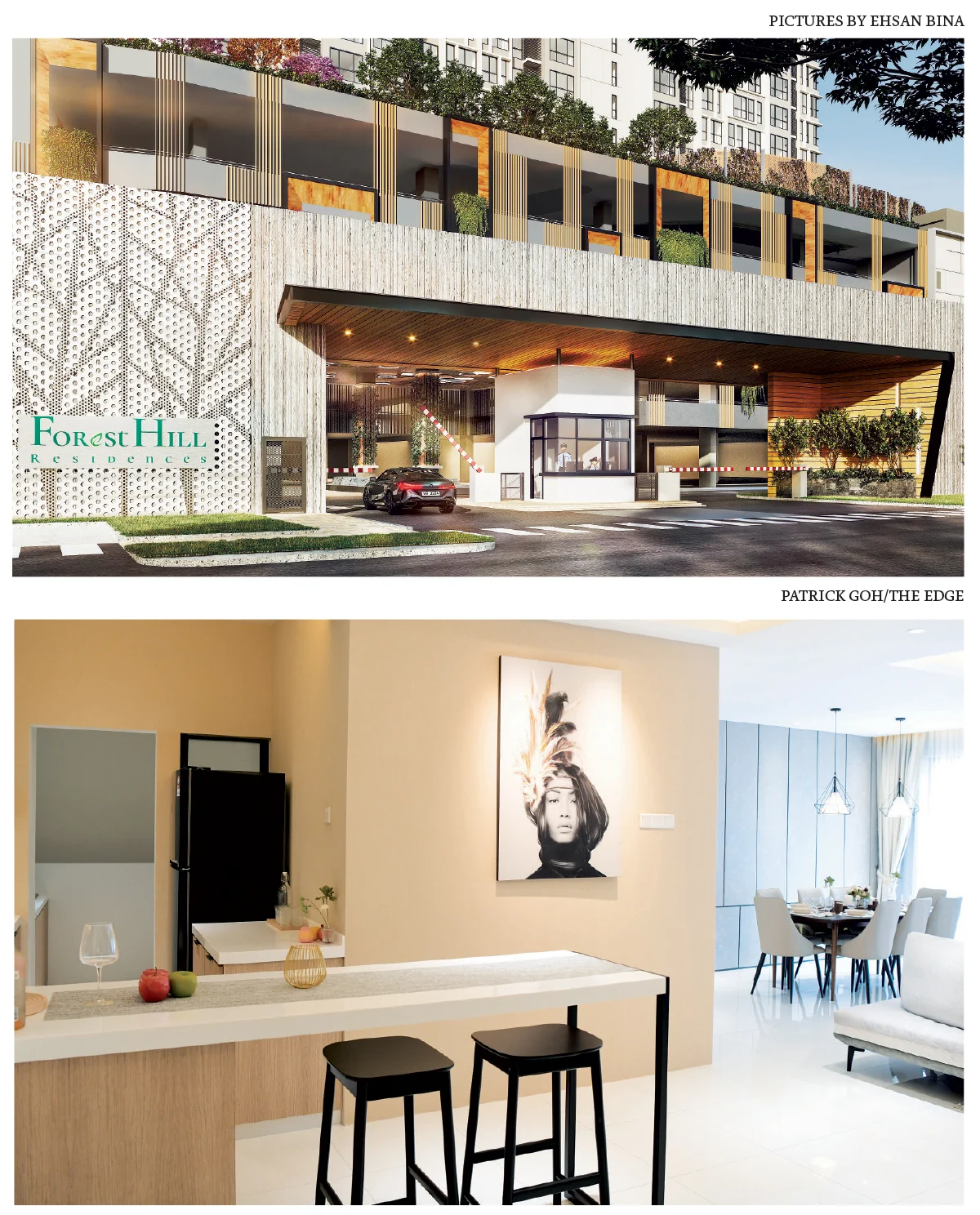 "As sustainability is one of the core design concepts of ForestHill Residences, we have incorporated green technology in the building such as EV charging pods and a rainwater harvesting system," Adelynn shares.
ForestHill Residences is surrounded by mature neighbourhoods such as Bandar Sri Damansara, Kepong, Mutiara Damansara, Bandar Utama, Taman Tun Dr Ismail and Kota Damansara, whose plethora of lifestyle amenities are within easy reach. There are private, public and international schools, colleges and universities, shopping malls, hospitals and medical centres, hotels and commercial hubs, as well as offices within a 10km radius.
It is also well connected, thanks to major highways such as Damansara-Puchong Expressway (LDP), Sprint Highway, New Klang Valley Expressway (NKVE) and the recently completed Damansara-Shah Alam Elevated Expressway (DASH). The nearest MRT station is Mutiara Damansara (4.5km away).
When asked about traffic congestion in Damansara Perdana, Jamie shares that the main access road will be widened from the current two lanes to four lanes. She adds that the news has certainly helped to boost buying interest in ForestHill Residences as Tower A, which has been open for sale since January this year, has achieved a 65% take-up rate. "Given the encouraging response, we are planning to officially launch the project and open Tower B for sale in June."
She is confident about sales as she believes that the property market has bottomed out and is recovering from the pandemic. "After the MCO (Movement Control Order), there is pent-up demand from homebuyers. We may not see the market boom yet but I believe it is coming soon. It would be too late if we only launched the project when the market has bounced back.
"We have had this project in the planning stage since we completed Phase 1 in 2016. All this time, we have been preparing and tweaking the details while waiting for the right time to launch. It is a prime piece of land and in Ehsan Bina's single largest development, [so] it is also an important milestone for the company's new phase of growth," says Jamie.
Creating new business opportunities
Founded in 1989 by Lai Choon Kong, Jamie and Adelynn's father, Ehsan Bina is today a reputable construction company with a strong order book of RM400 million. The firm successfully completed M Resort & Hotel Kuala Lumpur in Bukit Kiara, Kuala Lumpur, and Silverlakes Village Outlet in Batu Gajah, Perak, during the pandemic despite strong construction and property development headwinds.
"ForestHill Residences marks the passing of the business from our founder to us. The company is going through a transitional period with business restrategising. We hope [ForestHill Residences] will help us achieve another high in the [property development] business, as well as shout our name in the property development industry," Jamie shares.
Ehsan Bina has been focusing heavily on the construction business for the decades, with only a handful of property development launches. Some of the completed projects are Casa Villa, a zero-lot bungalows and semi-detached development in Shah Alam; Casa Residence, which comprises 3-storey terraced link houses in Bandar Mahkota Cheras; and Ijok Business Park, a commercial development comprising 2-storey shop offices.
But, moving forward, the sisters will be focusing on diversifying into property development to further unlock the potential of Ehsan Bina. "Construction is a very tough business today. To bring Ehsan Bina to the next level, we have to diversify its revenue source. Construction and property development complement each other, so growing the property development business will be our focus for the next few years.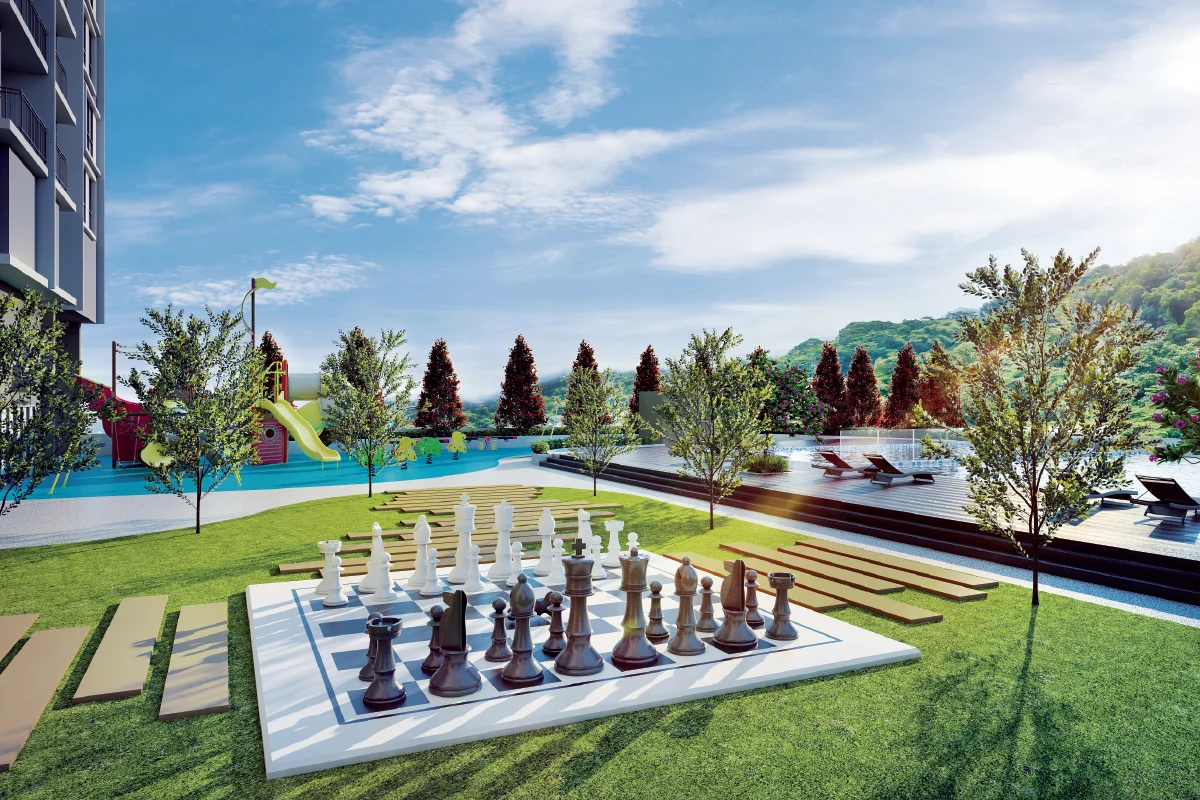 "However, we are not looking to transform Ehsan Bina into a property developer completely. Construction is still our bread and butter so we will not let it go. Also, having our own construction team gives us the flexibility to decide where and when to build. It also gives us the ability to control our costing and build quality," Jamie says.
While she declines to share the revenue contribution of the property development division to the company, she hopes the business will be able to contribute more than 50% of the total revenue in the next five years and become a household name in Malaysia one day.
"We will be focusing on boutique and meaningful developments within the Klang Valley. Currently, we have land located in Semenyih and Sungai Long. We are looking to launch two projects next year," Jamie reveals. She adds that the four-acre parcel in Sungai Long will be developed into a resort-style residential development while the 4.5-acre parcel in Semenyih is to be used for a commercial shoplot development.
Meanwhile, Ehsan Bina is also looking to launch the second phase of Saujana Teknologi Rawang soon. "We launched Phase 1, which has 66 units of semidee and bungalow factories, in 2018. We are looking to launch the second phase, which has only eight semidee factories, in the third quarter," she shares, adding that details are still being finalised.
The company is also actively looking for potential development land bank, particularly pocket lands in mature areas in the Klang Valley.
"Our strategy has always been to be prudent. We would rather not look into areas that we are not familiar with. As we have years of experience in constructing different product types, we hope we can be an all-round developer and build what the location really needs," Jamie notes.
Apart from land sourcing, Ehsan Bina is also planning to list its construction arm on the ACE Market of Bursa Malaysia within the next two years.
"In the past, we wanted the company to stay private. However, I think it is time for us to go public with our experience, industry reputation and credibility. It is also a strategy aligned with our long-term business development plan," says Jamie.
Click the link below for more awe-inspiring content!
SOAR TO NEW HEIGHTS WITH AVELA AT IJM RIMBAYU: A MULTIGENERATIONAL OASIS
SOAR TO NEW HEIGHTS WITH AVELA AT IJM RIMBAYU: A MULTIGENERATIONAL OASIS