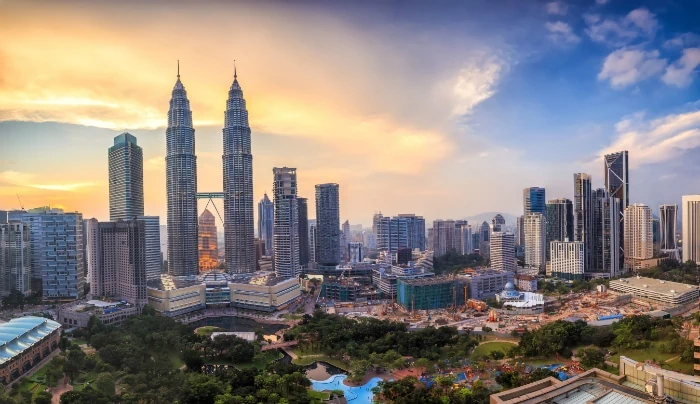 The heart of urban living: Klang Valley's enchanting landscape. Photo source: Property Guru
Discover a world of extraordinary living in Klang Valley with UNO Cyberjaya, The Connaught One, Sierra Hijauan, ForestHill Residence, and Avela.
Experience the allure of exceptional residential developments that redefines modern living.
Step into the vibrant realm of Klang Valley, where the landscape is adorned with remarkable residential developments that are revolutionizing the concept of modern living. Prepare to be enthralled as we unveil five extraordinary properties that have taken the real estate scene by storm. From lakeside havens to urban oases, these captivating developments – UNO Cyberjaya, The Connaught One, Sierra Hijauan, ForestHill Residences, and Avela – offer a diverse range of options to suit every lifestyle.
Join us on this exhilarating journey as we delve into the charm, convenience, and sheer brilliance of these five extraordinary properties.
1/ UNO Cyberjaya, Cyberjaya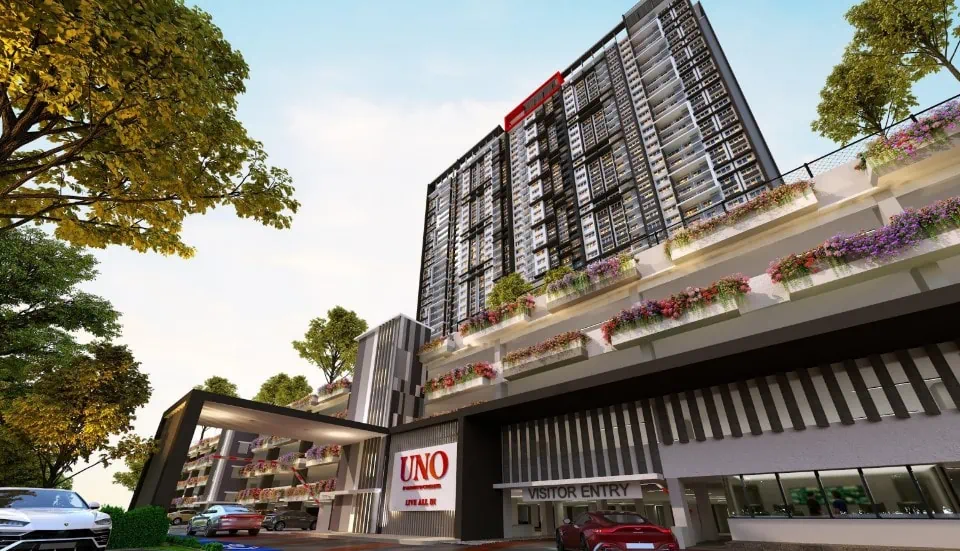 UNO Cyberjaya: Where Modern Living Meets Endless Possibilities
Experience the pinnacle of modern living at UNO Cyberjaya, the highly anticipated residential development by Promenade Group. Situated on 3.73 acres of prime land adjacent to Nadayu Square, this captivating project offers an unparalleled living experience. With a gross development value of RM200 million, UNO Cyberjaya features a 30-storey block comprising 349 condominium units, each designed to perfection.
With 13 units per floor, served by four lifts, these spacious units, priced at RM597 psf, offer a consistent built-up area of 936 sq ft, three bedrooms, two bathrooms, and two parking bays. Five layouts are available, ensuring a diverse range of options to suit individual preferences. What sets UNO Cyberjaya apart is its focus on a multi-sport and family-oriented lifestyle.
Immerse yourself in a plethora of exceptional facilities, including a 417m cycling and jogging track, a tennis-cum-volleyball court, a futsal court, a 100m sprint track, and a 50m infinity pool. Indoor and outdoor co-working spaces, an orchard farm garden, a children's playground, and a communal pet garden add to the allure. Experience the epitome of convenience with nearby schools, shopping centers, and healthcare facilities, ensuring a vibrant and fulfilling lifestyle for you and your family.
Fore more info, visit Uno Nadayu 99
2/ The Connaught One, Cheras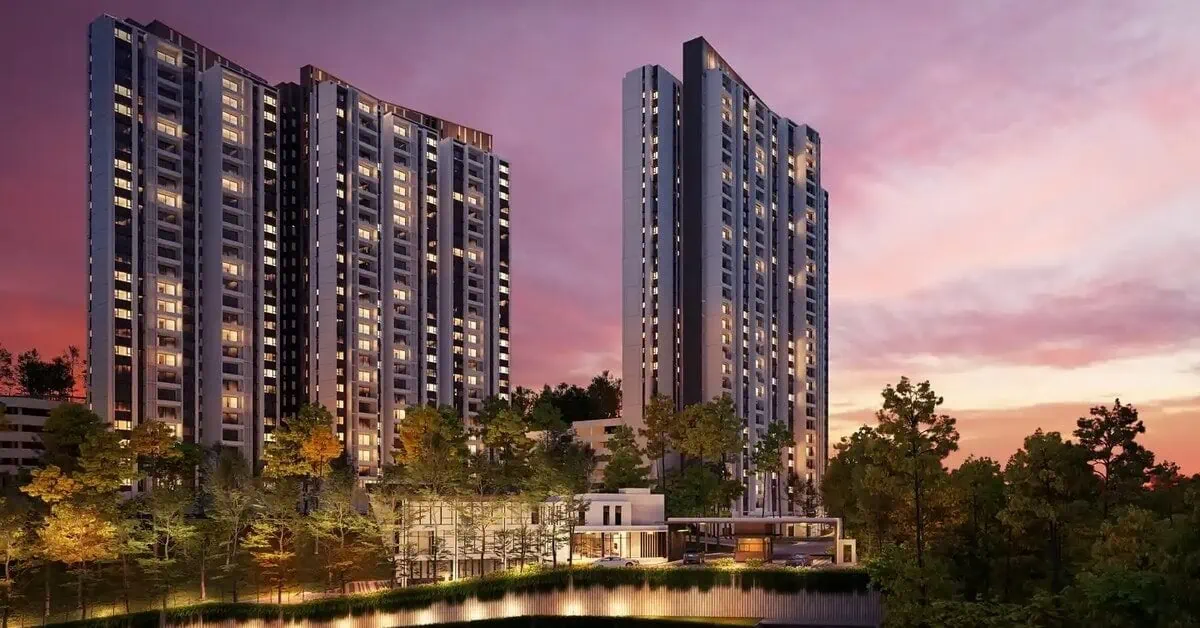 The Connaught One: Urban Living Redefined in Cheras, Kuala Lumpur
Introducing The Connaught One, an innovative transit-oriented development (TOD) by UEM Sunrise in Taman Connaught, Cheras, Kuala Lumpur. Situated alongside the Taman Connaught MRT station and Cheras Sentral Mall, this highly anticipated project offers an exceptional living and working experience tailored to the needs of urban dwellers. With a gross development value of RM747 million, The Connaught One comprises two remarkable 53-storey towers, featuring 1,334 serviced apartments and 15 retail lots.
What sets The Connaught One apart is its meticulous design and outstanding amenities. The towers boast a unique angular architecture, providing breathtaking external views and optimizing natural light throughout the space. Offering a selection of five different layouts, the units range from 452 to 1,270 sq ft, with prices starting from RM290,000. The development offers an extensive array of facilities, including an outdoor gym, sports hall, jogging track, swimming pools, and a community garden. It also features a co-working lounge and meeting rooms, catering to the needs of remote workers and homepreneurs.
The Connaught One's prime location further enhances its appeal. The development enjoys excellent connectivity with major highways and road networks, ensuring effortless accessibility. Residents can easily access nearby amenities, including shopping malls, eateries, hospitals, and places of worship. Additionally, the vibrant Taman Connaught night market adds an extra touch of excitement to the area. With an estimated completion in the fourth quarter of 2027, The Connaught One exemplifies UEM Sunrise's commitment to delivering affordable, sustainable, and livable spaces that cater to the diverse needs of residents.
Fore more info, visit The Connaught One
3/ Sierra Hijauan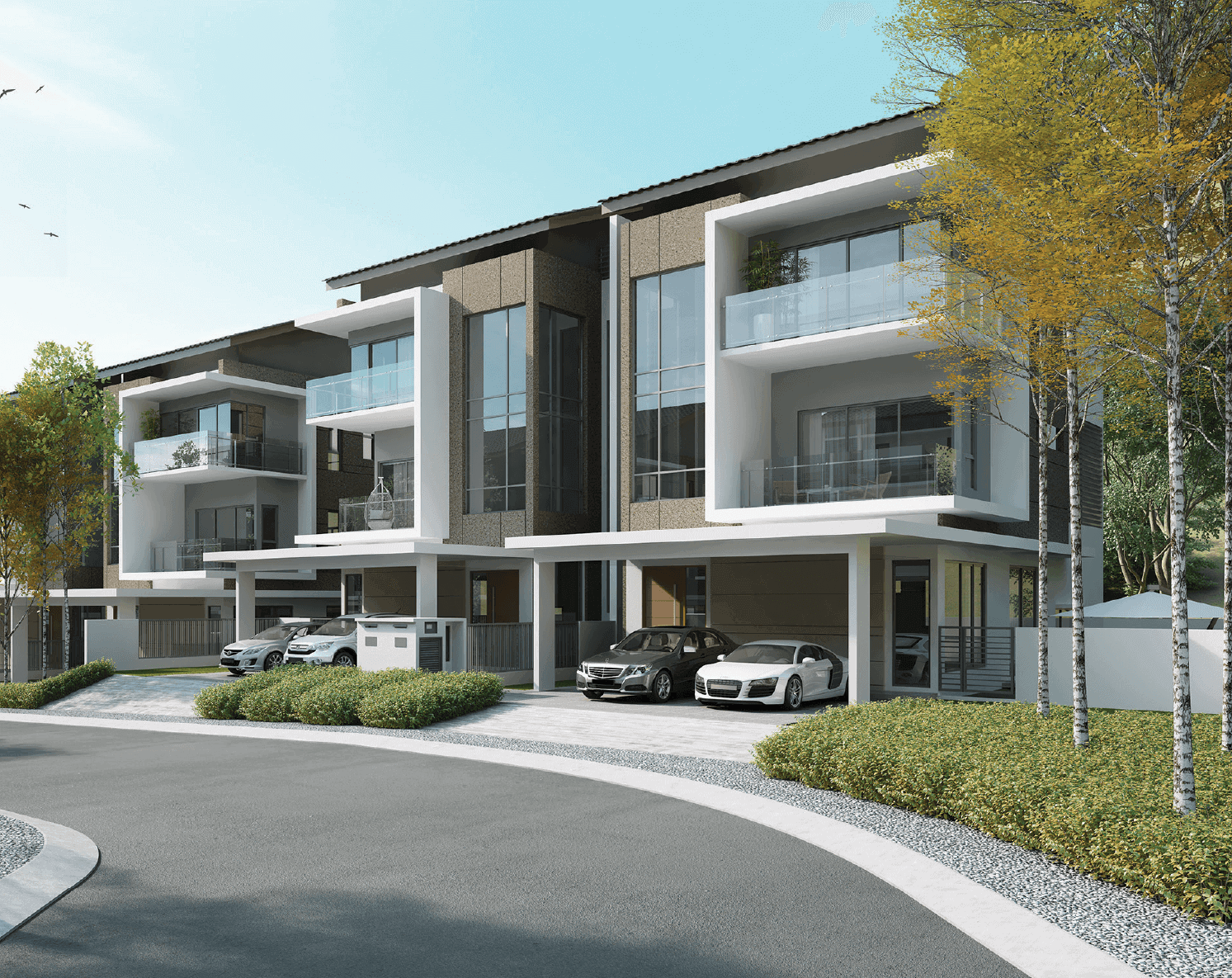 Sierra Hijauan: Nature-Inspired Luxury Living in Ampang's Ukay Perdana
Introducing Sierra Hijauan, an exceptional residential development by IJM Land Bhd that has just launched its highly anticipated Phases 2F and 2G. Situated in Ukay Perdana, Ampang, this remarkable project spans across 32.77 acres and boasts a total gross development value of RM576.36 million. 
Phase 2F, developed on 2.39 acres with a GDV of RM51.75 million, offers 18 units of 2½-storey semi-detached homes and two units of three-storey bungalows. The semi-detached homes have a built-up area of 3,537 sq ft and a land area of 40ft by 80ft, featuring 5+1 bedrooms and six bathrooms. The three-storey bungalows have a built-up area ranging from 4,660 to 5,399 sq ft, with a land area of 6,157 to 7,072 sq ft, offering 6+1 bedrooms and seven bathrooms.
Phase 2G, spread across 3.28 acres with a GDV of RM47.07 million, comprises 16 units of 2½- and three-storey semi-detached homes and a three-storey bungalow. The semi-detached homes feature a built-up area ranging from 3,537 to 4,511 sq ft, with a land size of 40ft by 80ft. These homes come with 5+1 bedrooms and six bathrooms. The three-storey bungalow boasts a built-up area of 4,660 sq ft and a land size of 5,188 sq ft, offering 6+1 bedrooms and seven bathrooms.
Units in Phase 2F start from RM2.4 million whereas units in Phase 2G are priced from RM2.53 million. The maintenance fee, estimated at 20 sen psf per month, is inclusive of the sinking fund. Phases 2F and 2G are expected to be completed in June and August 2026, respectively.
The thoughtfully designed homes in Sierra Hijauan blend nature and luxury seamlessly, drawing inspiration from the surrounding landscape. Nestled in the foothills of the Ampang Forest Reserve, this exclusive sanctuary provides residents with a close connection to nature. The residences boast flexible layouts that maximize natural lighting and ventilation, ensuring a comfortable and tranquil living environment. The modern façade design adds depth and vitality to the homes, creating a visually stunning aesthetic.
Ideal for both owner-occupiers and investors, Sierra Hijauan appeals to those seeking to upgrade their living arrangements in nearby areas such as Taman Melawati, Setiawangsa, and Wangsa Maju. This remarkable development sets a new benchmark for luxurious living, offering a unique blend of nature-inspired design, premium amenities, and an exclusive location. Sierra Hijauan exemplifies IJM Land's commitment to delivering exceptional residences that cater to the discerning needs and preferences of buyers.
Fore more info, visit Sierra Hijauan
4/ ForestHill Residences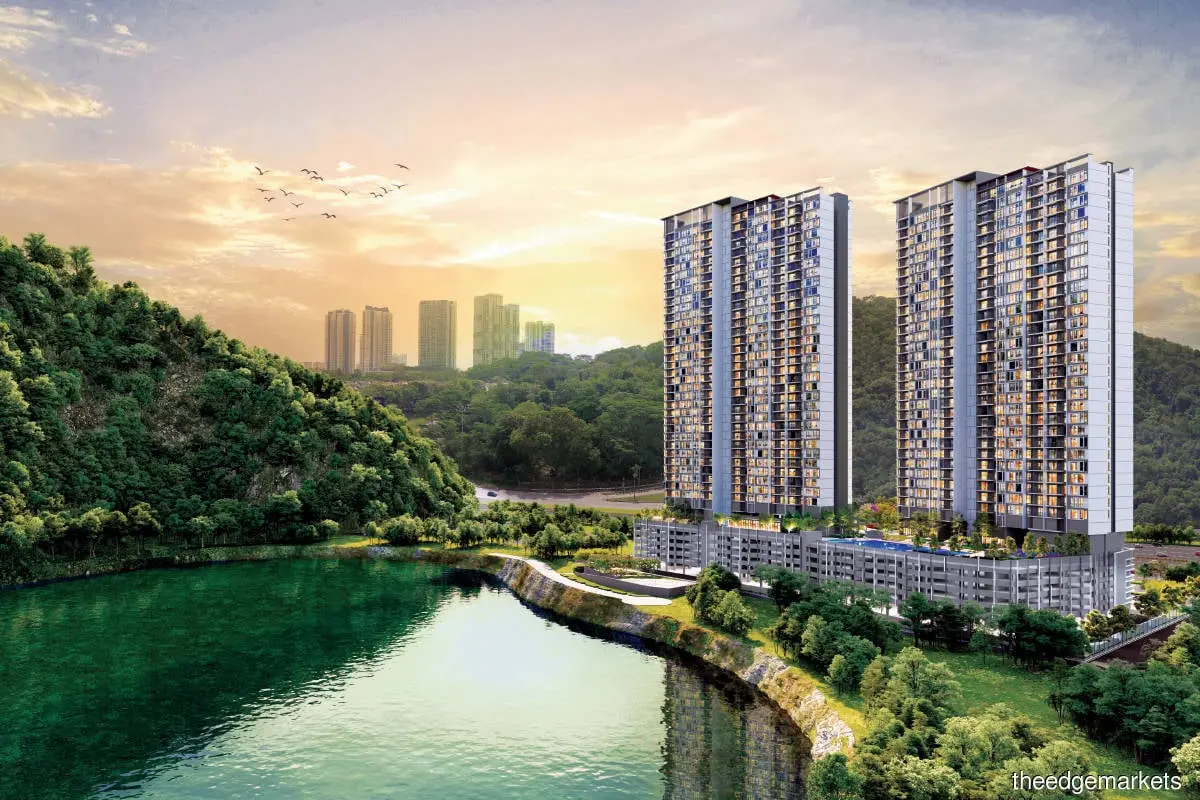 ForestHill Residences: Urban oasis by the lake in Damansara Perdana
Presenting ForestHill Residences, an extraordinary residential development nestled within the serene ForestHill in Damansara Perdana, Petaling Jaya. Developed by Ehsan Bina Group, this exceptional RM450 million project spans 4.39 acres within the enchanting ForestHill in Damansara Perdana. What sets ForestHill Residences apart is its rare and exclusive natural setting, offering residents the opportunity to experience lakeside living amidst a backdrop of lush forests. The development features two towers, Tower A (38 storeys) and Tower B (35 storeys), offering a total of 618 condominium units with spacious built-ups ranging from 953 to 1,527 sq ft. At least two car parking bays are included. Selling prices start from RM580 psf.
Nature lovers and first-time homebuyers will find ForestHill Residences irresistible, thanks to its unique selling points. With picturesque views of the seven-acre lake and the surrounding mountains, residents will feel a sense of tranquillity and serenity, as if they've escaped the bustling city. The development caters to a diverse range of residents, including young professionals, small families, multigenerational families, and downsizing retirees, with five different layout types available to suit various needs.
ForestHill Residences prioritizes flexibility and sustainability, incorporating green and sustainable features to meet the demands of modern buyers. The spacious and flexible layouts have been thoughtfully designed, allowing residents to customize their living spaces according to their preferences. The development boasts an impressive array of family-oriented facilities, including full-size basketball and futsal courts, a botanical garden, infinity pool, gym, and a sky deck on each tower. Additionally, green technology such as EV charging pods and a rainwater harvesting system have been integrated into the building, promoting a sustainable lifestyle.
Situated in close proximity to established neighbourhoods like Bandar Sri Damansara, Kepong, and Mutiara Damansara, ForestHill Residences enjoys easy access to a wide range of lifestyle amenities, including schools, shopping malls, hospitals, and commercial hubs. The development is well-connected via major highways such as Damansara-Puchong Expressway (LDP), Sprint Highway, New Klang Valley Expressway (NKVE), and the recently completed Damansara-Shah Alam Elevated Expressway (DASH). The Mutiara Damansara MRT station is also conveniently located nearby.
Fore more info, visit ForestHill Residences
5/ Avela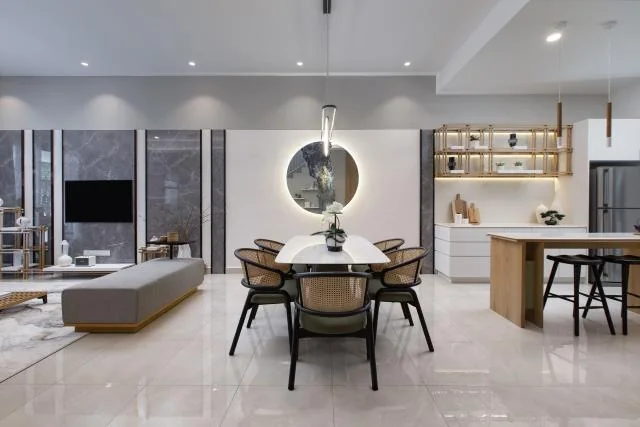 Harmonious Living for Generations at Avela, Bandar Rimbayu
Welcome to Avela, the latest addition to the esteemed Bandar Rimbayu by IJM Land Bhd. This exquisite development of two-storey terrace houses is thoughtfully designed with multigenerational families in mind, offering spacious and versatile living spaces that foster harmonious family living. Avela spans 40.24 acres of leasehold land and will be developed in three phases (Phases 17A, 17B and 17C), culminating in a gated and guarded enclave of 445 units, ensuring security and exclusivity. With a total gross development value of RM572 million, Avela promises a truly exceptional living experience for families spanning generations.
Phase 17A will have 164 units offering two types of layout: Type A (2,745 sq ft of built-up space and 30ft by 70ft of land area) and Type B (2,400 sq ft to 2,428 sq ft of built-up space and 22ft by 70ft of land area). Its GDV is RM206 million, and selling prices start at RM1.44 million for Type A and RM1.06 million for Type B. Phase 17A is slated for completion by May 2025.
The homes at Avela are crafted to cater to the unique needs of multigenerational living. Featuring extra-large kitchens that can be easily converted into dry and wet kitchens, elder-friendly bedrooms on the ground floor, en suite bathrooms for all four bedrooms, and ample space for family activities, these residences provide the ideal environment for seamless family connections. The angular façade design creates a sense of spaciousness, while a north-south orientation ensures protection from the afternoon sun, creating a comfortable and welcoming atmosphere for every member of the family.
Beyond the homes, Avela offers a range of lifestyle amenities that further enhance the multigenerational living experience. From multigenerational swings that bring children and adults together, to a covered basketball court, rollerblade and skate park, wall climbing zone, signature pavilion, and a 2km jogging path, residents of all ages will find abundant opportunities for recreation and socializing. Furthermore, Bandar Rimbayu provides residents with convenient access to schools, shops, restaurants, cafes, and the upcoming Rimbayu Business Hub, ensuring that all essential amenities are within easy reach for every generation.
Fore more info, visit Avela
Experience Unparalleled Living
As we conclude our exhilarating exploration of these five remarkable residential developments, one thing is clear: Klang Valley is a hotbed of innovation, offering a wealth of options for those seeking the pinnacle of modern living. Whether you're drawn to the lakeside tranquillity of ForestHill Residences or the multigenerational haven of Avela, there is a perfect home waiting to fulfill your dreams. Embrace the allure of urban living redefined at The Connaught One, bask in the nature-inspired luxury of Sierra Hijauan, or immerse yourself in the endless possibilities of UNO Cyberjaya. The choice is yours, and the possibilities are boundless. Dare to embark on a journey that will reshape your idea of what a home can be. Discover these five extraordinary properties and unlock a world of captivating living experiences that will exceed your every expectation.
Click the link below for more awe-inspiring content!