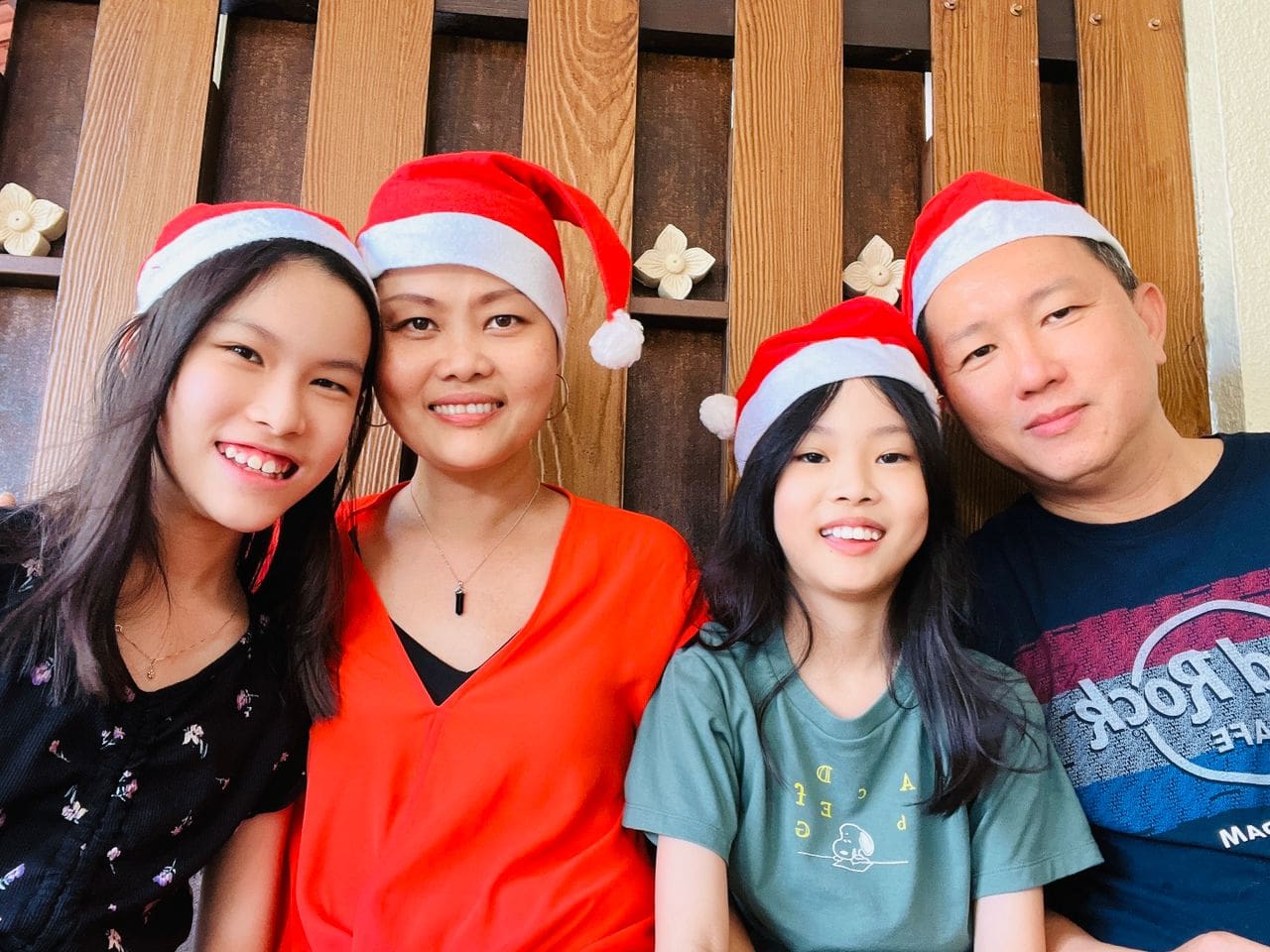 Happy times: Karen shares a light moment with her family.
Her whole world turned upside down upon finding she had cancer
The long and winding path toward healing
It is not wrong to love yourself 
Karen wants to make a forum to unite patients and survivors
Anyone who observes Karen will see her as just the woman next door, perhaps a little busier than your average neighbour, since she works full time, juggling work and caring for two kids. 
She looks just like you and me, a wonderful person with a great personality. But alone in a room, she would remove her clothes to reveal the terrible battle scars on her flesh, testimony to her long-drawn fight with cancer.
A nightmare begins
Before treatment, Karen did not experience any pain except a slight discomfort in the right elbow and shoulder. It was a telltale sign.
"I don't have any history of cancer or even any sickness from my family. Both my parents are already in their 70s and 80s, yet they are both healthy," she said, sitting on the sofa chair in the living room, her hands laced together.
But her world was about to be turned upside down when the breast surgeon who examined her said that the lump on her breast was 99% cancerous. "I thought to myself that she was wrong. It cannot be," Karen said, eyes moist with tears.
Sitting in front of her, we wanted so much to hold her hands as she recounted her ordeal. She was checked in for ultrasound and biopsy the next day, which confirmed the worst. 
During the examination, the doctor carefully told her that it wasn't a normal lump, but assured her that she was in good hands.
Even though he was careful at breaking the news, that single announcement gave her the impression that her whole world was crumbling to the ground. Sitting alone in the waiting lounge, tears rolled down her eyes.
"I can't imagine the future," she said, choking. "All the things I need to go through and what if I can't make it? I kept thinking about my two precious girls. The first person I called was my mom. The moment I heard her voice, I started crying. After talking to her, I broke the news to my two girls. We hugged and cried together."
The long journey toward recovery
"There was so much fear in me. When the oncologist explained to me what I needed to go through, it was like watching myself as one of the patients in New Amsterdam. I never imagined that this could ever happen to me," she said, voice quivering. Together with her, we felt the heavy sensation of sorrow pushing down upon our chests.
Her first treatment was six rounds of chemotherapy. During the first chemo, the educator nurse came into her room to explain the whole process and what to expect.
"I was super nervous. I remember asking the nurse if my hair would fall. She held my hand and told me everyone reacts differently, but be prepared for it," Karen said as she absently brushed her hair with her hand.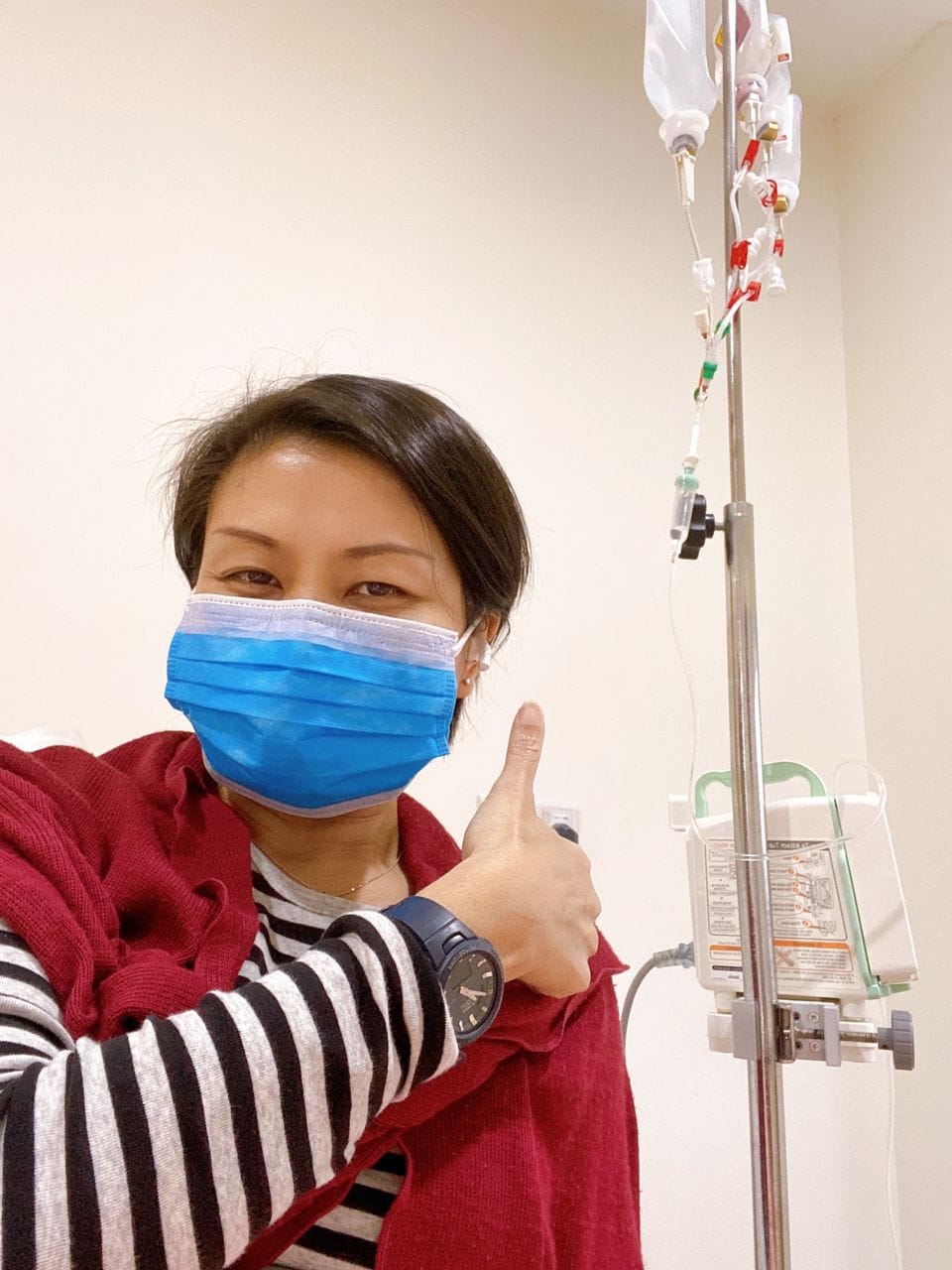 Feeling optimistic before the start of her first chemotherapy.
After the first chemo, she became weak, groggy and bloated. Upon administering the new drug on the fourth chemo, she lost sense of taste and everything tasted metallic. However, she felt blessed that she did not experience other side effects such as ulcers, vomiting or nausea.
"I was mainly tired. I even put on 6kg of weight. Almost two weeks after the first chemo, I was so glad that my hair did not fall. So I thought it wouldn't happen to me," she said, tearful.
One day when she was washing her hair, a whole chunk of it fell off. The sight of it brought terror and sadness to her. Her husband took her to a nearby saloon to have her hair cut really short.
"I couldn't even look at myself in the mirror as I could not recognise myself," she said, wiping the tears from her eyes.
Then the MCO 2.0 hit and Karen had to borrow her brother-in-law's trimmer. For the first time, she learnt the difference between a shaver and a trimmer.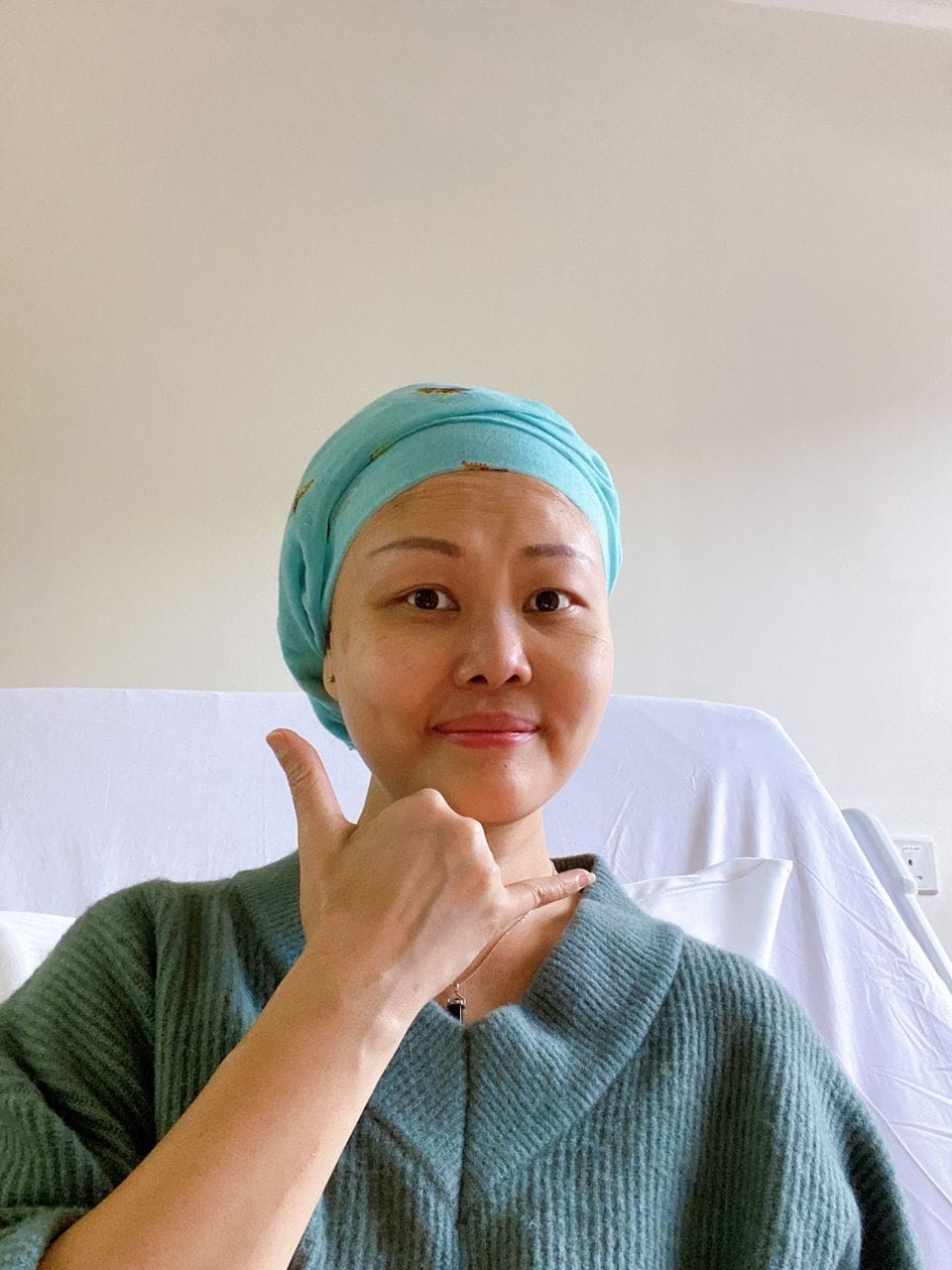 Going strong after the last chemotherapy.
She thought she would cry but admitted that it was actually quite fun.
Her husband helped her with the back portion, and she felt that she looked better with a crew cut compared to the boy-cut hairstyle. She also never knew the joy of styling with different head scarfs.
Radiotherapy was no joke. Karen had 25 rounds of the treatment and it was a routine from Monday to Friday. To aid her recovery, her husband will hunt for the freshest coconuts so she could cool her body each time after the chemo and radiotherapy.
After completing six rounds of chemo, she was scheduled for mastectomy and then another 25 rounds of radiotherapy, followed by a laparoscopic oophorectomy. 
"It took me a while to resume some daily routine after the mastectomy and after the second surgery, I refrained from driving for six weeks. That's tough," she said with a laugh.
After the mastectomy and the removal of lymph nodes, she learnt from a friend to stay away from saunas, spas and hot baths as the environment could cause lymphedema. 
"No one in this hospital or care centre will tell you this. And I realised that exercise and a healthy diet are very important, more so for cancer survivors," she cautioned.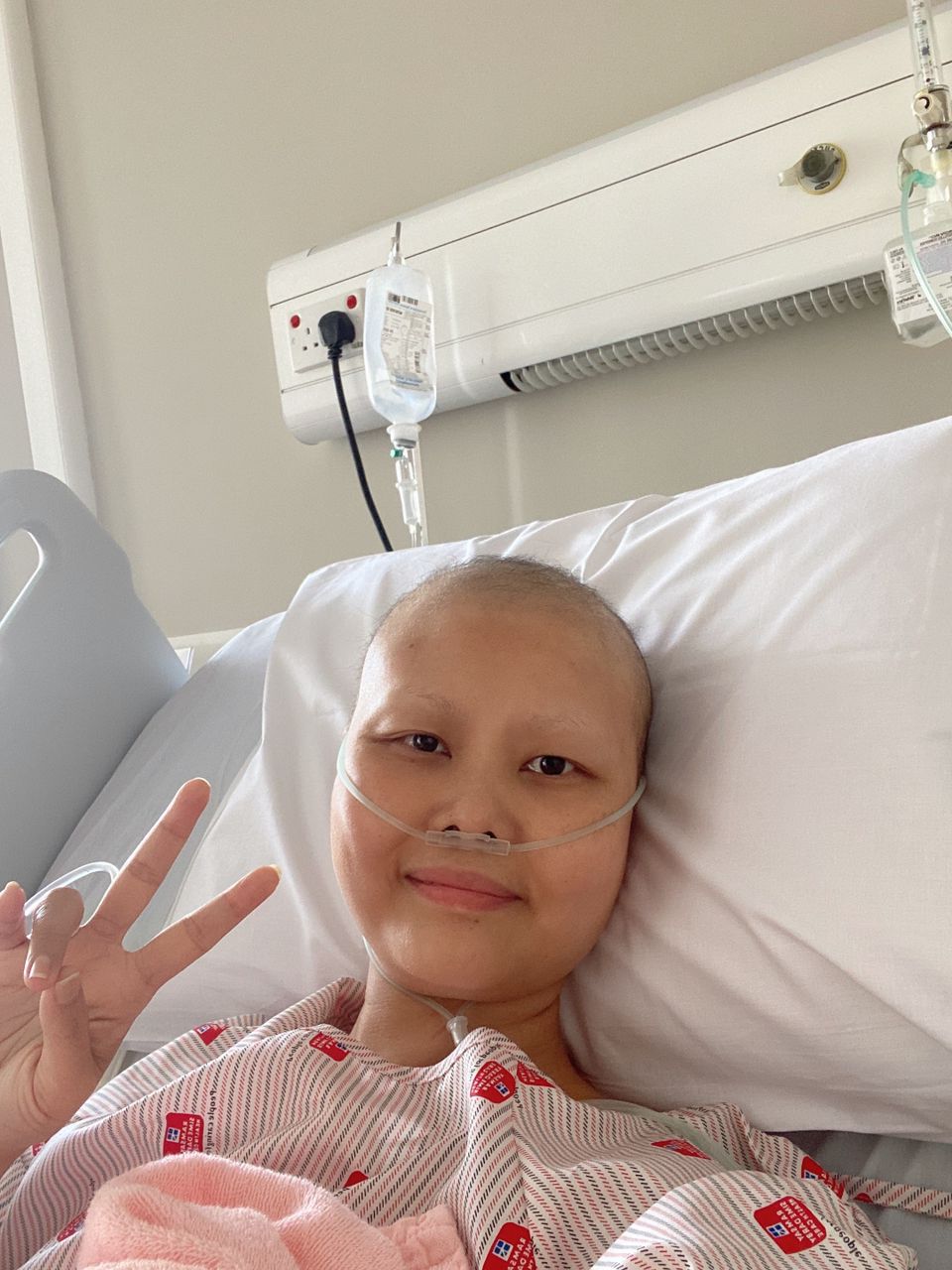 Still radiant even after her mastectomy.
The faces that eased her pain
It is now a year since she was diagnosed with cancer. She is still recovering from the side effects of the treatment, peripheral neuropathy being one of them. She is now on hormone therapy for the next five to ten years.
"I am truly blessed that I survived this," she said, giving a sweet smile.
Karen pointed out that cancer affects more than just the physical, but also the mental, spiritual and emotional aspects of the patient. There is a great deal of fear and a lot of what-ifs.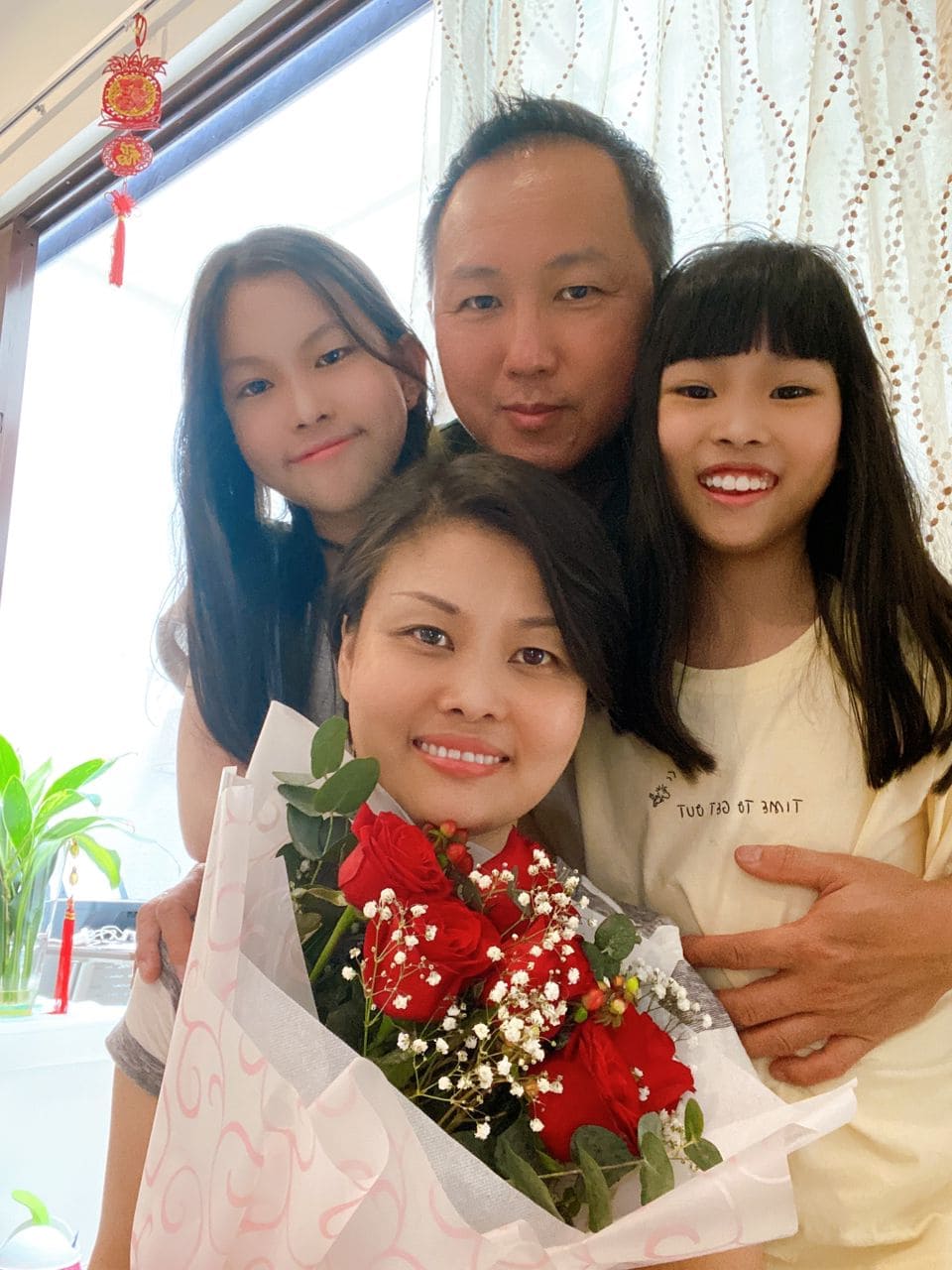 Karen attributes her source of strength to her two daughters and husband.
Her husband had been a steadfast companion, always present at her side throughout the six rounds of chemo. "He was ever ready to get what I felt like eating or drinking," she said, a smile of appreciation forming on her lips.
His happy-go-lucky character was a good balance to her personality, which is prone to worries.
"He was my driver, my butler, my morning walk kaki, my chef and my personal shopper. Never in my life would I have thought of him going to the mall shopping for headscarves and headcovers for me!" she chirped happily.
During her treatment, Karen also received unconditional help from her neighbours and friends. "My Malay neighbour gave me her headscarf. My Indian neighbour cooked for me, especially the time when I craved curry so much since I couldn't taste anything else," she said, her face lighting up as she recounted this.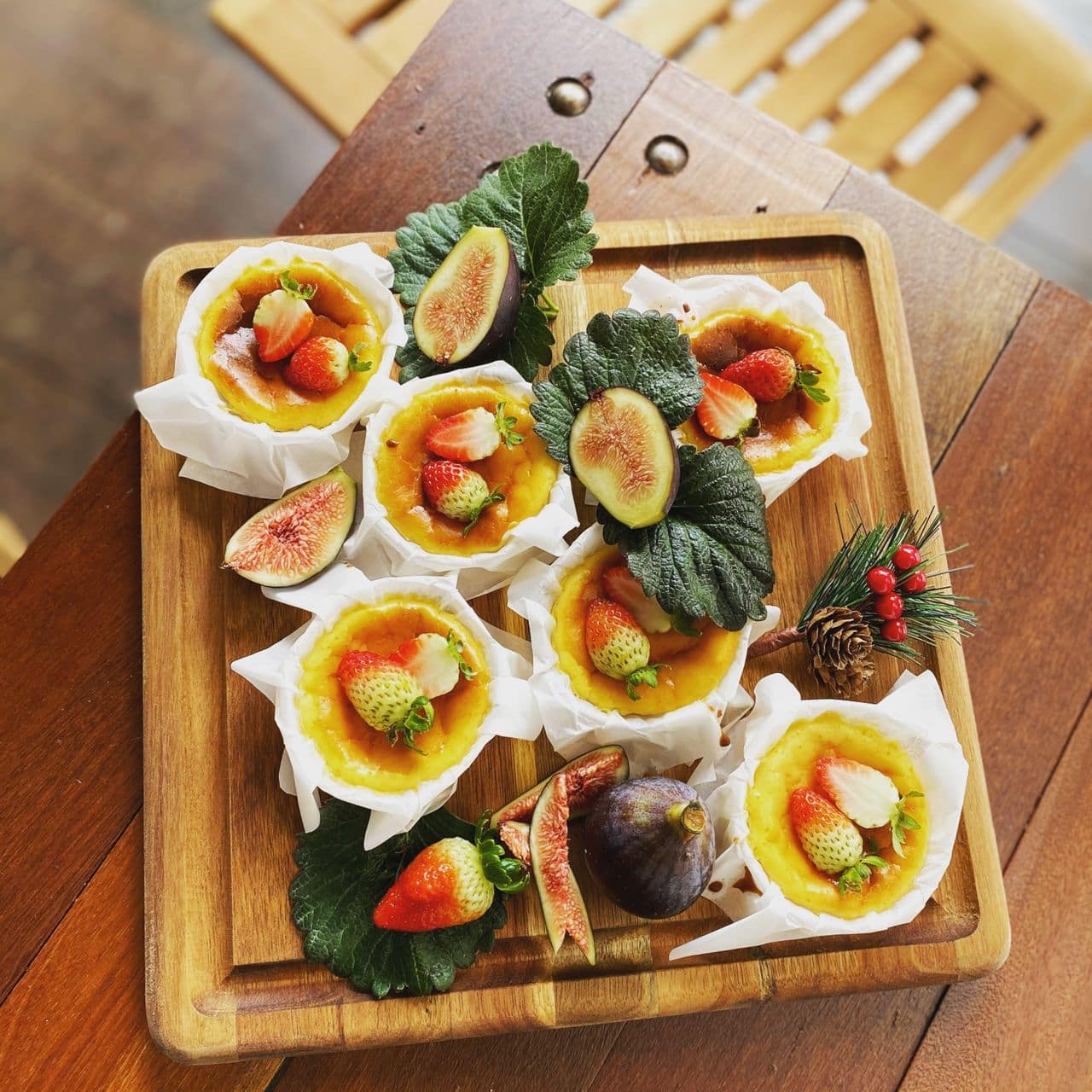 Karen's condition did not limit her activities, including her love for baking.
Afterthoughts
It is said that every story comes with a lesson, just like a book with a bookmark slipped within it. This story of Karen and her survival against cancer is a nudge to us to appreciate every moment of our life. We may never know when we get a life-threatening disease.
"Love yourself! And this does not equate to being selfish! We are brought up in a belief that we must put ourselves last and always think about others first before you think about yourself," she said wholeheartedly.
She had also been introduced to many people who were diagnosed with terminal stage cancer and had been given a time frame by the doctor. All survived and have been cancer-free for five, nine, 30 years and beyond. 
Nothing beats a strong and positive mind. The strong will to get well is so powerful. 
"I like how my friend put it, "God has installed a sensor in me to remind me to cherish life more and most importantly to slow down when I need it," she added.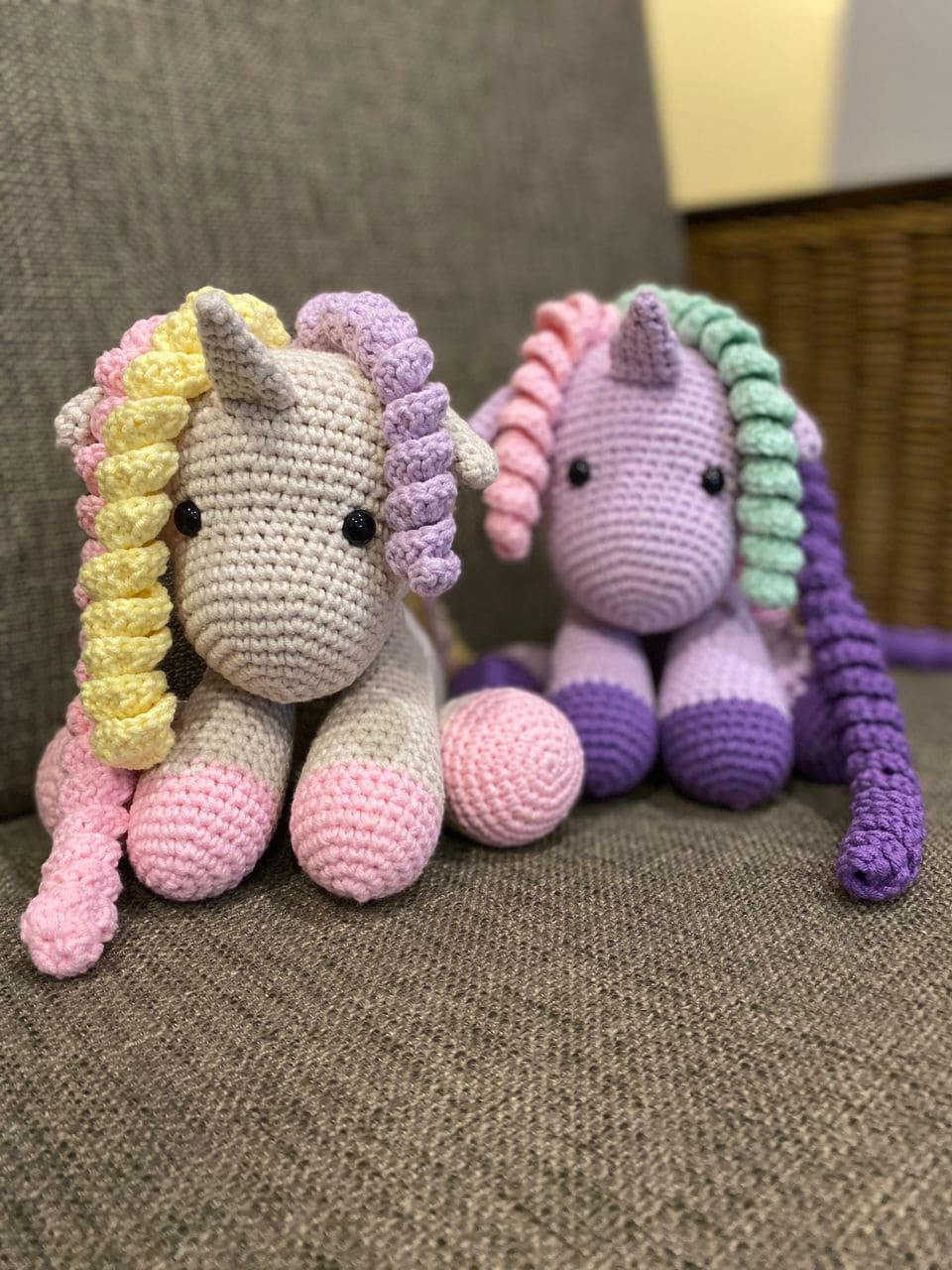 Karen created these gorgeous crochets from scratch.
When prompted about the future, Karen expressed her desire to create a forum for cancer patients and survivors. This shall be a safe space where people come to support each other as well as to share their experiences.
This intention came after she realised that she couldn't find any support for post-treatment side effects from social media or online articles.
"I think one should not think of cancer or any other sickness as a disease. We should look at it as a journey of healing. Throughout my journey over the past year, I look at life from a different perspective and appreciate things more, no matter how small. The bonds between my family and myself grew stronger and because of what happened to me, my friends around me value their health and time with their loved ones more. Call it a wake-up call or a pause button, I take it as a gift, an opportunity for me to look inward, to heal and to reset the priorities in life," she said.
Looking for more related article? Check them out here: