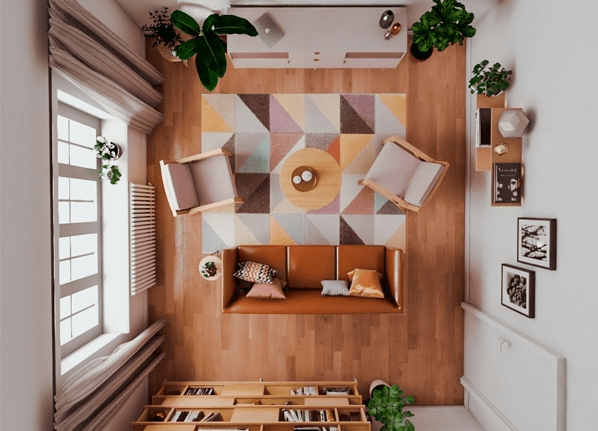 This article was originally published on StylishDekor
First and foremost, when you start planning you room layout it's important to set the function of the room. Note how do you want to use the space, what are the needs and wants, and whether there is enough space to implement it. Here I'm going to show you how to place the furniture in an apartment living room. The size of the room is 22.3m2 / 240 ft2 in size (4.37m/14.3ft by 5.1m/16.3ft).
You can check out this living room in a different layout here: Modern Living Room Layout with TV.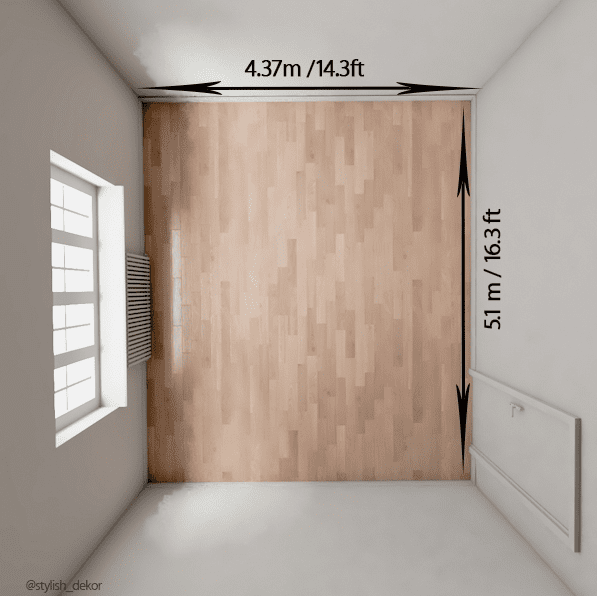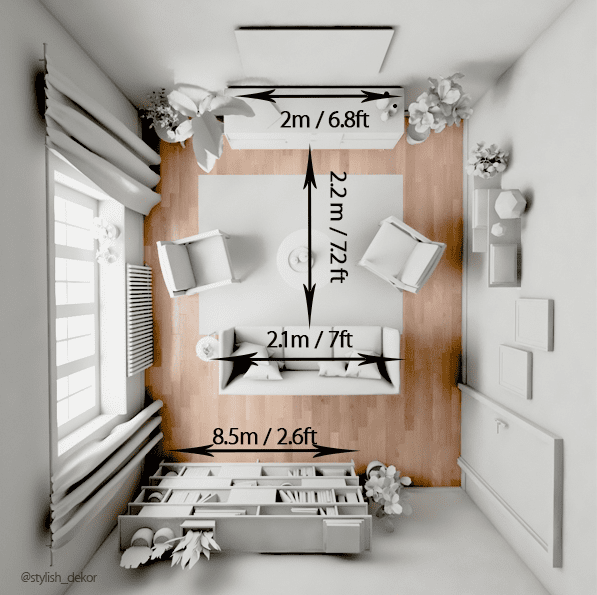 The Living Room Layout
In this apartment living room, the focal point is the TV, therefore, I set the furniture around it. Depending on the TV size (which in this case is 64 inches/162cm) I placed the seating accordingly, around 3m away. There are two armchairs that can be positioned and moved easily. This furniture selection and placement would probably suit a single person, a couple or a small family. 
Behind the sofa, there is enough space for a cabinet or a shelving unit. Keep in mind how much space the door will take when opened. This will help you measure when selecting the right size cabinet/shelve unit. Also, if needed instead of the storage unit you can use this space for something else. Let it be a mini home office, instrument collection, or showcasing your art, it all depends on your personal needs.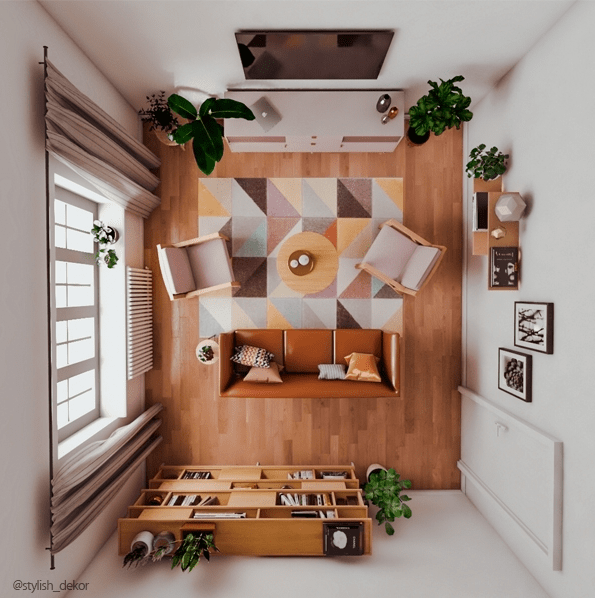 Design For Your Furniture
The design here is based on Mid-century and Scandinavian design. Which involves a lot of wood based furniture, from nature borrowed colours and strong furniture design. Nevertheless, there is a bit of bohemian vibes with different patterns, open shelving and loads of plants. Therefore, the look has a mix of city glamour and outdoor freshness.
There is also playfulness with colour and pattern. This interior would definitely suit someone that enjoys colour. There is quite a bit of pastel pink which could suit someone that has a tender, romantic, sweet, and playful personality. Nevertheless, there is a strong presence of different shades of brown here which is perfect if you wish to create a feeling of warmth and comfort in a city apartment.
Looking for more related article? Check them out here: