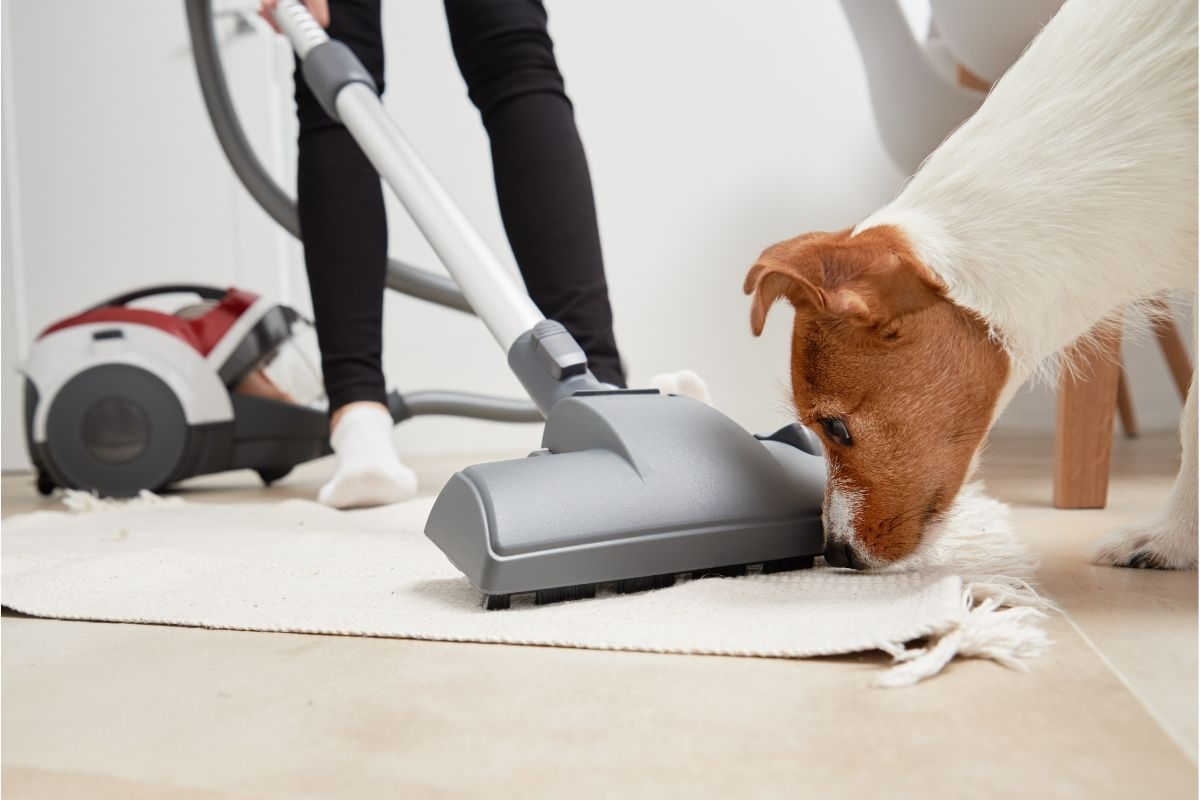 Taking the fur of your "fur"niture. Source: Vacuum Tester
Every pet cat or dog sheds differently, know how yours does!
What concerns you the most – pet hair, allergens, or odour?
Know the type of surface you intend to clean.
I know our love for our sweet pets is unbreakable. They are wonderful little fur babies to have, and we think the world of them and their presence alone can lighten up the room. Something about their companionship makes us want them right next to us at all hours, but the next thing you see is a big chunk of fur glued to you. 
Hair breakage and hair fall are something we all suffer from, but even so, when it does fall, we notice it and can easily pick up the strands of hair and dispose of them. I know how I have to clean out the broken strands from my hairbrush every time I brush through it and I cannot even recall the amount of times I had to sweep the floor after combing it out – argh, such a strain! 
But pet hair? You might as well level up your cleaning game because that is the worst. Their fine fur goes everywhere and sometimes ends up in the most unimaginable places like your refrigerator.  Oh, and not forgetting your favourite couch! Of course, you could try sweeping or brushing it off, but you will just send it flying everywhere and end up finding extra ingredients in your food – ah, the cherry on top!
In my experience, choosing the right vacuum can be a lifesaver, and believe it or not, it is one of the best things you can do for yourself as a pet owner!
One of these three products could be your saviour, check it out! 
1/ Panasonic Cordless Stick Vacuum Cleaner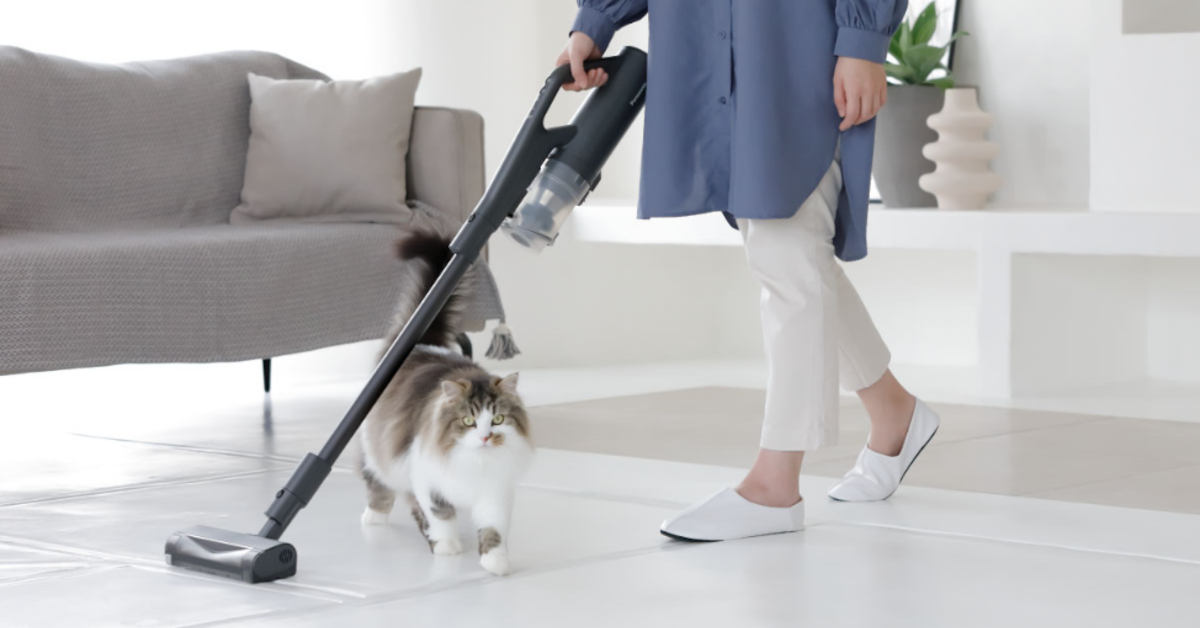 Cleaning up with your furry friend is like eating biscuits as you go, there will always be leftover crumbs. Source: Panasonic
With all the shedding our fur babies go through, cleaning after their mess can be quite troublesome, especially when they spend most of their time indoors. 
Panasonic presents its Cordless Stick Vacuum Cleaner MC-SB85K, a tool that cleans up hair and fur from surfaces just by the mere touch of a button. I am confident that you will be satisfied with the ease this vacuum will bring. Panasonic's contemporary new plastic vacuum could be a definitive improvement device for families with pets.
Panasonic devised a vacuum replacement technology: a conical shape brush perfect for directing the fur towards the suction of the nozzle. This one-of-a-kind proprietary technology distinguishes the brand's tangle-free power nozzle feature and permits pet owners to avoid wasting energy while cleaning.
2/ Dyson V15 Detect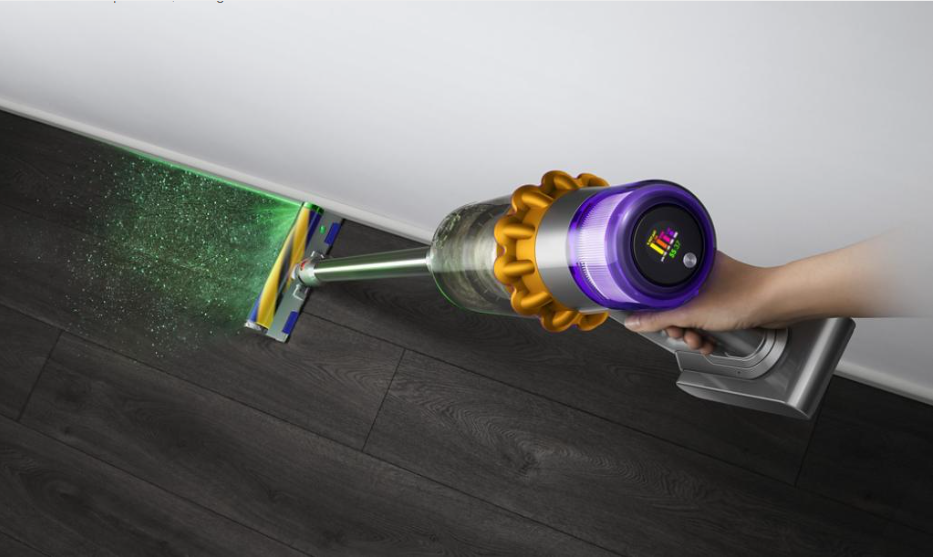 Exposure to a lot more than what meets the eye. Source: Dyson
We may adore our pets more than anything in the world, but the allergies that come with them are no joke – you could suffer from a stuffy nose, runny nose, or even get puffy eyes. Are you one of those suffering from these allergies? Well, me too…
Lest you think I am exaggerating, let me provide you with some context. I have suffered from asthma since I was a teenager, so I know firsthand how little things like dust, pollen, and animal fur can be detrimental to one's health. 
In order to continue being the perfect fur 'mommies and daddies', first, you'll need to get a hold of your health and safety. The Dyson V15 Detect has a HEPA filter that traps any allergens during cleaning. A great automated vacuum cleaner for pet hair, suitable to use on various surfaces such as low, deep pile carpets and bare floors.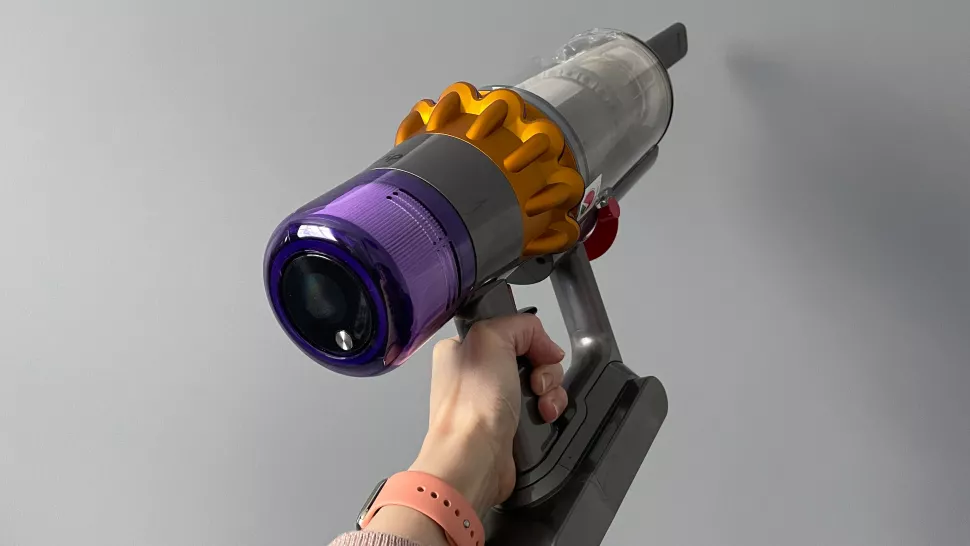 The right tool to take arms with for that fur fight. Source: Techradar
Making your home feel clean and comfortable is made easier by converting it to a lightweight handheld device for thorough cleaning of hard-to-reach areas.
Paired together with laser light, it makes it easy to see invisible debris on the floor. The LCD screen shows what's been sucked up, displaying real-time scientific proof of a deep clean; you can rest assured that your home will be thoroughly clean.
3/ Miele C3 Cat & Dog Fur Vacuum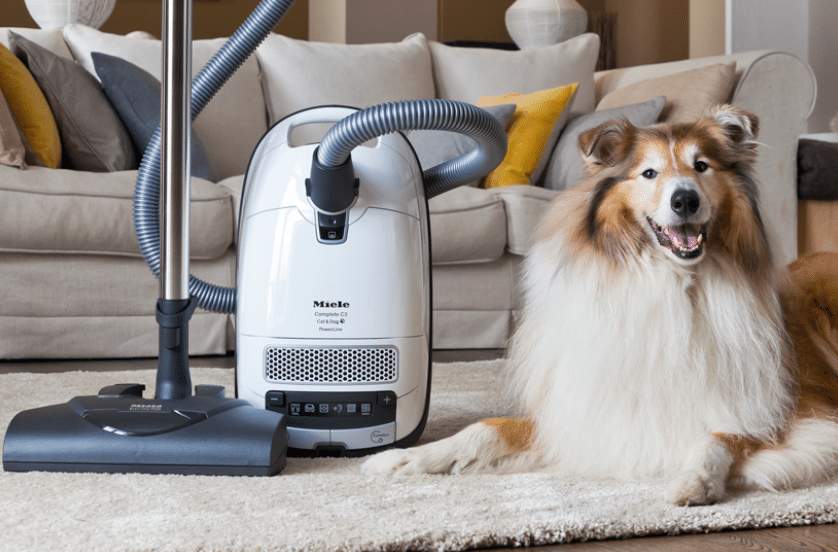 You cannot stop the shedding, but the vacuum is on your side. Source: Rover
The Miele classic is considered to be a beast in fighting pet odor and pet hair, making it one of the best pet vacuums you should invest in. As much as I love pets, one thing I do hate is pet odor. 
I find that after a while there is always that pesky and funky smell that lingers around, and let's be honest, neither of us wants our house smelling like it is a pet farm. 
Luckily for us, the Miele vacuum has an air filter that enables it to defuse pet odour, and get rid of our furry friends' fur, pet dander, and even the regular old dirt. With a 6 suction power setting, you will not have any problems sucking all the smells and dirt out. 
One more thing I like about this vacuum is how it has a  portable handheld small turbo brush connection for cleaning upholstery, stairways, and those hard-to-reach spaces. On the plus side, everything about this vacuum is lovable, except that the filter bags are not reusable.
Let's get vacuuming. 
Choosing a vacuum cleaner can be quite tough, but to make things easier, know your purpose and what you're really looking for. Then, consider its suction power, filtration, and, most importantly, choose a vacuum that is best suited for your rug and furniture. While strong suction power aids in thorough cleaning, it may also damage the fabric.
On that note, if you are ready to do some deep cleaning, you should invest in a good quality vacuum that is ideal for your home as it lasts longer and can be used for a longer period of time without unnecessarily forking out money within a year or two. 
There is at least one vacuum that fits your needs – whether it is pet hair, pet allergens, or pet odour you are trying to remove. Let us know your pick!
Looking for more related article? Check them out here: