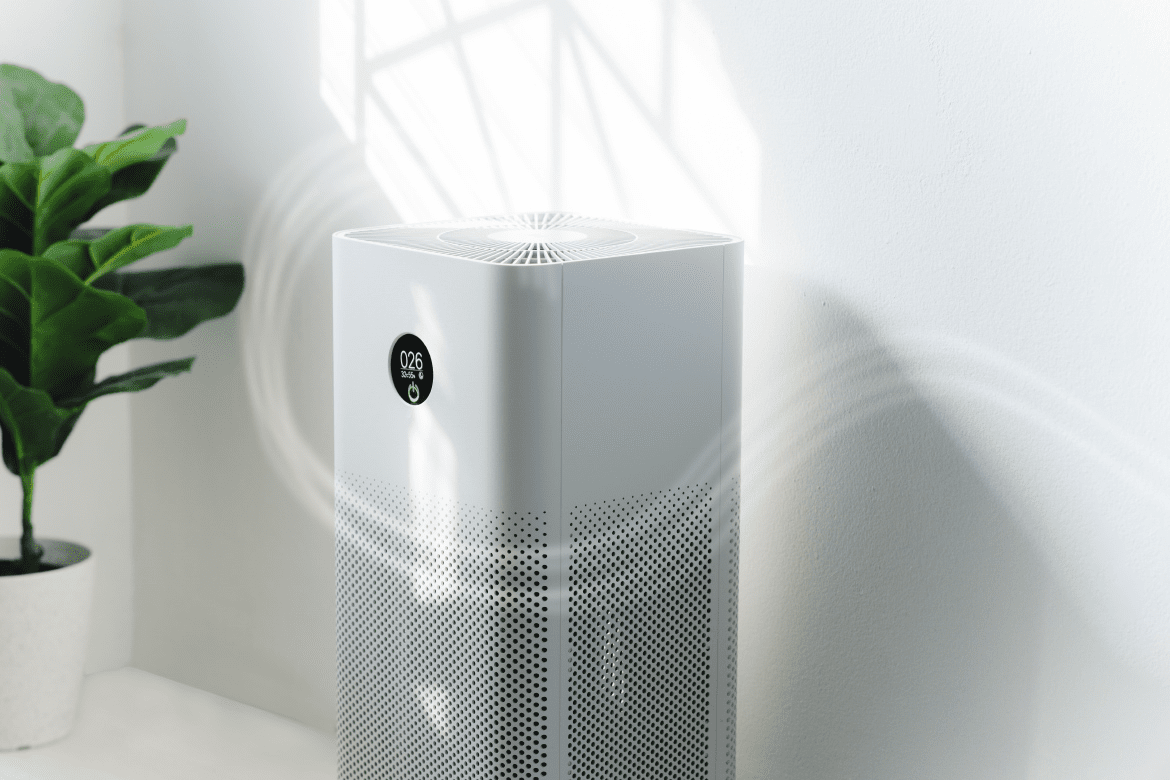 Revamp your space with these life-saving devices. Source: Regan Olsson
Sharp 38m² Plasmacluster Technology Humidifying Air Purifier
Samsung Bespoke Cube TM Air Purifier
Philips 3000i Series Air Purifier
Panasonic F-PXU70AWM Air Purifier 
Does the dust at home often sneak in and ruin your life? As a person who is allergic to dust, it can be very frustrating to sneeze for a good whole 30 minutes as I try to continue with my life.
Other than dusting your home off and on, purchasing an air purifier might be a great choice too.
Besides pumping high-quality air in your home, are you aware that air purifiers also perform many other functions?
If you are planning to purchase this smart device for your home, read along as we have compiled a few of the latest air purifiers.
1/ Sharp 38m² Plasmacluster Technology Humidifying Air Purifier
One of the distinctive features of this air purifier is its intelligent mode. But how intelligent is it? It can detect up to seven elements, including tiny particles in the air, the usual dust, odour, temperature, humidity, light and even motion. 
Just give it a click and it will operate automatically, controlling the humidity and air in your home based on factors such as impurity, odours, temperature as well as humidity in the room. Smart, isn't it?
Speaking about its intelligent mode, the motion sensor could help you save tons of money too. When the motion and the light sensor detect that there is no one in the room, it will switch to energy-saving mode. 
If you have children at home who love to touch and tinker with gadgets, then simply switch to child lock to secure your air purifier. With this, you are one step ahead in creating a safe home with good quality air.
2/ Samsung Bespoke Cube TM Air Purifier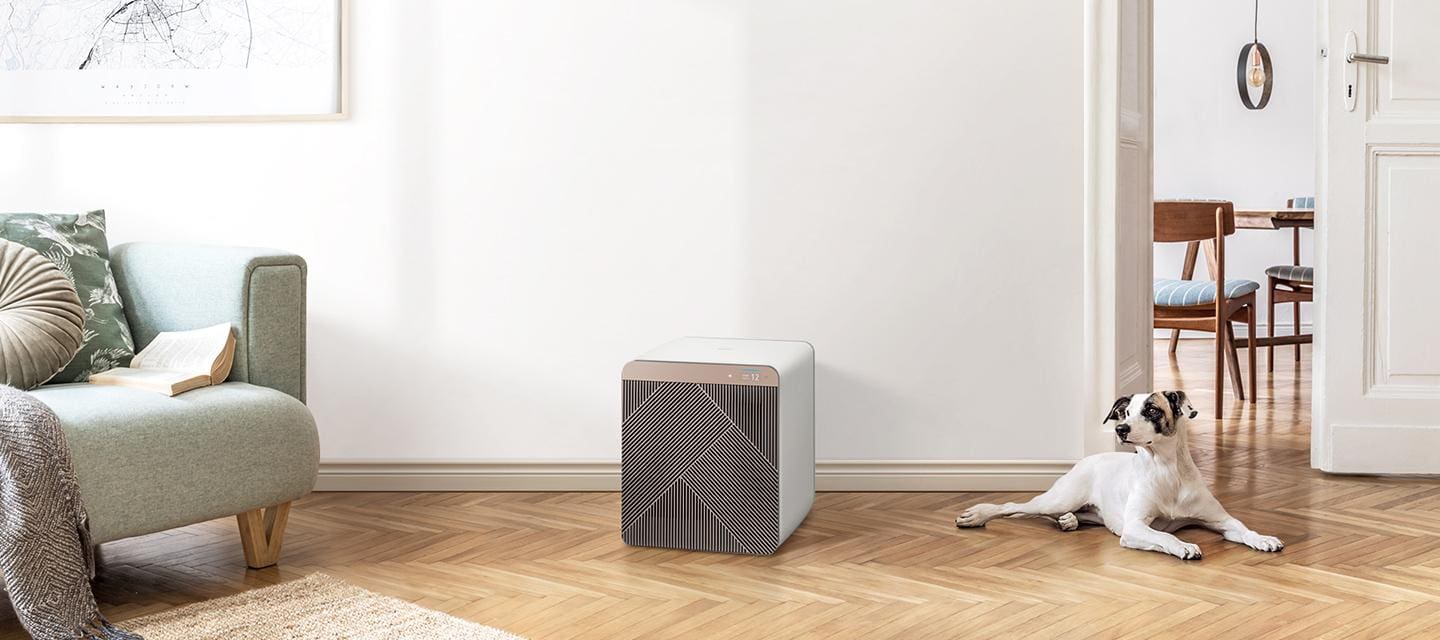 It's a statement piece for your smart home! Source: Samsung
This latest air purifier by Samsung might be the perfect fit for people who are looking for a modern and contemporary design! Not only is it compact, but this air purifier also comes with the innovative Windfree technology that creates a 'still' air environment while dispersing air without direct wind. Perfect for those who desire a noise-free home like me.
Unlike any other modal, this has an Electric Field Sterilisation system that can sterilise 99% of bacteria with an electrostatic discharger. 
Also, the deodorisation filter and UV LED fan cleanse the odours and toxic gases in our home. Further on, the air purifier comes equipped with a Micro Air Sensor that can detect gas dust and toxic gas accurately to even a sum as small as 0.3.
With this, I don't have to worry about those sneaky dust particles that might escape from the filter of my air purifier anymore. 
Not only that, this modal is super smart too, thanks to its SmartThings feature. You may be wondering how this feature will benefit you. This built-in feature allows you to monitor the air quality in your home, while allowing you to control the device anytime, anywhere with your smartphone.
Hence, you can even engage it from the office and enjoy the fresh air at home upon returning.
3/ Philips 3000i Series Air Purifier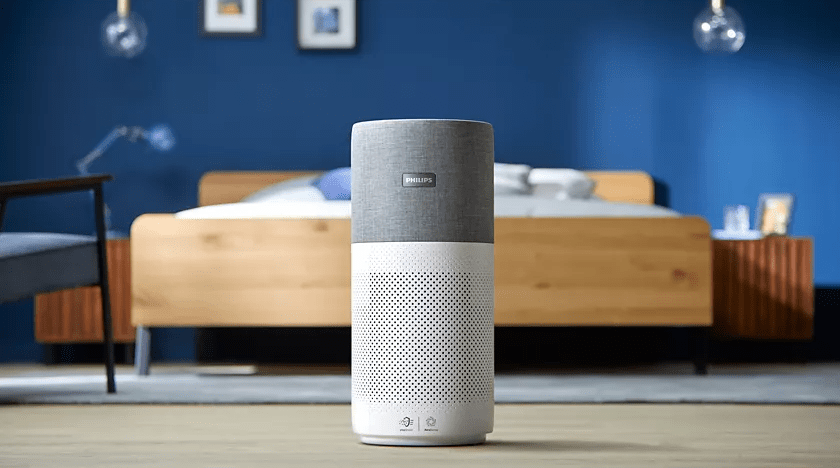 Your ultimate lullaby for a good night's sleep. Source: Philips
Some may be concerned about the ability of an air purifier to clean air in a much larger setting.
With a high performance 360° airflow intake, no amount is too much for the Phillips 3000i Series Air Purifier. In just six minutes, it can clean 20m² of air in your home and can go up to 135m². 
This unique feature allows a singular device to easily cleanse the whole home. Also, it has various features that guarantee us a good night's sleep too!
By engaging the Allergy Sleep mode, itr scans for allergenic dust at night and automatically delivers 40% more air at low noise.
Besides being noise-free, the display lights will turn dim to reduce distractions at night. Personally, I think this design is very suitable for people with shallow sleeping habits.
4/ Panasonic F-PXU70AWM Air Purifier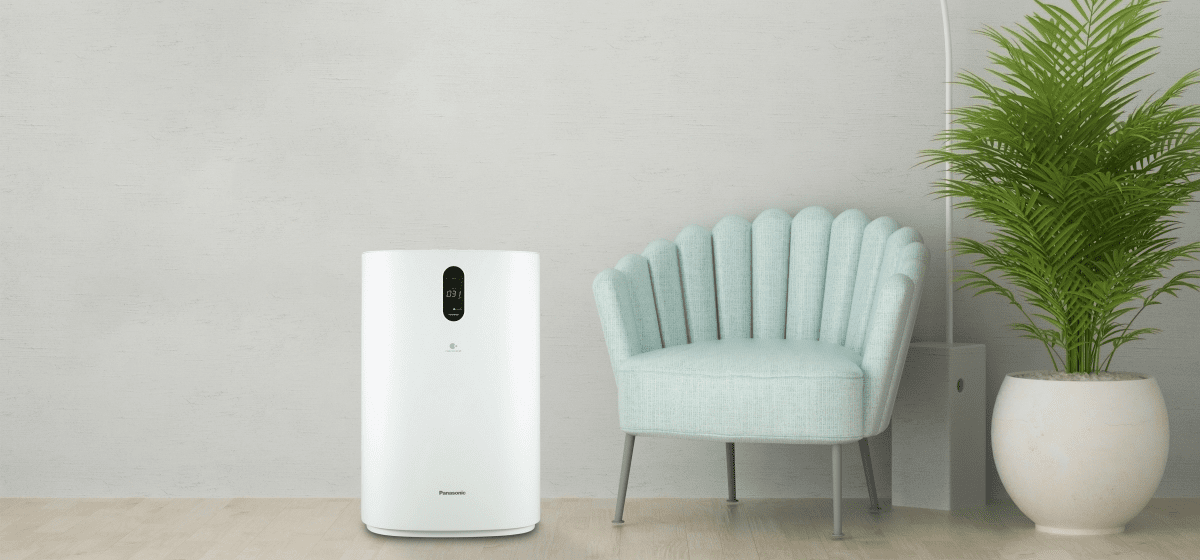 Sweep off unpleasant odours swiftly! Source: Panasonic
Panasonic was the one who broke through the air purifier market with their new nanoe™ X Technology, which releases radicals into the water molecules to kill viruses, bacteria, odours and allergens effectively.
Fun fact: this smart tool is beneficial to your hair and skin too! The weakly acidic nature of nanoe™X ions is similar to human skin and hair, allowing it to attach to the sebum to form membranes. This keeps your skin well-hydrated, at the same time making your hair smoother.
Finally, I can say goodbye to crispy hair and dry skin. Personally, the smell of cigarettes and kitchen waste circulating the home is a terrifying nightmare for me.
Even after you leave the windows open, they could linger around for several hours before vanishing completely.
Thanks to this nanoe™X Technology, the strong odour from cigarette smoke could be eliminated, becoming hardly noticeable in just an hour. If you're someone like me, this is a game-changer for your lovely home!
Which air purifier do you fancy?
After knowing the features of each air purifier, I bet you will have a clearer picture of which one to get for your cosy home. So which one has caught your attention? Share your opinion by letting us know in the comments below.
Looking for more related article? Check them out here: