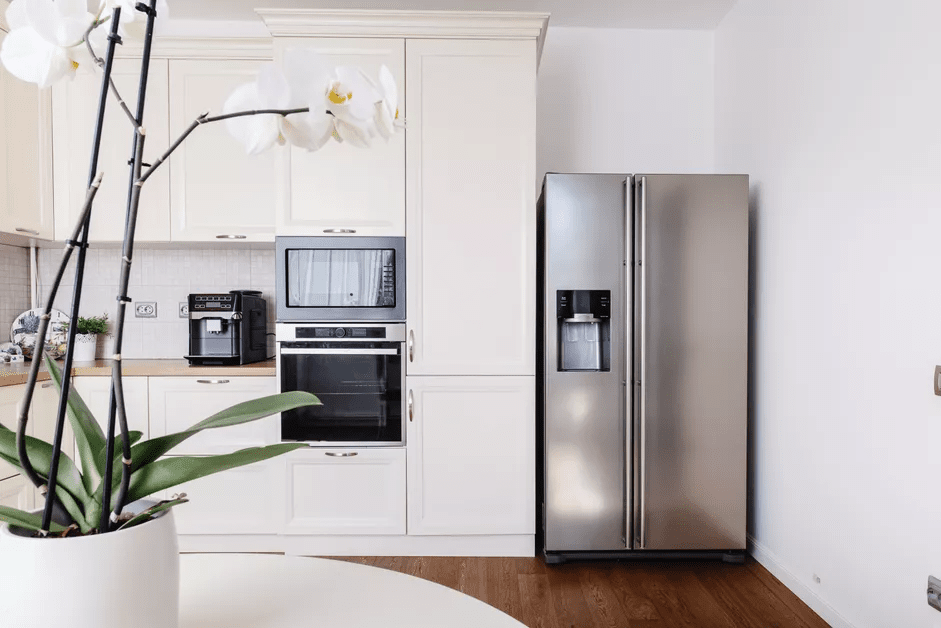 The kitchen is the heart of the home. Source: TheSpruce
Refrigerator styles can alter the aesthetics of a kitchen
Ponder the size and capacity of your space
You need to check out the Samsung's Bespoke French Door refrigerator
Shopping for a refrigerator is not something you do often. Heck, I have never shopped for one myself, and if either of us were to consider making a new purchase, we would be surprised to find that there are so many refrigerators out there with a great magnitude of styles and designs to choose from.
I believe a kitchen is a place where most families spend time preparing their meals. And having breakfast together, some may even say the kitchen is the heart of the home.
Back in primary school, I remembered my mom rounding up my siblings and me for a quick breakfast in the kitchen, right before she shoved us out of the house.
Having grown up in a home with limited kitchen space, my parents incorporated a refrigerator in the cupboard. This freed up a great deal of space for us, allowing the whole family to fit into the kitchen.
The style of refrigerators today has become more innovative. They have been able to come up with some fancy smart features, although not as high teched as smartphones.
With so many options available, you may be contemplating the refrigerator style that will suit you best. I often find myself looking for a midnight snack in the refrigerator, somehow hoping that one will magically appear, only to get disappointed to find that I am the only snack in my house. Haha, let us not lose focus here!
Okay, since we are getting back to business, knowing what's important to you is essential.
Are you simply going for aesthetics and quality, or do you want something ideal to stock up on your favorite food? Here are some common things for you to ponder:
1/ Kitchen space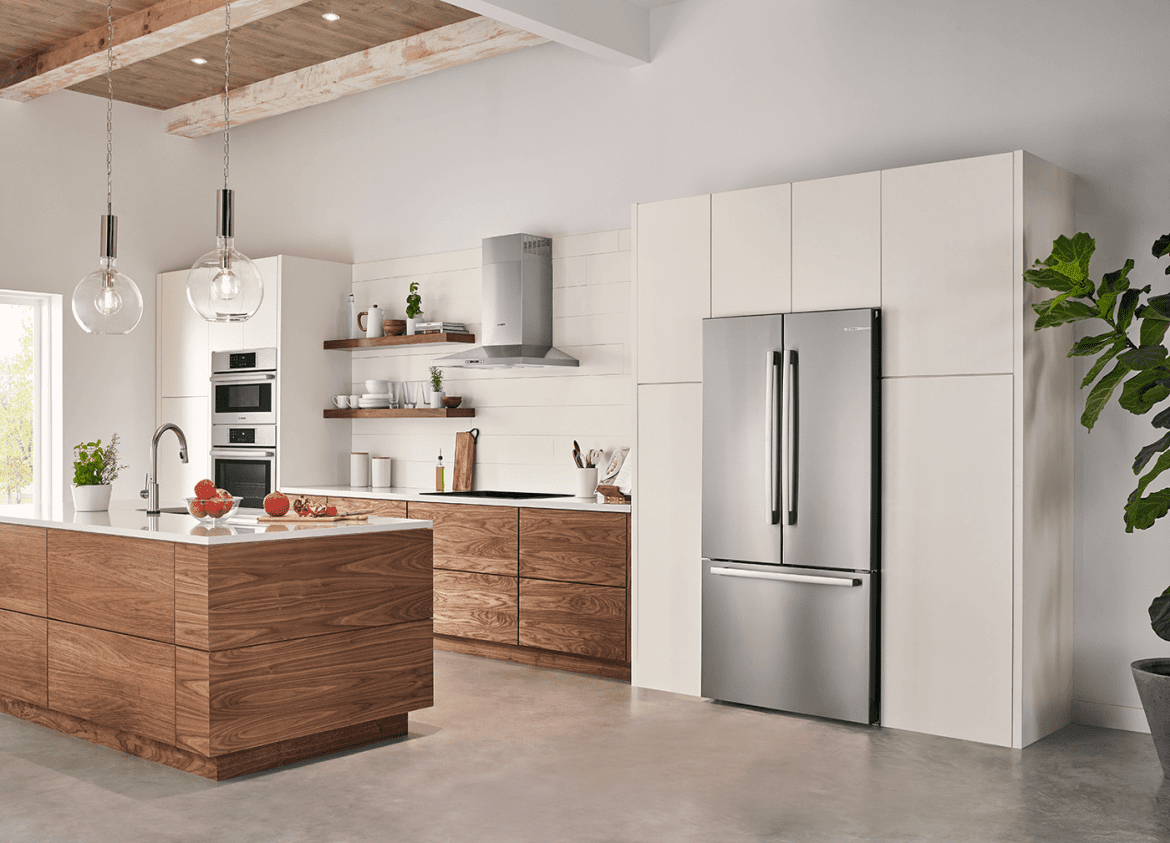 If you can organize a kitchen, you can organize your life. Source: Residential Products Online
Consider what would fit into your kitchen layout to avoid disappointment. Is it small? Is it wide? What is the depth?
Of what benefit would you receive if you couldn't fit a fridge right through the door. Just imagine the tug and war game we played growing up, only this time you are the only one tugging at a refrigerator with all your might.
2/ Refrigerator styles
a) Top or bottom-mounted refrigerator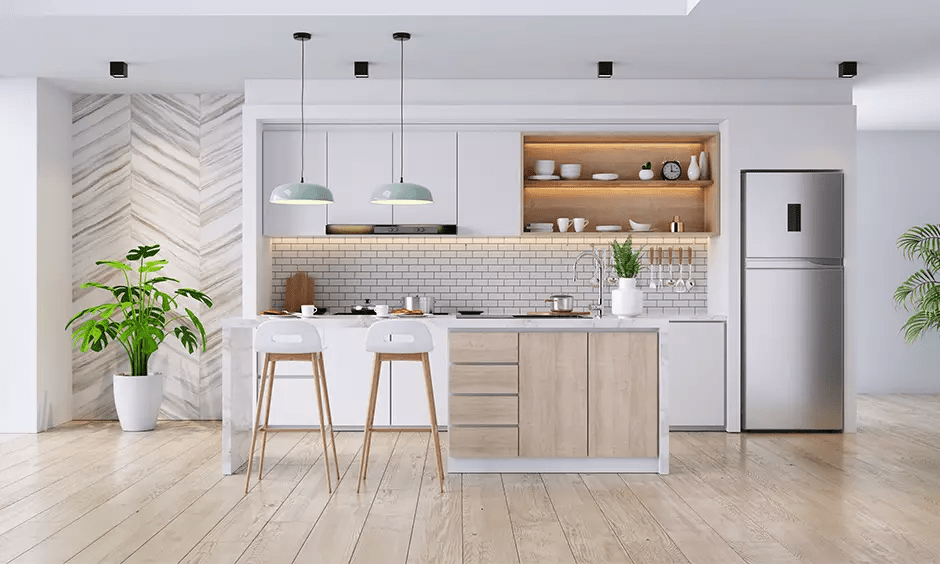 Traditional yet sophisticated. Source:  Foyr
The top-mounted refrigerator is good for fitting into a tight spot and offers the most decent storage space regardless of its size, which is roughly 24 and 33 inches. Talk about size doesn't matter.
If you are looking for something traditional yet sophisticated for a small kitchen, then look no further than the top-mounted configuration.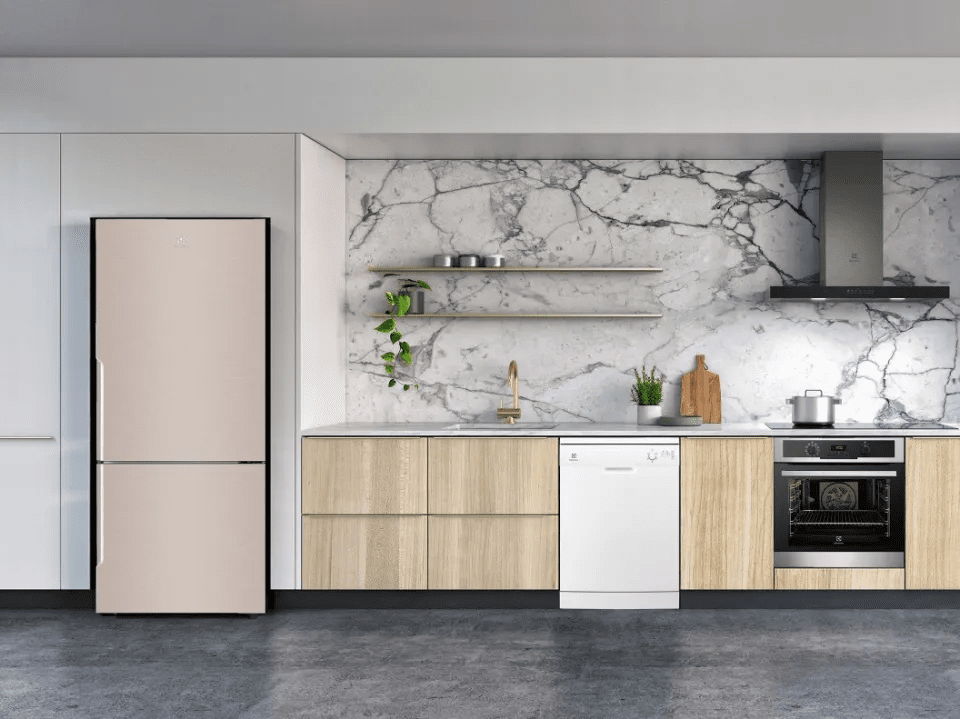 Designed for ultimate functionality. Source: theweddingvowsg
Instead of having a freezer at eye level, the bottom-mounted refrigerator, as the name suggests, has the freezer in the lower section, the direct opposite of the top-mounted freezer. 
To access your frozen goodies, you have to bend down a whole lot more. A bottom freezer features a stylish linear appearance at first glance, and the sleek design is a perfect blend for a contemporary kitchen.
b) French door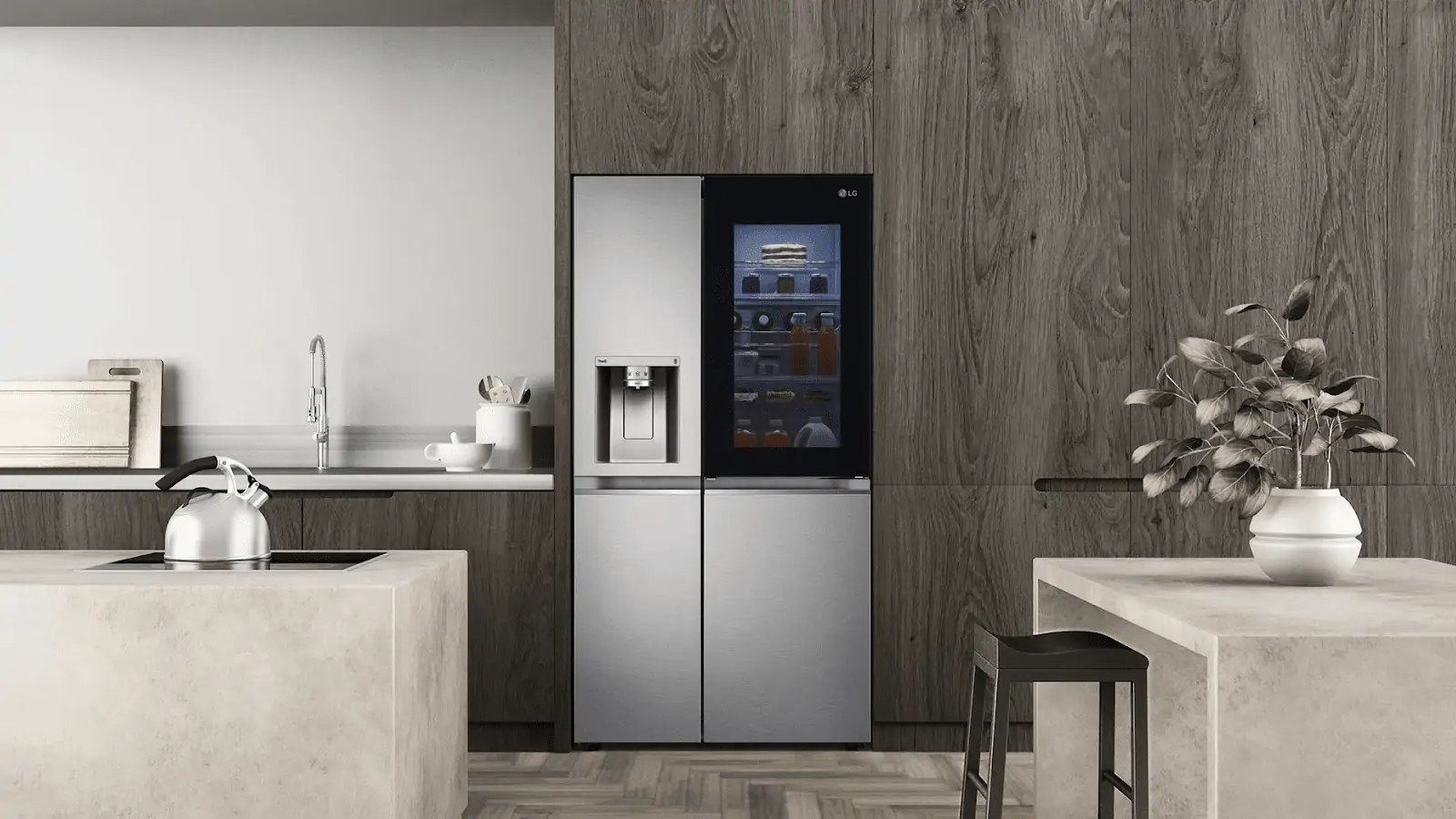 You should be free to match your house lifestyle. Source: Wired
A high-end choice that features small-swing french doors at the top with the added value of opening only half the fridge when you're stashing items in it. The bottom door is a designated freezer, which can be one or more.
These are beneficial if you have a household with young children. I can't imagine one day in the future getting up every five minutes to get snacks like ice cream for my kids. If they can reach the shelves, they can do it themselves.
However, keep in mind that if you want this convenience, then you have to be willing to break the bank a bit.
c) Side-by-side door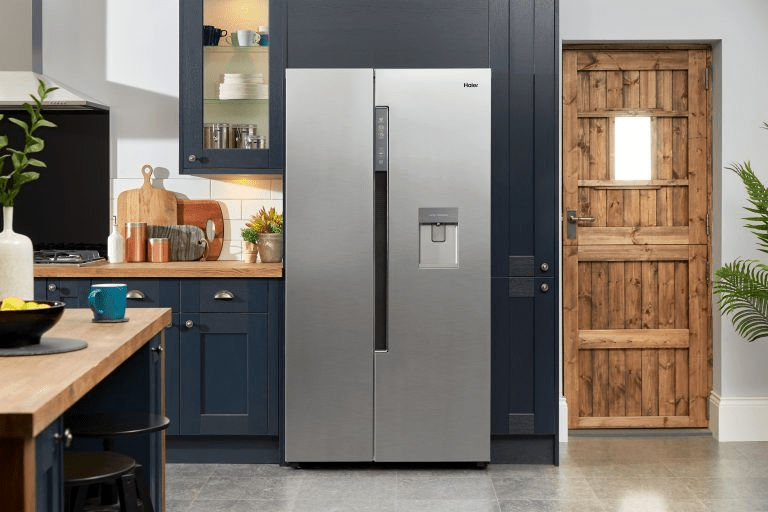 A sleek design for your home. Source: Stapletonselectrical
When compared to the french door, this configuration is more or less the same on the outside, but there are differences. The side-by-side door is divided into two—one side for the freezer and the other for the fridge. For something split in half, it does not offer space efficiency.
3/ Size and capacity
Always look at the capacity, and compare it to your needs. Size does matter. If you are trying to stock up for a large family, you may require more than just a few inches of capacity. So go for something that can easily meet your needs. It won't be worthwhile to make a purchase based on aesthetics only.
4/ Smart Features 
Think for a minute! Are you into innovation? What smart features do you use the most?
If you are into high-end features as you should be in this tech-savvy world we live in, I can only think of Samsung's Bespoke French Door refrigerator, a fridge designed to meet all your family needs.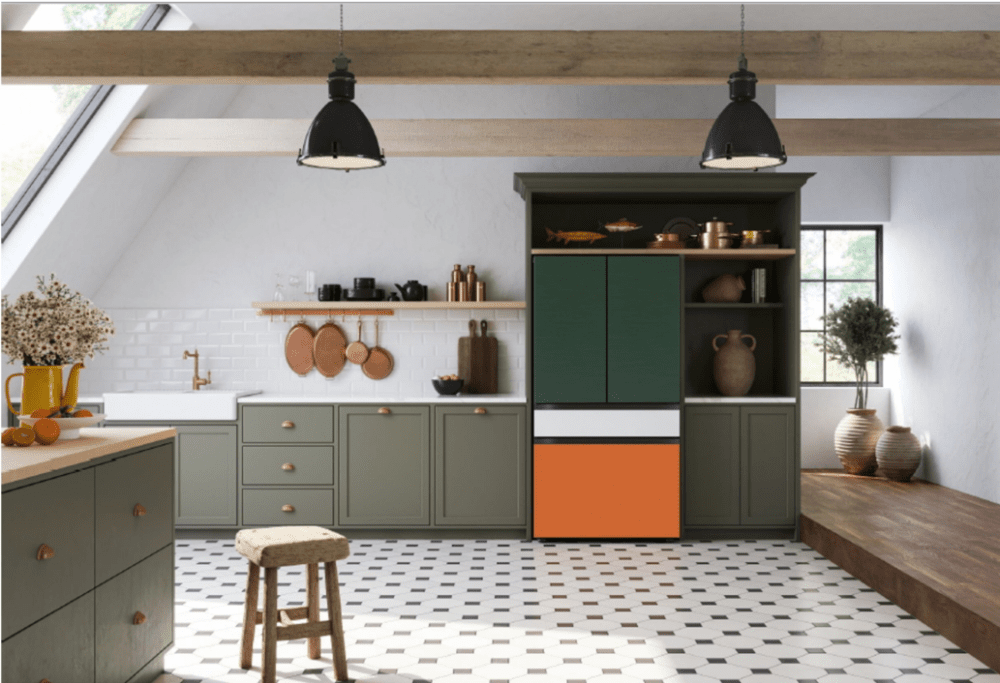 The true reflection of your taste. Source: SamsungNewsroom
Growing up in an African home, my mother never let me watch TV whilst cooking because she thought I'd be too distracted. She always considered her kitchen the center of the house. 
With this smart fridge in the house, I would be able to stream music and shows whilst cooking with her. Talk about killing two birds with one stone! I mean, who wouldn't want this.
But what is so unique about Samsung's Bespoke refrigerator? This beauty comes in a range of three to four-door models, 12 unique colors to suit your kitchen aesthetics, and not forgetting the cooling innovations and auto ice maker. Ah yes, I can already taste that cool glass of water I'm gonna drink later.
We all want something that has a hidden meaning that we can relate to our personal lives and this is the customization Samsung has managed to make possible. You can easily custom design your fridge to match your home.
Also, with a Flexzone for optimal temperature control and an internal camera that reads your labels, you never have to reach in the back to find that jar of rotten pickles again. 
Here's what I say!
Choosing a style simply depends on your budget. You don't have to stick to trends just because others are doing it. Pick a style that would best suit the features you want, the space in your home, and the overall design of your kitchen. 
Take your time in making a selection, and trust that your investment into your home will add value to you. I know you probably assumed a fridge is just a fridge, but now that you know the factors to consider, are you ready to pick the right one?!
Looking for more related article? Check them out here: