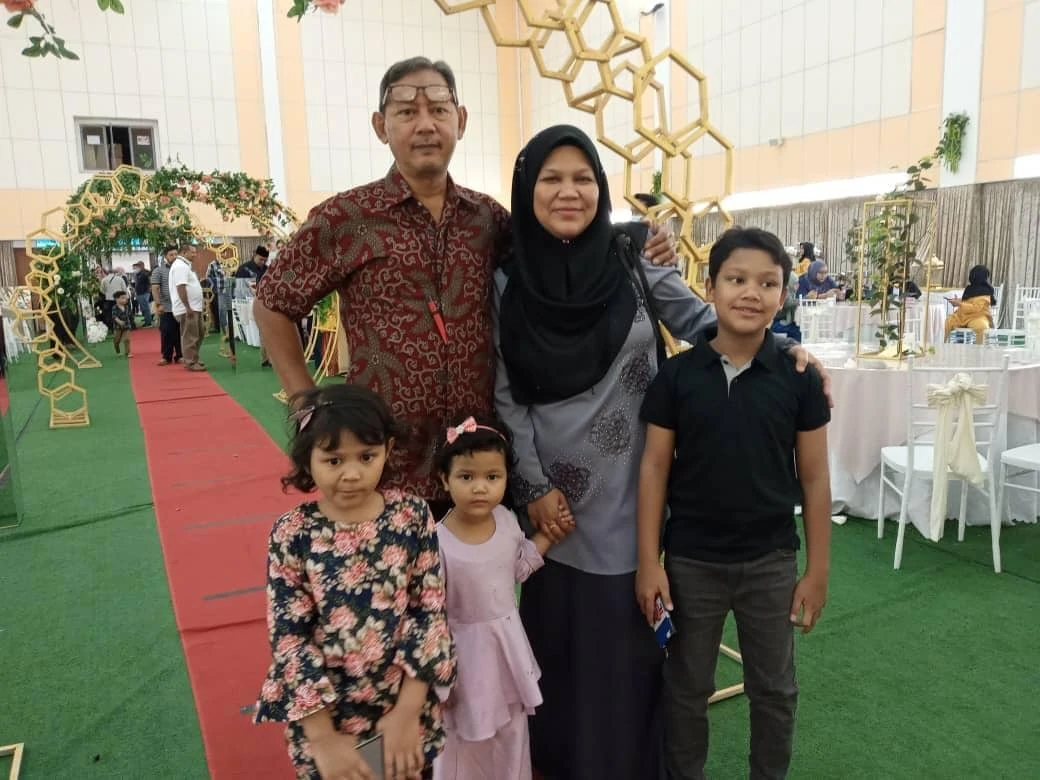 Happier times. Abdul Razak Bin Jemali and Nurul Mohd with their three children: Fatimah Solehah, Khadijah and Muhammad Ali (from left) 
The bond of love is broken by a partner's passing
Nurul recovers from her grief to care for the children
Poetry became the means by which she expresses her sorrow
Help from big-hearted strangers has poured in to heal their wounds
True love is a beautiful yet rare emotion, manifesting occasionally to bind souls together in an enriching union. And that is what Nurul Mohd and her husband Abdul Razak Bin Jemali experienced, although their bond was cruelly severed by the Covid-19 virus, which took the man of the house. Left with her three children, she is now jobless.
The story of people losing their loved ones and jobs to the pandemic is already commonplace, so what makes them different from others? As it happened, we stumbled upon some of Nurul's poetry which were gaining attention on the internet. 
Reading some of them, we were reduced to tears, and it is our knowledge that others were equally touched in such an intimate manner. Fueled by sympathy and a desire to help, we reached out to her.
"I lost my husband last year in July 2021. He got infected by his colleague," said Nurul during a video interview with us. Conversations done online are usually two dimensional, lacking the ability to convey the atmosphere and emotion.
Yet we could feel her grief even though she tried her best to smile through the pain. The period between the moment he got infected and until he died was a short one, taking less than two weeks. She recalled that his oxygen was still high and that he looked fine, fresh and ravishing during their last video call.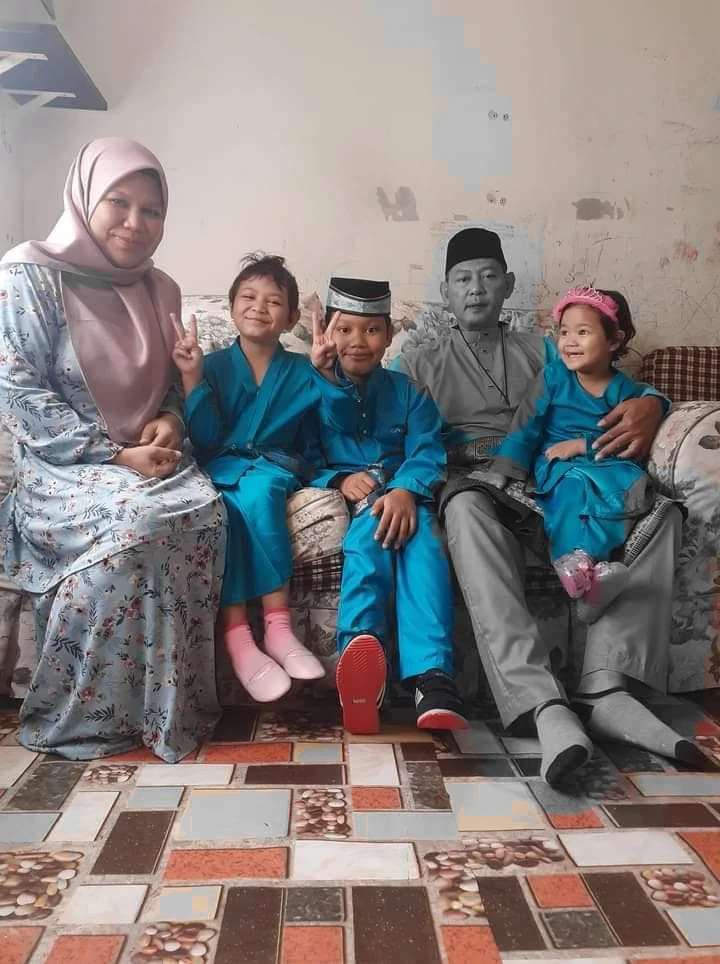 A matchmaking session between Nurul and Abdul Razak turned into 11 years of happy marriage.
But ten hours later, her world changed forever when she received a call from the hospital informing her that her husband had passed away. Two months later, she still could not shrug away the burden of grief. She could not sleep well, waking up between 1.00 am to 3.00 am. To add to the pain, her children would constantly remind her of her loss by asking about their father.
"Yaya is working right now," Nurul would say, repeating the white lie to keep the memory going on between her and her husband. Her late husband had been a fun person, hence it was inevitable that the children adored him.
"And I'm trying my best to fill in that spot by enjoying what we have right now," she said, sadness shining in her eyes.
At times, the children would express their longing for their father such as saying, "It would be much more fun if Yaya was here." She feels like a loser whenever they say this to her.
Coping with the pain
"Always appreciate your partners, and take pictures of each memory you have with them. Unlike me, I just realised how few of them I have with my husband. You don't know when they are going to leave," she said, scrutinising our faces through the video feed. It is as if she could taste our sorrow, intermingling with hers.
To release the burdens of her heart, she decided to express it through poetry writing. Nurul's eloquence in expressing her sorrow was only matched by her bravery, for she was usually not keen to reveal her emotions, especially not to a crowd of strangers.
Nurul began writing poems three months after her husband's passing and had two of them uploaded on an American website called Grief Speak. Surprisingly, a lot of people read it and shared her poem.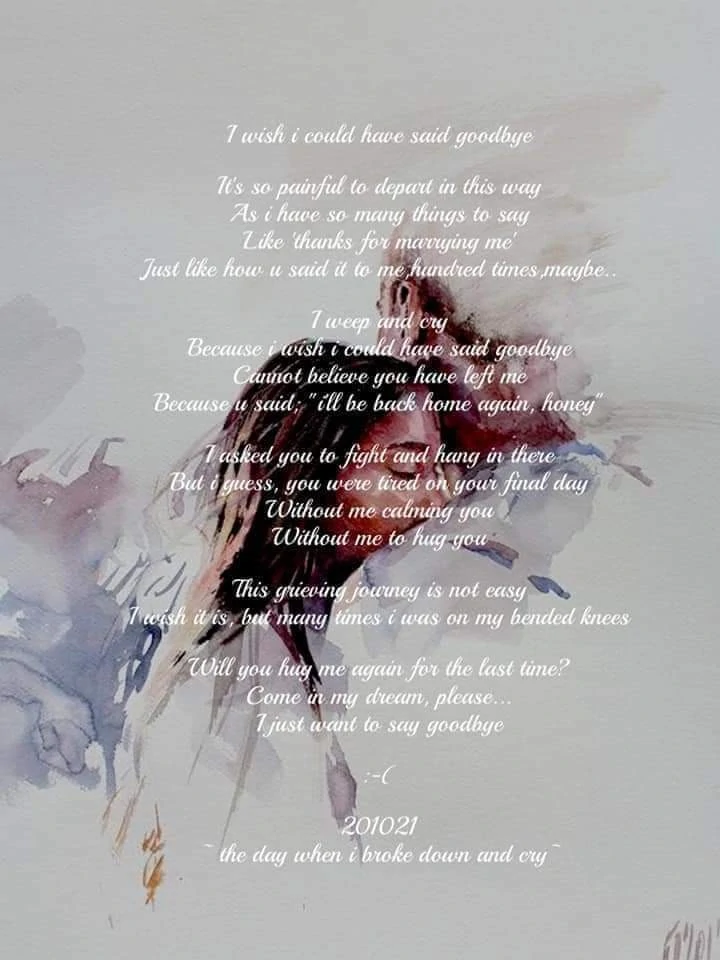 "The Day When I Broke Down and Cry", written by Nurul Mohd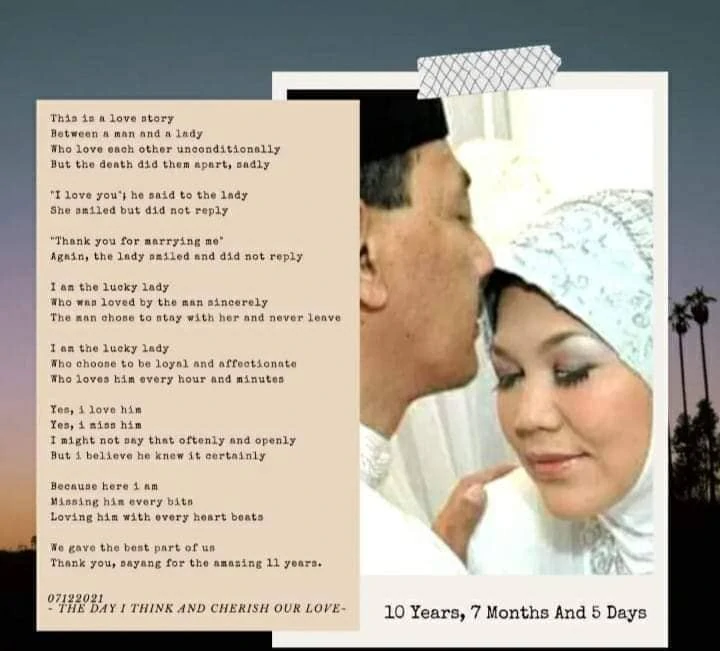 "The Day I Think and Cherish Our Love", written by Nurul Mohd
"Yes, I wrote the poem a week before my wedding anniversary because my husband always showed me affection, such as saying "I love you" or "I miss you" at the end of a phone call. He would also say, "Thank you for marrying me" or "Thank you for being such a good mom," she said. Our hearts went out for her as we listened to her story.
However, Nurul tended to be reserved, and she had trouble expressing her feelings. The poems are the reflection of her regret at not showing him her affection. It is also a lesson for people to appreciate their partners and to prove it. 
Mending the hidden wounds of love
Her children were her saving grace, bringing her out from her bubble of grief and back into the world of the living. 
"Having my children by my side as motivation, I no longer feel the sadness as much, the same way my sleeping schedule has become better without me consuming any medication. At the end of the day, I have to move forward to give a better life to my kids." While we talked, one of her children came over to look at us, her eyes huge and curious.
Sadness creeps into our hearts as we gaze at her, knowing that she is an orphan. And here we are, having a mother and father in our lives since forever, and yet, not realising this simple yet priceless gift—their existence.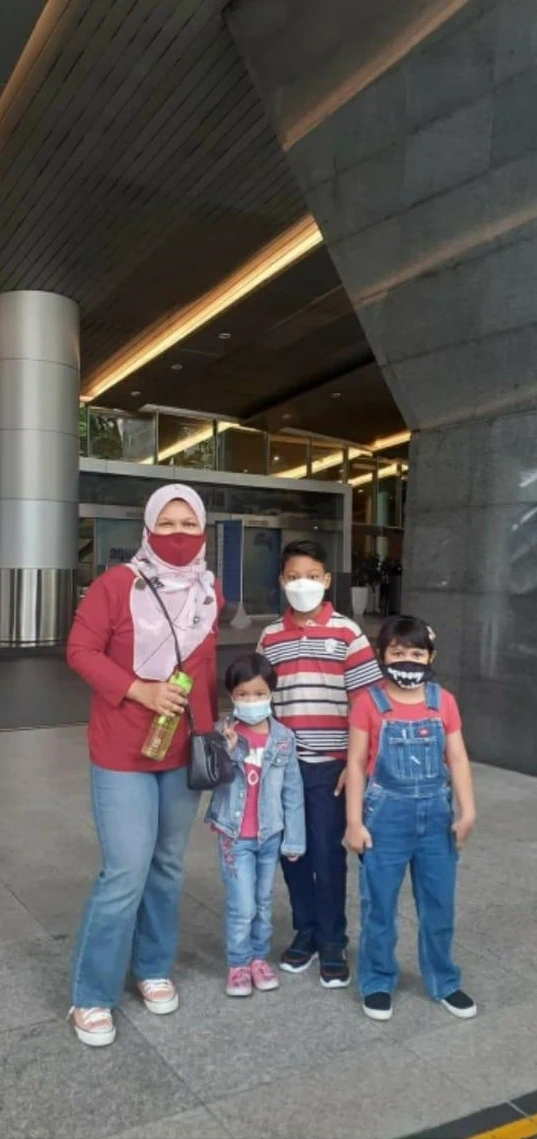 Nurul's first trip to Aquaria with her kids.
Nurul then quoted "You'll never understand the pain until it happens to you." Seeing his tombstone was the death of her.
"Ever since that day, I started to appreciate life more and live life like it's my last. This is why I spend more time with my children and go to places together. I also started to express my affection more and to appreciate them. We are slowly becoming more connected and involved in each other's lives, something that I could've done sooner when my husband was here." Knowing that she is getting better fills our heart with warmth and happiness. 
Overcoming the challenges of the future
Currently, Nurul and her family are surviving through donations, which are done by her friends and family members. For the past few months, her in-laws have been giving contributions, not forgetting the school and also Jabatan Kebajikan Masyarakat.
"I'm currently working as a freelance writer. However, I'm afraid the pay was not enough, since each word is calculated into 1 sen. Truthfully, I'm quite disappointed as it's not aligned with my 16 years of experience in research writing, especially from someone who's quite desperate to earn money."
"As of now, I don't have any intentions to work physically as I still feel the time is not suitable following my family's situation. When the time is right, especially for my kids and me, then I'll be ready to step out into the world."
According to her, her husband had died at the age of 61. Due to the fact that the reason for his death was because of the Covid-19, she could not claim money from SOCSO to sustain the family because the accident was out of the company's control. Currently, she is appealing for it, and the case is ongoing. Nurul further expressed her disappointment at the unfairness of the system.
"The things that my husband always taught me throughout our marriage, are to always communicate and to not think much of the future."
The story of Nurul is not all doom and gloom. As the saying goes, "Every cloud has a silver lining." After her husband's death, Nurul made a post in an entrepreneur group on Facebook, asking if her current condition made it harder for her to be hired.
A good number of people began texting her, offering aid in the form of money, food, job offers and more. "It showed that Malaysians are very caring, and I appreciate that I'm able to witness and could be a living example of that," she said with a bittersweet smile on her face.
She is slowly trying to step back into the working world after handing out her resume to a few companies. Nurul further expressed her hope to land a job by April, before Ramadhan. The story of Nurul is a constant reminder for us not to take our loved ones for granted. Fate could snatch away the ones we love in just the blink of an eye. And all that remains in the silence are the unspoken words we always wanted to tell them. Hence it is only appropriate to end this story with a poem from Nurul, titled "Telling Myself." 
Telling myself
I am almost drowning in my own battle
But I tell myself, I am their world
Telling myself again: "hey, chin up, baby"
Because they need me
The road I travel is full of challenges
Telling myself: "I've to be strong as I have no other options"
On my bended knees I ask him: "Please guide me."
I just want the kids to be happy
Looking for more related article? Check them out here: