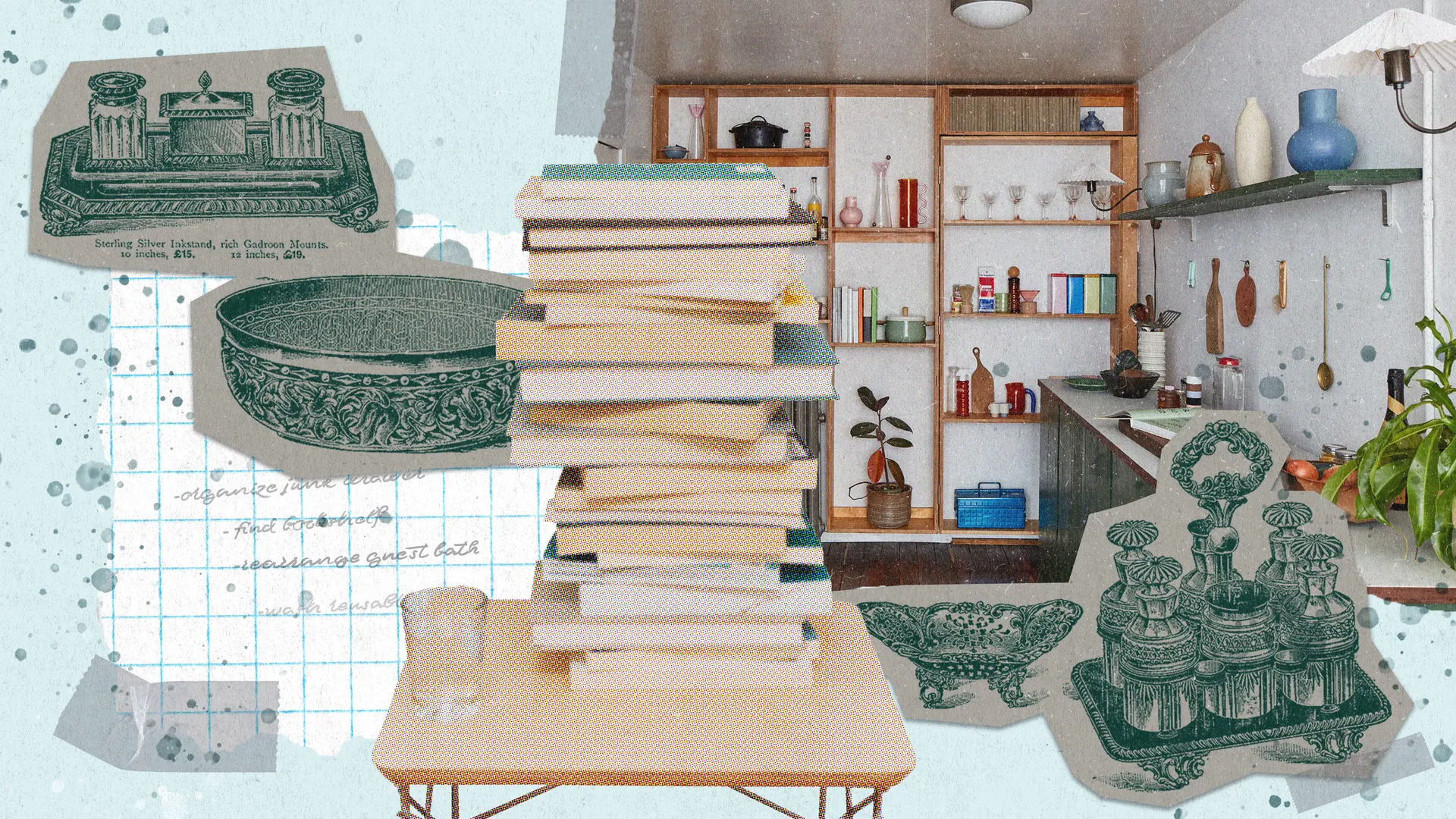 Home hacks make your life better! Photo Source: Architectural Digest
Are you tired of scrolling endlessly on TikTok, looking for the ultimate house hack guru? Fear not, we've got you covered! 
In this article, we're spilling the tea on five Malaysian TikTokers who will blow your mind with their amazing home hacks. From transforming a small space into a cosy oasis, to turning a car into a camper, these TikTokers will make you wonder "why didn't I think of that?" 
Get ready to be inspired and amazed as we take you on a journey of creativity, innovation, and a whole lot of fun! So, get your snacks ready, sit back, and let's dive into the world of Malaysian home hacks!
1/ Nadiah Home
IG: @fasz.nadiah
TikTok: @fasz.nadiah
Nadiah's passion for interior house design shines through in her innovative and practical approach. Her insightful tips for the kitchen, such as how to organise the refrigerator, store frozen foods, and clean the living room quickly, are well-known in the industry.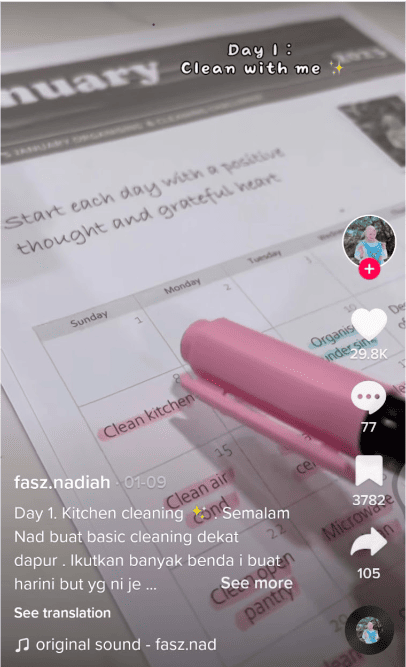 Nadiah showing off her cleaning routine timetable. This may be a sign for you to start planning your own cleaning routine! Source: TikTok
One of Nadiah's videos, in which she shares her secret for keeping perishables fresh in the fridge, has garnered over a million views. Her technique involves washing, cleaning, and slicing the chicken before covering it in dry tissues. The video also showcases numerous tricks for preserving fish, prawns, squid, carrots, chillies, and other foods.
Apart from her expertise in the kitchen, Nadiah also offers valuable advice on simple and effective ways to spruce up your home without the need for nails or wallpaper paste. She advocates the use of tape to hang frames, making it a DIY project that renters and homeowners alike can easily undertake.
2/ Rumah Safina dan Naqi
IG: @rumasafinaqi
TikTok: @rumasafinaqi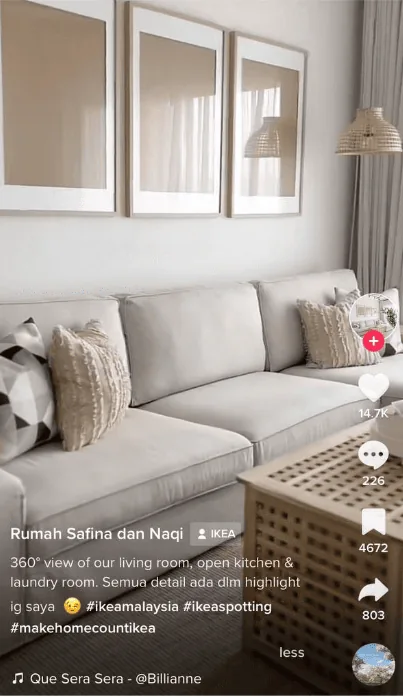 360° view of the open concept home of Rumah Safina dan Naqi. Who knows, this might be your inspiration for your home! Source: TikTok
Living in a small house can sometimes feel suffocating, but fear not! Our Malaysian married couple has found the perfect solution to making the most out of limited space when decorating your own home's interior. By finding innovative ways to overcome these challenges, they have achieved great success in creating a comfortable and welcoming living space.
One of their top tips is to increase the amount of lighting in the house, as well as displaying more pieces of artwork and plants to create the illusion of a larger living area. The couple highly recommends these simple yet effective techniques to anyone facing similar space constraints.
Additionally, they understand the challenges of maintaining a clean home with a hectic work schedule. That's why they have developed easy cleaning techniques and routines that anyone can incorporate into their daily lives. After a long and demanding day, who wouldn't want a quick and simple way to clean their home and relax in a cosy environment? 
3/ Sharifah Maisara (Sarah)
IG: @_sarahmohdshah
TikTok: @_sarahmohdshah
Given the power of social media, how can parents Sarah, a hardworking mother of two young children and a full-time job, know firsthand how challenging it can be to maintain a clean and organised home. That's why she's come up with some innovative techniques to make it easier for her to keep her house tidy, even with her busy schedule.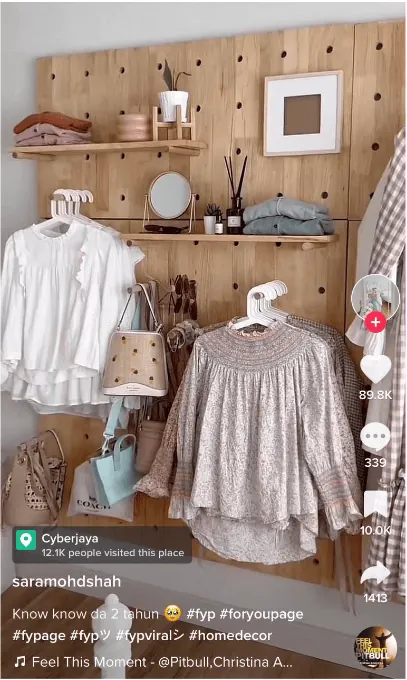 Before and after transformation of Sarah's home. Simple and cute isn't it? Source: TikTok
Sarah's inspiring before-and-after video of her beautifully organised tiny house has garnered the attention of over 700,000 viewers, and she continues to share valuable tips and tricks with her followers on how to keep their homes neat and organised. Despite the constant influx of bags, clothes, and towels, Sarah's methods have helped her maintain a clutter-free and stress-free home.
(Tips to make your tiny room looks bigger)
4/ Minis
TikTok: @minismanis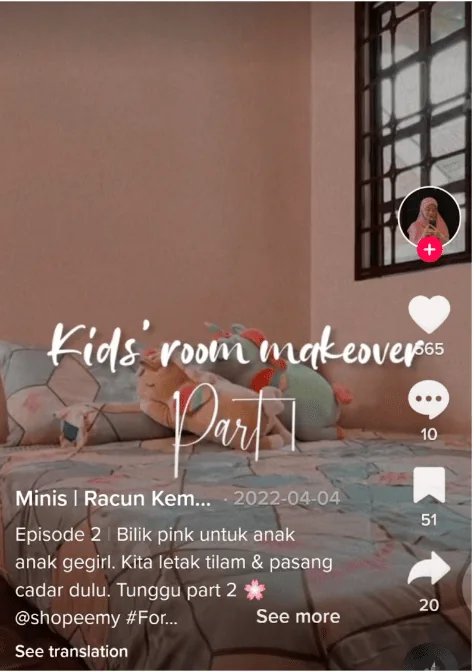 Kids' room makeover by Minis. Seems simple and cute, suitable for the kids! Source: TikTok
Looking for ideas to make your kid's bedroom makeover special? Not sure which storage solution to choose for your little one's room? Look no further! Meet Minismanis, a TikToker who has got you covered with all the information you need to create a wonderful space for your kids.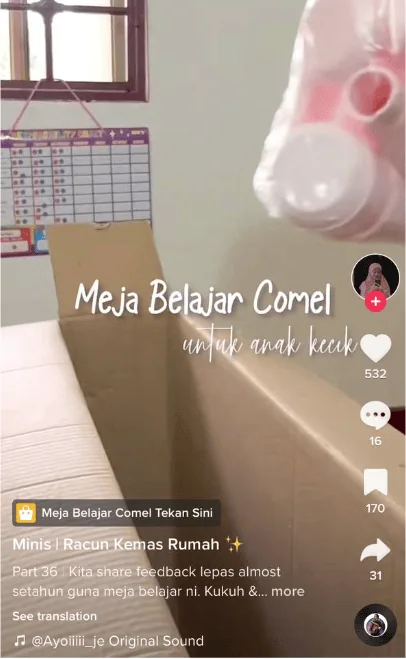 Cute study table for kids shared by Minis. It definitely will help in motivating your kids to study! Source: TikTok
Minismanis has a knack for selecting beautiful storage containers for her home. Are you struggling to organise your dress, shawl, slacks, and t-shirts? With her clothing organisation skills, Minis can guide you on how to do it right. You can now rely on her expertise to help you organise your closets in a breeze.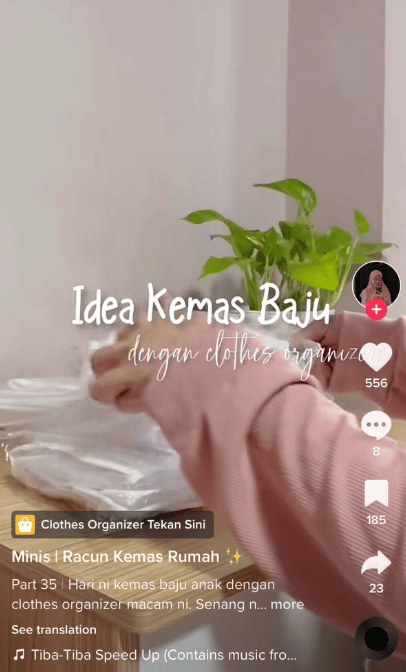 Minis showing off her adorable new clothes organiser. Source: TikTok
She also shares some fantastic ideas for organising your kitchen that can be found on her page. These tips will help you make the most of the space you have and boost your productivity. Don't stress about organising your kitchen anymore – simply follow these easy-to-follow tips!
5/ AD Sweet Home
IG: @adsweethome
TikTok: @dihasyazwanii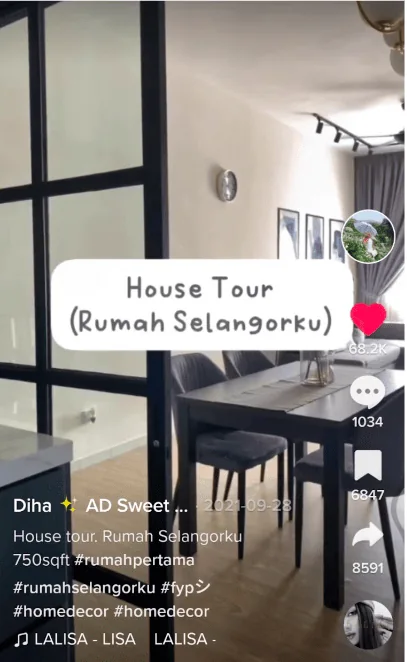 Diha's small but stunning home transformation for her first house! Source: TikTok
Are you struggling to transform your new home into a comfortable and minimalist living space? Look no further than Diha's TikTok videos for inspiration! She shares how she transformed her 750 square foot home into a stunning minimalist space by redecorating and remodelling it.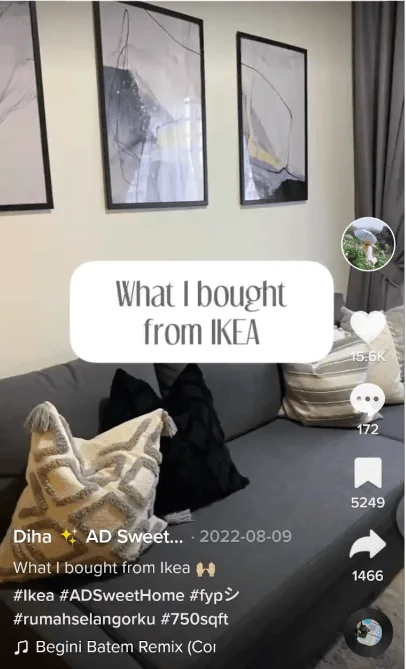 Multifunctional items Diha bought from IKEA. Yes, you can just get these useful furniture from IKEA! Source: TikTok
Are you struggling to transform your new home into a comfort? If you're moving into a new home and unsure of what to get from IKEA, Diha has got you covered. In one of her videos, she shares her top picks of multipurpose items that you can use to transform your tiny house into a cosy home with functional furniture.le and minimalist living space? Look no further than Diha's TikTok videos for inspiration! She shares how she transformed her 750 square foot home into a stunning minimalist space by redecorating and remodelling it.
Are you a budget traveller looking to go on a camping trip? Check out Diha's car camping vlog where she shares her tips and tricks on how to transform your car into a comfy bed. Her car transformation is simply impressive and worth a watch! 
Don't miss out on Diha's amazing content! Her videos will inspire you to transform your living space and enjoy the comfort of functional furniture.
Click the link below for more awe-inspiring content!
Weird Furniture For When Things Get Too Boring At Home