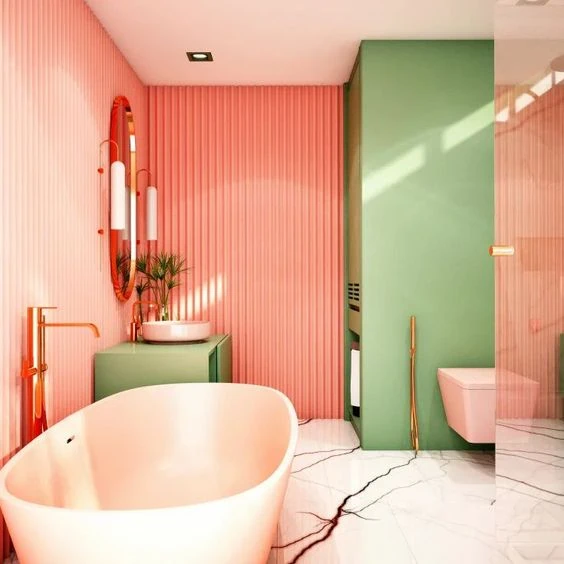 Go big and bold with these stunning colours—source: mindbodygreen.
Get ready to transform your bathroom into a vibrant paradise! Discover the secrets to adding bursts of color, bold hues, and stunning patterns to create a space that reflects your unique style. 
Unleash your creativity and embark on a design journey that will leave you inspired and in awe. Get ready to turn your bathroom into a work of art!
As we find ourselves in the midst of another year, we can't help but reflect on the journey so far. While there have been ups and downs, one thing is for certain: life has a way of surprising us! Sometimes, the most unexpected circumstances can lead to amazing discoveries. 
Speaking of surprises, have you ever considered exploring your hidden talents in DIY and crafts? You might be surprised at what you can create with a little imagination and some basic materials. 
Now, let's talk about the year unfolding before us. It's a time of growth, learning, and embracing positivity. While we may not be at the end just yet, it's never too early to think about how we can infuse our lives with vibrant bursts of color. 
Imagine stepping into your bathroom and being greeted by a bright accent wall that instantly uplifts your mood. Forget the usual monochromatic look; why not consider adding some lively hues to create a space that truly reflects your unique personality? 
With that in mind, here are some options you should consider when it comes to adding vibrant colors to your bathroom!
Create a focal point with a vibrant bathtub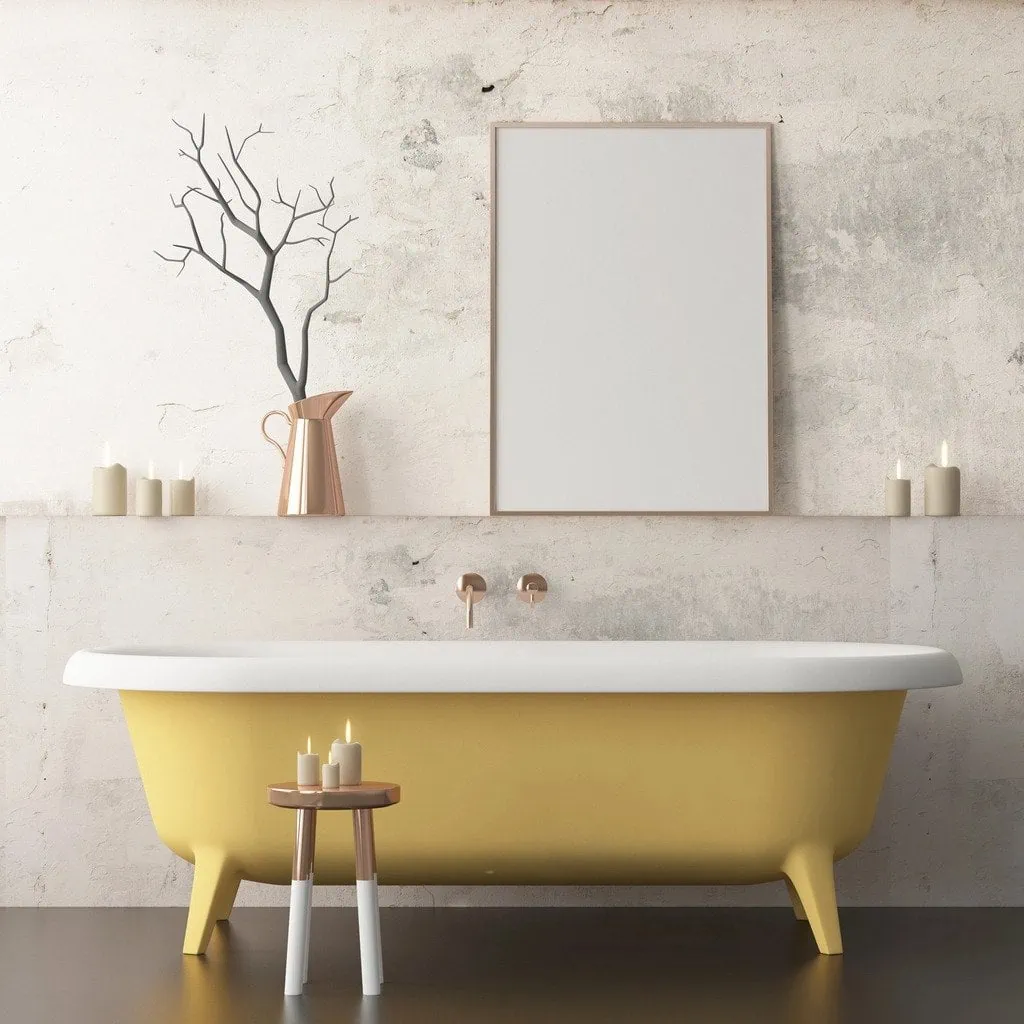 Add vibrant pops of colour to your bathroom. Source: Badeloft
Want to give your bathroom a fun makeover? Spruce it up with bursts of color! Imagine a freestanding bathtub that instantly grabs attention with its vibrant hues. It's like adding a splash of sunshine and the freshness of spring right into your bathroom. 
Remember, your bathroom should be your happy place. If it's not sparking joy, why settle for mediocrity? Let's make it worth your while and transform it into a space that brings a smile to your face every time you step in.
The bold and the beautiful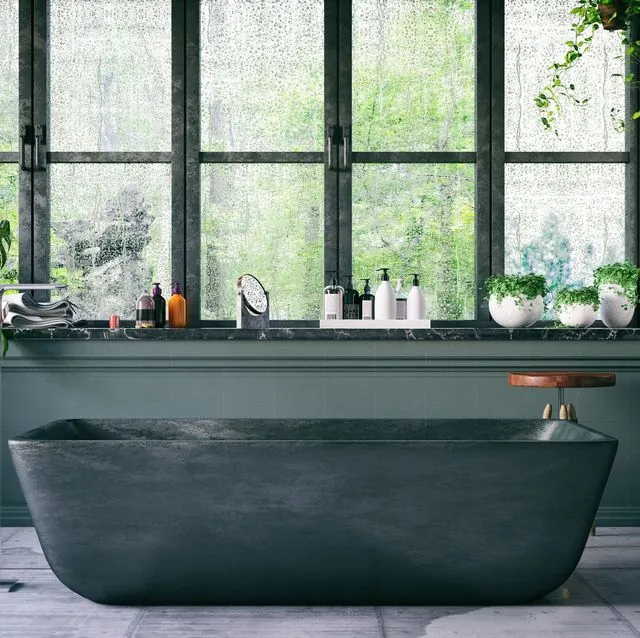 Thinking of a more subdued tone? Source: Good Housekeeping.
Want to give your bathroom aIf you're all about embracing your inner drama queen (or king!), it's time to unleash your wild side with bold and intense hues. Picture this: a bathroom dressed in a captivating hunter green, setting the stage for a luxurious and rejuvenating bath after a long, exhausting day at work. It's pure bliss! 
And hey, here's a secret: Once you dive into the realm of bold colors, there's no turning back! Get ready to embrace a whole new world of excitement and style that will leave you wondering why you didn't go bold sooner. Let's make a statement and paint your bathroom with vibrant hues that ignite your passion for daring design!
Don't forget to add patterns!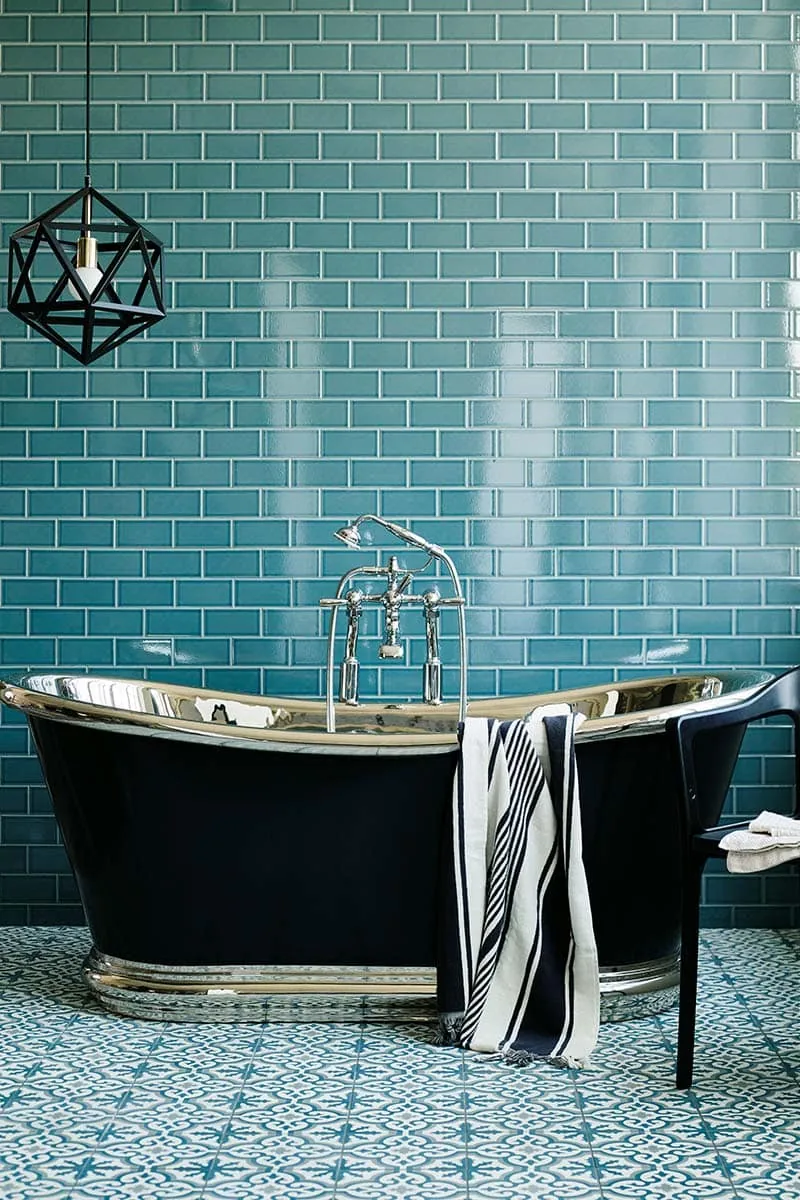 In with the patterns! Source: These Three Rooms
Ready to achieve that flawless, high-end vibe without emptying your wallet? We've got you covered! 
Get ready for an ingenious trick to bring that timeless luxury to your bathroom: combine deep-colored wall tiles with jaw-dropping patterned floor tiles. It's a match made in design heaven! Not only will it infuse your space with texture, but it'll also give your bathroom a whole new dimension. Prepare to fall head over heels in love with your bathroom, again and again! 
Who says you need to splurge to create a stunning space? Let's elevate your bathroom game with a touch of affordable elegance that will make your friends green with envy (or any other color you fancy!). Get ready to bask in the beauty of a bathroom that screams high-end, without causing a dent in your bank account. It's time to indulge in affordable luxury!
Never go wrong with the right colour combination!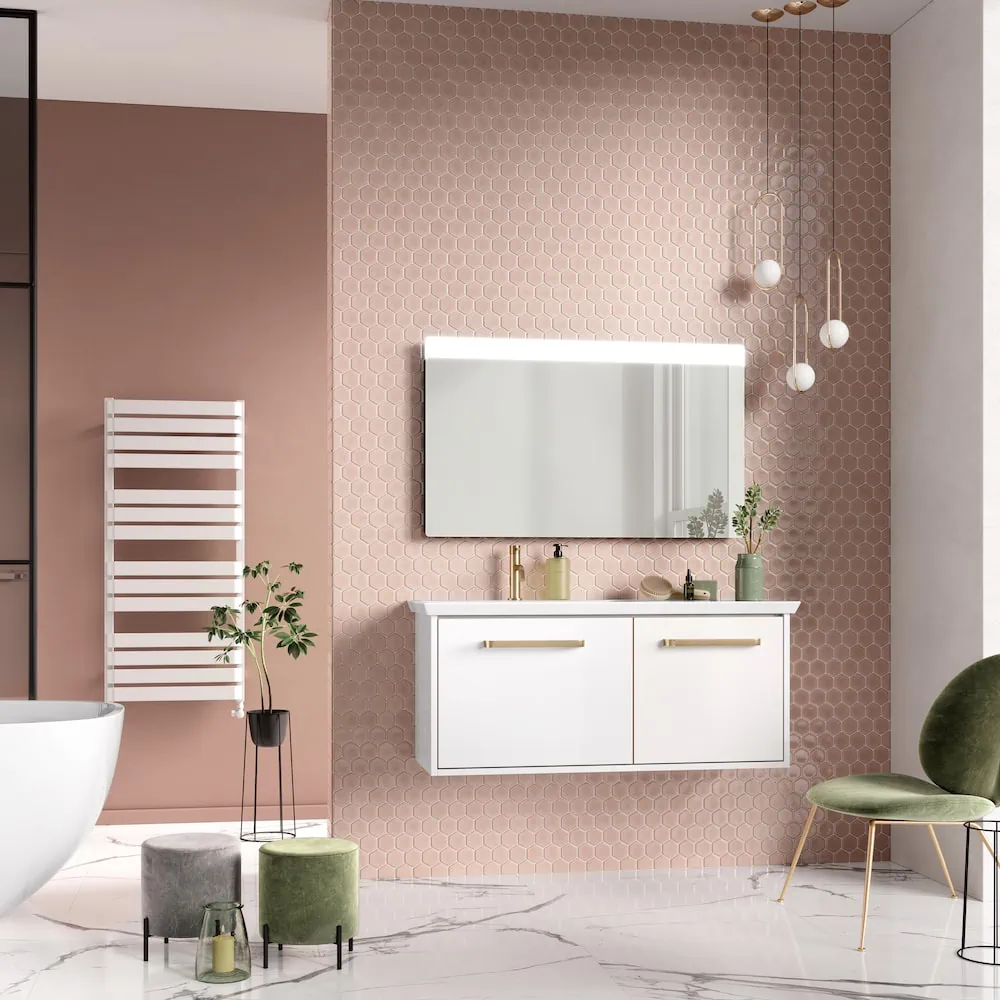 Add contrasting shades for that breathtaking look. Source: Hotel Designs
Calling all fans of softness and femininity! Get ready to create a dreamy bathroom that exudes tranquility and elegance. 
To achieve this look, go for gentle pastel shades that seamlessly blend with whites. Think of the perfect harmony between delicate gold, rosy hues, and blush tones, beautifully interwoven with stunning terrazzo. And let's not forget the touch of lush velvet green furnishings and leafy houseplants, adding pops of color and enhancing the overall ambiance. 
Imagine stepping into a bathroom that brings you peace, warmth, and an undeniable sense of sophistication. It's the perfect sanctuary for relaxation. Get ready to transform your space into a haven of serenity and beauty. Embrace the soft, feminine vibes and indulge in the ultimate bathroom retreat you've always dreamed of.
Unleash Your Creative Vision!
So, what's the verdict?
Get ready for a thrilling adventure as you dive into the world of design possibilities! With endless options at your fingertips, the excitement is palpable. Congratulations on embarking on this grand journey of creating something extraordinary!
But hold on, my friend. While the choices may seem overwhelming, strategic planning is the key to avoid any future regrets. It's important to consider factors like your budget, bathroom size, and natural lighting. Working within these constraints will ensure that your design dreams align with the practical aspects of your space. After all, the perfect design in the wrong room can throw off the entire layout.
So, let your imagination run wild, but also let logic and consideration guide you. It's time to strike that perfect balance and create a bathroom that's not only visually stunning but also functional. Happy planning and designing, dear visionary! Your creative masterpiece awaits!
Click the link below for more awe-inspiring content!