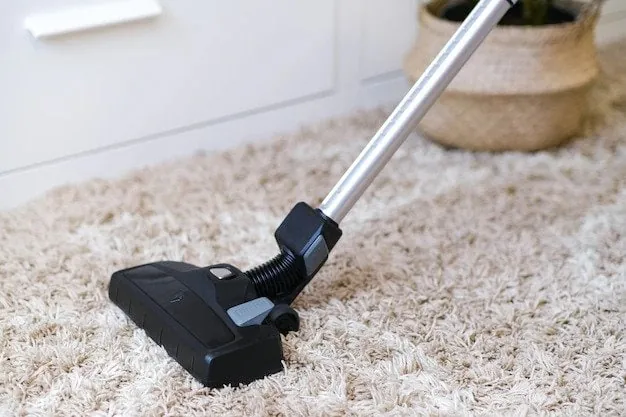 Effortless cleaning on different surfaces with these powerful vacuum cleaners. Photo source: Freepik
A guide to an efficient and effective cleaning experience.
Unveiling the excellence of premium cordless vacuums by Samsung, Dyson, Tineco and Corvan.
In today's fast-paced world, efficient and effective cleaning solutions are essential to maintain a tidy and healthy home environment. Gone are the days of bulky, corded vacuum cleaners that restrict movement and limit flexibility. Enter the realm of premium cordless vacuums, where cutting-edge technology, sleek design, and exceptional performance combine to revolutionise the way we clean.
In this article, we delve into the world of premium cordless vacuums and showcase four renowned brands: Samsung, Dyson, Tineco and Corvan. These brands are not only synonymous with high-end products but also set the benchmark for quality and innovation in the cleaning industry. 
Join us as we explore the features, advancements, and unique qualities of their cordless vacuum models.
1/ Samsung Bespoke Jet Complete Extra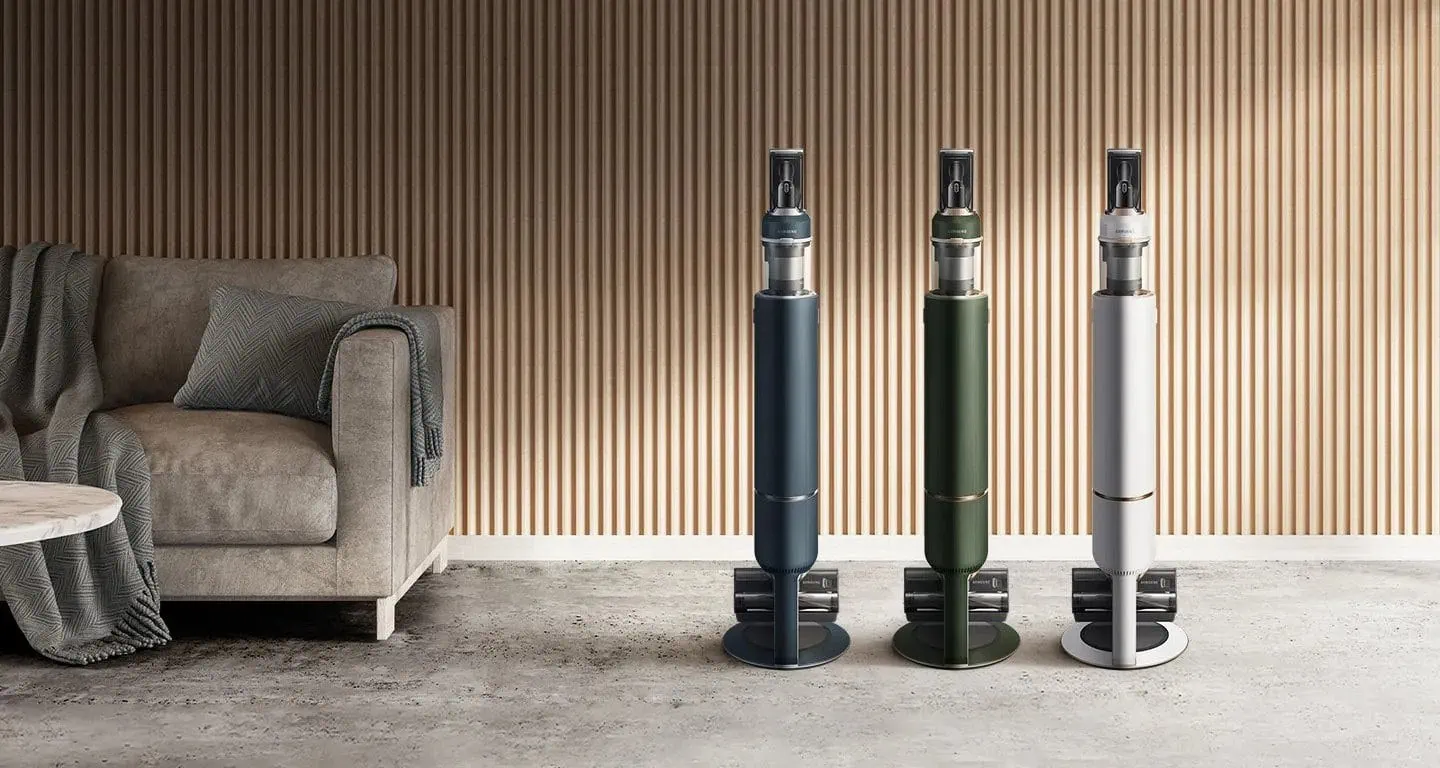 Transforming the cleaning experience through its convenient all-in-one clean station. Photo source: My Everyday Tech
Get ready to revolutionise your cleaning game with the Samsung Bespoke Jet Complete Extra, the superhero of premium cordless vacuums. This bad boy isn't just any ordinary vacuum – it's packed with features that will make you feel like a cleaning ninja.
Let's start with the all-in-one clean station. Say goodbye to the days of juggling a vacuum, dustbin, and charger. The Samsung Bespoke Jet Complete Extra is like your personal cleaning sidekick, with a dock that does it all. It charges your vacuum while simultaneously acting as a dustbin, so you can empty the bin and recharge with the ease of a superhero changing costumes. 
But wait, there's more! This vacuum is a beast with its 210-watt suction power, sucking up dirt and debris like a mini tornado. And guess what? It's as light as a feather, weighing only 1.44 kg. You'll be zooming around your house faster than The Flash on a cleaning mission.
And the cherry on top? The battery life will blow your mind. With up to 120 minutes of cleaning time, it outlasts your favourite TV show episode. No more running out of juice mid-clean. This vacuum keeps going and going, like the Energizer Bunny on steroids.
2/ Dyson V15 Detect™ Absolute (HEPA)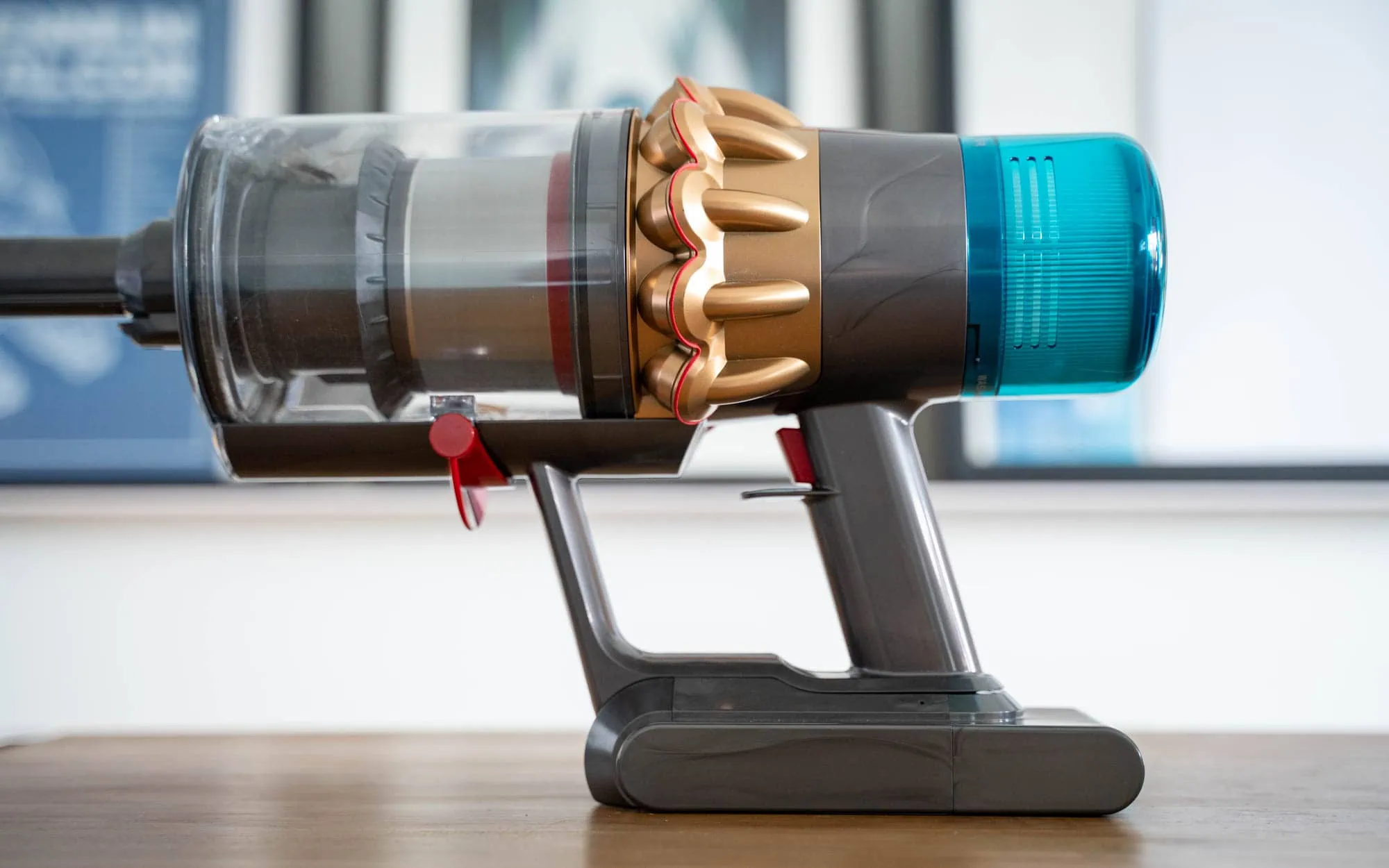 Unleashing the power of cleanliness. Photo source: Can Buy or Not
Next on our list is the Dyson V15 Detect™ Absolute (HEPA), the vacuum cleaner that takes cleaning to a whole new level. Dyson has once again pushed the boundaries of innovation to deliver a premium cordless vacuum that is nothing short of extraordinary.
One of the standout features of the Dyson V15 Detect™ Absolute (HEPA) is its incredible suction power. With a staggering 230 aW of suction power, this vacuum is like a vacuuming superhero on steroids. It's not just powerful; it's smart too. Equipped with a laser detector, it leaves no dirt or debris undetected. You can say goodbye to those hidden crumbs and hello to a truly spotless home.
But it doesn't stop there. It goes above and beyond with its advanced filtration system. Featuring a multi-stage filtration process and a HEPA filter, it ensures that the air released from the vacuum is not just clean, but super clean. Say goodbye to airborne allergens and hello to a breath of fresh air.
And here's the icing on the cake—the battery life. With up to 60 minutes of run time, the Dyson V15 Detect™ Absolute (HEPA) ensures that you have more than enough time to tackle your cleaning tasks. You can conquer your entire home without the worry of running out of power. It's like having a reliable cleaning partner that never lets you down.
3/ Tineco Pure One S15 Pet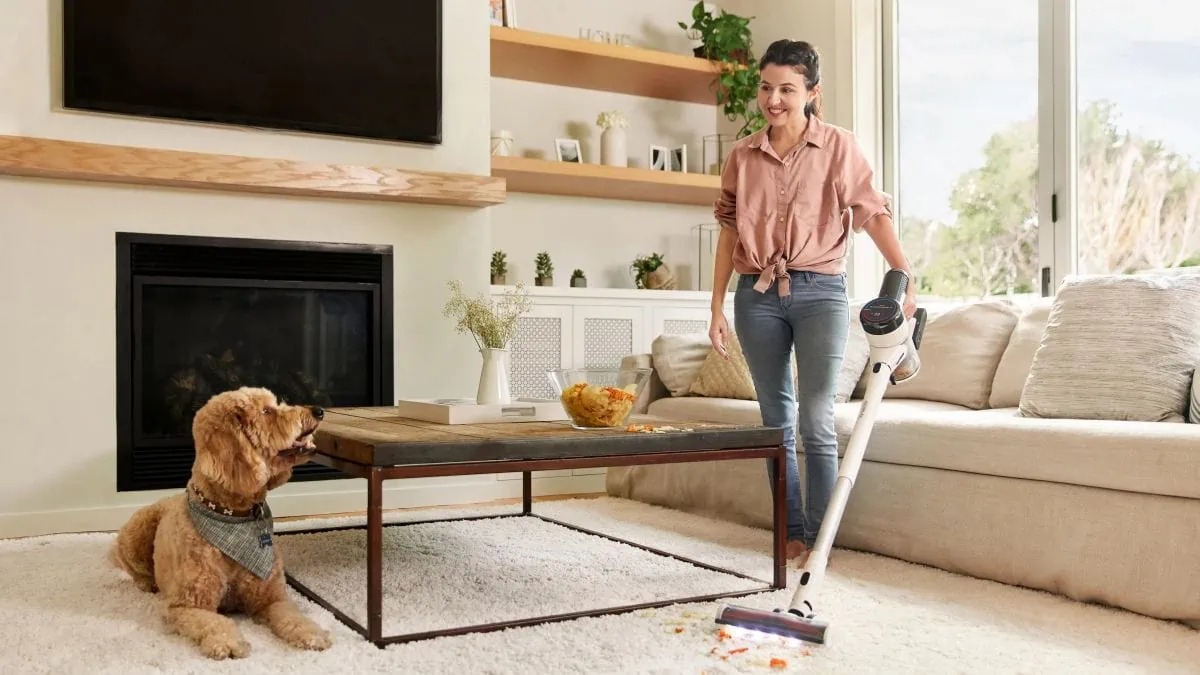 Elevating pet cleaning to new heights. Photo source: Homes and Gardens
Calling all pet lovers! The Tineco Pure One S15 Pet is here to revolutionise your cleaning routine and keep your furry friends happy. This premium cordless vacuum is packed with pet-specific features that will leave you wondering how you ever lived without it.
Say goodbye to the nightmare of tangled pet hair with the ZeroTangle Technology. The Tineco Pure One S15 Pet comes equipped with an anti-tangle brush that prevents hair from clogging the suction, making pet hair removal a breeze.
Similar to Dyson's V15 Detect™ Absolute (HEPA), this cordless vacuum also ensures exceptional air quality with its advanced HEPA filtration system, keeping the air you breathe clean and fresh.
Not only that, its all-in-one iLoop LED display provides real-time performance feedback and alerts for cleaning and recharging, while the LED Headlight brush head and lay-flat design make navigating tricky spaces a breeze. 
This smart vacuum also offers integrated app control, allowing you to manage your cleaning progress, adjust settings, and receive product support and updates right from your smartphone. And fear not, its ultra-quiet operation won't disturb your pets' peaceful slumber. With the Tineco Pure One S15 Pet, cleaning up after your pets has never been easier or more enjoyable!
4/ Corvan K18 Pro Vacuum & Mop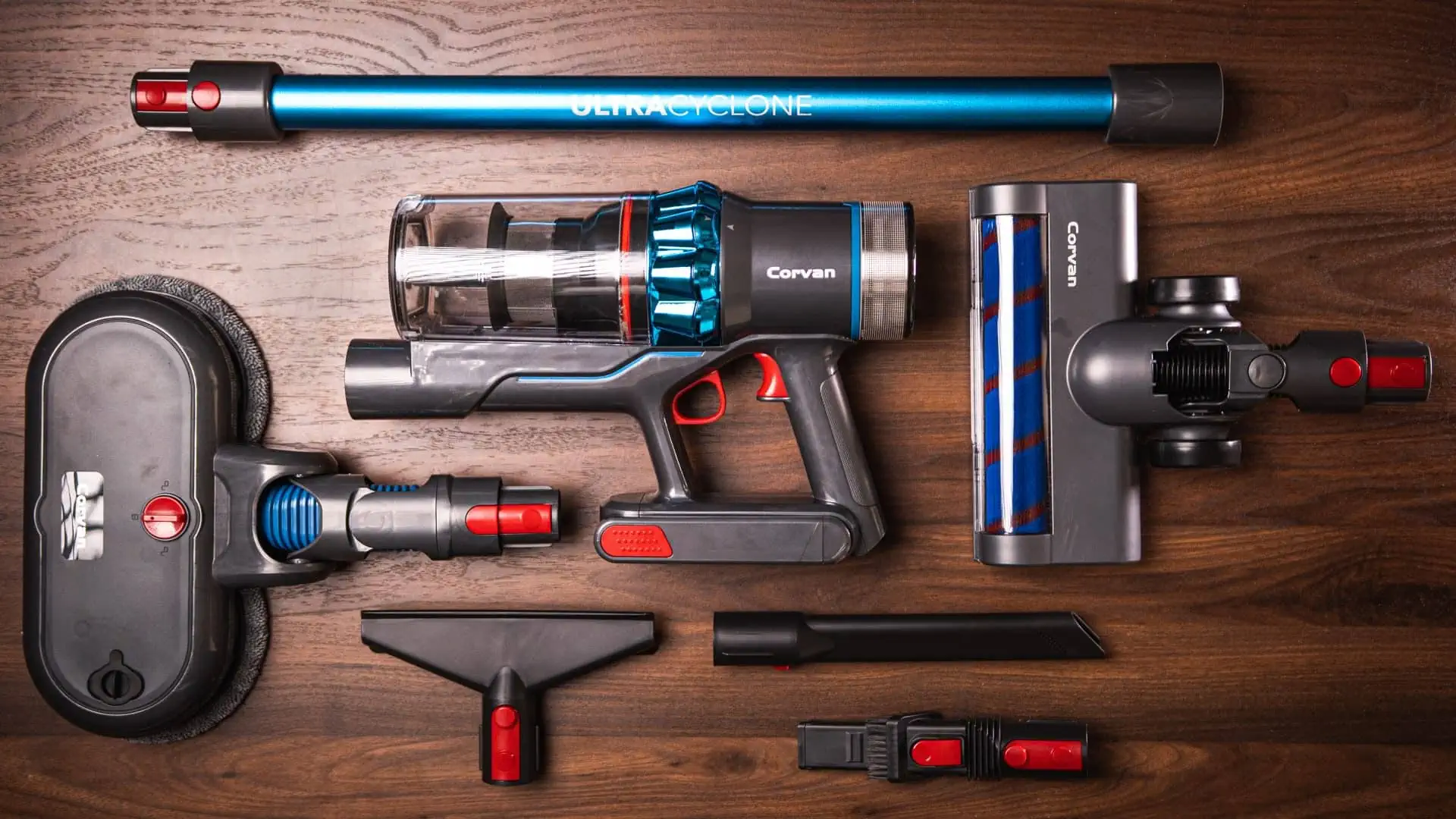 The ultimate cordless vacuum-mop combo. Photo source: ProductNation
Introducing the Corvan K18 Pro, a remarkable addition to the world of cordless vacuums that's ready to shake things up. 
This sleek vacuum-mop combo is here to deliver unmatched cleaning performance with its ultra-strong suction power of 201AW, sucking up dirt and debris like a champ. And hey, it even comes with a built-in disco mode…just kidding, but its high-brightness LED headlight does illuminate even the darkest corners, making cleaning under furniture feel like a secret mission.
Weighing in at a mere 1.5kg, the vacuum is also as light as a feather, ensuring you won't break a sweat during your cleaning sessions. It's your trusty sidekick, gliding effortlessly through your home with a runtime of up to 60 minutes, giving you plenty of time to tackle those double-storey house challenges. With the ability to mop and vacuum at the same time, you'll also be zipping around like a cleaning superhero, saving precious time for more important things (like binge-watching your favourite show).
But wait, there's more! For all you allergy sufferers out there, the Corvan K18 Pro comes with a 6-stage air purifier grade H12 HEPA filter, kicking allergens to the curb and leaving you with cleaner, fresher air. And forget about constantly cleaning the filters, thanks to its sealed Ultra Cyclone technology that tackles fine dust like a pro, reducing maintenance time by a whopping 93%.
Notable features? Oh, it's got 'em! With a snazzy digital touch screen control panel, adjusting suction levels is as easy as pressing a button. And let's not forget the handy auto-charging stand that keeps your Corvan K18 Pro powered up and ready for action. So, say hello to the Corvan K18 Pro and wave goodbye to mundane cleaning. 
Revolutionise Your Cleaning Experience
So, whether you choose the Samsung Bespoke Jet Complete Extra, the Dyson V15 Detect™ Absolute (HEPA), the Tineco Pure One S15 Pet, or the Corvan K18 Pro Vacuum & Mop, you can rest assured that you're investing in a powerful, innovative, and user-friendly cleaning companion that will transform the way you clean your home. Say hello to efficiency, convenience, and a sparkling clean living space. It's time to upgrade your cleaning game!
Click the link below for more contents like this!