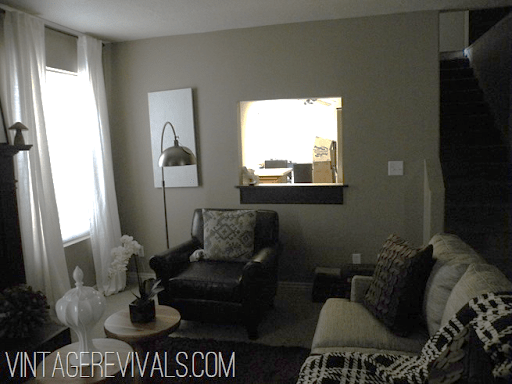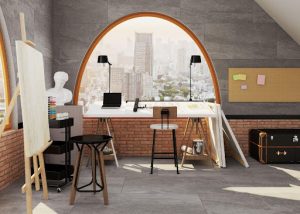 Working from home is one of the new trends we've adopted since the pandemic.

Getting work done from home isn't easy, but we have to ensure comfort is not compromised.

Revamping our workstation should also include tiles as it adds character to a room.

Learn how to choose the suitable tiles for the feel that you're going for.
As the pandemic drags on, we know that the working-from-home trend is most definitely here to stay. We love it because it offers flexibility, but we have one major concern. Are our workspaces comfortable enough for long hours of meetings and whatnot? From having a million distractions at once, not having proper office equipment, accidentally taking a nap (stay away from the bed- don't ask how we know!), and feeling sore after sitting in an uncomfortable seat for too long, the list is endless! 
The point is that just as commercial offices are designed to equip people for work and engagement, remote workspaces can. Think about it, if a proper office setup can increase your productivity, wouldn't it make an excellent investment, especially in the long run?
When you are thinking about renovating or building your home, one of the most critical aspects you consider is the material for your flooring. Naturally, you're going to want something that not only looks good but will be able to endure the passage of time. Tiles are easily the best option for flooring as they are low maintenance, durable, easy to clean, and offered in various styles and materials.  
Ideally, your workspace should have a sufficient source of natural light to illuminate your workspace, as sunlight positively affects building performance and overall health. Imagine this: going about your day while basking in the gentle glow of the sun. Total gamechanger! On top of that, the type of lighting you choose will go hand-in-hand with your tile options, as brighter tiles will reflect light around your workspace to make things brighter.
If you're curious about how to revamp your workspace, it's our greatest pleasure to show you a few design ideas from the top designers at Creative Lab, specially curated for your home. There are different ways you can incorporate tiling with other appliances and decorations for your potential home, which are:
Simple and Bright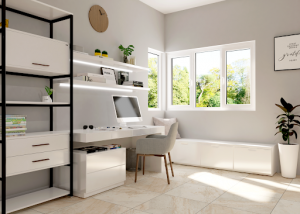 Can pictures talk? Because this one is screaming, "Come to me," with its simple and clean look. A minimalist, bright, and well-lit home office is the perfect place to think and create. This design is best for home offices with an abundance of natural lighting. Using light coloured tiles or those that reflect light will ensure the clean aesthetic of your workspace while making it bright. What's more, drawing the blinds and your home office would still be illuminated and an ideal place for boosted productivity!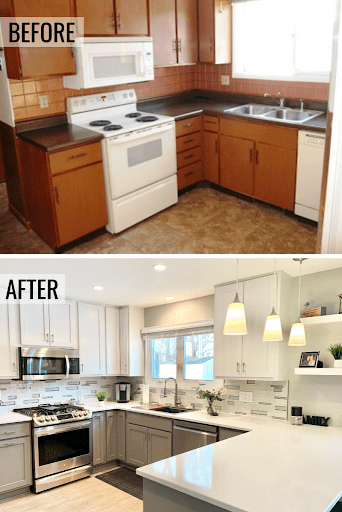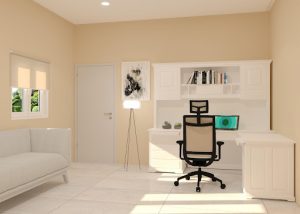 The Office under the stairs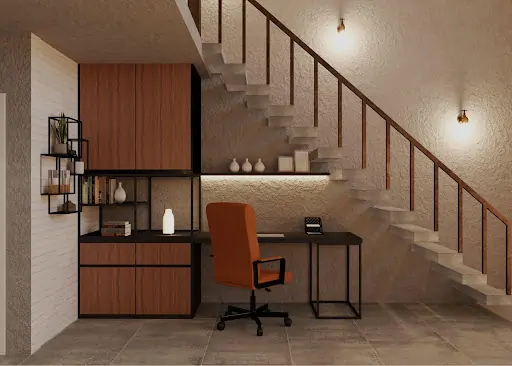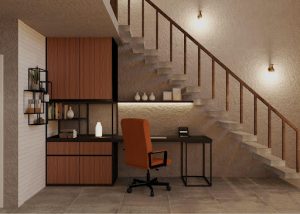 Want a nice workspace, but your space is limited? Then this home office design is perfect for your home. Your living room can double as your workspace at home as long as it fits into a nice, snug area that doesn't over clutter your personal space. 
As living rooms tend to have an ample amount of natural light seeping through, you can use either a tile that is darker in hue or brighter depending on the overall aesthetics of your home. High shelves are perfect tools to ensure minimal usage of your living room space and offer just enough room to store books and decorative accents that you may need for your day-to-day routines.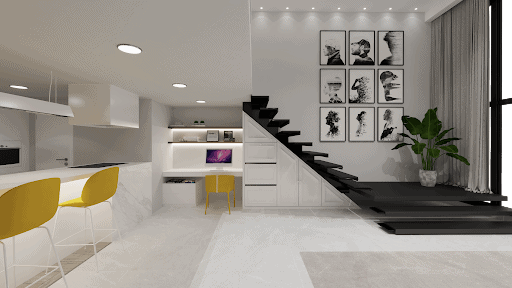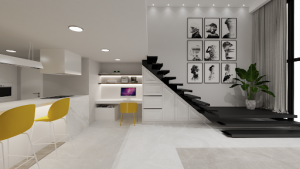 Back to school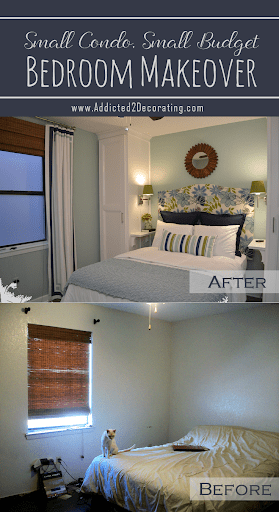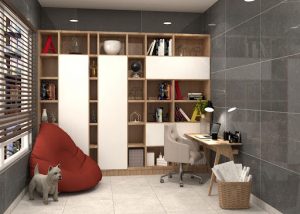 Feeling a bit nostalgic and wishing you were sixteen again? It is totally possible with this back-to-school themed workspace for your home. 
With the stunning greyish-black tones on the walls, coupled with bright tiles and the reflecting light, which adds a welcoming contrast to the room, it will have you daydreaming about your old school chalkboard. What's more, it's perfect for every age, making it ideal for families. 
Go Green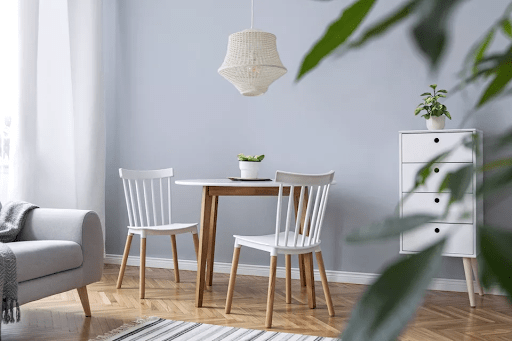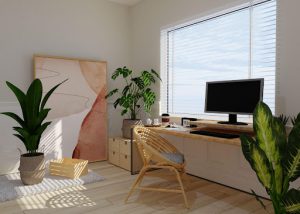 Working at home means more time indoors, disconnected from nature and its associated health benefits. Now, this can be such a bummer but not when you have a home workspace that incorporates the natural beauty of the outdoors with the interior, which will help you become a more productive and happier home-based worker. Thanks to plant therapy!
Wood brings warmth to a natural colour palette and can ground and balance brighter colours in a space. Pairing wooden tiles with your home office will give the refreshing, natural aesthetic to channel your inner productivity. To top it off, scatter succulents and plants on shelves and reap the benefits, especially if you choose air-purifying varieties like spider and snake plants as it sets the mood for calm, clarity and oneness with nature.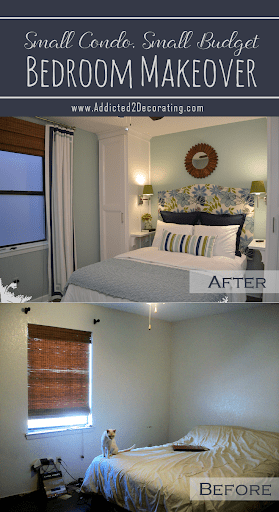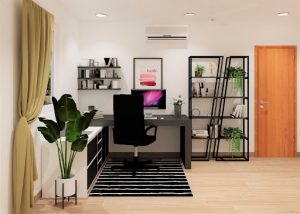 Creative Lab offers homeowners the opportunity to take charge of their mission to reinvigorate their workspaces at home in the midst of a lockdown. Apportioned with its innovative in-house designing facility, homeowners can bring home their ideas with the help of Creative Lab's Design Consultants from the safety of your homes. 
To find out more, visit www.creativelab.com for more information on their products and services.