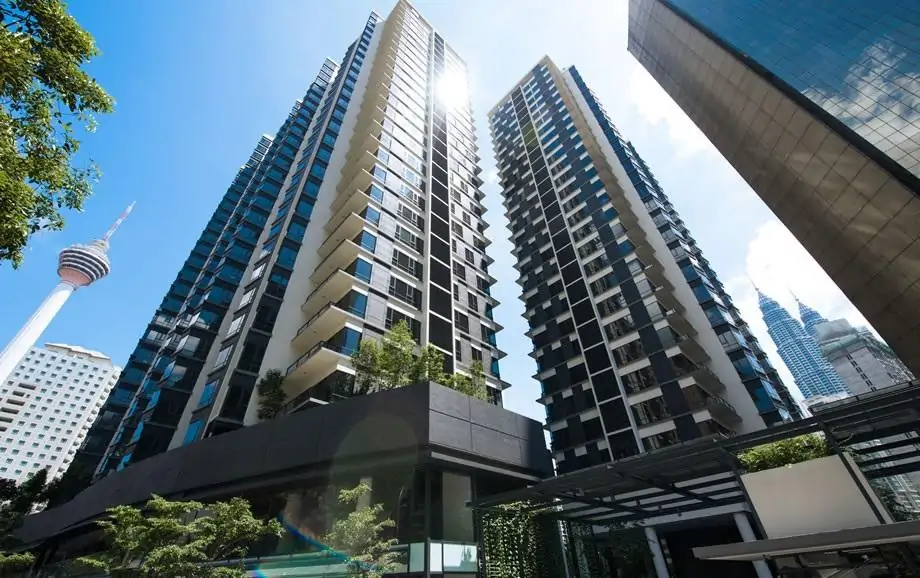 Johor held the reins as the top contributor to overhang stock nationwide. Source: edgeprop
Overhang numbers in Melaka are on the low side compared to other states
Johor takes second place after Selangor in dwelling stock
Melaka
Rahim & Co residential property market review showed that the recovery pace of 2019 was pushed back due to the disruptive impact Covid-19 had on the country's economy, leading to the nationwide economic halt and strict border controls. 
Melaka's residential sector was impacted but not as bad as many other states and had only experienced a contraction of 26.2% in volume and 28.7% in value – bringing 1H2020's market performance to 3,733 transacted units worth RM967.64 million.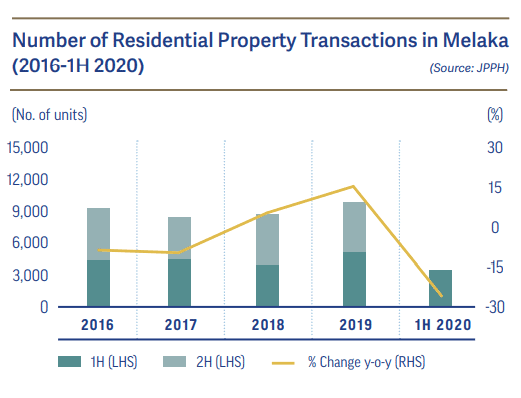 Source: Rahim & Co
This is not too far off from 1H2017 at 4,149 transacted units. Of these transactions, 71.8% were priced below RM300,000, evidence of market demand to strongly be within the affordable range. By type, terraced houses remain the most popular choice with a market contribution of 59%, while condominium/apartment units are still at a low 5%. 
As demand for high-rise units still has some ways to go against landed homes, it bodes concern on the market absorbance of incoming supply, including 5,728 new condominium/apartment units currently under construction.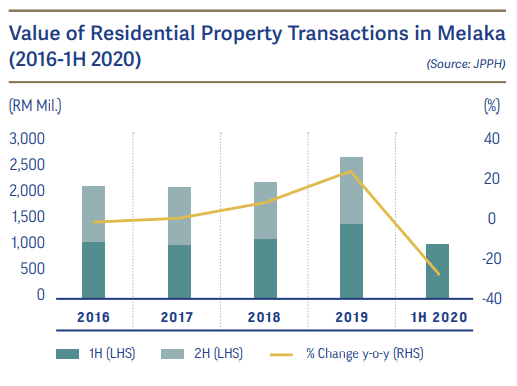 Source: Rahim & Co
Additionally, 6,425 serviced apartment units are also in the pipeline for Melaka and further add a burden to the lagging demand. 2020 saw house prices undergoing some market adjustment that the pandemic may have influenced as some property owners are looking to cash out their assets for financial needs. 
1-sty terraced houses were transacted at an average of RM320,000 for Taman Hilir and Taman Tanjong Minyak Perdana areas. For semi-detached, 1-storey units in Taman Nam Yang, Taman Alai Perdana and Taman Saujana averaged at RM450,000 while 2-storey units in Taman Pertam Jaya are up at RM1 million.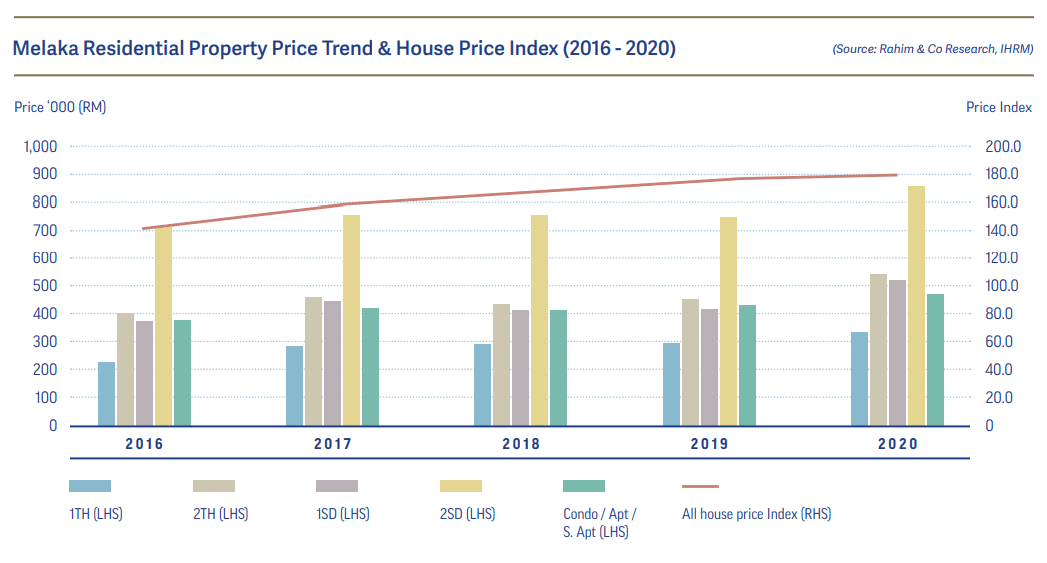 Source: Rahim & Co
In observing Melaka's residential overhang trend, the market had shown points of improvement after reaching the high points of over 1,100 units in 2016 and 2018 with 1H2020 at 899 overhang residential units worth RM365.57 million; this includes serviced apartments. 
SOHO types have yet to enter the market thus far, with no existing and incoming units recorded. But despite overhang numbers being on the low side in comparison to other states, statistics show that of the completed yet unsold units, a notable 62.5% are priced between RM200,001 to RM400,000, and by type, 38.8% are 2-sty terraced units and 31.4% are high-rise units (condominium/apartment & serviced apartment).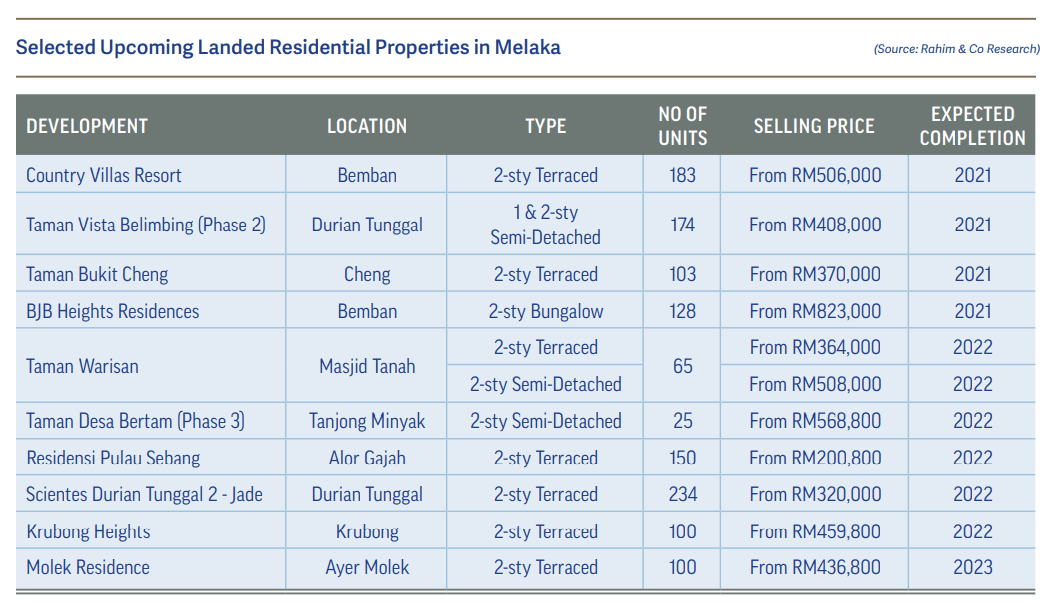 Source: Rahim & Co
This pattern in vacant units left indicates early signs of the market to be prioritising not just price or type independently, but prioritising both simultaneously alongside strategic locations. From this, developers are looking to a more complex residential scene with buyers at an advantage but tight wallets.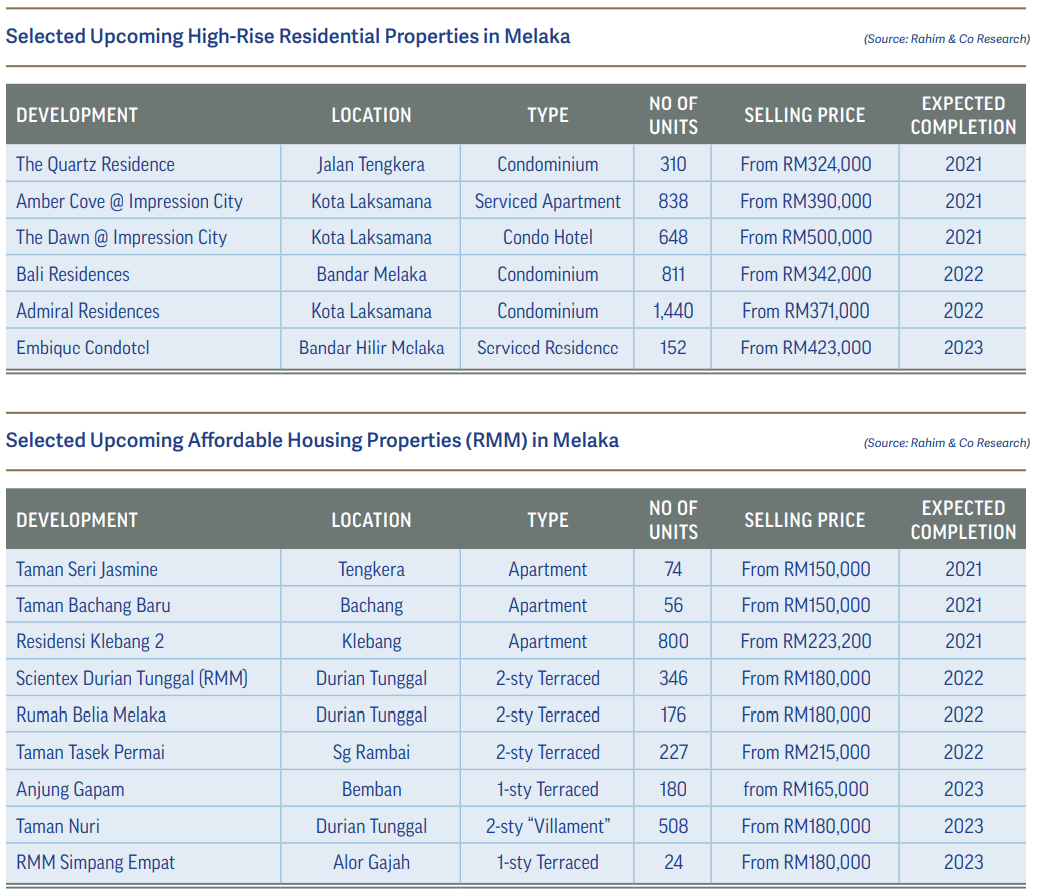 Source: Rahim & Co
Johor
As of 1H2020, Johor's residential stock comes up to 848,929 properties, but this does not include serviced apartment and SOHO units due to both types being categorised as commercial units. 
With these two combined, the total dwelling stock for residential occupation is at 932,793 units. This puts Johor in second place after Selangor in dwelling stock, the latter at approximately 1.69 million dwelling units.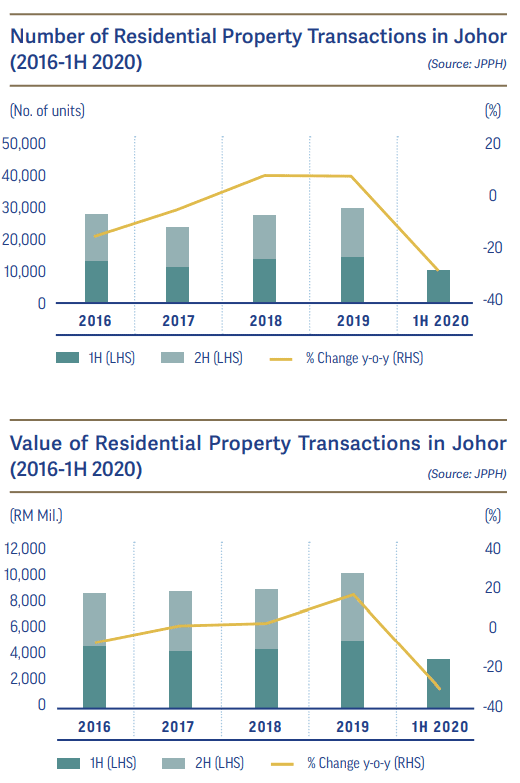 Source: Rahim & Co
On the new stock, completion in 1H2020 for serviced apartments shows a significant drop of 97% from 1H2019 compared to units under the residential category at just 20% contraction. 
A large part of this could be attributed to the pandemic causing delays in the final phases of construction and finishing, particularly when all economic activities were completely halted, barring necessary sectors or services during the MCO period but it may also be a response to Johor's severe overhang problem that is primarily driven by completed yet unsold serviced apartment units.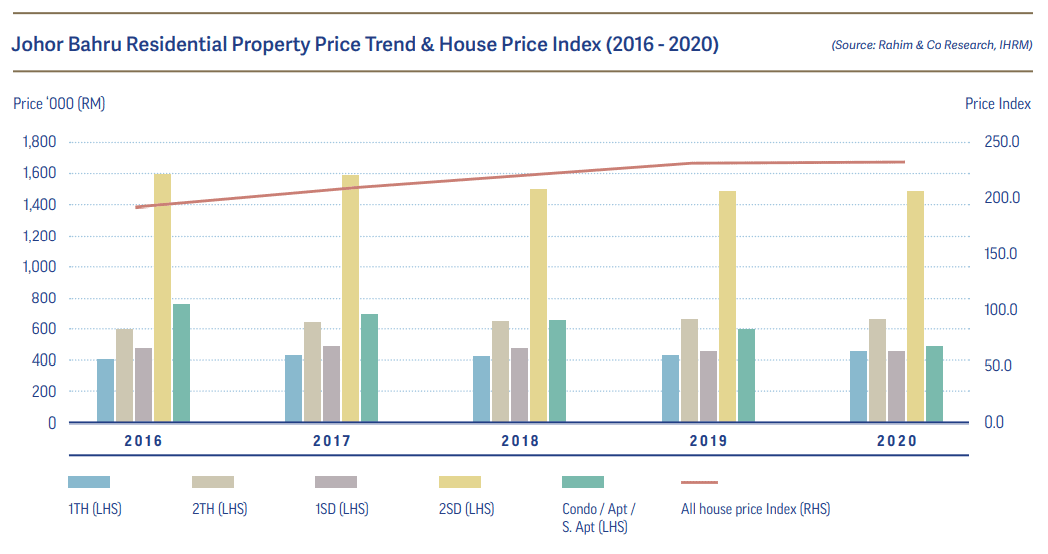 Source: Rahim & Co
While Johor has held the reins in being the top contributor to overhang stock nationwide, the degree of increase has slowed down over the years. Going from the highest 111% surge back in 2016 to now rising by 23% in 1H2020.
As the supply scene is showing a response to the oversupply problem, the demand side of the market did hold up considering the market slump it had been experiencing already. With contractions of 27.4% in volume and 31.3% in value, there is a potential of the market rebounding back to pre-Covid-19 levels if things were to resume back its recovery pace. 
In prices, 82% of the residential transactions are below RM500,000, which somewhat explains the critical overhang situation, which has 87% of its unsold stock priced above RM500,000.  Other reasons would be a mismatch in product offering and undesirable locations, as seen by the 2,900 overhang residential properties priced below RM500,000.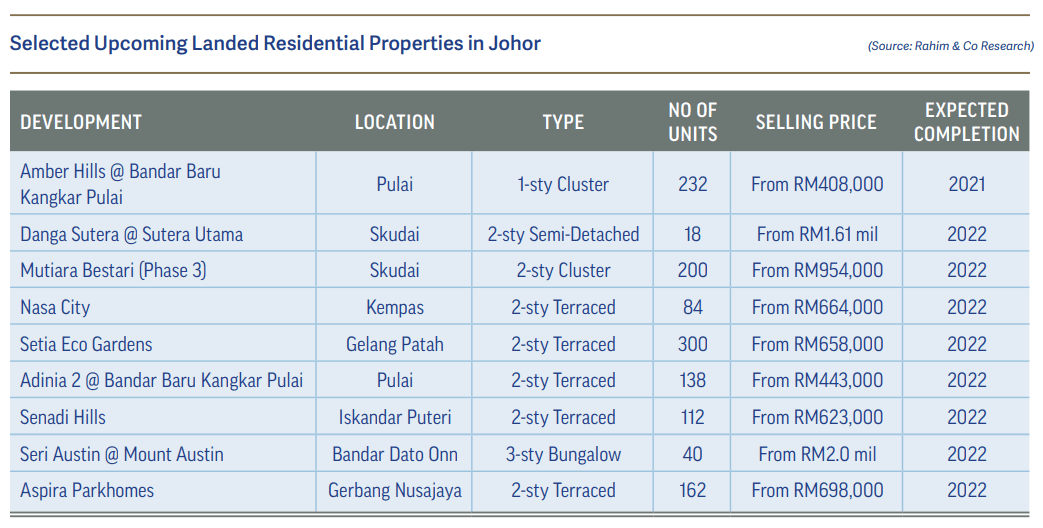 Source: Rahim & Co
On a whole, Johor's residential market is still much in favour of landed homes as the demand is met by supply whilst the high-rise segment still has some ways to go to match up supply to demand. Prices of the affordable range, between RM200,000 to RM300,000 generally, are still sought after and even more so with the pandemic having shaken one's financial security. 
The Home Ownership Campaign (HOC) was brought back to run from 1st June 2020 to 31st May 2021 by the government to aid first time homebuyers in attaining their ideal home, as seen during HOC 2019. According to the Rehda Property Industry Survey for 1H2019, 2,026 units were sold under Johor's HOC scheme, including serviced apartment units.  
Generally, residential property prices remained relatively stable for 2020. 1-storey terraced houses in areas of Taman Bukit Indah, Taman Molek and Taman Pelangi were transacted between RM400,000 to RM490,000. 
Within the same schemes, 2-storey terraced houses averaged at RM641,000. Condominium developments such as Kondominium Petrie, Aloha Tower and The Embassy Suite saw their prices at about RM424,000.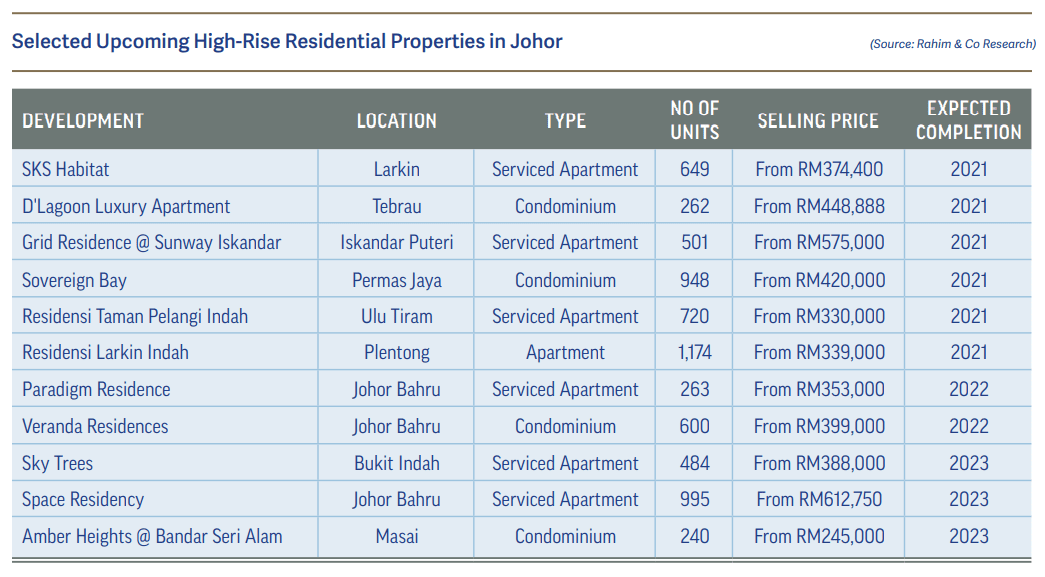 Source: Rahim & Co
Looking for more related article? Check them out here:
Rahim & Co Residential Property Market Review (Northern Region)