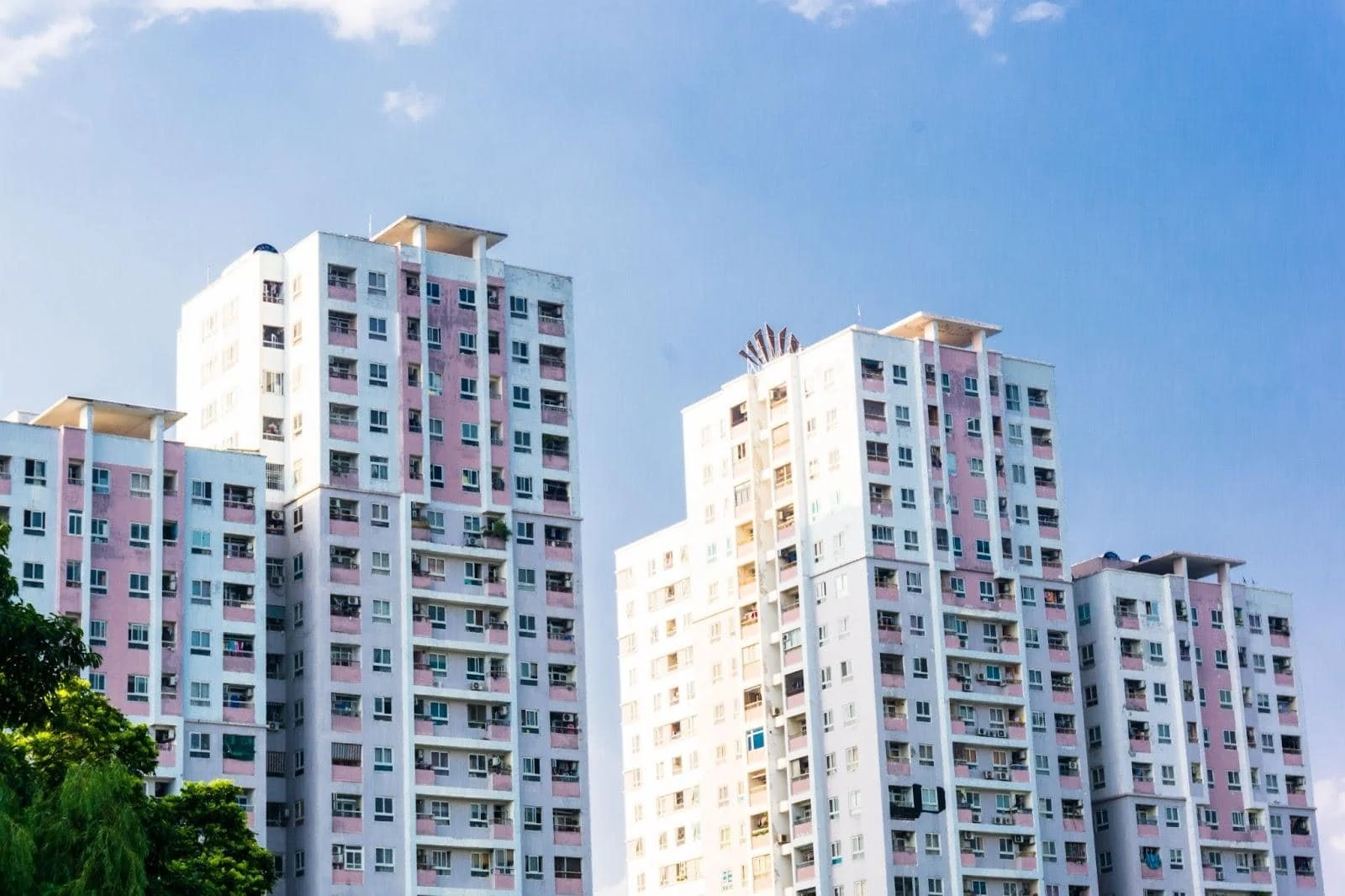 The residential property market remains passive throughout. Source: unsplash
A challenge to boost the residential property market in Perlis
For Kedah, landed homes remain as the predominant share
Pulau Pinang registers no significant change in value and transaction
It remains to be seen if the Perak market can continue to hold against the pandemic
Perlis
According to Rahim & Co, as of 1H2020, the existing supply of residential units in Perlis stood at 26,153 units, of which 35% were low-cost houses and 33% were terraced houses. By location, areas with notable presence of residential property numbers are Arau, Kuala Perlis, Sena, Utan Aji and Wang Bintong. 
Unsold residential units for Perlis by 1H2020 are on the low side with only 44 units of 2-3 sty terraced houses and 1-sty semi-detached houses, both priced within the RM300,001 to RM400,000 bracket.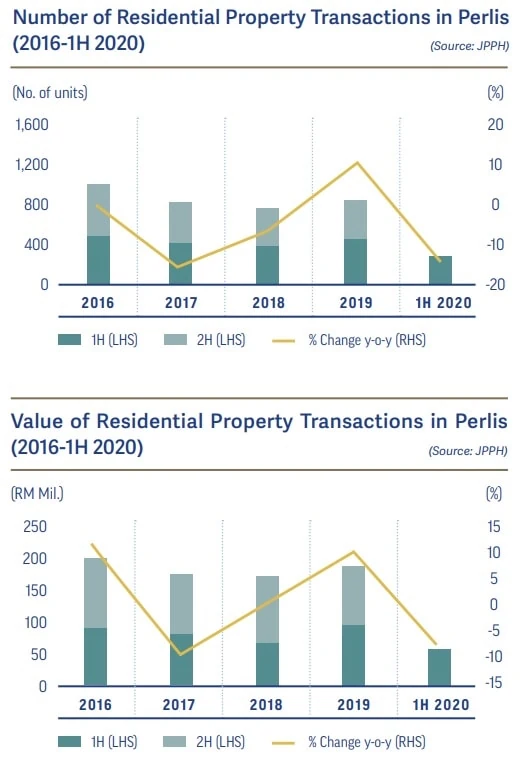 Source: Rahim & Co
Landed homes remain predominantly the preferred type of homes for the locals of Perlis as evidenced by not only its 91% contribution to total supply count, but also that 78% of 1,422 incoming units are of terraced and semi-detached houses. 
Of the non-landed units, only 60 units of low-cost flats are recorded to be in the pipeline. On transaction activities, the residential market felt its share of Covid-19 disruption as shown by the fall in both volume and value of residential purchases within the review period; contracting at 30.3% and 39.1% respectively to 290 transacted units worth RM59.2 million.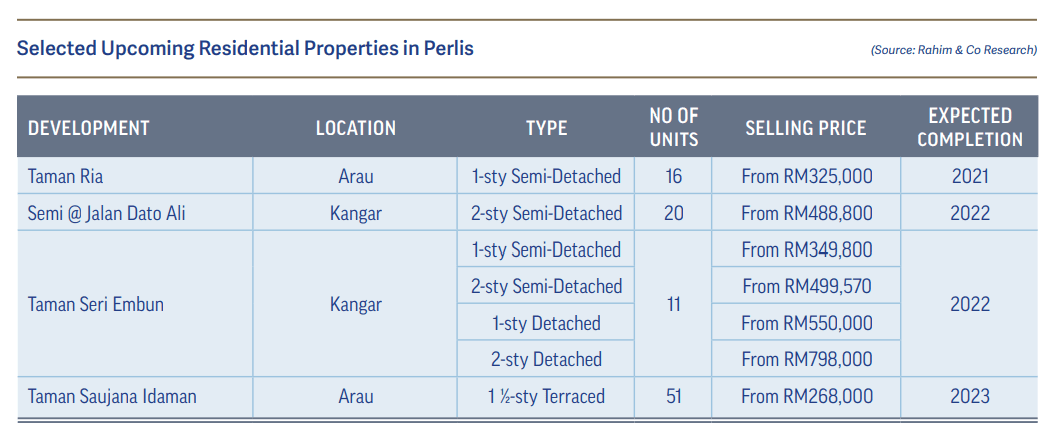 Source: Rahim & Co
93% of these transactions went below RM400,000. Having pushed market performance to be at its lowest since 2016 after 2019's recovery attempt, the challenge to boosting up the residential property market has grown more prominent than before.
Following the news in August 2020 of 24 PR1MA projects being cancelled as announced by the Ministry of Housing and Local Government, the sole PR1MA project in Perlis remains on board as it was completed in late 2020. 
Named Residensi Padang Siding, it comprises 228 terraced units priced at RM153,900. In 2020, transacted prices for 1-storey terraced houses in areas of Taman Hijrah and Taman Aman averaged at RM226,000 whilst 2-storey terraced houses in Taman Temak Jaya and Taman Sri Murni are at a higher RM400,000 on average. For semi-detached homes in areas of Taman Santan Indah, Taman Utama Indah and Taman Bukit Kaya, prices hover between RM380,000 to RM440,000.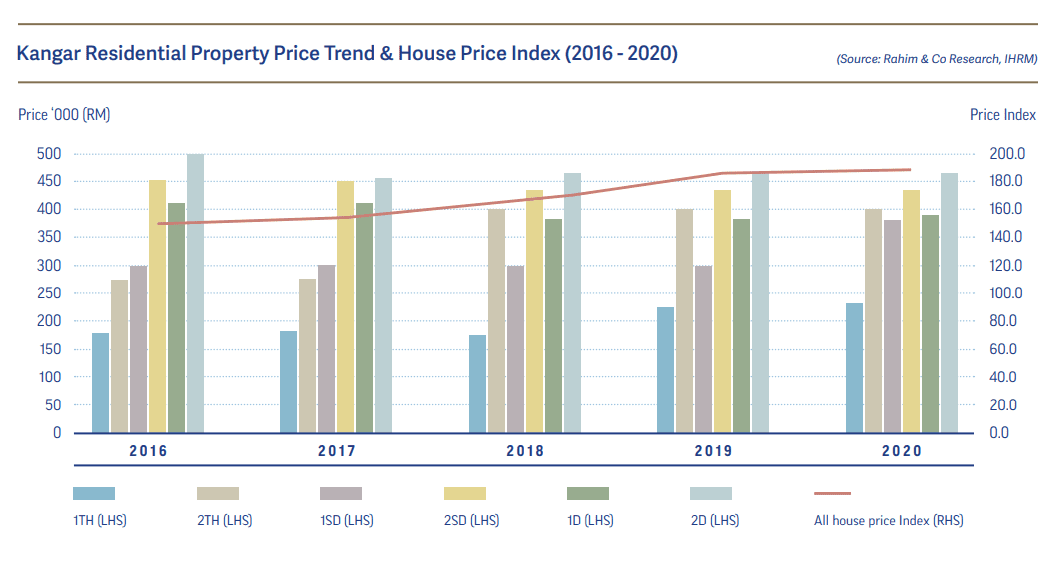 Source: Rahim & Co
Kedah

The existing residential supply of Kedah, as of 1H2020, stood at 338,347 units with a growth of 2% from 1H2019. Of this total number, 88% are mainly located in areas of Kota Setar, Kuala Muda, Kubang Pasu and Kulim – Sungai Petani of Kuala Muda, currently being the choice of residence for locals. 

Of the supply, landed homes remain predominant with a 97% share while the high-rise segment still on the low side. In the near future, Kedah will be expecting the arrival of 14,866 new residential units that are already under construction. 

Source: Rahim & Co

In addition to the overhang count at 1,341 units worth RM380.59 million, this number extends the ongoing concern on how Kedah's market will absorb these new upcoming residential units amidst passive market sentiment. 

Of the overhang units, 70% are within the price range of RM200,001 to RM400,000, and 88% are the terraced and semi-detached types. Although Kedah's residential sector had seemed to bottom out by 2018 and picked up in 2019, 1H2020 fell short in maintaining that recovery pace as Covid-19 took over for more than half the year. 

Within the review period, transaction activities fell by 16.7% to 4,928 units worth RM1.13 million – value too suffered a fall of 7.9%. On a 5-year perspective, Kedah's top market activity level was in 2016, followed closely by 2019.

Source: Rahim & Co

On average transacted prices in Alor Setar, 1-sty terraced houses in areas of Taman Saga and Taman PKNK were observed at RM230,000 whereas 2-sty terraced houses in the same areas are at RM387,000. 

For the bigger units of 1-sty semi-detached houses in Taman Golf and Taman Anggerik, prices were tagged at RM367,000. 2-sty semi detached units in Taman Lumba Kuda and Taman Anggerik came up to RM513,000. 

Though Alor Setar is the capital of Kedah, Sungai Petani remains the most active area for residential and township development. Still, with the pandemic disrupting new launch schedules and construction progress, developers have shifted their focus to ongoing projects first before proceeding with further launches in a better market condition. 

Source: Rahim&Co

With demand disrupted, property developers are riding on the notion of 'value for money' property offerings to owner-occupiers as the market is even more geared towards the affordable realm. High-end products do make the sale, but the offerings are smaller in launches than in other bigger cities.

With supply in abundance and demand more selective, a situation of price being sensitive and high competition is created and has been so pre-pandemic. Developers turn to discounts, exemptions, and free gifs to attract buyers and participate in the returning Home Ownership Campaign (HOC) by the government. 

Source: Rahim & Co

Pulau Pinang

Since 2016, the residential market of Pulau Pinang has been steady in its yearly transaction performance of both volume and value with no significant changes seen but as with many other sectors of the economy, the first half numbers came through as the lowest at 4,293 units transacted at a value of RM1.68 billion. 

By type, landed and high-rise units contributed close to equal to overall transactions at 47% and 51% respectively with landed property transactions seen more on in Seberang Perai – the mainland portion of Pulau Pinang – and high-rise transactions seen more on the Island. 

Source: Rahim & Co

By price range, 77% of the residential transactions were below RM500,000, with most being below the RM300,000 mark. As a whole, this shows that most of the buyers of Pulau Pinang are still in favour of homes priced within the affordable range. 

On the supply side, the total existing residential stock for the state is at 522,272 units, with an almost even distribution between Seberang Perai and the Island. On property transactions, 78% of the high-rise units are located on the Island, whereas 79% of the landed homes are situated in Seberang Perai. 

This comes to no surprise as land scarcity is more prevalent on the Island, making Seberang Perai the choice for landed home developments. Since 2016, housing supply in Seberang Perai has grown by 39% in comparison to the Island's smaller 19%. 

The serviced apartment and SOHO stock in Pulau Pinang is relatively small in comparison to its fellow key areas like Klang Valley and Johor at 7,158 units. On the overhang situation, though not critically serious, is still on the rise and have almost doubled in stock since 2016 at 1,953 units. 

As of 1H2020, numbers were at 3,883 units worth RM2.95 billion and this includes serviced apartment and SOHO type units. An overwhelming 76% of the overhang stock are of the condominium/apartment category, and price wise, despite opinions saying overhang is due to unaffordable prices, 47% are below the RM500,000 mark. 

Source: Rahim & Co

As unaffordability persists – even more so with the pandemic-ridden market – and landed homes remain the top homebuyer choice, there is concern about how these vacant high-rise units will compete against the newer incoming stock. 

Considering the incoming supply that is already under construction, the picture grows bleaker as the market will be expecting another 40,595 high-rise units, including serviced apartments and SOHO types. 

On the Island, 1-storey terraced houses were transacted on an average of RM700,000 for the areas of Ayer Hitam, Bayan Baru and Tanjung Tokong, while 2-storey units in Island Glades and Taman Sri Nibong reached up to RM1 million. 

Semi-detached houses in areas like Tanjung Tokong, Tanjung Bungah and Island Park go between RM1.25 million to RM1.73 million on average. For high-rise units in the same areas were transacted at an average of RM1.46 million. 

Source: Rahim & Co

The Cove continues its prestige of higher-end units with price tags pushing up to RM2.43 million. After identifying a niche market that has yet to be tapped in but is rich in potential, MTT Group of Companies has made way to develop the first integrated senior living resort in Penang. 

Signing a joint venture with Eden-OnThe-Park Sdn Bhd, Eden at Botanica.CT will be part of the 300-acre Botanica. CT Township in Balik Pulau, which is at 50% completion as of October 2020. September 2020 saw the handover of keys to buyers of the Dua Residensi affordable project by Penang Development Corporation (PDC) in Teluk Kumbar. 

In continuing their pursuit for more affordable homes, Penang's state exco has announced an increase of 40,000 units more to the initial affordable housing target. Now the state government is aiming at 220,000 units by 2030. 

Source: Rahim & Co

Perak

1H2020 saw Perak's existing residential supply to be at 494,515 residential units after an injection of 12,025 new units into the market. Landed homes remain dominant in the residential supply at a high 94% contribution, but the state is also slowly seeing the emergence of the serviced apartment and SOHO types with a current stock of 1,891 units combined – the new injection of serviced apartment units nearly doubling within the review period. 

By mukim, Kinta holds close to half of Perak's housing supply, followed by Larut Matang and Manjung at 11% each. With an additional 36,566 new units currently under construction, the future growth of housing supply does not necessarily bode good news when combined with the growing number of overhang stock alongside it. 

Source: Rahim & Co

As of 1H2020, a total of 4,644 overhang units are currently sitting vacant in the market, with an overwhelming 61% priced between RM200,001 to RM300,000. This is taken as a sign that while demand for housing may be present for Perak, the importance of not only affordable pricing but also desirable location and product type suited to local preference are key to making the sale – as further proven by 48% of the overhang units being condominium and apartment type. Looking at the demand, preference still lies in landed homes – specifically terraced units and vacant plots as both contribute the most at 50% and 19%, respectively.

Source: Rahim & Co

Price-wise, transactions also lie heavily on properties priced below RM300,000 at 79% transaction volume share. While Perak may not have escaped the impact of Covid-19 on its residential market activities, it had held up the best amongst all states nationwide with only a 3.4% fall in the volume of transaction and in fact, risen by 7.5% in value of the transaction. It still remains to be seen if Perak will continue to hold up against the pandemic for the remaining year but hopes are high on the state's resilience.

Source: Rahim & Co

In selected areas, house prices in Kinta for the year 2020 saw some changes for different types.  1-storey terraced homes in areas of Halaman Meru Permain and Taman Canning commanded an average of RM230,000.  For 2-storey terraced homes in Bandar Seri Botani, Bandar Baru Tambun and Taman Pengkalan Tiara, the average transacted prices are RM340,000.  

For high rise units under the condominium/apartment category, developments such as Prima Condominium, Ipoh Kiara Height and Tower Regency fetched an average of RM350,000, whereas the likes of Damaipuri Condominium and Upper East are reaching up to RM500,000 and above. The Majestic serviced apartment was transacted at an average of RM460,000.
Looking for more related article? Check them out here:
Rahim & Co Residential Property Market Review (Central Region)