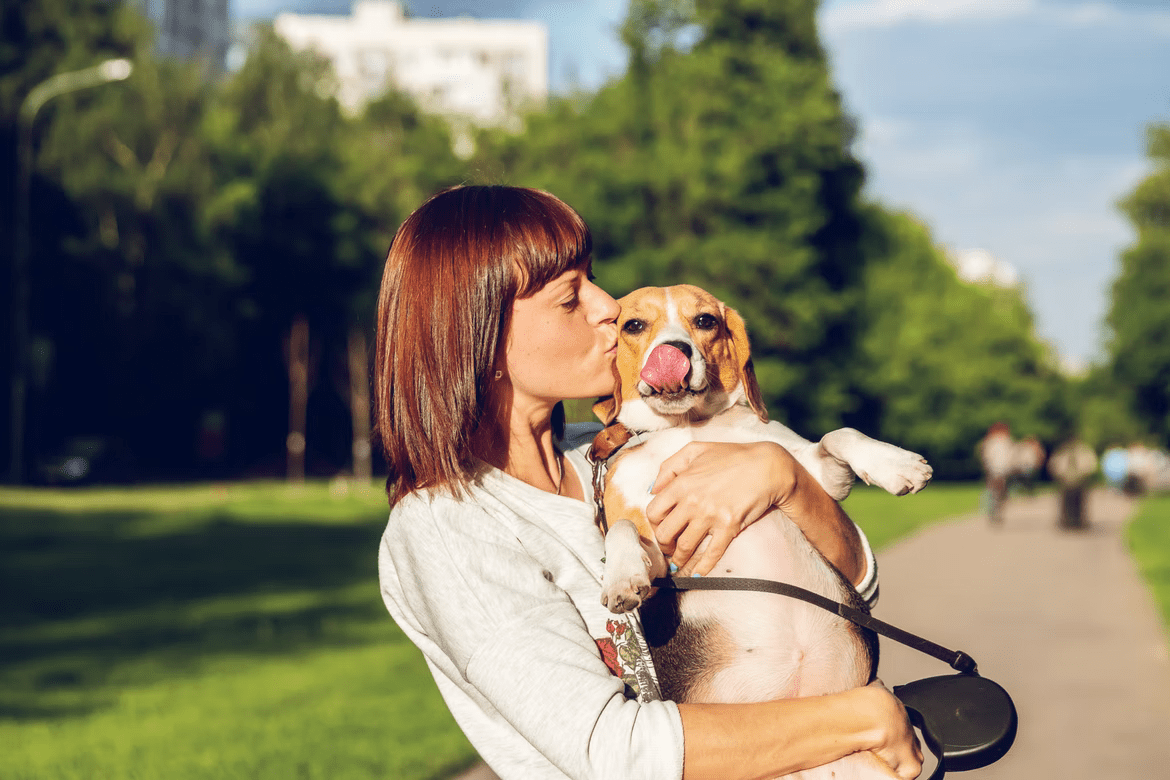 The pandemic is a major factor in hampering the property market recovery. Source: freepik
The property overhang in KL has more than doubled since 2016
Major developers in Selangor remain confident in the market
Seremban continues its rapid pace in development with the entrance of new developments
Kuala Lumpur
According to Rahim & Co, the residential market of Kuala Lumpur 6 months into the pandemic came through with contractions of 22.5% and 25.3% in volume and value respectively. On a 5-year trend, transaction activities have been stabilising while a gradual declining trend is seen in transaction values.
On the supply side, a marginal growth was seen y-o-y and puts Kuala Lumpur's residential stock to almost half a million units, excluding serviced apartments and SOHO units that fall under the commercial category. 
If combined, Kuala Lumpur's dwelling stock comes up to over 570,000 units currently in the market. As a state that is limited in land supply, the supply share of high-rise units (condominium, apartments, serviced apartments and SOHO) is at 57% of the total dwelling count – unlike most other states that are still in the majority of terraced and semi-detached units.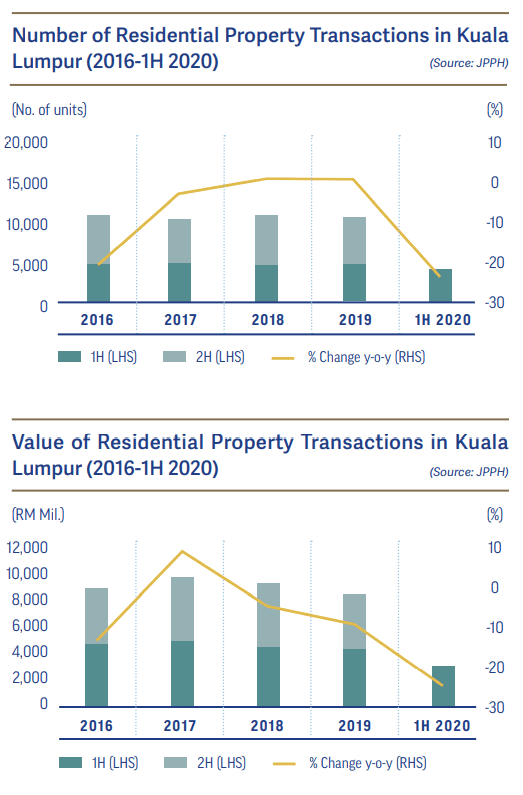 Source: Rahim & Co
On the transacted prices, 61% are below RM500,000 which is considered within the affordable range depending on the location and size of the property unit. Properties of this price range are often high-rise units as landed homes like 2-storey terraced and 2-storey semi-detached generally go from RM600,000 to above RM1.0 million.
In a situation of high property prices and a large supply of high-rises, the overhang scenario for Kuala Lumpur is moderately serious considering it has more than doubled since 2016 – having grown from 2,552 overhang units to 5,978 overhang units worth RM5.35 billion as of 1H2020. 
Of this unsold stock, an overwhelming 99% are high-rise units, consisting of condominium/apartments, serviced apartments and SOHO developments. For the price tags, 83% are above RM500,000 to beyond RM1.0 million. Though Kuala Lumpur may be a state of high-rise units over landed homes, the overhang statistics do not bode well when put alongside the incoming supply of 101,412 new dwelling units already under construction.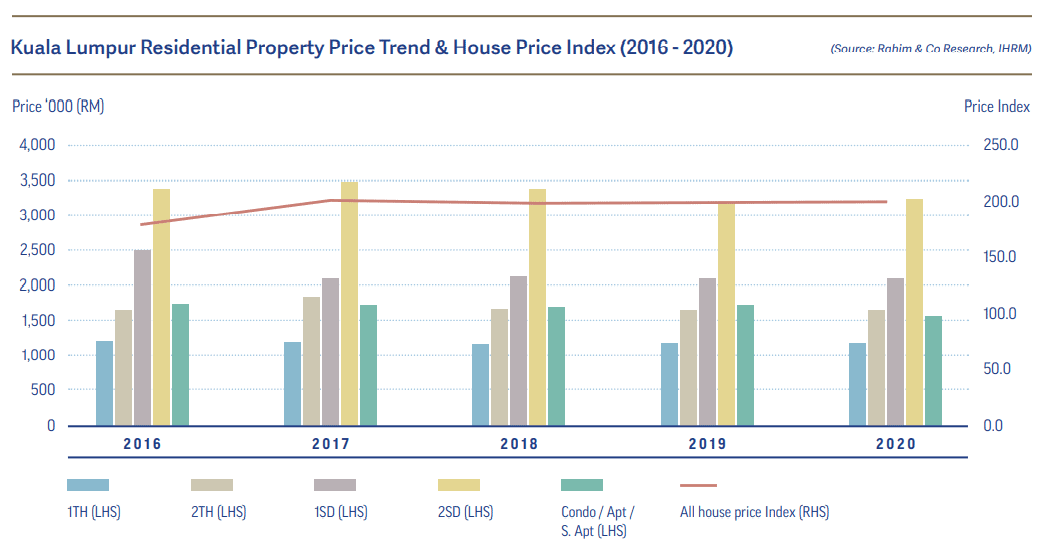 Source: Rahim & Co
More so, almost all of these new units are the high-rise types and looking at the overhang trend, and it may likely lead to a bigger overhang stock should demand not to pick up the pace. 
But with land scarcity and ultimately high land prices in Kuala Lumpur, high-rise developments would be the most feasible approach for most developers looking to maximise the land's potential. With Covid-19 adding more complexity to the equation, developers and homebuyers are still working to find the right balance between supply and demand. 
The issue of affordability in house prices and high living costs remains at the forefront for the residents of Kuala Lumpur, and with the pandemic bringing job insecurities and financial instability into the picture, homebuyers are in a stricter position of having to put affordability over preference; for those who have the ability to put their purchase on hold will likely do so until the economy is back on its feet. 
For some, the option of rent would be more appealing in its flexibility to exit when need be as the nation struggles through the pandemic wave. With supply in abundance, developers are under even greater pressure to hit the right balance of product to price tag offered in strategic or desirable locations.
Source: Rahim & Co
Selangor
Being the state with the highest dwelling stock (including serviced apartment and SOHO units) also brings the weight of the highest transaction share in the country. As of 1H2020, after a contraction of 28.6% in volume and 27.8% in value y-o-y, Selangor's residential transaction market stood at 17,178 units worth RM8.44 billion. 
Of the transactions committed in 1H2020, 57% were transacted below RM400,000, and just 16% were above RM700,000. This price pattern strengthens the notion of affordable prices still being in high demand. With the pandemic creating more tension and insecurity in homebuyers, affordable prices of decently sized homes are even more in demand.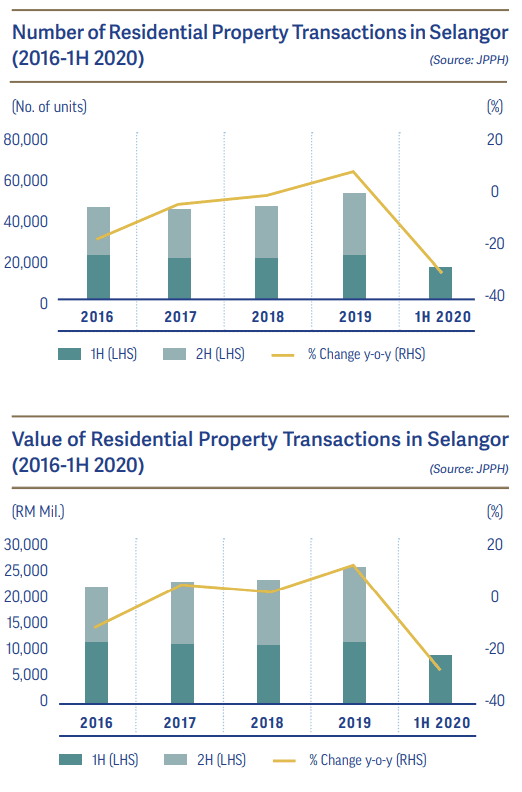 Source: Rahim & Co
As Kuala Lumpur is the place to be for high-rise lifestyles, Selangor retains the majority of landed homes as land supply is still available for such developments but in the distance, it gets further and further away from main commercial areas. 
Of the 1.69 million dwelling units in Selangor, areas with notable dwelling property stock are Gombak, Hulu Langat, Klang and Petaling at above 200,000 units each. Petaling, as the most popular area of residence, holds 45% of total dwelling stock.
In the pipeline, there are 108,459 new dwelling units in various stages of construction on the way to completion. By type, landed homes outnumber high-rise units but not by a large margin as developers are leaning more to higher density developments for the sake of better locations closer to main city centres.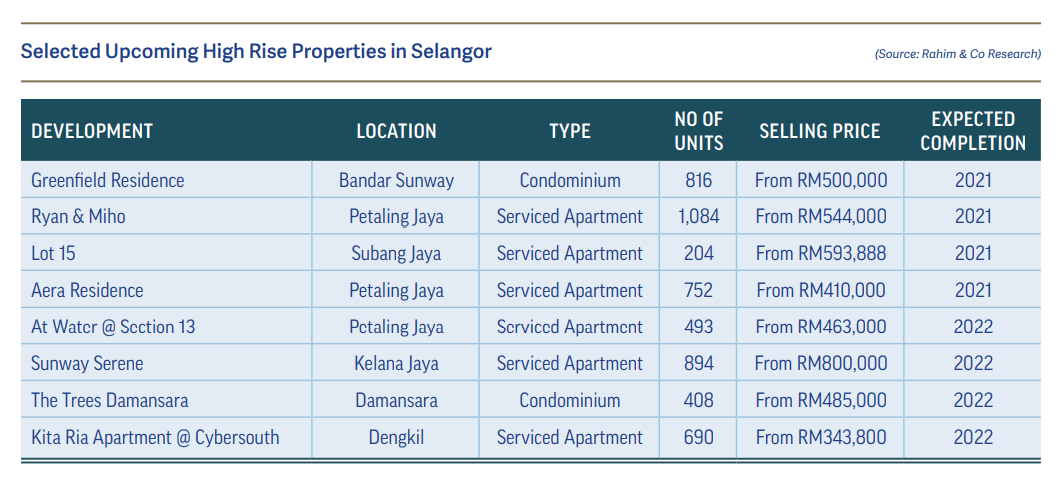 Source: Rahim & Co
The overhang situation for Selangor is a concern as Selangor comes in 2nd place after Johor with 8,669 overhang units worth RM6.13 billion. By product type, high-rise comes ahead with the biggest portion at 72%, but 2,146 units of landed homes are still unsold despite being completed. 
Just as with most other states, the demand for high-rise units is still lagging behind the accelerating pace of new supply coming in, and with the dream home of Malaysians to be a landed type staying strong so far, there is still some traction before buyers show a significant shift in preference.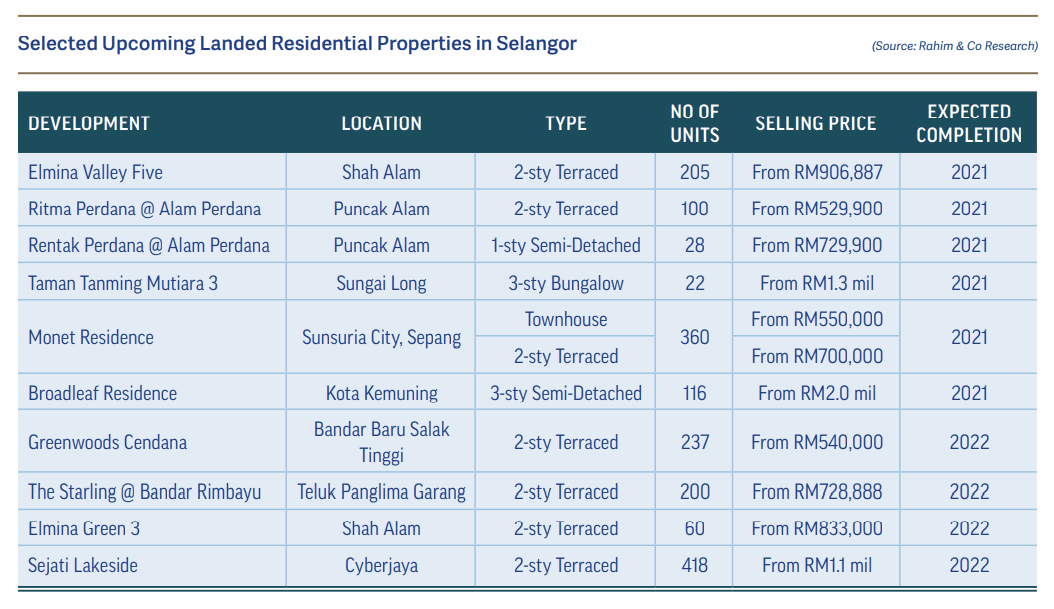 Source: Rahim & Co
Despite 2020 being hampered by the pandemic, major developers remained confident on the market to pick up in time and proceeded with their launches, albeit some changes to launching strategies to gauge the market better. 
Developers such as LBS Bina Group Bhd and S P Setia Bhd continued to expand their existing township with more phases launched: the former in LBS Alam Perdana and the latter in Setia EcoHill. 
In Klang South, Mitraland Group has plans to launch another serviced apartment named The Tresor in their mixed-use development named Gravit8 in 2021. Currently, two other serviced apartments named Nordica and Adria were completed in 2019 and another two, Andaman and Ashino, are targeted for completion in 2021.
Source: Rahim & Co
Negeri Sembilan
Poised as the next best alternative to stay in besides Klang Valley, Negeri Sembilan has slowly gained traction on both developers' and buyers' radar when looking for their home destination. 
With an existing housing stock of 285,718 residential properties, the most popular product type by count is terraced houses at a glaring 57.8% supply share alone. Under the high-rise category, condominium/apartment types have not shown much growth at just 10% in the past 5 years (1H2020: 16,131 units), but numbers have almost doubled for the serviced apartment from 1H2016 at 6,677 units to 1H2020 at 11,285 units. 
Source: Rahim & Co
These units are located in either Port Dickson or Seremban. Negeri Sembilan's market activities for the residential sector had felt its share of the brunt from Covid-19's disruptive health scare with a 33.1% and 29.9% contraction in volume and value of property transactions respectively. 
While the fall is mainly attributed to the unexpected pandemic, the market has already been on a downward trend since 2017. The pandemic may have further hindered the next positive upturn. 
Of the properties transacted, 85.5% are tagged below RM500,000 and indicate that buyers are much in favour and financially capable of houses at the affordable price range. 
This is more so as Negeri Sembilan is the cheaper alternative to Klang Valley when looking for landed homes. The overhang situation for the residential sector is on the lower side, with only 959 units worth RM534.03 million recorded as of 1H2020. 
On the transacted prices in 2020 for the prime areas of Seremban, 1-storey terraced houses in places of Taman Rasah Jaya, Taman Seremban Jaya and Taman Nusari Bayu averaged at RM240,000 whereas 2-storey terraced units in Taman Bukit Kepayang went at RM500,000.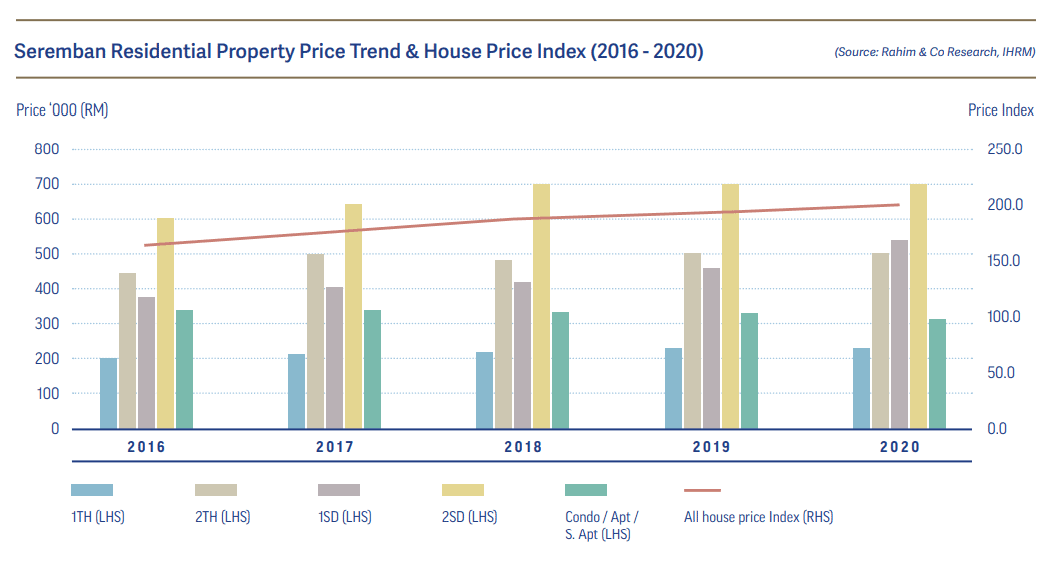 Source: Rahim & Co
For high-rise units in Tasik Mewah and Le Renaissance, prices averaged at RM300,000 while Kalista Residence went at a slightly higher RM350,000. Despite 2020 bringing more struggles and losses for most due to the pandemic, some developers did not back down and instead proceeded with their respective launches with confidence in the market to recover back. 
Seremban continues its rapid pace in development with the entrance of new developments. Matrix Concepts expanded their Laman Sendayan offerings with the launch of two new precincts in 2020: Avisa and Belissa in Precinct 4, Cassia and Delia in Precinct 2. 
All types offered are 1 and 2-storey terraced units sized from 1,075sf and 2,064sf respectively, prices are set between RM225,000 to RM398,888 and above. Another developer seen to expand its existing township is OSK Property for their Iringan Bayu development. Launching two phases a few months apart, Mekary of phase 4 and Desira of phase 5 came on board with terraced houses priced from RM342,000. 
Sizes ranged between 1,098sf to 1,897sf. Completion is targeted to be in 2022. On the high-rise segment, Seri Pajam Development Sdn Bhd had launched their next condominium project named Tunas Residensi within the township of Nada Bidara at Gadong Jaya, Seremban. 
Tunas Residensi offers 460 units sized between 930sf to 1,000sf in built-up space and go at a price tag of RM225,000 onwards. These units are distributed between 3 tower blocks. Completion is targeted for 2023.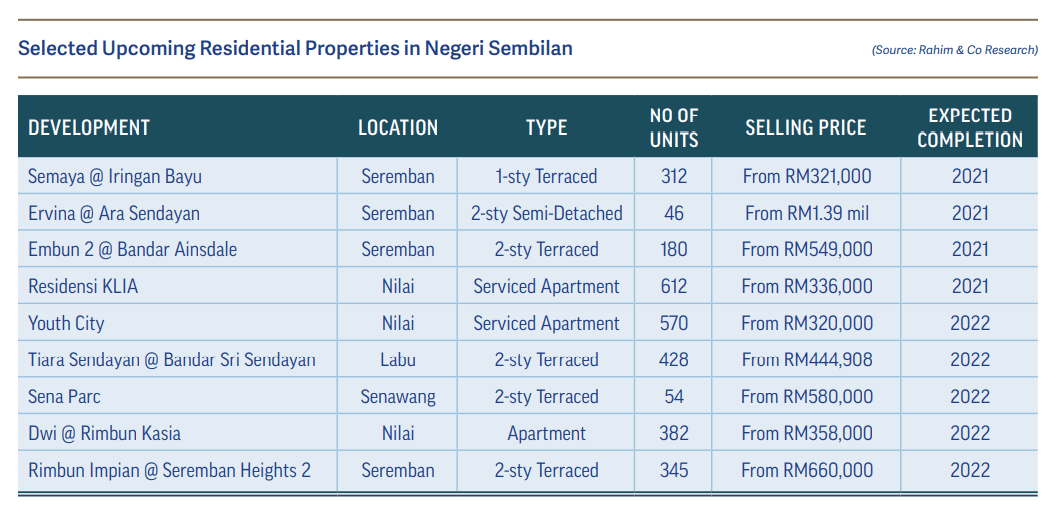 Source: Rahim & Co
Looking for more related article? Check them out here: