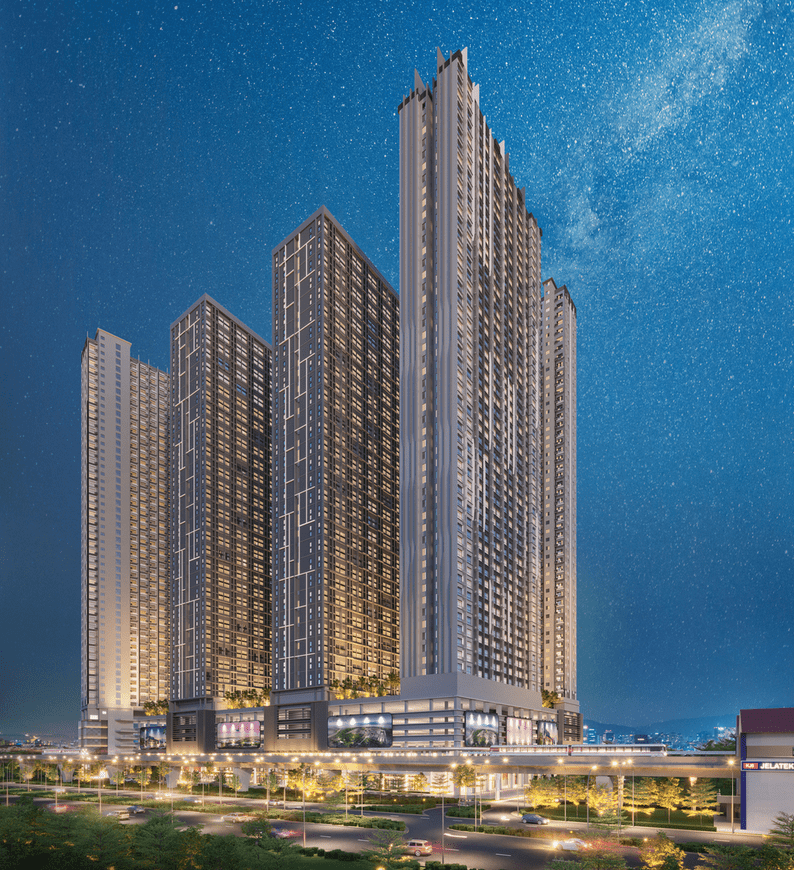 The Covid-19 pandemic is instrumental in shifting demand towards the fringe of the city. Source: unsplash
Developers are still holding back on launching new projects
Volume of transactions showed upward trend
Rental market in most localities remained stable
Zero new launches within KL City during the review period
Real Estate Highlights Research 2nd Half 2021 by Knight Frank is a  comprehensive analysis of Malaysia's residential, retail, office and industrial markets. Opening up with the market indications, the Malaysian economy slipped back into contraction with the gross domestic product (GDP) shrinking 4.5% in 3Q2021 (2Q2021: 16.1%), largely attributed to the reimposition of strict containment measures in July 2021. 
Despite the headwinds caused by the COVID-19 variants, the GDP projection for the whole year of 2021 remains on track at between 3.0% and 4.0%, supported by improvement in market conditions with continued policy support.
In 3Q2021, the headline inflation moderated to 2.2% (2Q2021: 4.1%), mainly due to the dissipation of the base effect from fuel prices and the implementation of the three-month electricity bill discounts. For 2021, the overall headline inflation is expected to range between 2.0% and 3.0%, due to the cost-push factor of higher global oil prices.
In the labour market, the unemployment rate fell marginally to 4.7% in 3Q2021 (2Q2021: 4.8%), reflecting the progressive recovery in overall labour market conditions as more businesses are resuming operations.
On the lending front, Bank Negara Malaysia retained the Overnight Policy Rate (OPR) at 1.75% to provide a steady growth path for the economy in line with the recovery momentum of global demand and domestic reopening.
Knight Frank Analyses the Supply & Demand
The cumulative supply of high-end condominiums/ residences stood at 66,128 units in 2021 following the only completion during the review period – Ascott Residence (199 units) in KL City. However, with the country's transition into Phase 4 of the National Recovery Plan (NRP), approximately 6,971 units (16 schemes) are scheduled for completion by 1H2022.
According to Knight Frank, developers are still holding back on launching new projects. Instead, they may focus on completing under-construction projects and/ or adopt soft launch/ pre-launch strategies to gain some initial market interest before the official launches.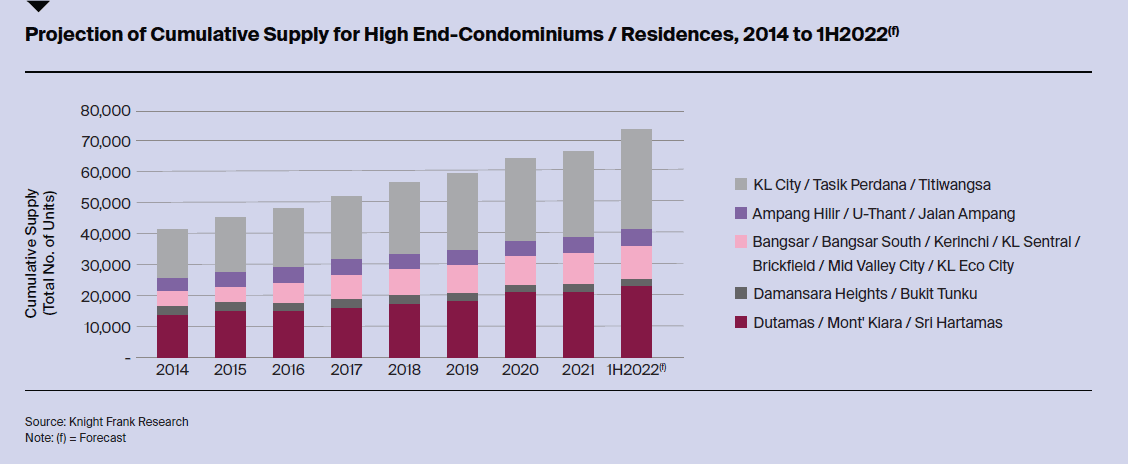 Source: Knight Frank Research
During the review period, four projects were officially launched, namely Est8 @ Seputeh, Residensi 38 Bangsar, The Cedar and Alfa Bangsar, while two projects, The Atrium and Laurel Residence were previewed / soft-launched.
The latest project launch is Alfa Bangsar by City Motors Group of Companies. The freehold mixed-use development, nestled in the busy and bustling neighbourhood of Bangsar, will be offering 178 serviced apartment units with built-up areas from 570 sq ft to 997 sq ft. A hotel adjacent to the residential tower, known as Holiday Inn Kuala Lumpur Bangsar, is also scheduled for completion concurrently in 2024.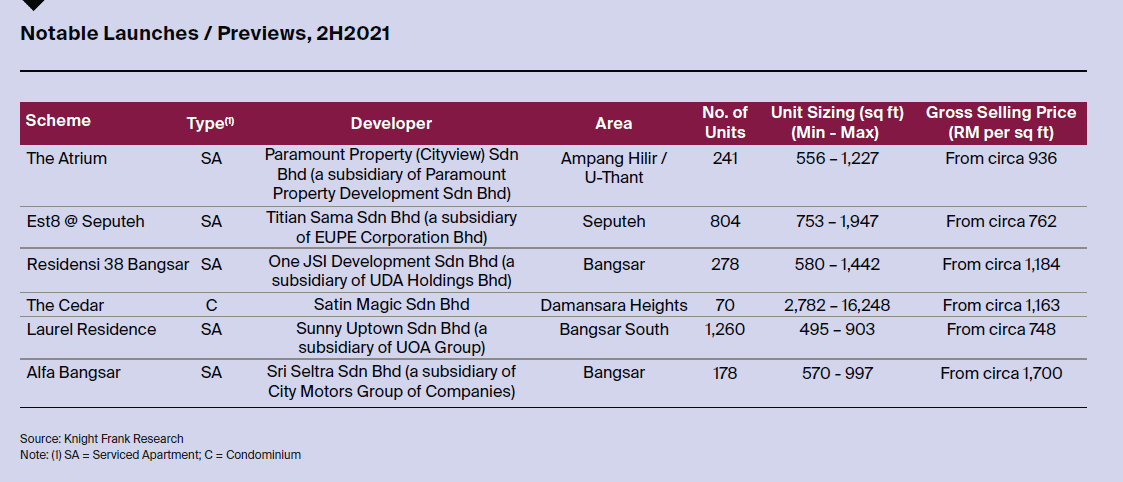 Source: Knight Frank Research
Prices and Rentals
The pandemic has sparked demand for properties away from the hustle and bustle of the city as is evidenced by zero new launches within KL City during this review period. In city fringe areas, the gross selling price of newly launched residential schemes ranges from RM748 per sq ft up to RM1,700 per sq ft. 
Officially launched in December, Alfa Bangsar commands a higher average pricing at RM1,700 per sq ft as the mixed-use development also features hotel and commercial components. With the government's focus currently skewed more towards the primary market in terms of incentives/ policies, the momentum in Kuala Lumpur's secondary market remained flattish.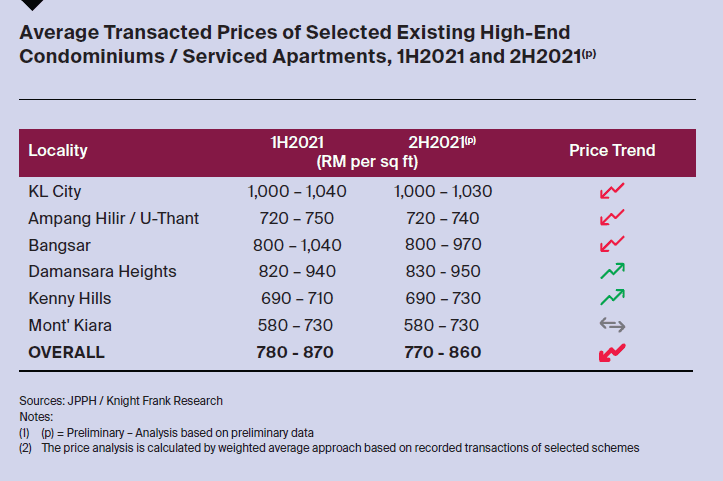 Source: Knight Frank Research
During the review period, the overall average transacted price in Kuala Lumpur's high-end residential sector was relatively stable, with a slight dip of circa 0.6%. By sub-markets, it is observed that the average asking prices for selected schemes in KL City, Ampang Hilir / U-Thant and Bangsar were marginally lower, while in Damansara Heights and Kenny Hills, they remained in the positive territory. Meanwhile, the average transacted price in Mont' Kiara continued to hold steady.
Within the localities of KL City and Bangsar, the average rentals of selected high-end high-rise schemes under review dipped marginally, impacted by the prolonged periods of lockdown with restrictive foreign travels into the country.
As for the remaining sub-markets under review, the asking rentals remained stable. Moving forward, activity in the rental market is expected to pick up following the gradual reopening of the country's borders – easing both short and long-term visits by business travellers and investors, starting with the Vaccinated Travel Lane (VTL) between Singapore and Malaysia where the mandatory quarantine rules are exempted.
Amid market uncertainty, potential purchasers and investors continue to adopt a 'wait and see' approach, although this may also be an opportune time for genuine buyers and investors looking to invest in luxury properties in prime locations such as KLCC and Bukit Bintang, taking advantage of the attractive developers' sales packages in this buyer's market as well as the decade-low interest rate environment.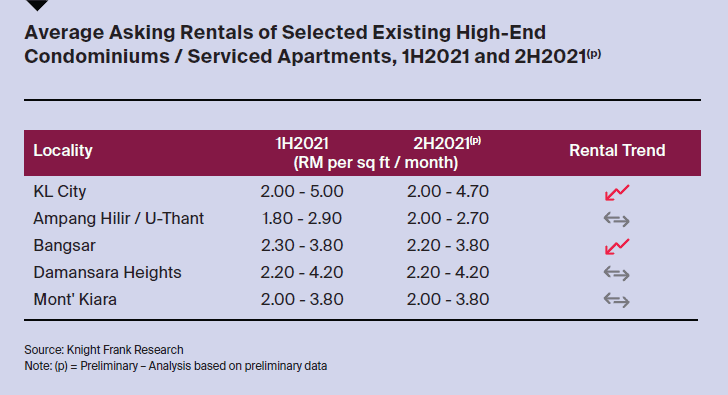 Source: Knight Frank Research
Meanwhile, the abolishment of the Real Property Gains Tax (RPGT) for property disposals by Malaysians, permanent residents and other companies in the sixth and subsequent years of ownership as provided for under Budget 2022 augurs well, especially for long-term property owners who wish to dispose of their existing properties for purposes of an upgrade as well as for empty nesters looking to downsize. 
According to Knight Frank, the tax penalty exemption is expected to boost activity, especially in the secondary market. Another highlight from Budget 2022 is the introduction of the 'Housing Credit Guarantee Scheme' to assist gig workers and small traders without fixed income who face difficulties in applying for financial facilities/ mortgage loans.
The Home Ownership Campaign (HOC) initiative, which is scheduled to end on 31 December 2021 has been beneficial for first-time homebuyers as well as developers with improving sales. Stakeholders hope that the campaign will be extended to further incentivise and aid property market recovery. In the short- to mid- term, the residential property market is anticipated to gradually recover, although the emergence of new COVID variants continues to pose downside risks.
Outlook
The COVID-19 infections in Malaysia have continued to show a downward trend following the ramp-up of vaccination under the National Immunisation Programme, which kickstarted on 24 February 2021. To date, about 78% of the country's population (97% of the adult population) are fully vaccinated.
With further easing of restrictions coupled with recent lifting cum relaxation of the ban on interstate movement and outbound international travel for vaccinated residents effective 11 October 2021, Malaysia is now gearing into an endemic phase as it restarts its economy.
The volume of transactions of high-rise residential properties (including serviced apartments) in Kuala Lumpur showed upward trend in 3Q2021, soaring 25.5% on the quarter (Source: NAPIC), likely supported by gradual easing of restrictions and reopening of sales galleries following the Federal Territory's transition into Phase 4 of the National Recovery Plan (NRP).  However, the corresponding value of transactions was lower – this could indicate that there may be a higher demand for lower-priced and affordable housing units during the period.
Highlights
Budget 2022: Abolishment of Real Property Gains Tax (RPGT) on disposals of real property made in the 6th and subsequent years, effective from 1 January 2022. Four new launches and two previews/ soft launches of high-end condominiums/ residences were noted during the review period while there was only one project completion.
Knight Frank states that the Central Bank continued to maintain the Overnight Policy Rate (OPR) at 1.75% to support economic recovery momentum. Significant increase in transacted volume albeit lower value of transactions in 3Q2021.
Developers have reopened sales galleries and resumed operations at all project sites following the easing of restrictions – sales activities may pick up but will largely depend on local market conditions. In the secondary market, the overall prices declined slightly across localities.
The rental market in most localities remained stable with the exception of KL City and Bangsar, where rentals continue to be under pressure. Kuala Lumpur's high-end condominium market is set to cautiously bounce back with gradual recovery throughout 2022.
Further report on residential markets
Unsold Residential Units Worth RM19.7bil Are Still On The Market