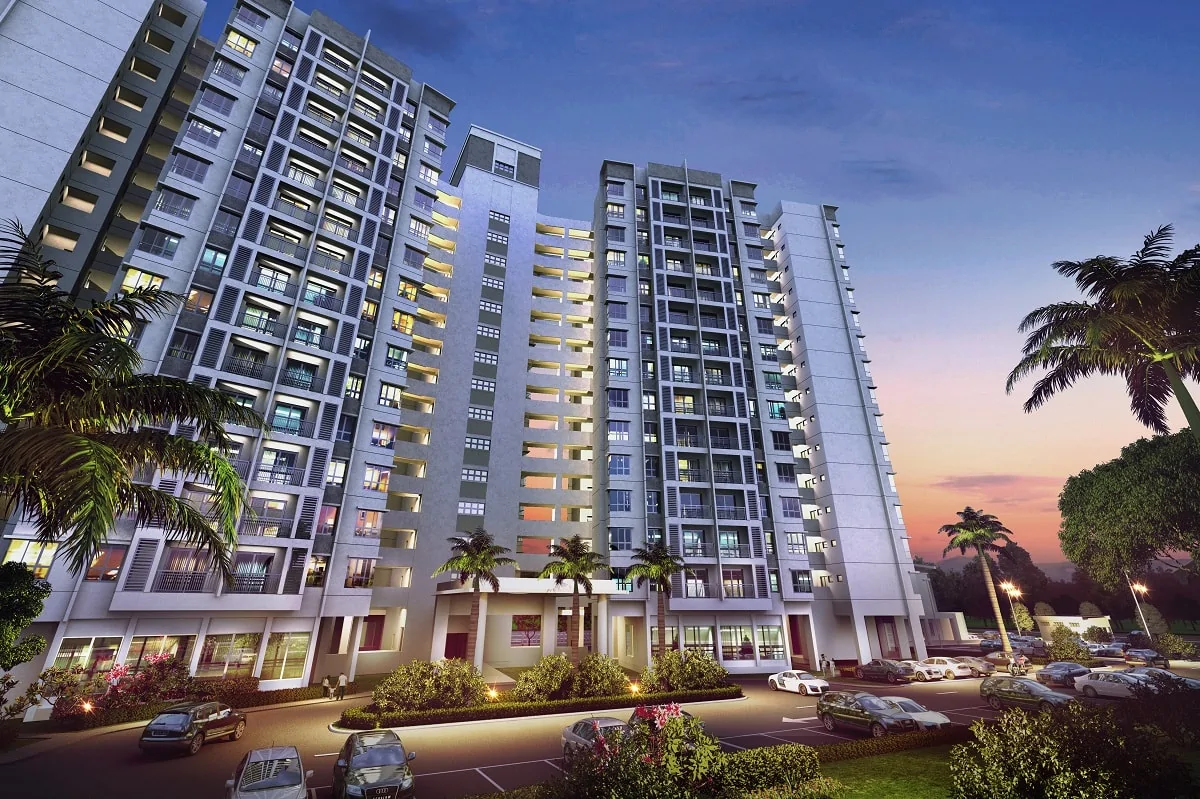 Vast tracts of land makes high-rise developments unattractive to home buyers from the east coast region. Source: IJMLand
Apartment units have yet to gain traction in the Kelantan market
Terengganu buyers have a higher preference for vacant plots instead of ready-made houses.
High-rise developments are slowly gaining ground, especially in areas of Bentong, Pahang.
Kelantan
According to Rahim & Co, Kelantan's residential market has  over the past 5 years shown a mix in transaction movement, with the latest as at 1H2020 registering a contraction of 22.9% in volume and 11.7% in value. Though Covid-19 may have had its influence in the drop, in terms of absolute numbers, they are not as profound as the major states on the west coast.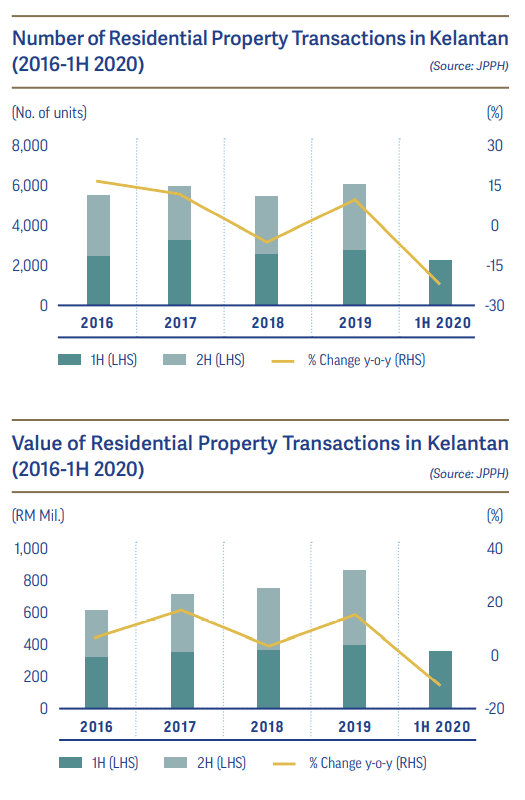 Source: Rahim & Co
The price pattern per transaction for the market is primarily below RM300,000 at 88.5%. But more specifically, close to half of the transactions were of properties priced RM100,000 and below. 
This is because the Kelantan market is still in favour of purchasing vacant plots  instead of ready-made houses, as evidenced by the 58% transacted vacant plots out of the 2,241 residential transactions in 1H2020.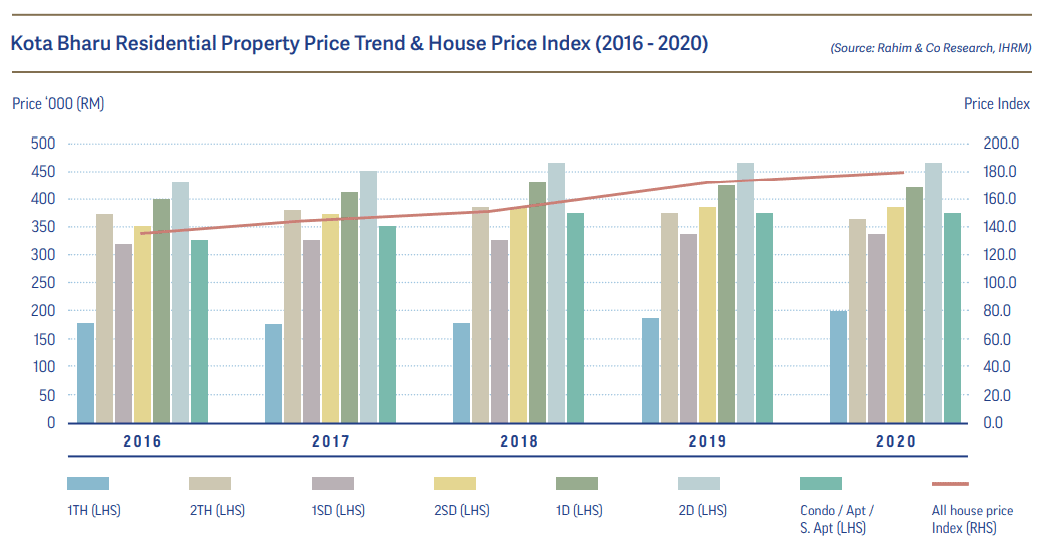 Source: Rahim & Co
Condominium/Apartment units have yet to gain traction in the local buyer's interest with a less than 1% transaction share. Overhang statistics further support this by revealing that the 278 condominium/apartment units out of 415 overhang residential properties remain unsold beyond 9 months after launch despite being within the RM100,001 to RM200,000 price tag.
Should demand for high-rise products not pick up in time with new supply entering the market, the unsold situation will likely worsen over time. Developers will have to get creative in persuading buyers who have been favouring vacant plots and landed homes thus far. 
For the year 2020, house prices are holding steady with minimal changes. 1-sty terraced houses in areas of Tanjong Chat and Beting range between RM200,000 to RM250,000, whereas 2-sty terraced houses in Taman Kurnia Jaya and Kampung Limbat range between RM350,000 to RM450,000.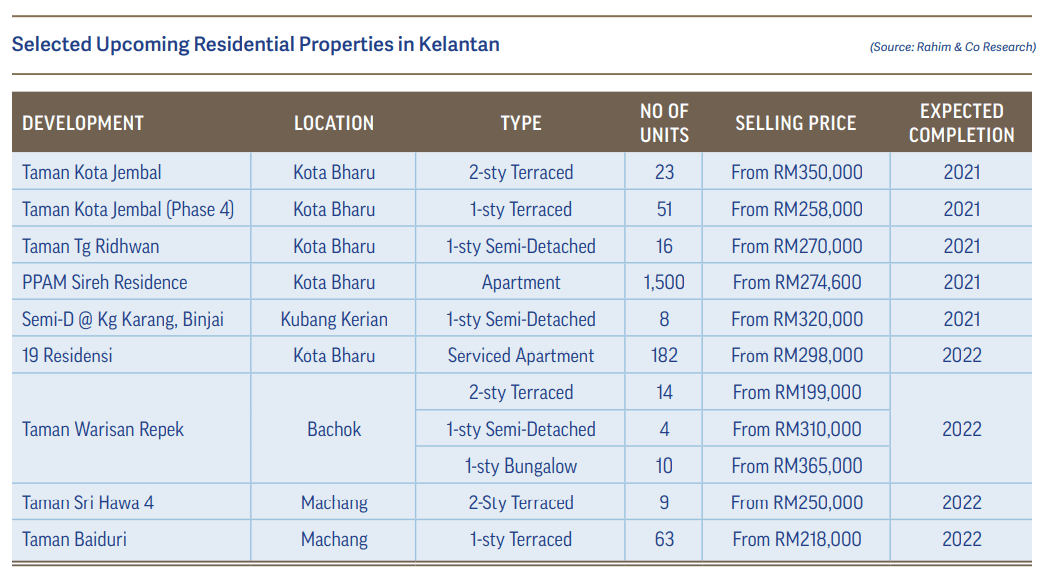 Source: Rahim & Co
Terengganu
Despite Covid-19 bringing its wave of disruptive impact on Malaysia's economy, Terengganu's residential market had held up better in comparison to other states with contractions recorded at a moderate 15.2% in volume and 20.2% in value 5,576 units worth RM697.19 million. 
As a residential market that is on the lower side of prices in comparison to other key states, 1H2020 transactions were primarily transacted below RM400,000 – with a 96.9% transaction share.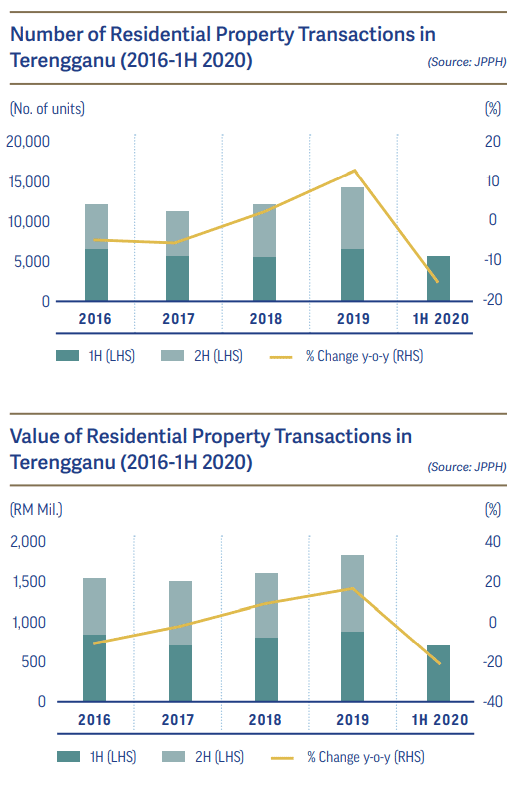 Source: Rahim & Co
Looking at a smaller price bracket, 62.9% of the transactions were at a price tag of below RM100,000. This is mainly due to local buyers' higher preference for vacant plots, evidenced by the 75% transaction share based on the type of residential property.  
Landed homes with notable transaction numbers are 1-storey terraced, 1-storey semi-detached and detached units. In terms of the pattern in the supply of residential properties in Terengganu, interestingly, the detached type comes on top with the high stock share of 31% and is followed by the terraced type at 27%. 
The high-rise market of Terengganu remains a minority amongst the strongly preferred landed homes, and this is reflected in both the low supply (1,381 units) and low demand (less than 1% transaction share).
In the pipeline, Terengganu will not be seeing massive injections as only 383 new units are recorded as under construction. The overhang situation is also relatively under control, with 445 units worth RM167.4 million noted as of 1H2020, although this number had almost tripled from 2016's 185 units.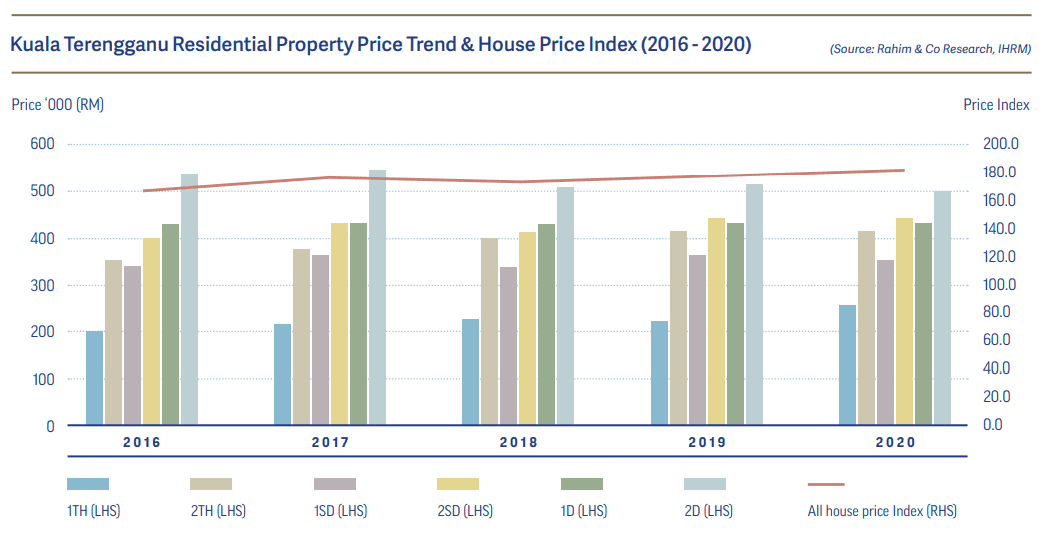 Source: Rahim & Co
The overhang units are primarily within the price bracket of RM200,001 to RM500,000 and of the terraced and semi-detached types. The affordability issue remains a topic of discussion, and the state government is continuing its effort to provide such homes for the people of Terengganu. 
As at Jun 2020, the State Executive Councillor for Local Government, Housing, Health and Environment shared that 11,500 affordable housing units are currently under construction and the state government is on track to building 20,000 affordable homes by 2022. 
The areas selected to house these affordable units include Kuala Nerus, Hulu Terengganu, Besut and Kemaman. The affordable homes will be developed by both the government and private developers. 
A new high-rise development named Pangsapuri Ladang Tanjung by Lembaga Tabung Amanah Warisan Negeri Terengganu was completed in 2020 after a delay from its initial target in 2019. 
Offering a total of 268 units priced between RM430,000 to RM500,000, the landscape views available for potential residents are the iconic Kuala Terengganu Drawbridge or Kuala Terengganu's cityscape.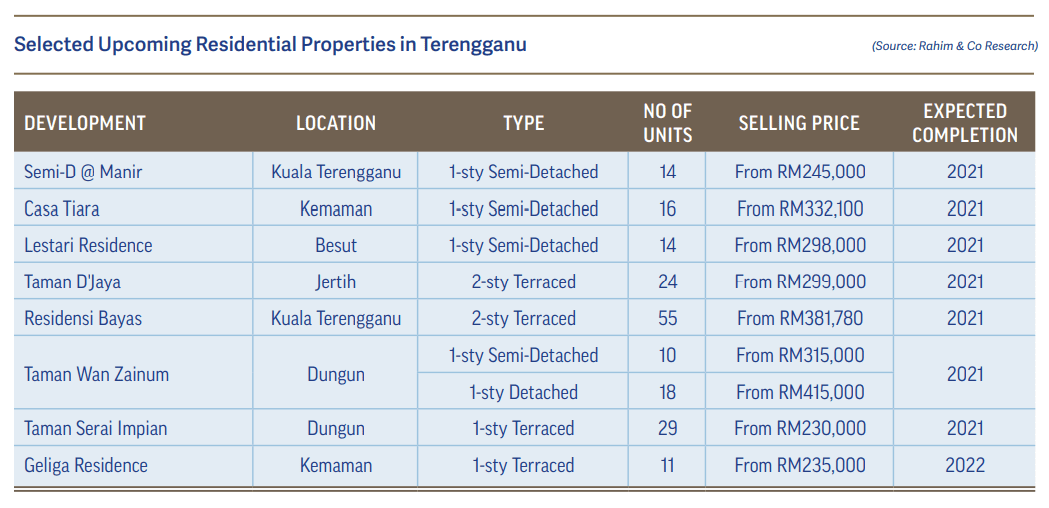 Source: Rahim & Co
Pahang
After showinga steady improvement from 2017 to 2019, Pahang's residential market was pushed a few steps back due to Covid-19 with a contraction of 27.6% in volume and 33.5% in value to 4,029 units worth RM859.54 million. 
Of these transactions, many were within the affordable range based on the 82% transaction share being below RM300,000. By type, landed homes are performing comparatively well, with terraced and detached types contracting by a third as opposed to condominium/apartments which fell by 52% y-o-y.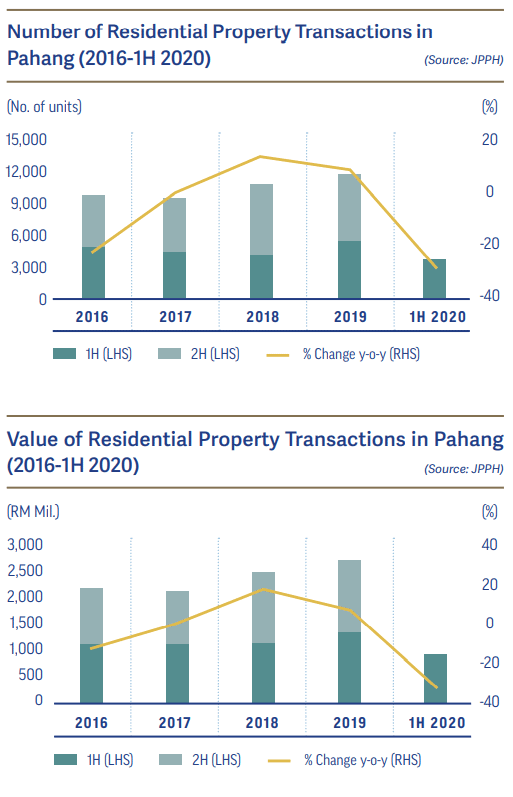 Source: Rahim & Co
Surprisingly, 1-storey semi-detached saw a small growth of 8% from 1H2019 and considering the pandemic environment, and it is a feat. On the supply side, existing stock is expectedly in favour of landed homes but condominium/apartment types are slowly gaining ground, especially in areas of Bentong, Cameron Highlands and Kuantan – these areas being the major business centre and tourist spots. 
In the pipeline, Pahang will be expecting an injection of close to 20,000 new residential units and of this, 1,602 units are high-rise units. Under the commercial category, there are more serviced apartment units in Pahang than condominium/apartments in the same 3 areas mentioned earlier at 5,870 units, but future supply is lower at 316 units and are all in Kuantan.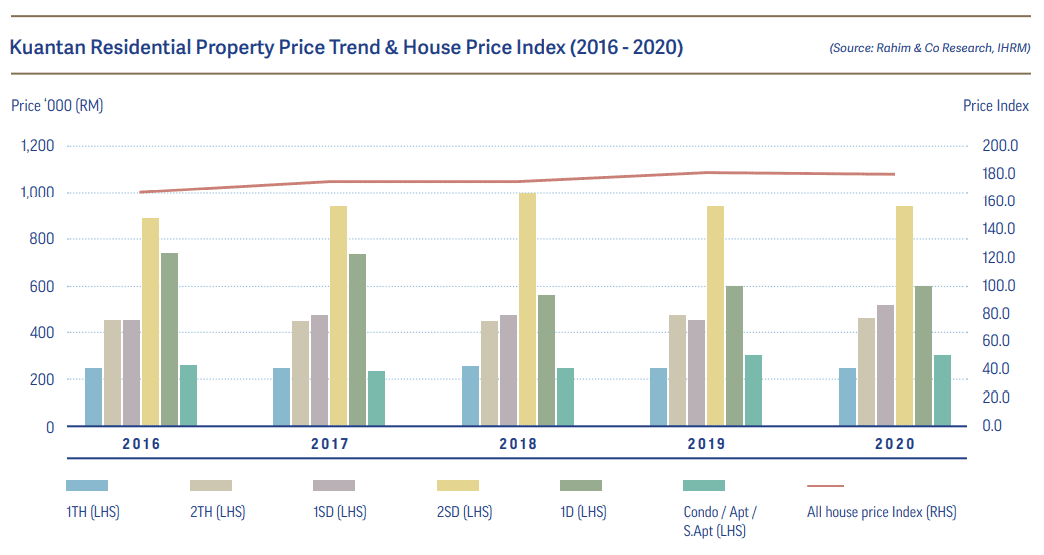 Source: Rahim & Co
Since 2016, Pahang's overhang situation has gotten worse as the completed yet unsold stock had more than doubled – going from 576 units worth RM142.71 million to 1,829 units worth RM712.94 million. This brings concern as 61% of the stock are terraced, semi-detached and detached types when typically high-rises tend to be the villain in such scenarios. 
By price bracket, 82% are below RM500,000, which signals that houses must not only be within the affordable range and landed, but also in desirable and strategic areas. Just in 2019, the state government had decided to cancel 7 PR1MA projects to avoid a potential unsold situation. However, the good news is that Tropicana Corp Bhd is set to launch their first township in Genting Highlands, which will sit atop Mount Ulu Kali. 
Situated in Gohtong Jaya and with a gross development value of over RM2 billion, the Tropicana Grandhill development is expected to bring in a new trend of holistic and health-centric resort living lifestyle in the highlands. Comprising residential, commercial, wellness, education and park components, the first phase will be the TwinPines Serviced Suites.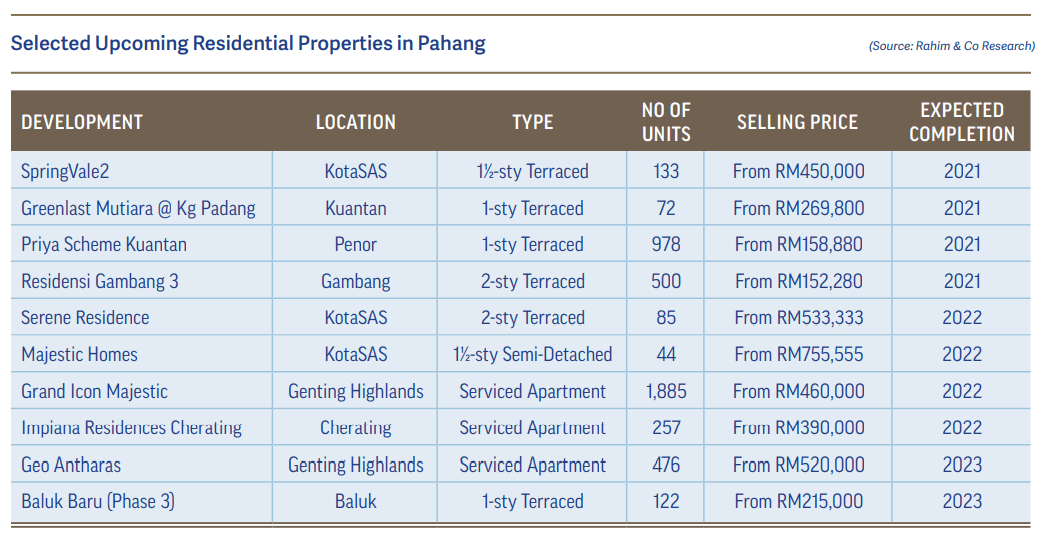 Source: Rahim & Co
Looking for more related article? Check them out here:
Rahim & Co Residential Property Market Review (Southern Region)