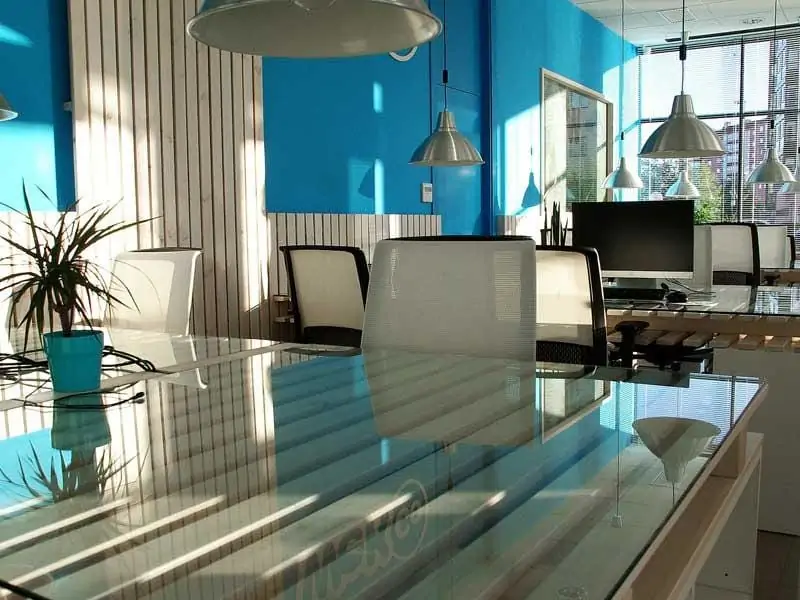 In addition to the growing supply-demand mismatch, the resurgence of COVID-19 cases further weakens leasing activity. Source: rcpinvestment
The average rental rate of office space in KL City declined
More organisations gravitate towards the hybrid working arrangement
Supply-demand mismatch continues to widen
Growing interest in the co-working segment is expected to continue due to its flexibility
Real Estate Highlights Research 2nd Half 2021 by Knight Frank continues with a review on the Klang Valley office market. From a macro-perspective, the country's economy, which expanded 16.1% in 2Q2021 and shrank 4.5% in 3Q2021 due to the re-imposition of strict containment measures to rein in the resurgence of infections. 
However, following the ramp-up in vaccination drive, more economic sectors and businesses were allowed to reopen under Phases 3 and 4 of the National Recovery Plan (NRP). The Business Conditions Index (BCI) improved marginally in 3Q2021, climbing 9.5 points to register at 97.0 points – supported by increasing sales as well as domestic and external orders. 
With the further easing of COVID-19 restrictions, the index is expected to improve further moving forward. The RM150 billion PEMULIH aid package and additional assistance under the Prihatin Special Grant (GKP) 4.0 programme continue to safeguard the welfare of the people and support businesses. 
This, coupled with the accelerated deployment of COVID-19 vaccines, are expected to assist in the country's economic recovery, although the emergence of the new Omicron coronavirus variant poses new challenges globally and locally. The office market will take time to return to the pre-pandemic era although most employees are gradually returning to their offices. 
Whilst remote and hybrid working models are gaining traction, some companies, especially MNCs, are still evaluating their future workplace strategy as physical office space remains important for collaboration purposes and to ensure high productivity. There are nine office buildings scheduled for completion by the first half of 2022, with five located in KL City and two each in KL Fringe and Selangor. 
Upcoming completions in KL City are Menara Affin, PNB 1194, The Stride @ Bukit Bintang City Centre (BBCC), Merdeka 118 Tower and UOB Tower 2 while in KL Fringe, they are The MET Corporate Towers and Aspire Tower. The impending completions in Selangor are Empire City Block J and Block G. Collectively, these completions will add circa 5.2 million sq ft of space to Klang Valley's existing cumulative office stock. 
Amid growing challenges in the office market, the overall occupancy rate of purpose-built office space in KL City dipped further to record at 65.5% during 2H2021(p) (1H2021: 67.9%). Similarly, the occupational demand in Selangor was also under pressure at 74.2% (1H2021: 75.8%). Meanwhile, the overall occupancy rate in KL Fringe remained resilient during the review period to record at 86.1% (1H2021: 85.9%). 
There were several notable office-related announcements during the review period. Setting new benchmarks in sustainability, the Merdeka 118 tower will be the first building in the country to earn a platinum rating with international sustainability certifications, namely Leadership in Energy and Environmental Design, Green Real Estate and Green Building Index. 
The tower includes 1.7 million sq ft NLA of Premium Grade A rentable office space ,while the top 17 floors will house the first and only Park Hyatt Hotel in Malaysia. The Merdeka 118 tower, which is 85 % completed, is on track for completion by 2022. Due to the various phases of the Movement Control Order (MCO), the construction of the iconic tower was delayed by more than six months from its initial target of end 2021.
Prices & Rentals
The average rental rate of office space in KL City retreated to RM6.79 per sq ft per month in 2H2021(p) (1H2021: RM6.87 per sq ft per month) as the prolonged pandemic continues to impact the economy and businesses. 
In addition to the growing supply-demand mismatch in the office market, the resurgence of COVID-19 cases further weakens leasing activity as more corporations and companies review or postpone their real estate decisions to strike a balance between driving growth while maintaining operational and cost-efficiency.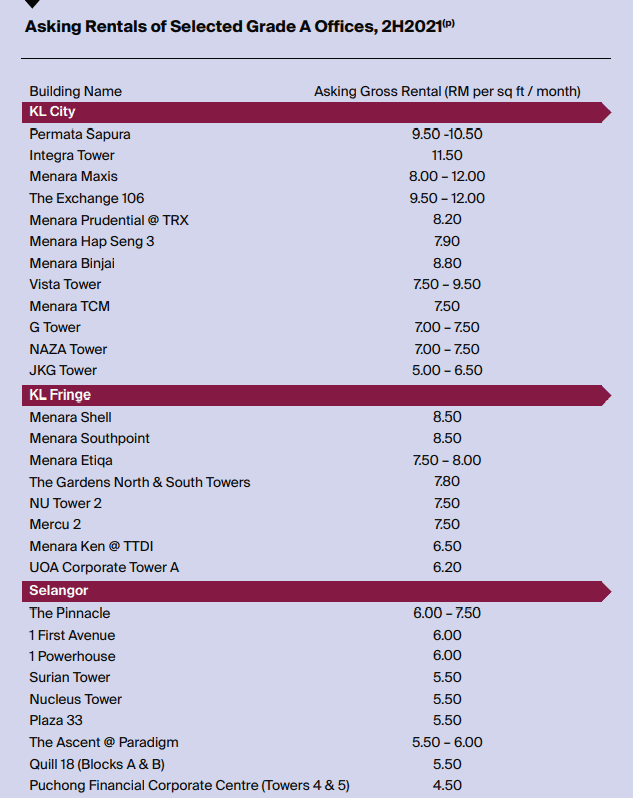 Source: Knight Frank Research
Similar to KL City, the average office rent in KL Fringe was also lower at RM5.60 per sq ft per month (1H2021: RM5.69 per sq ft per month), while in Selangor, it declined marginally to RM4.10 per sq ft per month (1H2021: RM4.15 per sq ft per month).
During the review period, asking rentals of Prime A+ and Grade A office space in KL City range from RM5.00 per sq ft to RM12.00 per sq ft per month depending on location (New CBD: from RM7.00 per sq ft to RM12.00 per sq ft per month; Old CBD: from RM5.00 per sq ft to RM6.50 per sq ft per month) while in KL Fringe, it ranges from RM6.20 per sq ft to RM8.50 per sq ft per month. In Selangor, similar grade office space commands competitive monthly rentals ranging from RM4.50 per sq ft to RM7.50 per sq ft. 

Source: Knight Frank Research
Supply & Demand
The cumulative supply of office space in Klang Valley stood at circa 112.6 million sq ft as of 2H2021 following the completions of Plaza Conlay @ Conlay 301 and Imazium @ Uptown in Selangor. 
Located along Jalan Conlay, Plaza Conlay @ Conlay 301 is a 41-storey office building offering circa 606,000 sq ft of net lettable area (NLA). The GBI Gold certified office tower has typical floor plates of 18,000 sq ft to 19,000 sq ft. 

Source: Knight Frank Research
The newly completed 31-storey Imazium @ Uptown is located in Damansara Utama, Selangor. The building is a Designated Premises in the Cybercentre of Damansara Uptown and is LEED Gold certified. 
It offers circa 450,000 sq ft of NLA (typical floor plate of approximately 22,500 sq ft) and 1,388 car park bays. Imazium @ Uptown is also connected to The Starling mall at road level, basement car park and via a link bridge.  
The much delayed Menara YNH forms part of a mixed-use development on a site measuring circa 3 acres. YNH Property Bhd purchased the land with a wide frontage of about 320 feet onto Jalan Sultan Ismail – opposite Concorde Hotel – during the 1997/1998 financial crisis.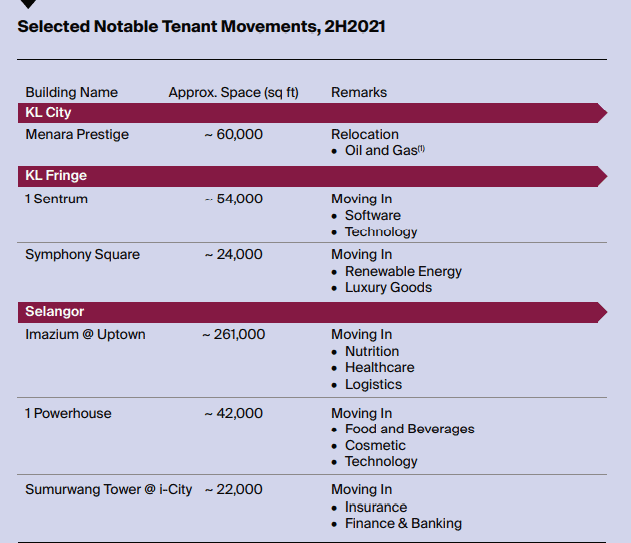 Source: Knight Frank Research
The development order for the project, which has an estimated gross development value (GDV) of RM2.1 billion (2018: estimated GDV of RM2.3 billion), has been obtained. YNH Property Bhd has the intention to keep 50% of Menara YNH, which will house the company's future corporate headquarters, as an investment property. 
The earnings for UOA Real Estate Investment Trust (UOA REIT) are expected to improve considerably for its financial year of 2021 (FY21), driven by its acquisition of UOA Corporate Tower in December 2020. 
The property is strategically located in Bangsar South, at the fringe of Kuala Lumpur and has a high occupancy rate of 91%. Malayan Banking Bhd (Maybank), Malaysia's largest bank by assets, is relocating a portion of its operations to Sumurwang Tower at i-City Golden Triangle (i-City GT) in Selangor's capital city. 
Maybank will lease 14 floors of the Shah Alam tower, totalling circa 162,000 sq ft, as a permanent alternate office location for the group. After receiving approval from the Shah Alam City Council, Sumurwang Tower will be renamed Mercu Maybank, while Menara Maybank will remain as the group's headquarters. 
The 33-storey tower is a key component of i-City GT's financial hub that will be linked to the Seksyen 7 LRT Station, which is set to open in 2024. Trive Property Bhd plans to raise up to RM19.9 million via a private placement to upgrade Persoft Tower. 
From April to October this year, the average monthly occupancy rate of Persoft Tower stood between 38% and 47%. The 19-storey commercial office building accommodates 25 units of stratified offices as well as a lower and upper penthouse level.  
Outlook 
Although more economic sectors and businesses are allowed to reopen under Phase 4 of the NRP (effective 18 October 2021), it is anticipated that it will take some time for the office market to return to pre-pandemic era as some companies, especially MNCs, are still evaluating their future workplace strategy. Under Budget 2022, which was unveiled on 29 October 2021, the government tabled various subsidies and incentives to support the business industry. 
The highlights include the extension of tax relief for building/ commercial unit owners who provide rental discounts of at least 30% from original rate until 31 June 2022; tax deduction of up to RM300,000 for improving workplace seating or air circulation until 31 December 2022; and additional tax deduction of up to RM50,000 for companies registered under Safe@Work on the rental expenses of employee accommodation premises extended for another year. 
With more organisations gravitating towards the hybrid working arrangement, the need to elevate the physical office experience is crucial. Human touch and collaboration are needed, especially in the workplace where teamwork and cooperation are essential. 
Office is here to stay with a clear appetite for the workplace to be elevated in quality and richer in amenities. Moving forward, growing interest in the co-working segment is expected to continue due to its flexibility that enables companies to scale up or down their space requirements without committing to a longer-term plan. 
It is also a good option for new occupiers looking to navigate amid the current challenging environment. Businesses related to e-commerce, hygiene and healthcare, insurance, technology, business process outsourcing and logistics are performing well this year and we foresee more take up from these sectors going into 2022. 
In the near term, the rental rates and occupancy levels of office buildings in Malaysia, especially in Klang Valley, where there is also an imbalance in supply and demand, will continue to experience downward pressure. 
Additionally, as companies rightsize and relocate during the pandemic, plenty of fit-out units are left behind in the market. In this tenant-led market, landlords are more ready to negotiate for competitive rents, and thus, this has resulted in a declining rental trend, especially in KL City. 
As for KL Fringe, its occupancy level appears to be stabilising as landlords are forthcoming to negotiate rentals to retain tenants. Overall, the Kuala Lumpur office market is seen to be sustaining the pandemic with landlords continuing to offer incentives such as rent-free period, CAPEX amortisation, flexible tenancy terms and space usage to remain competitive in the market. 
Meanwhile, the Selangor office market is expected to remain relatively resilient in the medium to longer-term supported by a wider pool of tenants/ occupiers, attractive rental and leasing packages and an rail network that continues to drive demand for office space in established and upcoming decentralised locations.  
Highlights
With further easing of restrictions amid improving COVID-19 situation, employees are gradually going back to offices with compliance to stringent SOPs and safety in place. Post pandemic, physical office space remains necessary for collaboration purposes  and to ensure high productivity, although remote and hybrid working models are catching on as more organisations review their business continuity plans. 
Office space and design will continue to evolve with a clear appetite for the workplace to be elevated in quality and richer in amenities. And the growing interest in the co-working segment, especially among organisations who wish to mitigate risks amid challenging operating environment. The flexibility of co-working space enables them to scale up or scale down their workforce (occupied space) depending on their business needs and market condition. 
The Klang Valley office sector remains tenant-led. Amid the widening supply-demand gap, especially in KL City, rental rates and office buildings' occupancy levels  continue to experience downward pressure. Limited transactional activity during the review period as strict containment measures disrupts and delay the acquisition/ disposal process.
Looking for more related article? Check them out here:
Rahim & Co Residential Property Market Review (East Coast Region)