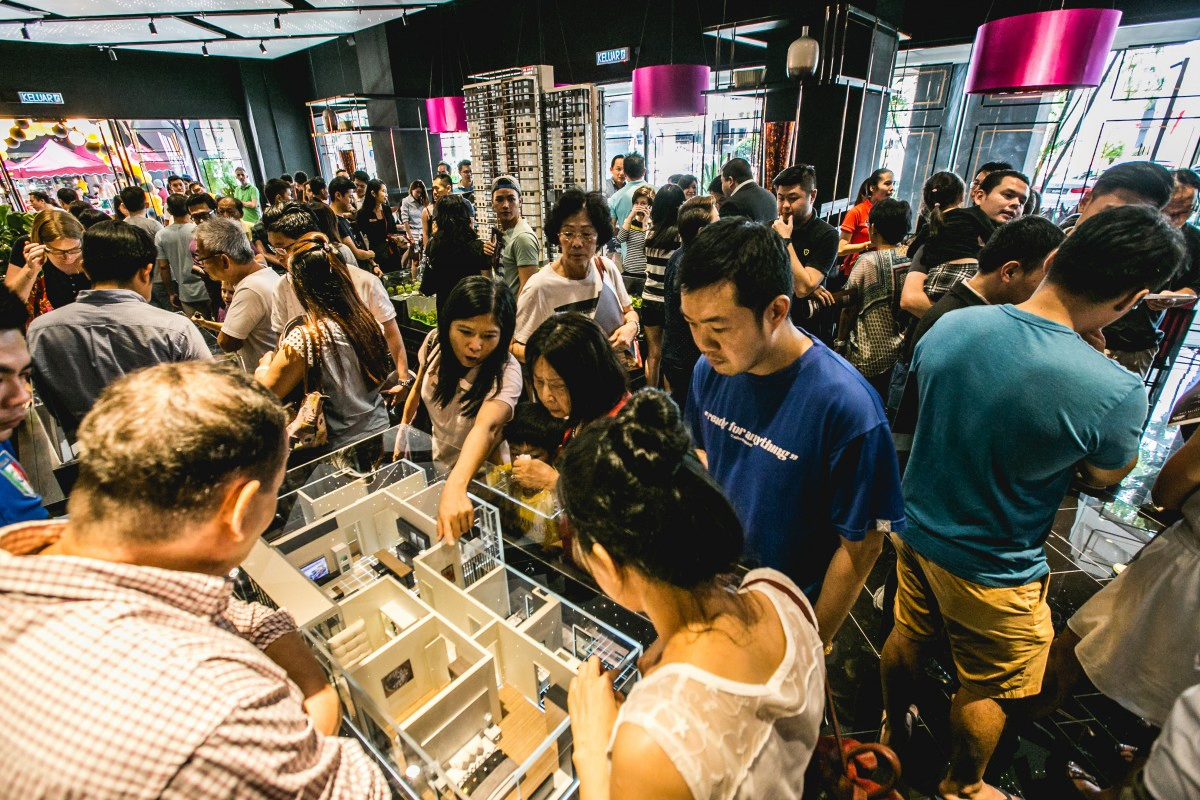 Potential customers looking through residential projects. Photo credit: Sunway Property
This article was originally published by Sharen Kaur on News Straits Times
Real estate developers are becoming more aggressive with their launches and sales targets as they are positive about the property sector's prospects this year, said AmInvestment Bank analyst Khoo Zing Sheng.
The investment bank anticipates a gradual recovery in property transaction volumes due to better market sentiments and stronger demand, helped by its economist's projected 4.5 per cent GDP growth for the calendar year 2022 (CY23F) and job market recovery.
"This will be further supported by developers' more aggressive planned launches and targeted sales in CY23F. We believe selective developers with strategic land banks in prime locations such as in city centres and matured towns together with strong reputations will continue to maintain their positive sales momentum in CY23F," he said.
According to a survey conducted by the Real Estate and Housing Developers' Association (Rehda) last October, 48 per cent of developers surveyed did not plan for any launches in the second half of CY22 (2HCY22).
"The top reasons cited are the unfavourable market conditions and the delays in approval from authorities. However, we have seen a 71 per cent rise in new property launches for those under our coverage in 2HCY22 with a total gross development value (GDV) of RM6.8 billion versus RM3.9 billion in 1HCY22," he said in a note recently.
According to Khoo, all developers under its coverage plan to accelerate their launches in CY23F as building material costs stabilise and labour shortages ease.
"We believe that most building material costs have reached their peaks in the second quarter CY22 (2QCY22) following the easing of supply chain disruptions. Steel price in Central Peninsula slid 29 per cent to RM3,099/MT in January 2023 from a peak of RM4,344/MT in Apr/May 2022, whereas cement prices rose to RM19.23/50kg per bag, eight per cent higher than January 2021 levels.
"While steel prices may remain higher than before the pandemic, we believe that the increased building material cost for new projects will be mitigated through the adoption of industrialised building system, bulk purchasing, and value re-engineering initiatives by developers," he said.
Khoo said that developers with lower-than-expected CY22 launches, such as Sunway, UEM Sunrise, and SP Setia, have set more aggressive targeted launches with a YoY increase of more than 100 per cent in CY23F in light of the improving market outlook.
He also said that the greater number of launches was due in part to the postponement of CY22 planned launches to CY23F.
Mix sales target by developers
Except for Sunway, Lagenda Properties, and UEM Sunrise, most developers' full-year sales exceeded their CY22 sales target, said Khoo.
Sunway's sales fell slightly short of its previously stated target of RM2.2 billion in 2022 due to the postponement of launches in Singapore and China to CY23.
UEM Sunrise experienced delays in getting authority approvals for the launches of its major projects, The Minh and The Connaught One, both of which have a combined GDV of RM1.7 billion.
Lagenda pushed its 2HCY22 launches to 4Q2022 due to the delay in regulatory processes for licenses.
Khoo said developers such as Paramount and Mah Sing Group Bhd are more aggressive in CY23F, with double-digit sales increase targets compared to CY22.
According to him, they are motivated by their strong CY22 orders.
Paramount Property and Mah Sing are targeting sales of RM1.2 billion and RM2.2 billion in CY23F, up 20 per cent and 10 per cent respectively over the previous year.
Sunway and SP Setia Bhd have also set marginally higher sales targets in CY23F, at RM2.3 billion and RM4.2 billion respectively, supported by new launches.
Those who missed their CY22 sales target, namely UEM Sunrise and Lagenda are being prudent in CY23F and have maintained their sales target respectively at RM1.5 billion and RM900 million.
Sime Darby Property has set a more conservative CY23F sales target of RM2.3 billion versus RM2.6 billion in CY22 to reflect the moderating operating environment.
Click the link below for more awe-inspiring content!
SIERRA HIJAUAN, A MASTERPIECE OF STYLE AND SOPHISTICATION