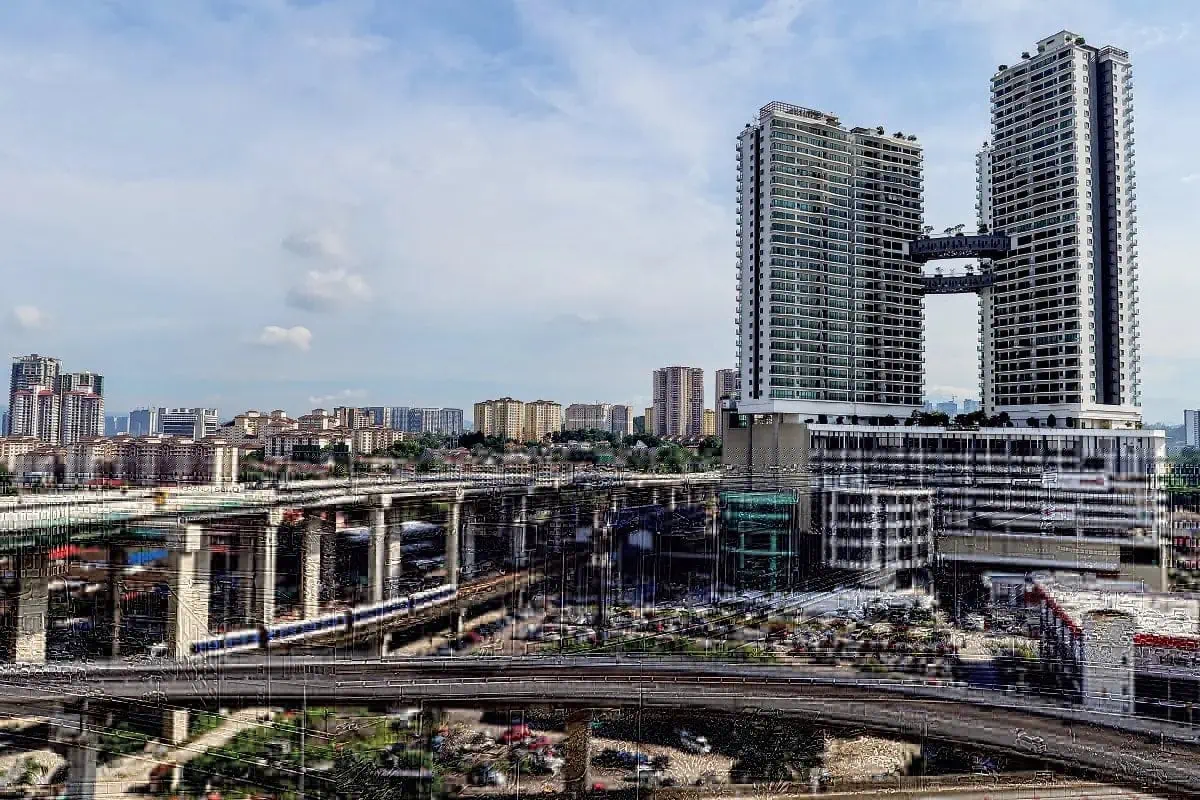 This article first was originally published by Chai Yee Hoong on The Edge Malaysia 
Jalan Jelatek, a major road in Kuala Lumpur, is sandwiched by the Ampang-Kuala Lumpur Elevated Highway (AKLEH) and Duta-Ulu Klang Expressway (DUKE) at both ends. The skyline along the thoroughfare has undergone significant changes since the days of the Kampung Warisan development (which was completed in 1997 and comprises 275 units spanning 15 acres) to projects like Seri Maya (completed in 2007 and comprises 1,486 units spanning 12 acres).
In more recent times, newer high-rise developments such as Datum Jelatek, Picasso Residence, 3rdNvenue and Astrum Ampang have sprung up in the area.
Datum Jelatek, completed in March last year by Datumcorp International Sdn Bhd, is a RM1.2 billion transit-oriented development that was launched in 2015. It consists of 712 residential units across four residential towers and a 340,000 sq ft retail mall.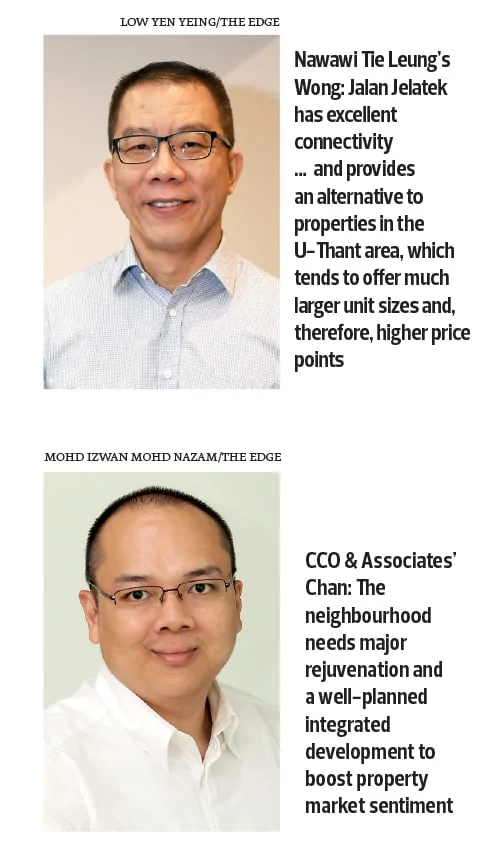 The RM7.2 million Picasso Residence, a joint-venture development by Premier De Muara Sdn Bhd and Almaharta Sdn Bhd, comprises 472 residential units in two towers. Tower A is scheduled to be completed by the fourth quarter of this year and Tower B by end-2024.
Meanwhile, 3rdNvenue offers 2,400 units of office suites, serviced apartments and retail units across four towers on six acres. The first phase of this RM2.1 billion project, jointly developed by Titijaya Land Bhd and CREC Development (M) Sdn Bhd, was completed in March.
Astrum Ampang is an ongoing development by Setia Awan Holdings Sdn Bhd that has a total of 5,228 SoHo (small office/home office) transit homes, SoHo suites, serviced apartments, Rumah Mampu Milik SoHos and shops on 6.85 acres. One of the six towers, Block M, will be managed by Ascott as Citadines Astrum Ampang KL, which will offer 230 serviced apartment units. Launched in 2021, phase one of the RM1.6 billion project should be ready by 2026.
According to Nawawi Tie Leung Property Consultants Sdn Bhd managing director Eddy Wong, property prices in the area have risen steadily and generally doubled from 2010 to around 3Q2017, when prices peaked. "The market has consolidated
since then, with prices moving sideways and, in some locations, dropping slightly by about 5%," says Wong.
He notes that the ongoing projects will intensify competition in an already-slow market. Nonetheless, he has noticed an uptick in interest this year. "But we suspect the increase in volume has not translated into any price appreciation yet, as prices do lag behind volume."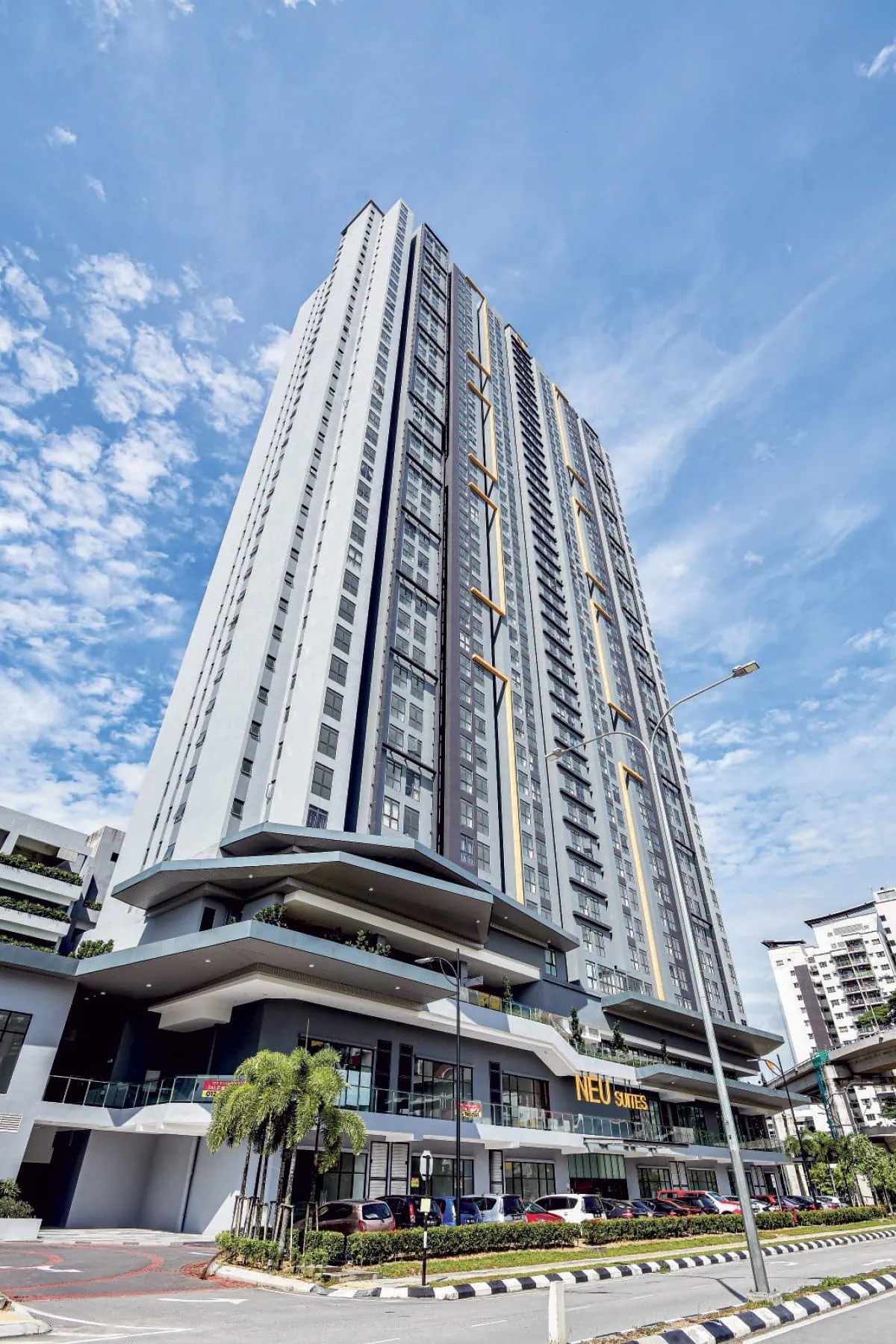 Neu Suites, the first phase of 3rdNvenue, is an integrated mixed development comprising office suites, serviced residences and retail components (Photo by Zahid Izzani)
He does not foresee many more developments coming up along Jalan Jelatek except on the Malaysian Rubber Board (Lembaga Getah Malaysia, or LGM) land at the corner of Jalan Jelatek and Jalan Ampang.
"There are parcels of land ripe for development, including the 4.75-acre LGM land. Plans for the development of this parcel were announced, but these were subsequently shelved. It is only a matter of time before the project is revived," Wong reckons.
Jalan Jelatek, he highlights, is a central location that has excellent connectivity and accessibility to the Jelatek LRT station as well as easy access to DUKE, AKLEH and the Kuala Lumpur Middle Ring Road 2 (MRR2).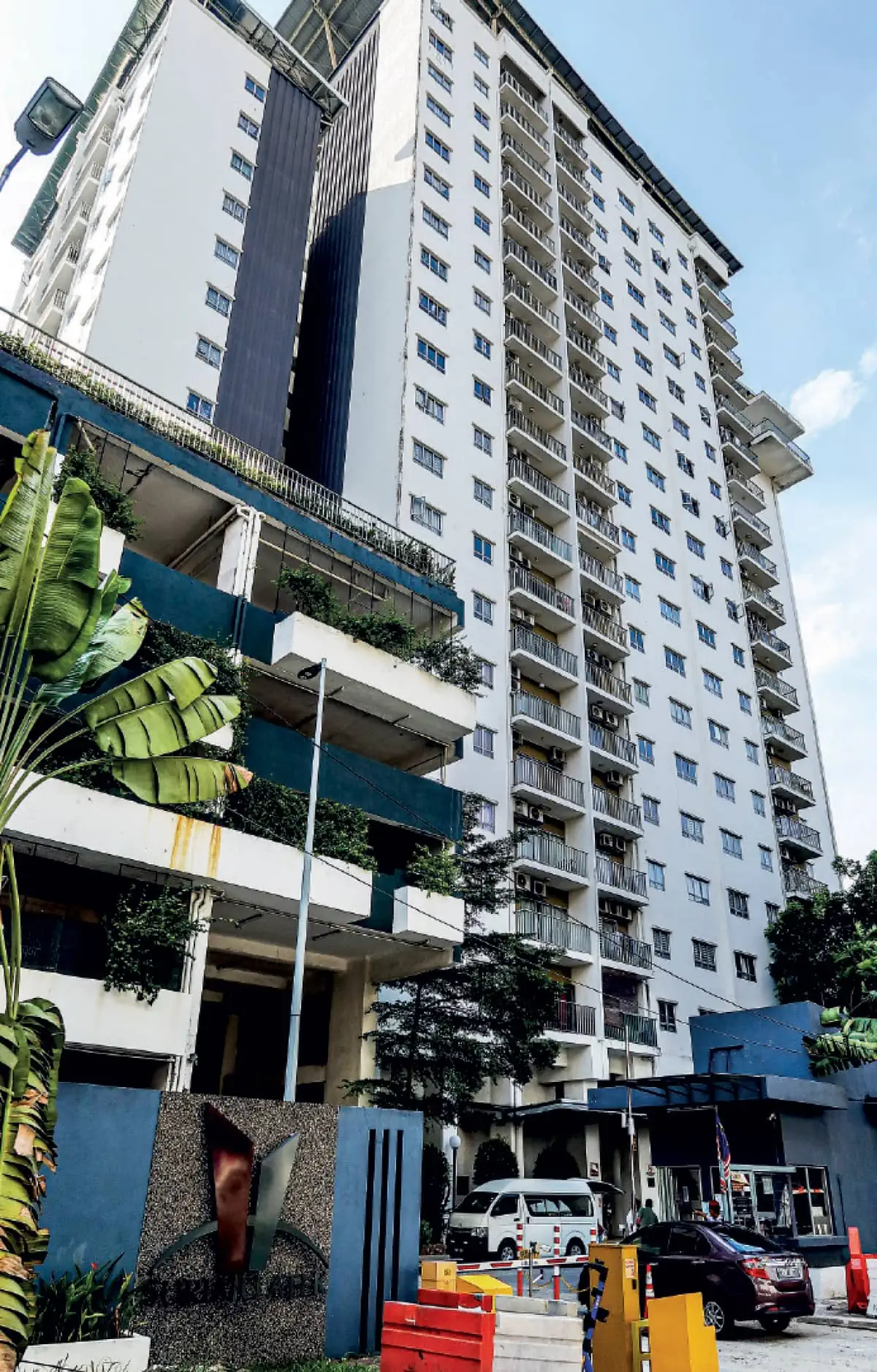 Suria Jelatek attracted a number of transactions in 2021 and 2022 largely due to affordable pricing (Photo by Zahid Izzani)
Central location at affordable prices
CCO & Associates (KL) Sdn Bhd director Chan Wai Seen says Jalan Jelatek has benefited from the spillover developments in Jalan Ampang as well as Embassy Row.
"The success of the Kampung Warisan development has encouraged newer high-end residential developments to be introduced along this road. Notable ones include Seri Maya Condominium, One Jelatek, Datum Jelatek and Suria Jelatek."
He also notes that Jalan Jelatek is becoming more attractive to developers following the completion of the Jelatek LRT station, AKLEH and DUKE.
"Jalan Jelatek is also located near [the KL city centre]. Improved infrastructure has not only increased its popularity, but also considerably bolstered development opportunities for many small pockets of land located along Jalan Jelatek," Chan adds.
However, he says the slowdown of the property market in the Klang Valley, coupled with the Covid-19 pandemic, has affected demand for some high-end residential projects in the area. Nonetheless, he thinks the recently opened Datum Mall has the potential to enhance the area's appeal.
According to Chan, selling prices of the existing high-quality, high-rise residential developments on this stretch generally range from RM400 to RM600 psf, whereas new developments are priced at above RM600 psf.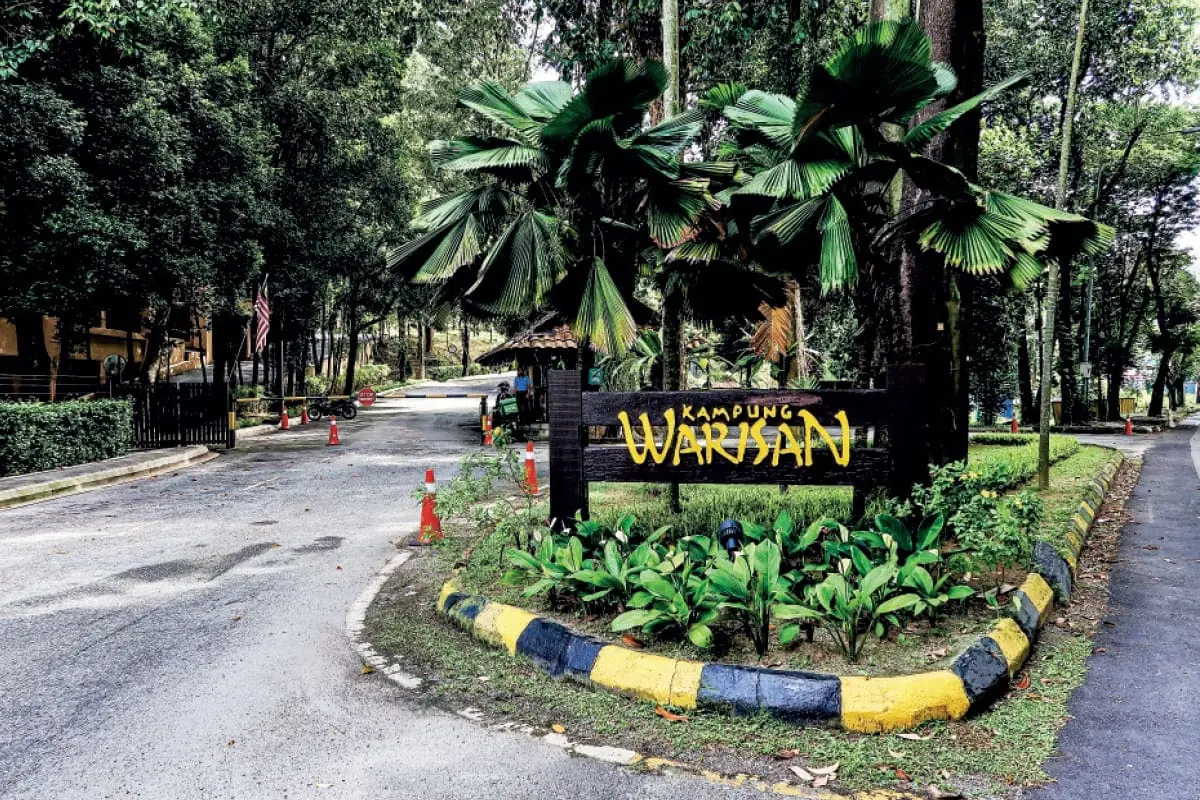 Kampung Warisan, completed in 1997, commands one of the highest rents in the area at RM2 to RM2.40 psf (Photo by Zahid Izzani)
"For example, Picasso Residence's serviced apartments have a higher selling price of above RM870 psf, whereas Sri Jelatek's condominium units were transacted at around RM360 to RM530 psf, depending on the level and condition, among other things.
"Notably, Suria Jelatek Residence attracted a number of transactions in 2021 and 2022 largely due to its affordable pricing, which ranges from RM350 to RM450 psf," he adds.
According to Nawawi Tie Leung's Wong, selling prices at Astrum Ampang start from RM230,000 for a 280 sq ft SoHo transit unit, whereas at 3rdNvenue, the price for a 430 sq ft office suite unit starts from RM299,000.
In terms of rent, he observes that Kampung Warisan commands one of the highest rents in the area at RM2 to RM2.40 psf. The rate for Seri Maya is around RM1.50 psf.
"As with rental properties in other locations, the market has been affected by the pandemic and demand has softened substantially. However, demand is expected to recover, albeit gradually, as this location is popular with tenants working in the city centre," says Wong.
Positive outlook
Wong has a positive outlook on properties along Jalan Jelatek due to their location and proximity to the city centre.
"[In addition to Jalan Jelatek's excellent connectivity], amenities nearby include Great Eastern Mall, Gleneagles Intan Medical Centre, HSC Medical Centre, the International School of Kuala Lumpur and Sayfol International School.
"Jalan Jelatek also provides an alternative to properties in the U-Thant area, which tends to offer much larger unit sizes and, therefore, higher price points," he adds.
However, Wong says infrastructural improvements that can ease the traffic along Jalan Ampang will benefit the area.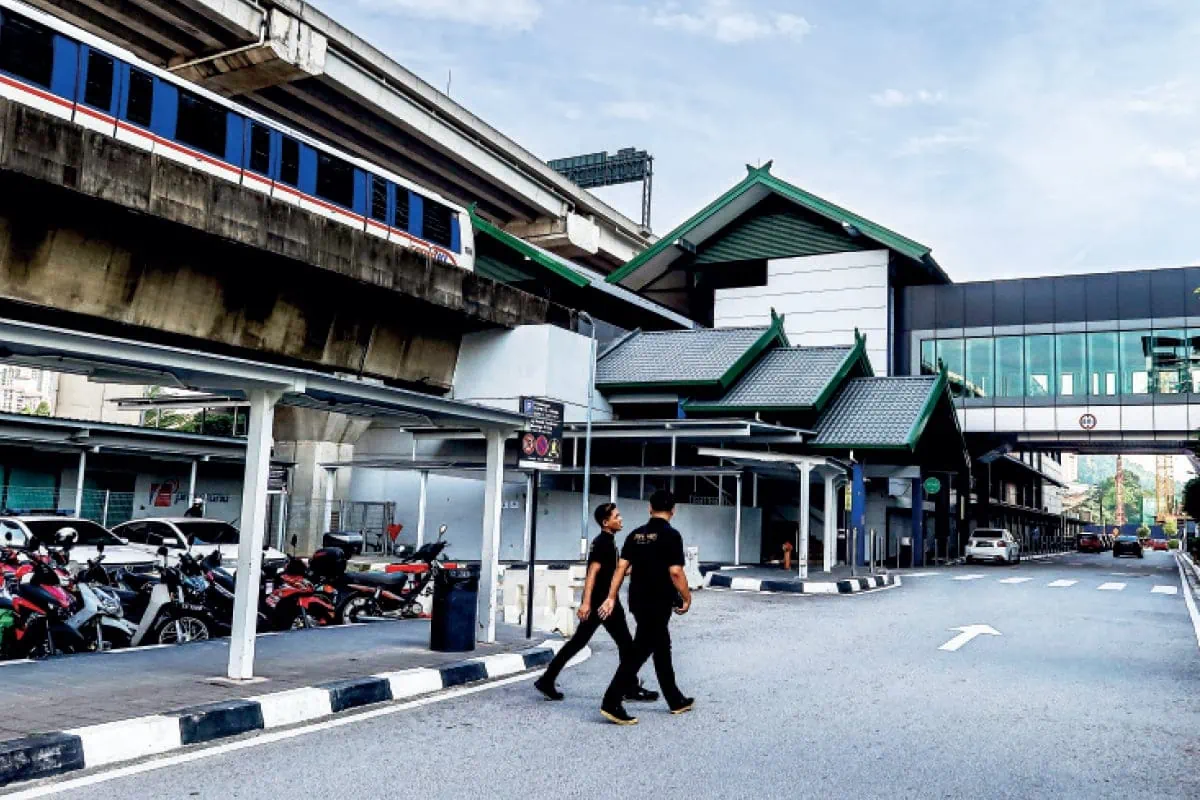 Jalan Jelatek is becoming more attractive to developers following the completion of the Jelatek LRT station (left), AKLEH and DUKE (Photo by Zahid Izzani)
Chan is optimistic of the property market along Jalan Jelatek.
"Overall, a positive outlook is observed for the affordably and competitively priced residential properties while demand for the high-end residential properties will depend greatly on the country's economic performance."
Further, he notes that many old properties and projects in the area are primed for redevelopment, based on the prevailing market trend.
"Currently, most of the developments located along Jalan Jelatek are piecemeal residential developments. Demand and prices may increase over time.
"The neighbourhood needs major rejuvenation and a well-planned integrated development to boost property market sentiment.  Subsequently, demand for other property types such as retail and office developments in Jalan Jelatek is also expected to improve," Chan concludes.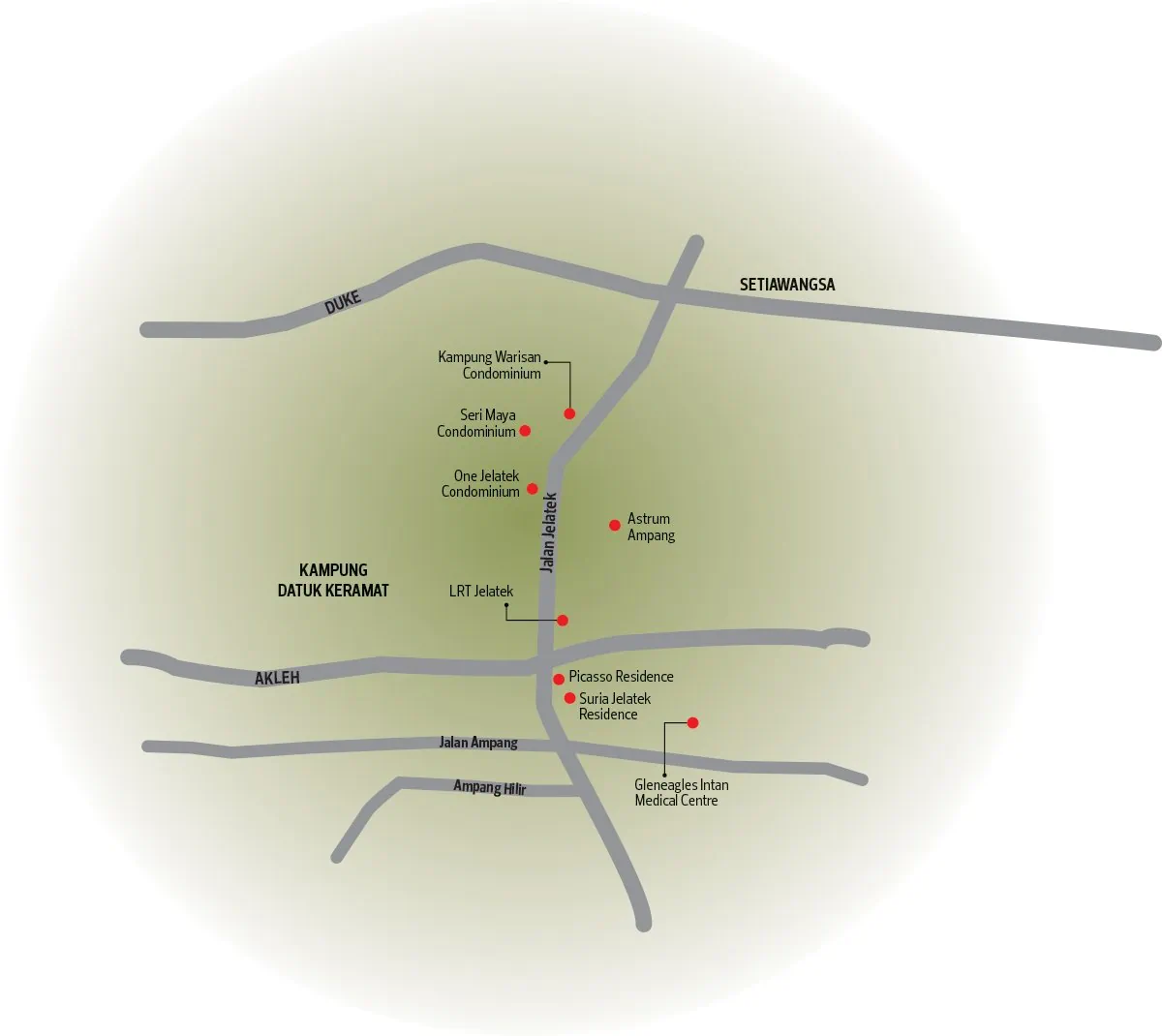 Click the link below for more awe-inspiring content!