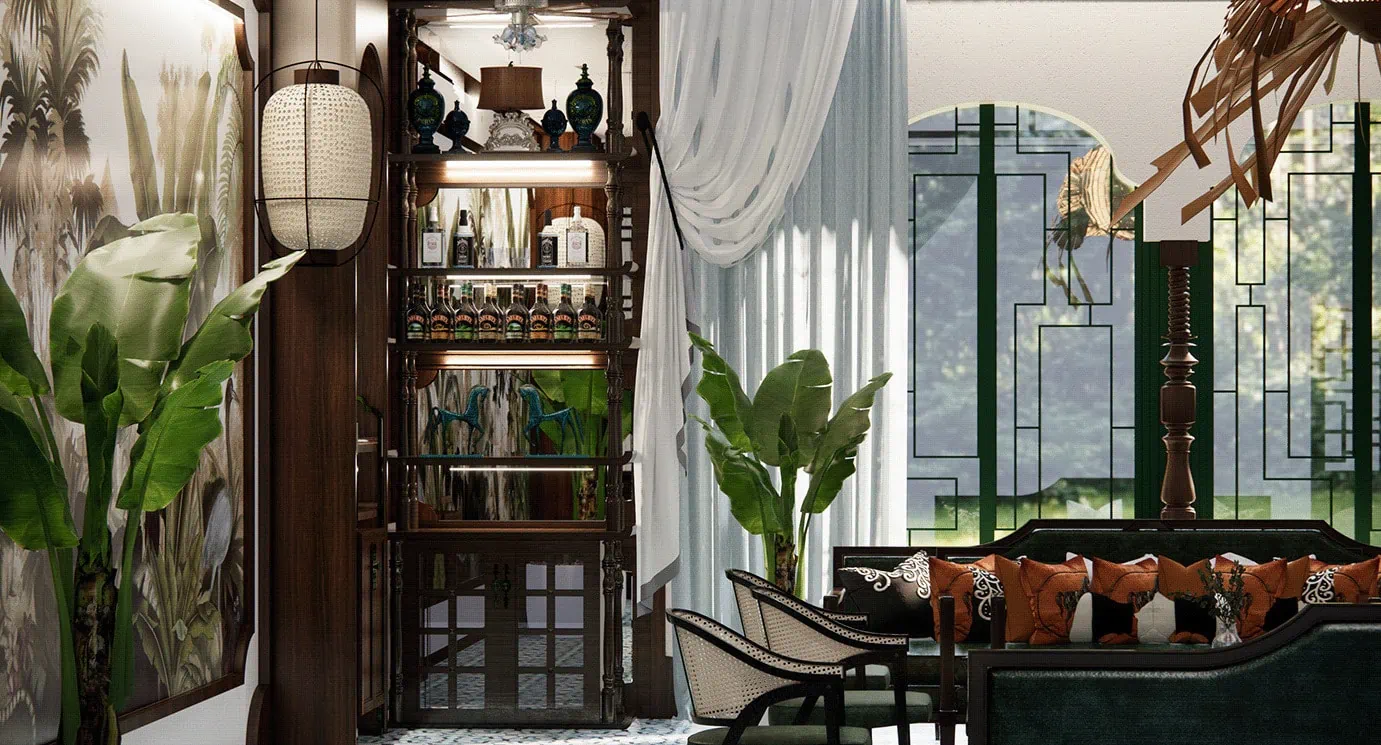 Combining the best of both worlds, an architecture that is both LUXURIOUS and NATURAL! Photo source: Behance
When traditional and modern elements come together. 
Epicable detailing that will blow your mind and alter the taste of what a home should look like. 
Getting to know some genius behind this phenomenal work. 
Changing your perception towards incorporating the traditional look in this modern era.
Ever heard of the word, INDOCHINE? Ever understood the meaning of what it really is? This may be a word that would have been heard vaguely during school days when history was taught by the teachers. Now, to hone more on the real meaning of its existence, this name refers to the name used by the French people for the country of Vietnam during the French-colonial occupation, why does it suddenly sound so historical? Well, it just simply is as it is strongly tied with six typical Indochina countries, including Cambodia, Laos, Malaysia, Myanmar, Thailand and Vietnam. This style takes on a strong inspiration from both the East and the West to create something unique that is both luxurious and natural at the same time. The Indochine-style deeply expresses its designs with elegance, quietness and romance, when applying this style to the designs that are around nowadays, it makes it necessary for the brain behind this architecture to skillfully combine it with the amenities bringing comfort and convenience to users. 
What a great masterpiece it could be for families, newlyweds and those interested in  Indochine-style architecture to consider exploring these explicitly designed properties to see what it has to offer. Wouldn't you want to be amazed by this elegant work of art that you may want to call home? Think about it, but before that to enhance your interest further, check out the two eye-capturing projects and people behind these evolving Indochine-style buildings. 
1/ THE MINH – BY UEM SUNRISE BERHAD, MALAYSIA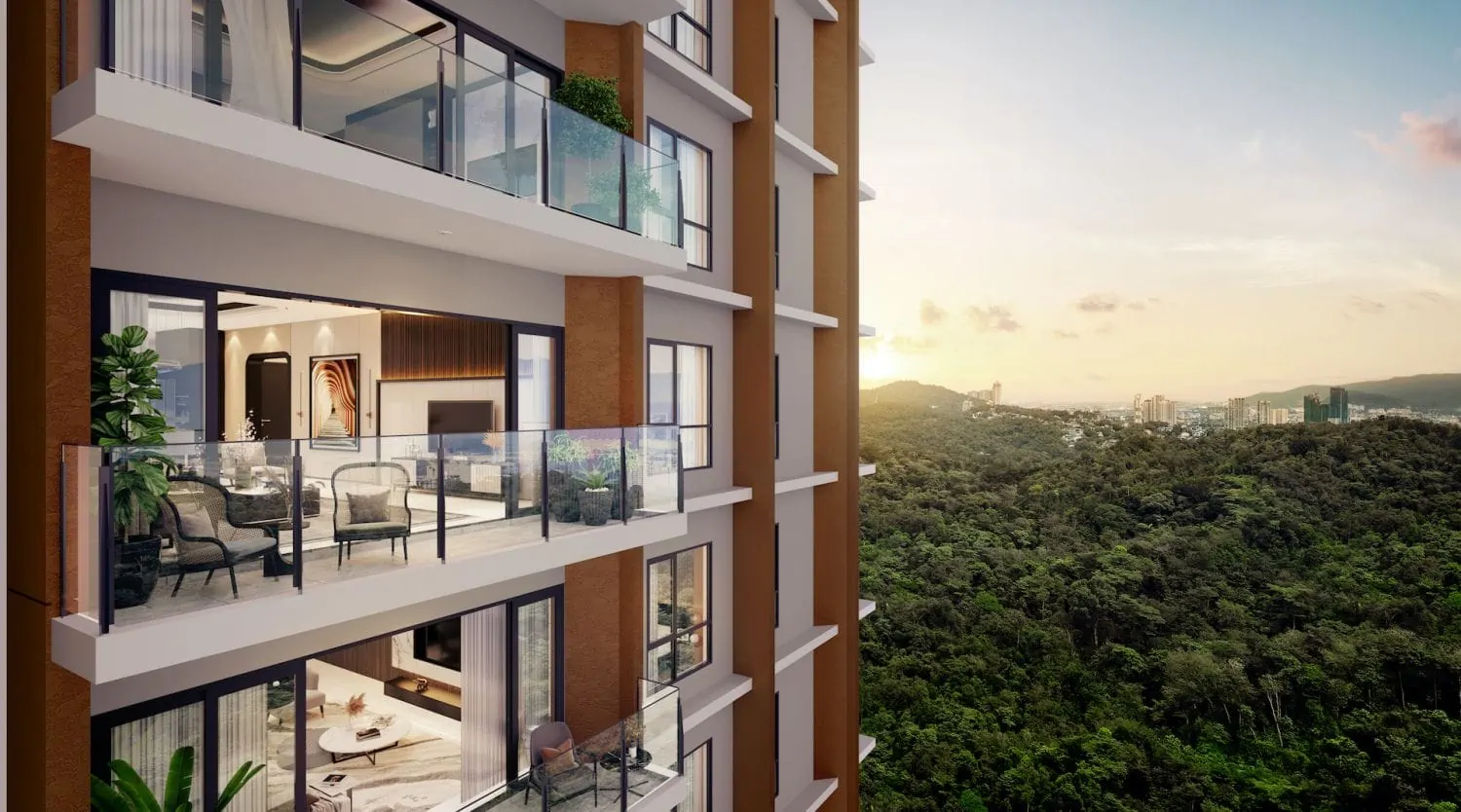 A large opening inviting in natural light and ventilation, a little sunshine and space to breathe freely! Photo source: Tatler Asia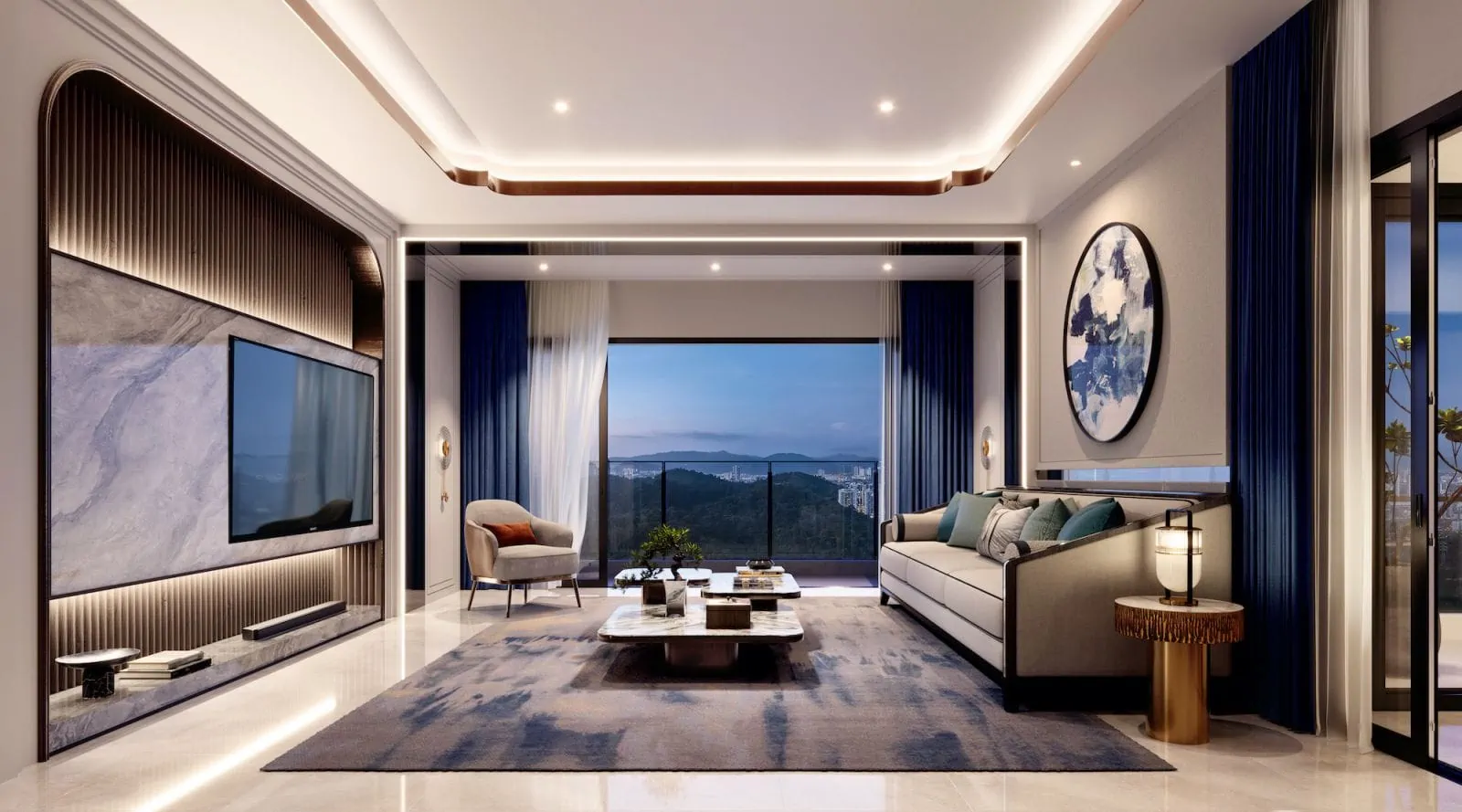 There's no place like home, especially when it has a living room like this! Photo source: Tatler Asia 
UEM Sunrise Berhad, one of the best-leading property developers in Malaysia, known for creating various high-quality and successful property development projects recently came up with their latest development, THE MINH. The word in Vietnamese is linked closely with the word, "bright", but why this name? This is because of the idea of UEM Sunrise that this development will be poised to shine a light on the alluring Indochine style. Although this was developed by UEM, who would have thought that the story behind this is tied to just a mural, a work of art that was designed by Satira Diana Borhanuddin? 
How powerful can art be that it reaches the extent in which to recreate a development that depicts such beauty and elegance? It becomes so close to the heart when it is designed with the burning passion of a person. THE MINH, is nestled in a serene and quiet area of what you call an affluent enclave, it is so close to nature, providing it with a unique opportunity of living close to abundant greenery and having the connectivity to all major highways and amenities. 
This distinctive Indochine inspiration is a reimagining of a classic design statement that harmonises the vernacular design traditions of Vietnam with French colonial style. This modern interpretation of the Indochine resort-living idea exudes "Oh so gracious" friendliness and delicate beauty from the minute residents and visitors drive up the sweeping driveway to a beautifully designed lobby. Upon arrival, a well-landscaped facilities deck with an open view is seen, continuing the appealing initial impression. Here, the scene is set for an exquisite refuge with reflected pools, rich foliage, and natural components. 
The hallmark of this resort-style living is its luxurious space curated in a way that it would be great for families with children, where they can play and where each family member can bond together. Each unit of this development is done with detail adapted to each owner's varying lifestyle needs. 
So wouldn't you call this your home? If it was me, I would definitely choose this to be my dream home.  Imagine living in a home that looks as close as a resort? It would not give you the urge to have to book posh resorts when travelling the world when your home already looks like one! 
2/ Bare Indochine – By o9 Design Studio, Ho Chi Minh, Vietnam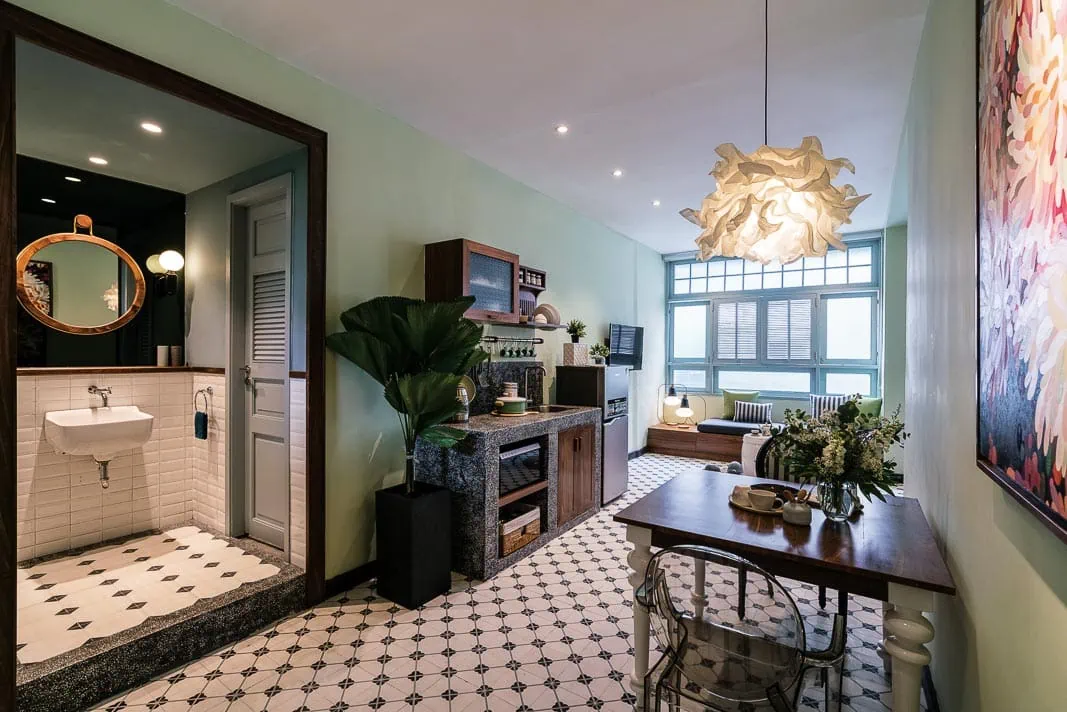 A delicate interior in each line making it have its own beauty, simple yet elegant! Photo source: Bare Indochine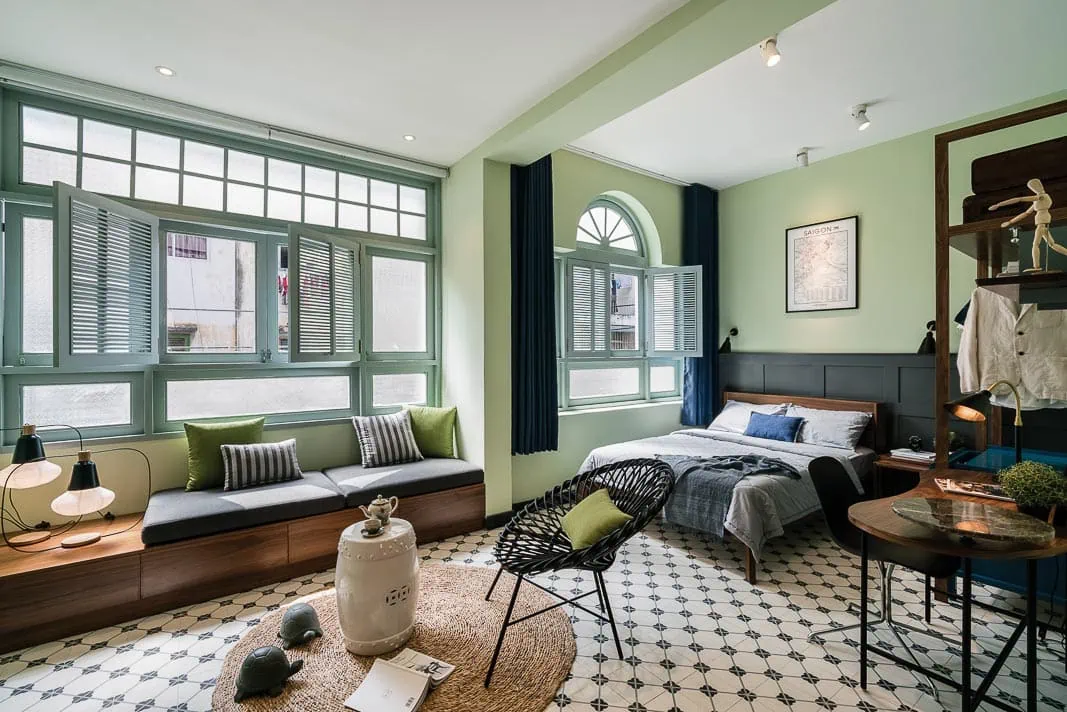 A comfy-looking bedroom with shades of pale green giving it a calm and relaxing look, a place to nestle yourself! Photo source: Bare Indochine
Ever seen a breathtaking view of an apartment like this? This beautiful art of development depicts the trails of contemporary Indochina, making it a metaphor for contemporary Saigon. Stepping your foot in gives one an experience of being a part of Saigon's story, discovering and understanding the youthfulness of the city, even though its history has already caused it to endure so many ups and downs. The city is constantly innovating and developing, but still silently reminisces over the memories that give it its value. 
The "Bare Indochine" flat was created as part of the Bare Boutique Stays chain for travellers to rent who want to live somewhere that makes them feel at home. It has a tiny living area and is housed in an old apartment block. Despite its diminutive appearance, the apartment's renovation had made it a prized option for travellers who wish to experience modern Saigon while still feeling a deep sense of nostalgia for the days when the city was known as 'the Pearl of the Far East'. The immediate neighbourhood is busy with lively street stores, local food vendors and boisterous laughter; the apartment  is a pleasant, light, refreshing and slick retreat in contrast.
The layout recreates Saigon's iconic Eastern-style living area from earlier decades, where everything is open but the bathroom and shower area. The celadon-green walls and custom colonial-styled tiles are softened by the sunlight that filters through the blue-grey-framed windows with textured glass. Beautiful lacquered cabinets meet cosy walnut woods and grindstones in the interior design, which skillfully combines the old and current. 
Being someone who never really liked traditional looks or would say classical elements, while looking through the Indochine-style architectures along the way, my whole perception changed. I came to understand that the combination of modern and classical makes something like a home look so luxurious and unique, and the way the architects have designed it is impeccable. Only knowing the word, "INDOCHINA" as something historical, I never knew things had evolved so tremendously that it came to recreate a style which is the "INDOCHINE" style, something so beautiful and calming to the eyes. 
Come to think about it, I might just have my dream home in time to be designed incorporating elements of the Indochine-style! What do you say? Is it something worth investing in? I think everyone should give it a try to have this style in your homes and give your home a whole new modern-classical look! 
Find more amazing content by clicking the link below!