This article was written by Priya Devan and first appeared in City & Country, The Edge Malaysia Weekly, on March 27, 2023 – April 02, 2023.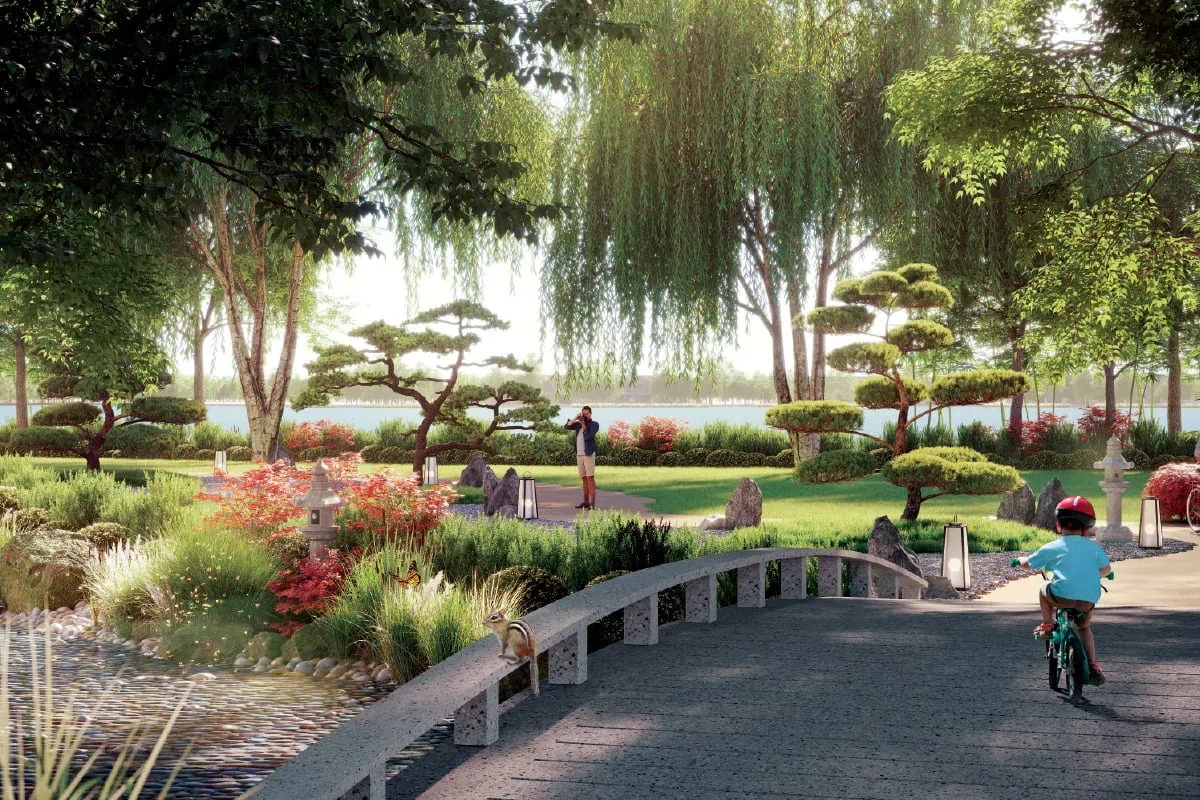 An artist's impression of the Japanese-themed garden and landscape (Photo by Gamuda Land)
Gamuda Land, the property division of Gamuda Bhd, plans to launch Phase 2 of its Japanese-themed residential project Mio Spring at the 1,530-acre Gamuda Cove township by the end of this month.
In an email interview with City & Country, Gamuda Cove's general manager Brandon Yong says Mio Spring will be developed in two phases. The first phase — comprising 296 double-storey link homes — was launched in November last year and has achieved a take-up rate of 80%.
Offering five layouts, these units will have built-ups of 1,847 to 2,777 sq ft, land sizes starting from 20ft by 65ft and be priced from RM780,800.
Well-crafted units
Phase 2 will comprise 322 double-storey link homes with five layouts, namely Types A, B, C, F and G. The units will have built-ups of 1,847 to 2,773 sq ft, land sizes starting from 20ft by 65ft and be priced from RM897,800.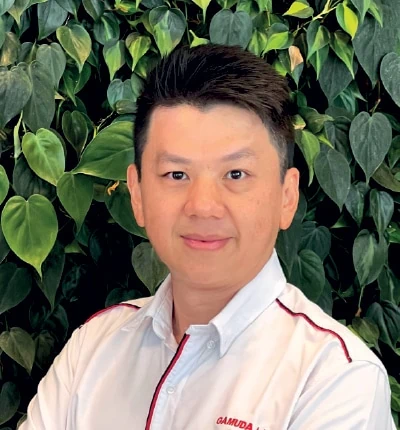 Yong: The essence of Japa­nese architecture and design is inspired through the smart use of space and natural lighting and ensur­ing that the relationship between the natural environment is reflected (Photo by Gamuda Land)
According to Yong, the units in the second phase will be slightly different from those in the first phase. Through market research, the developer learnt that customers prefer bigger land sizes as they want larger homes for their families. The land size in this phase can go up to 34ft by 60ft.
"On top of the option for bigger units in phase 2, buyer preference was also considered in the design layout, whereby the kitchen has a longitudinal design to allow for future renovation into wet and dry areas," he adds.
Yong says the units will not have any non-essential internal walls to allow a seamless flow between the interior and exterior of the home. The units will also feature large windows and skylights to allow in more natural light and to encourage residents to reduce electricity usage.
"Where conventional link homes typically lack green space and natural lighting, Mio Spring is designed in a way that every home will have access to green space, through side gardens, backyards or courtyards. Similarly, the outdoor living space like the lanai, which is connected to the master bedroom, can be converted into a home gym, a relaxation zone or even a screen-free play space for families to spend quality time together," he says, adding that this layout is only available for selected units.
Strategically positioned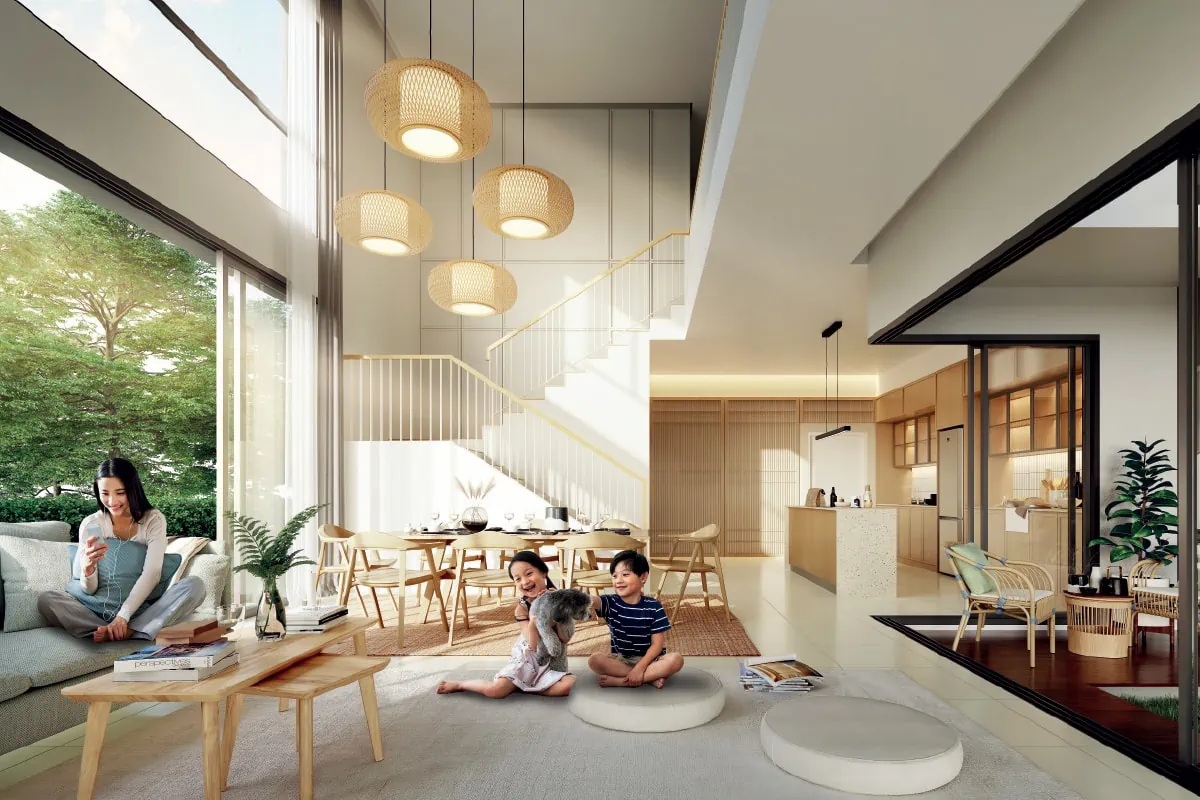 The longitudinal design of the kitchen allows for easy renovation (Photo by Gamuda Land)
With a gross development value of RM717 million, the strata-titled Mio Spring will be spread across a 57-acre leasehold tract. The maintenance fee, estimated at 18 sen psf per month, is inclusive of the sinking fund. Residents of the gated and guarded development will have access to the Japanese-themed gardens and landscape.
On Mio Spring's concept, Yong says, "We wanted it to be a modern Japanese-inspired residential enclave. Falling back on the concept of Gamuda Cove as a nature sanctuary and smart city, we recognise that the essence of Japanese architecture and design is inspired through the smart use of space and natural lighting and ensuring that the relationship between the natural environment is mindfully reflected to ensure a sense of harmony among its occupants and the built environment."
Mio Spring is one of five resi­dential projects that were launched in Gamuda Cove, which include landed residential developments Palma Sands, Enso Woods and The Waterlily at Wetlands Estates and high-rise project Maya Bay Residences. Based on Yong's observation, a good number of Mio Spring's buyers were repeat purchasers who also bought units in the other projects.
"Most of Mio Spring's customers are from the Klang Valley, aged between 25 and 49 who were looking for a landed residential home in a well-planned township that has greenspaces and amenities and other attractions nearby," he says.
To highlight the project's greenscapes, Yong says residents of Mio Spring will be able to access the township's very own 60-acre Central Park. "[Additionally,] we will also plant trees in advance so they are acclimated to the area and [that] subsequently will be planted along streets, our Central Park and Townsquare park to provide respite from our tropical climate."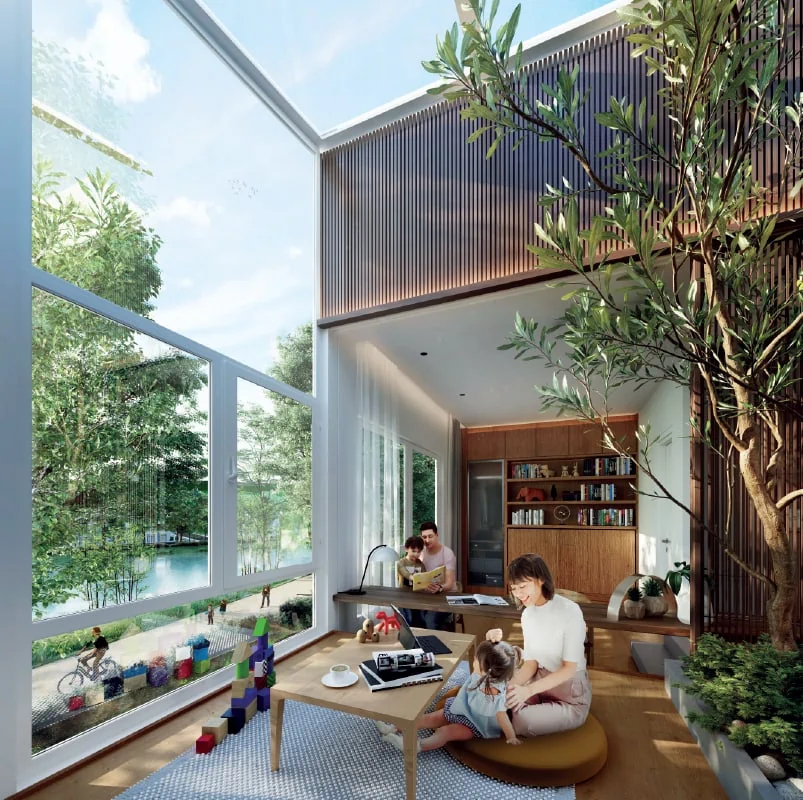 An artist's impression of the lanai, which can be used as a recreation space (Photo by Gamuda Land)
For conveniences and entertainment, the township offers Discovery Park — comprising dining experiences as well as sports and recreation activities — and the SplashMania WaterPark, in addition to safari tours and recreational activities in Paya Indah Discovery Wetlands.
On the township's upcoming developments, Yong says Townsquare, which is currently under construction, is a European-inspired lifestyle and retail hub with 100 street-level retail units. It will act as a gateway to the other elements — entertainment, retail and other activities. This is on top of the 90-acre Wetlands Arboretum, which will also offer a hotel and offices in the next three years.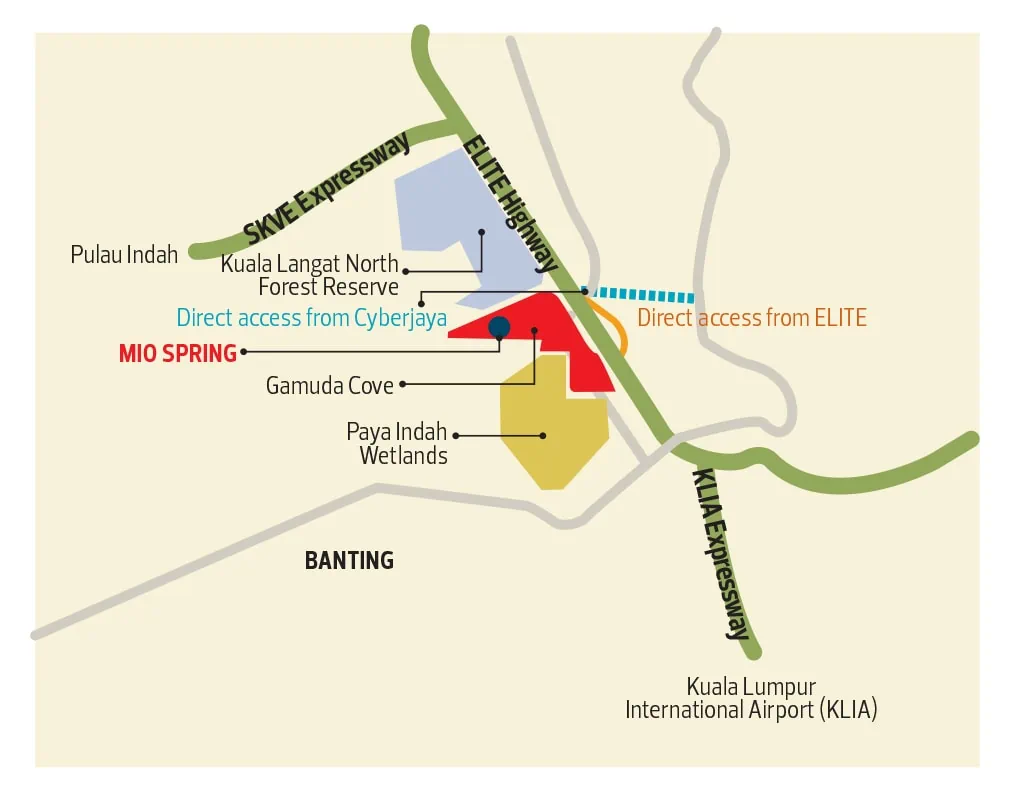 "A tourist tram that connects Discovery Park to SplashMania WaterPark is currently in operation to encourage ease of accessibility while tourists and residents eat, play and explore the vibrancy of Gamuda Cove. Plans to extend it to the northern and southern regions are being made," he adds.
He highlights that the developer is set to welcome its first residents to Gamuda Cove in the coming quarter with the vacant possession of units at Palma Sands, followed by those at Maya Bay Residences and Enso Woods in 2024, as well as Mio Spring and The Waterlily at Wetlands Estates in 2025.
In terms of connectivity, Yong points out that works are underway for a direct 2km toll-free link from Gamuda Cove to Cyberjaya. "This is expected to be completed in 2025. Additionally, a road upgrade to enhance a link road that connects Gamuda Cove through Jalan Kampung Sri Cheeding to twentyfive7 is underway.
"This route will allow residents in Gamuda Cove to benefit from the amenities and services at twentyfive7 and the surrounding developments, to access healthcare, education, retail and commercial services. When completed, the three access points to and from Gamuda Cove will enhance the township's overall connectivity."
Once completed, the RM20 billion Gamuda Cove is expected to have 20,000 residential units and be home to a population of about 100,000 residents.
Click the link below for more awe-inspiring content!
SAVILLS KLANG VALLEY HIGH-RISE RESIDENTIAL PROPERTY MONITOR (4Q2022)