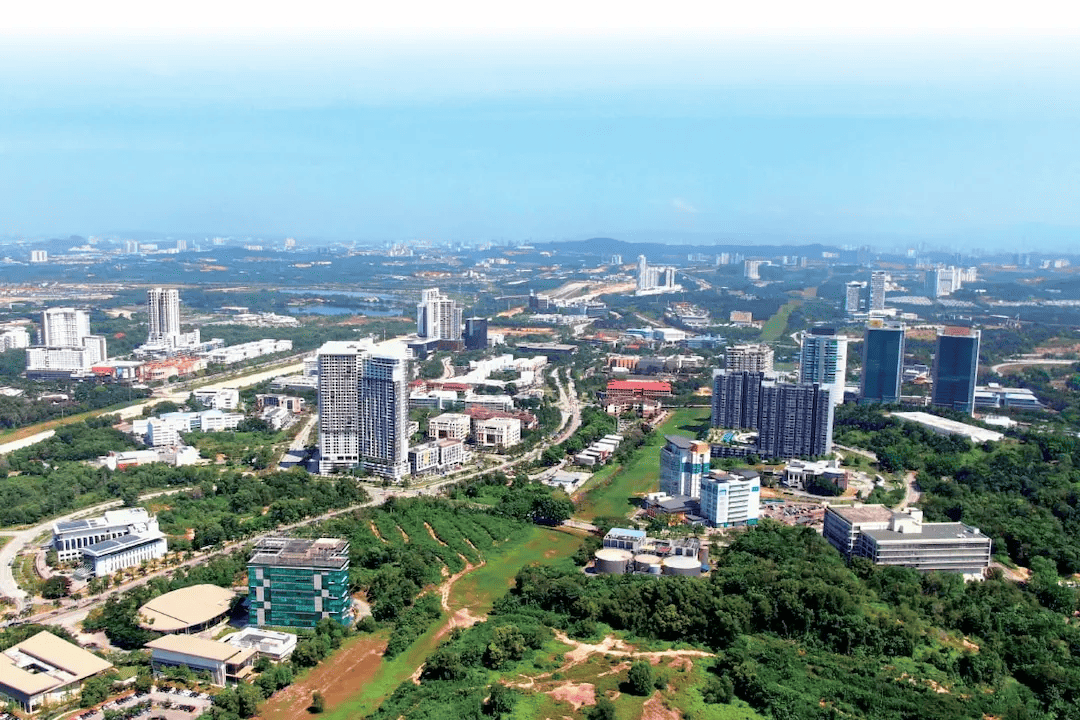 Cyberjaya has less than 1,000 acres of remaining undeveloped land, out of a total of 6,960 acres (Photo by Cyberview Sdn Bhd)
This article was originally published by Priya Devan on The Edge Malaysia
Cyberjaya was established to create an information technology-focused city in Malaysia, and Cyberview Sdn Bhd was formed by the government in 1996 to be the landowner of the city. Over the years, its role has changed and it is now the master developer of the technology city.
"Cyberview exists because of Cyberjaya. We have been around since 1996; that's about 27 years. We've evolved from the landowner to where we are today [as the master developer]," Cyberview acting managing director Mohd Hafiz Ibrahim says in an interview with City & Country.
At the time, Setia Haruman Sdn Bhd was appointed as the master developer while Cyberview, the government-owned company, was the landowner. Cyberview's role evolved in 2005, when it facilitated the selling and leasing of land as well as supporting and guiding government-certified information and communication technology (ICT) companies in Cyberjaya.
Taking on a more active role, Cyberview then became the city's manager in 2011 and was tasked to undertake citywide maintenance. To further strengthen Cyberjaya's position, from being the nucleus of the Multimedia Super Corridor (MSC) to become a global technology hub, Cyberview was appointed as a technology hub enabler in 2015 to spearhead investor interface and community-centric programmes in Cyberjaya.
In 2019, it was given the mandate by the government to take over the role of Setia Haruman as the master developer of the city. Mohd Hafiz says although Setia Haruman is no longer in the picture, the company still owns a few plots of land in Cyberjaya.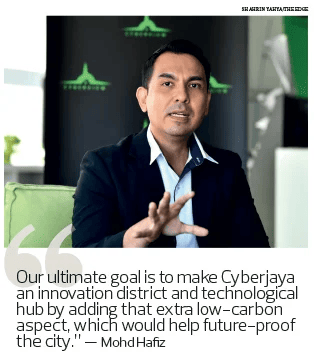 "Our primary role is to develop the city in a systematic way, hence we've split the master plan into four zones. This allows us to zoom in to what technology clusters should be our focus. Our ultimate goal is to make Cyberjaya an innovation district and technological hub by adding that extra low-carbon aspect, which would help future-proof the city," he explains.
In terms of Cyberview's current shareholding structure, the Ministry of Finance Inc owns a 92.24% stake, Sime Darby Bhd 5.17% and Permodalan Nasional Bhd 2.59%. Subsidiaries of Cyberview that oversee the city's developments include CSB DevelopmentSdnBhd, CSB LandSdnBhd, Megajana Sdn Bhd and Futurise Sdn Bhd.
New master plan
Today, Cyberjaya covers 6,960 acres and is divided into four zones — North, South, West and Downtown. Mohd Hafiz says there is less than 1,000 acres of undeveloped land remaining in the city. Out of that, Cyberview owns 656 acres and 404 acres of that will be up for sale. He also says the remaining 152 acres will be for land development with or without partners. Another 100 acres will be for developments after 2027.
The 1,278-acre North zone is a business district with several residential developments and universities. This zone has 198.52 acres of land owned by Cyberview that is available for sale and development. Both the North Cyberjaya and Cyberjaya City Centre MRT stations are located in the North zone, which Mohd Hafiz says is ideal for future transit-oriented developments.
It has been reported that the proposed Cyberjaya City Centre mixed-use development would be situated in the North zone but Mohd Hafiz declines to comment further on the project.
The West zone, which is the biggest zone spanning 2,707 acres, is a talent hub as it houses schools and universities. This zone will also focus on being more community-centric owing to the community-based facilities and amenities offered. West zone has 45.47 acres of remaining land owned by Cyberview up for sale and development.
Mohd Hafiz points out that one of the most vibrant spots in Cyberjaya is the Downtown zone, which occupies 1,703 acres. "This is where you have the commercial area, so this is where the banks, shopping malls and most of the companies are located," he says, adding that there are 24.6 acres of remaining land for sale and development here owned by Cyberview.
He says Cyberview will focus on the 1,273-acre South zone for the next five years.  The remaining land for development and sale owned by Cyberview here are 184.75 acres. "The southern zone is more of an undeveloped area. We have a clear direction in terms of how we are going to develop this part of Cyberjaya. We are focusing on three technology clusters, namely digital creative (80 acres), smart mobility (136 acres) and smart healthcare (152 acres)".
He adds that the remaining land bank in these clusters are 37.17 acres (digital creative), 34.34 acres (smart mobility) and 113.24 acres (smart healthcare).
He highlights that digital creativity has always been the core of Cyberjaya and, as such, there are various animation and multimedia companies located here. They include WAU Animation Sdn Bhd, the creator of animated series Ejen Ali; MONSTA Animonsta Studios, the creator of the Malay-language Mechamato animation series and movie that was shown in Malaysian cinemas; as well as Omar & Hana Animation Studios, which are the owners and creators of the Omar and Hana Islamic cartoons.
In terms of smart mobility, Mohd Hafiz says Cyberview focuses on both land and air mobility. "By air mobility, we basically mean a drone-friendly zone. It is mostly around Persiaran APEC, where drone testing is allowed. This area is the first [of its kind] in the country and it allows individuals or companies to test their drones before they go to the commercialisation stage. We do this through our subsidiary, Futurise.
"Anyone can access this site. Interested parties would just have to go through Futurise to register because we track the data by counting the number of hours and perimeters the drones can fly," he adds.
"For ease of land mobility, we're offering autonomous driving and testing digital technologies as a test bed for the creation of mobility solutions that will be scaled nationally. Here at Cyberjaya, also the first in the country, we offer a 7km route called MyAV (Malaysia Autonomous Vehicle) route for autonomous shuttles. Hopefully, by 3Q or 4Q2023, we'd able to expand the route to 21km, around Cyberjaya."
As for smart healthcare, Mohd Hafiz says it will be a hub for innovative healthcare solutions such as medical robotics, healthcare analytics, telehealth and smart hotel management as well as preventive devices and platforms. Part of the developer's smart healthcare cluster includes Hospital Cyberjaya, which was opened to the public last November.
Mohd Hafiz explains that Cyberjaya is on track to becoming a smart city, which would encompass four aspects: infrastructure, social, ecosystem and economy.
"For infrastructure, it's all about making sure that the amenities are complete and [there is] ease of mobility. The two MRT stations launched in March have made it convenient for commuters to travel from other parts of the Klang Valley to Cyberjaya. For network connection, we have 350km of fibre-optic cables for the whole of Cyberjaya. Having that amount of fibre-optic connectivity is an automatic attraction for hyperscale data centres, which are increasingly being developed here.
"In terms of the social aspect, we engage with the communities here as well as the universities to expand our talents. To maintain the right ecosystem, our role here is not only as the master developer but also as the city manager to ensure that we have enough investments coming in and to realise the dream of making the city a business centre. To make sure that this system of ours flourishes, we work closely with agencies, government entities and privately owned tech companies.
"For the economy aspect, it is our job to attract investors into Cyberjaya. Our long-term goal is to position Cyberjaya as the leading technology hub for not only the country but also the entire Southeast Asia region," he shares.
Some of Cyberview's ongoing projects include plans to develop a smart mobility ecosystem with a focus on electric vehicle (EV) charging infrastructure and the GO TO-U EV lifestyle hub. This project will be a joint venture (JV) with Roda Emas Industries Sdn Bhd.
Currently, there are 17 EV charging stations in Cyberjaya, servicing more than 500 EV users with a recorded reduction of more than 54,000kg of CO2 carbon emissions. Mohd Hafiz says this JV is in line with the government's agenda to have 10,000 public EV charging stations across Malaysia by 2025.
An ongoing energy-saving initiative in Cyberjaya is a floating solar plant project. In March, Cyberview signed a memorandum of understanding with Worldwide Holdings Bhd to develop the plant on Cyberjaya Lake.
"Floating solar plants are considered more efficient than the traditional ground-mounted solar plants. In addition, they can be installed on bodies of water that are not being used for other purposes. This means they do not compete with other land uses and can provide energy without requiring additional land," Mohd Hafiz explains, adding that it could also reduce wind speed and solar radiation by 10% across the lake.
Another initiative to combat climate change is Cyberview's water retention pond project, which will be handed over to the municipality, Majlis Perbandaran Sepang, once completed in 2030. This retention pond, he says, will ensure that Cyberjaya will be flood-free for the next 100 years.
An upcoming development is Cyberview's JV with US-based hyperscale data centre provider Vantage Data Centers to build a second data centre campus in Cyberjaya with a total investment value of US$3 billion (RM13.7 billion).
Mohd Hafiz says Vantage Data Centers is in the final stages of acquiring a 35-acre plot in Cyberjaya to develop a data centre mega campus named KUL2. The campus will consist of 10 data centres with 256MW of IT capacity across 2.75 million sq ft once fully developed.
He stresses that over the next five years, Cyberview will focus on land sales to strategic tech partners. "We're not specifically looking at any developers but rather tech partners that want to establish their presence in Cyberjaya. The reason why we'll be focusing on the sale of land is to also improve our gearing and make room for us to expand to other projects when necessary. Besides that, we're also planning to sell or lease some of our buildings in the future," Mohd Hafiz says.
Currently, Cyberview owns and operates 26 buildings in Cyberjaya, including notable ones such as the RekaScape retail and community centre, office buildings in Persiaran APEC and CoPlace office space among others.
Low-carbon aim
Cyberview recently launched its five-year environmental, social and governance (ESG) framework, which is a road map to achieve low-carbon city status, Mohd Hafiz says. Under the framework, environmental efforts will include energy efficiency initiatives, sustainable buildings and city designs as well as sustainable waste management. The developer also plans to support activities that promote a circular economy.
Social initiatives under the framework will focus on fostering a high-performance workforce and robust communities while the company's efforts towards better governance will look into promoting ethical and transparent practices within the organisation.
Mohd Hafiz explains that efforts to turn Cyberjaya into a low-carbon city are driven by the national agenda. "In line with the global efforts to reduce carbon emissions and limit the impact of climate change, the Malaysian government has made a significant commitment and pledged to achieve an unconditional target to reduce greenhouse gas (GHG) emission intensity by 45% by 2030 compared to 2005 levels (35% ­unconditional reduction in GHG against GDP).
"It is also aligned with the United Nations Framework Convention on Climate Change, highlighting Malaysia's commitment to work with the international community to create a more sustainable future for all. Based on the framework, Cyberview is targeting that by 2030, at least 33% of carbon emission reduction will be achieved [to reach carbon neutrality by 2050]."
In terms of setting a benchmark, Mohd Hafiz thinks certain parameters need to be met such as power quality, availability for future expansion of network connectivity as well as other physical assets a city needs to have.
He elaborates, "On a societal level, we do benchmarking by getting feedback from the community. This includes feedback on infrastructure, landscape and what more can be done. We cannot compare one location to another. The Global Institute on Innovation Districts uses three parameters, which are the physical infrastructure, economy and social networking. Cyberjaya, on the other hand, looks at the four aforementioned aspects.
"Every technology hub differs, from one location to another. If we're comparing Cyberjaya to other technology hubs around the world, it should be based on reality. The infrastructure we have today has grown so much compared to 1996. We have seven universities. A lot of start-up companies that began at Cyberjaya have turned into international companies (such as Animonsta Studios and Aerodyne Group). So Cyberjaya today is all about innovation and progressing from what we were before," he states.
Click the link below for more awe-inspiring content!
A GLIMPSE INTO KLANG VALLEY'S LATEST 5 PROPERTY DEVELOPMENTS
A GLIMPSE INTO KLANG VALLEY'S LATEST 5 PROPERTY DEVELOPMENTS