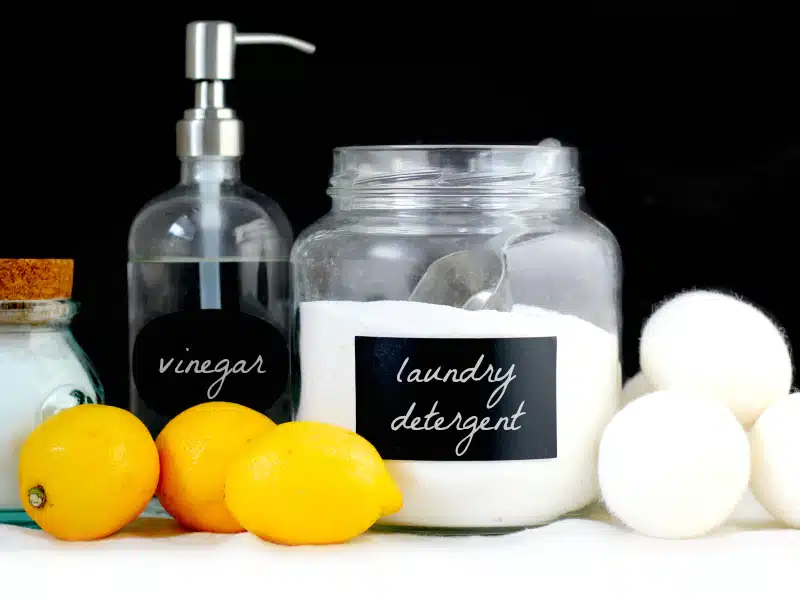 Not only do they work flawlessly, but they will also save you a significant amount of money each year. Source: The Coconut Mama 
Have you ever wondered what people did before big brands came along that promised to make your clothes "whiter and brighter," "fresher," "smell like walking through fields of lavender," etc.? People made laundry products from everyday household items or by-products from the animals they killed on their farms. We're glad we're not in that situation anymore, but we can still make laundry products at home that work just as well as the ones sold in stores but at a fraction of the cost.  
The list of chemicals in store-bought detergents can be frightening and overwhelming, so why not make your own? If you haven't already detoxed your laundry room, you should get started because here are five DIY laundry supply recipes that are easy and cheap to make. Some recipes can be modified to fit your liking, and others will help you stick to your grocery budget.
1/ Homemade powdered laundry detergent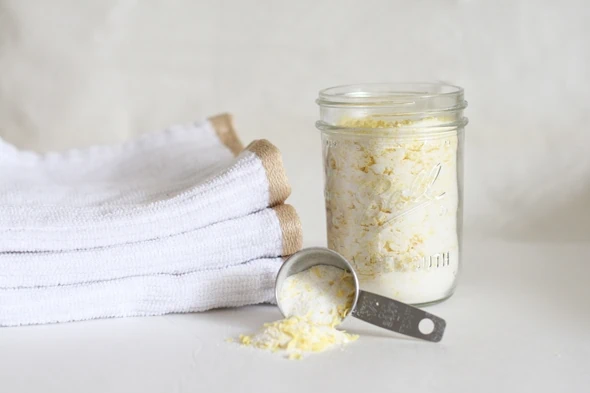 Make sure your clothes stay clean and fresh with your homemade supplies. Source: Melodie 

Natural laundry detergent is not my top priority regarding healthy living. I'm most worried about what we put directly into our bodies. But I discovered that this detergent is significantly less expensive than store-bought detergent, simple to make, and lasts much longer because you use far less than you think you will need. Plus, you can customise the scent with essential oils instead of relying on artificial fragrances to freshen your clothes.
Ingredients: 
1 bar of pure soap or 1 cup of pure soap flakes

2 cups of washing soda 

2 cups borax 

Cheese grater

Measuring cup

Resealable container

Rubber gloves
Steps: 
Step 1: Wear rubber gloves when handling washing soda (sodium hydroxide), as it is caustic to the skin.
Step 2: Grate the pure soap bar with a regular cheese grater (or use 1 cup of soap flakes). 
Step 3: Sift any lumps out of the powdered ingredients before adding them to the soap, just to be safe. 
Step 4: Combine the soap flakes, washing soda, and borax in a large, resealable container. Combine the ingredients thoroughly. 
Step 5: Keep the detergent dry in its container. Use 1/2 cup of the mixture per load in a standard top-load washer. In a high-efficiency top or front-load washer, use only two tablespoons.
2/ DIY Natural Stain Remover Spray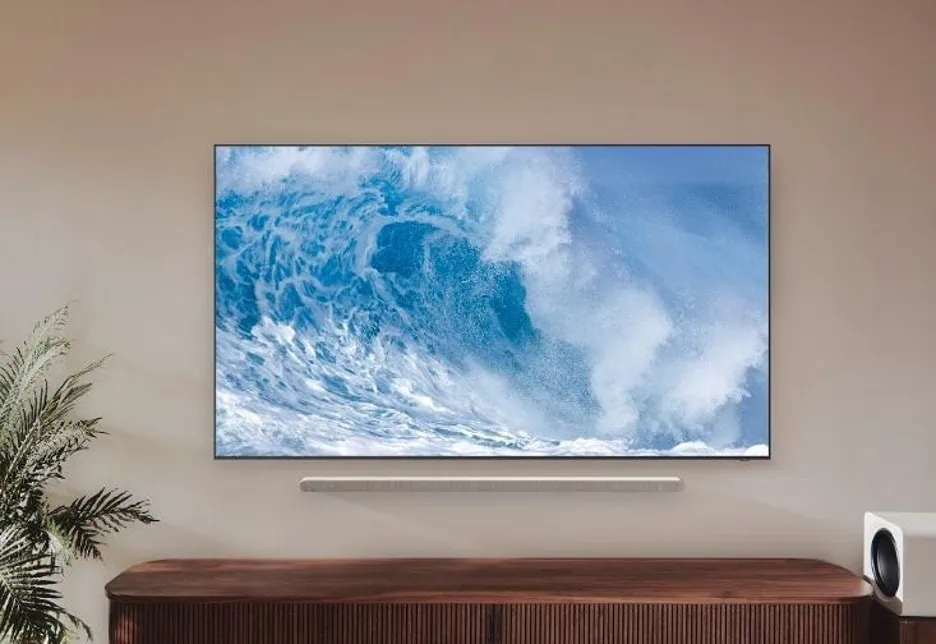 This natural fabric stain remover is safe, non-toxic, hypoallergenic, and effective. Source: Sarah McFall

Since the store-bought stain remover sprays haven't worked as well as I'd hoped, I've investigated alternative homemade stain remover spray formulas over the past few months. There were several failures before I eventually found one that worked for me. And believe me when I say that this one is outstanding.
Ingredients: 
1/4 cup vegetable oil soap 

1/4 cup vegetable glycerin 

2 teaspoons borax 

2 tbsp. super washing soda 

2 cups hot water

Large spray bottle 

Funnel (optional)
Steps:
Step 1: Fill a spray bottle with warm water and add the borax and washing soda. Shake or swirl the mixture until it is completely dissolved. 
Step 2: Pour in the soap and glycerin. Seal the top and shake vigorously until well combined. 
Step 3: Work the stain remover into the stain with a soft-bristled brush for tough stains. Rinse the material with the warmest water possible.
3/ Homemade fabric softener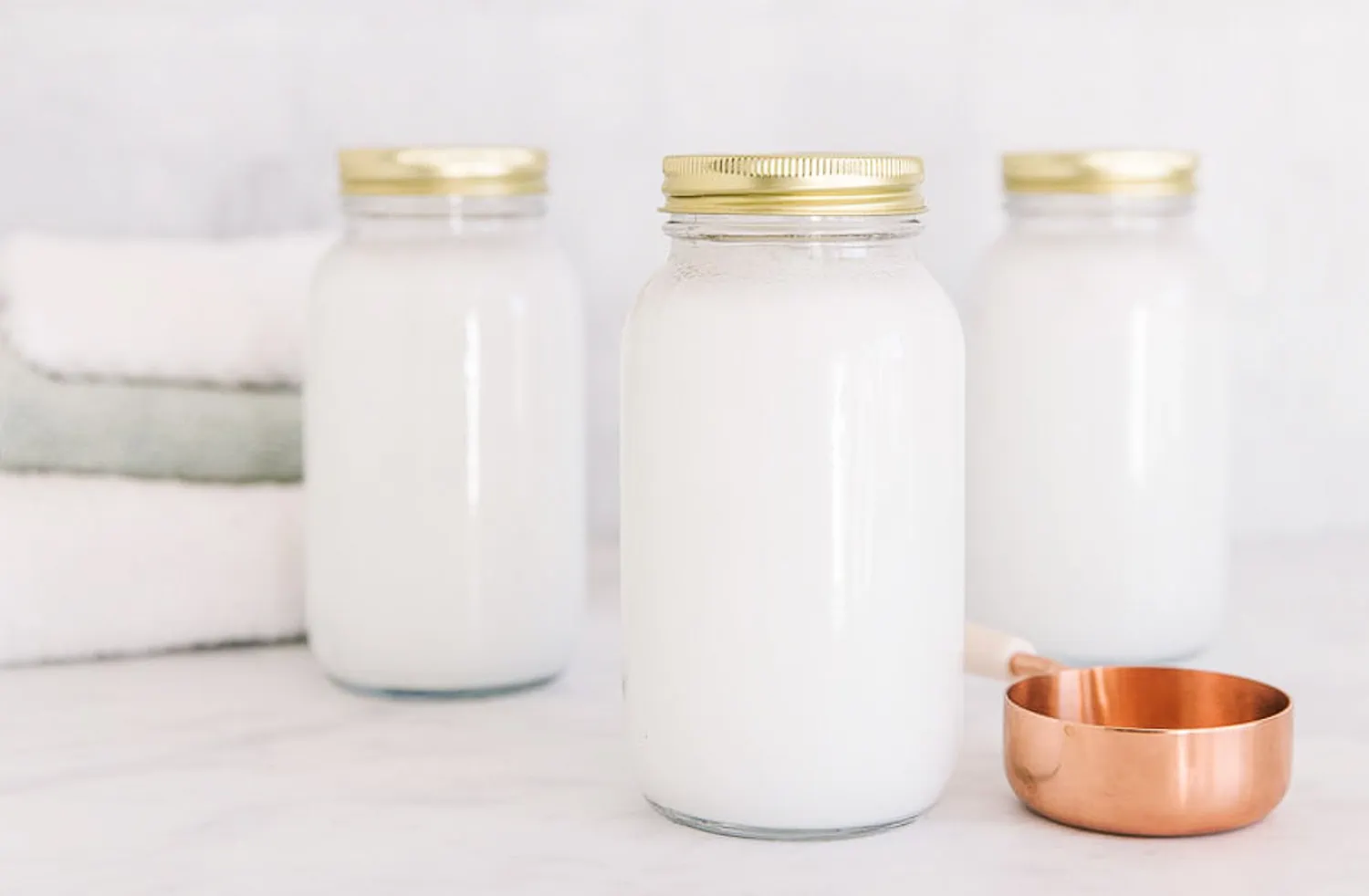 Yes, you can make your own fabric softener with only 3 ingredients. Source: Carrie 
Make your fabric softener at home with this easy formula. You can whip up a batch in less than five minutes with just three ingredients. To save money, you can use this together with the homemade laundry detergent recipe on this list. 
Ingredients: :
5 cups of hot water

3 cups vinegar

1 cup hair conditioner
Steps:
Step 1: Mix hot water and conditioner in a medium mixing bowl. (The hot water helps smooth any conditioner clumps.) 
Step 2: Add the vinegar to your conditioner mixture. Mix it well and pour it into a container of your choice. 
Step 3: Use the same amount as a store-bought softener and add it to the regular softener spot in your washer or during the rinse cycle.
4/ DIY reusable dryer sheets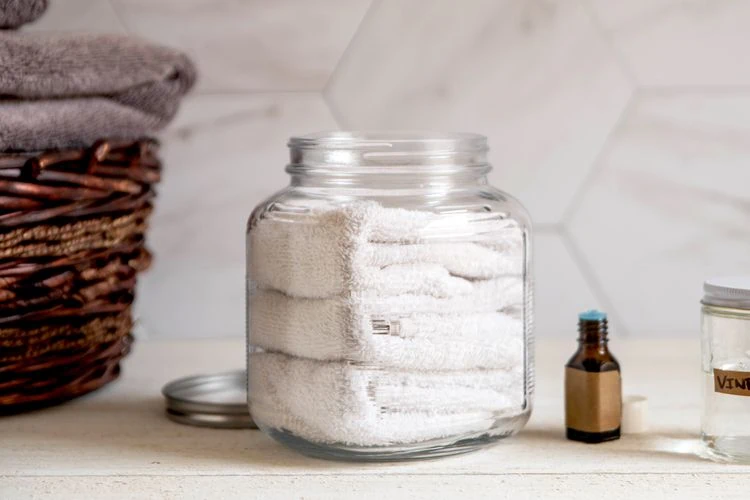 You'll never buy dryer sheets again once you realise how easy they are to make yourself. Source: ​​Erin Huffstetler 

Make your reusable dryer sheets out of all-natural materials to save money and get clean-smelling clothes. Win-win! Like the other homemade laundry solutions we've discussed, these are simple and made with two things you probably already have on hand: distilled vinegar and essential oils. 
Ingredients: : 
A large, resealable jar (or old Tupperware)

6-8 inch squares of cloth dishcloths, flour sack towels, old t-shirts, etc.

1/2 cup distilled white vinegar

20 drops of essential oils – a mix of lavender mint, tea tree
Steps: 
Step 1: In a bottle, mix vinegar and essential oils. Mix well. 
Step 2: Put the cloths in the jar and let the liquid soak into them. 
Step 3: Squeeze out any extra liquid and put the clothes in another container that won't let air in. 
Step 4: Add one cloth to every load in the dryer.
5/ DIY Liquid Laundry Detergent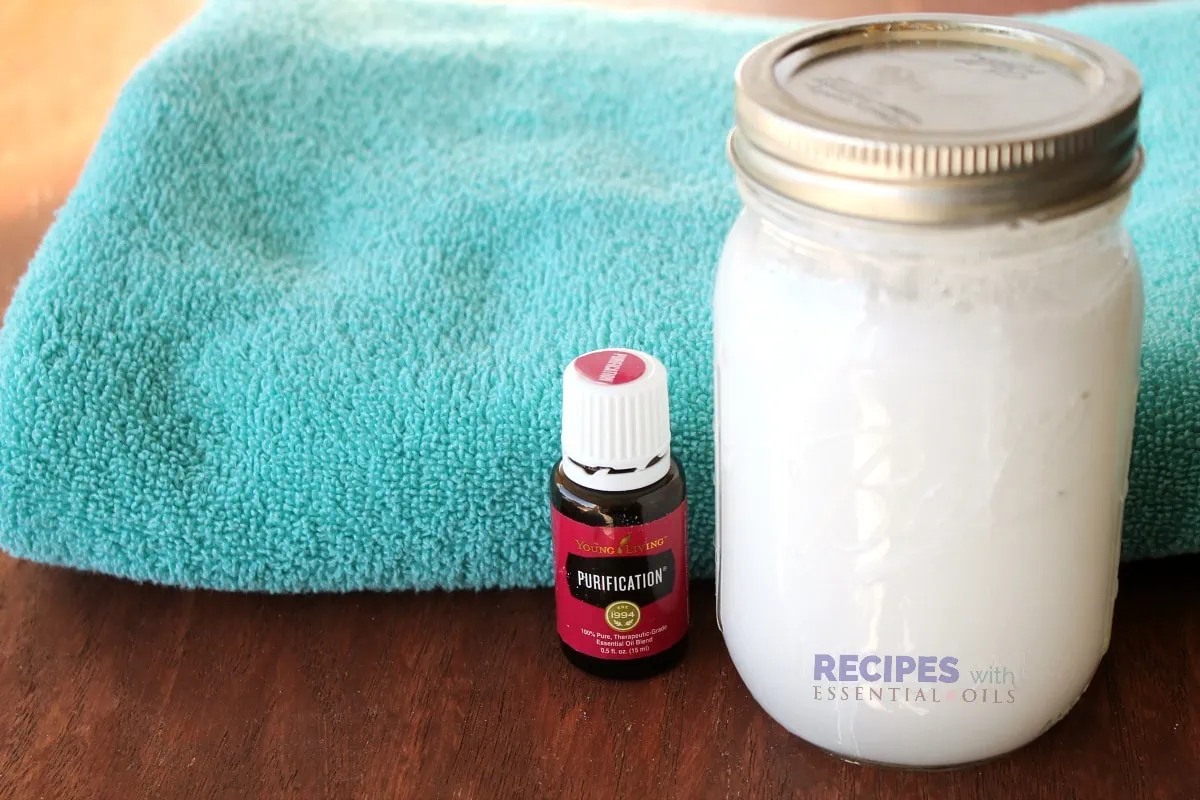 If you weren't satisfied with the detergent powder recipe we provided, try the liquid version! Source: Beth K 

Powdered laundry detergent can sometimes be hard to dissolve in cold water, so liquid detergent is a great alternative. This formula is excellent, especially for people with sensitive skin, because it doesn't have any dyes or fragrances that can be irritating.
Ingredients: :
1 bar of pure soap or 1 cup of soap flakes

4 cups water

1 cup baking soda

1 cup washing soda (sodium carbonate)

1/2 cup borax

Cheese grater

Measuring cup

Saucepan

Resealable 5-litre container
Steps:
Step 1: Grate the pure soap bar with a regular cheese grater (or use 1 cup of soap flakes). 
Step 2: Put the grated soap and water in a large saucepan. Stir the soap constantly over medium-low heat until it melts and dissolves. 
Step 3: Mix the melted soap flakes, baking soda, washing soda, borax, and hot water in a large jar with a lid. To protect your skin from washing soda, you should wear rubber gloves. 
Step 4: Stir the detergent mixture until everything has dissolved. Cover it and let it thicken overnight. 
Step 5: Use 2 tablespoons of your homemade liquid detergent per load. Both high-efficiency washers and regular top-load washers can use this. Before using it, give it a good shake.
Try homemade supplies; you won't be disappointed.
Making your laundry detergent reduces the waste, pollution, and chemicals your family often wears after washing with store-bought detergent. The convenience, low cost, and overall customizability of these supplies do make these essentials worth at least a try.
Do you make your laundry supplies at home? Share your recipe with us in the comments below!
Looking for more related article? Check them out here:
4 PROJECTORS FOR YOUR HOME THEATRE