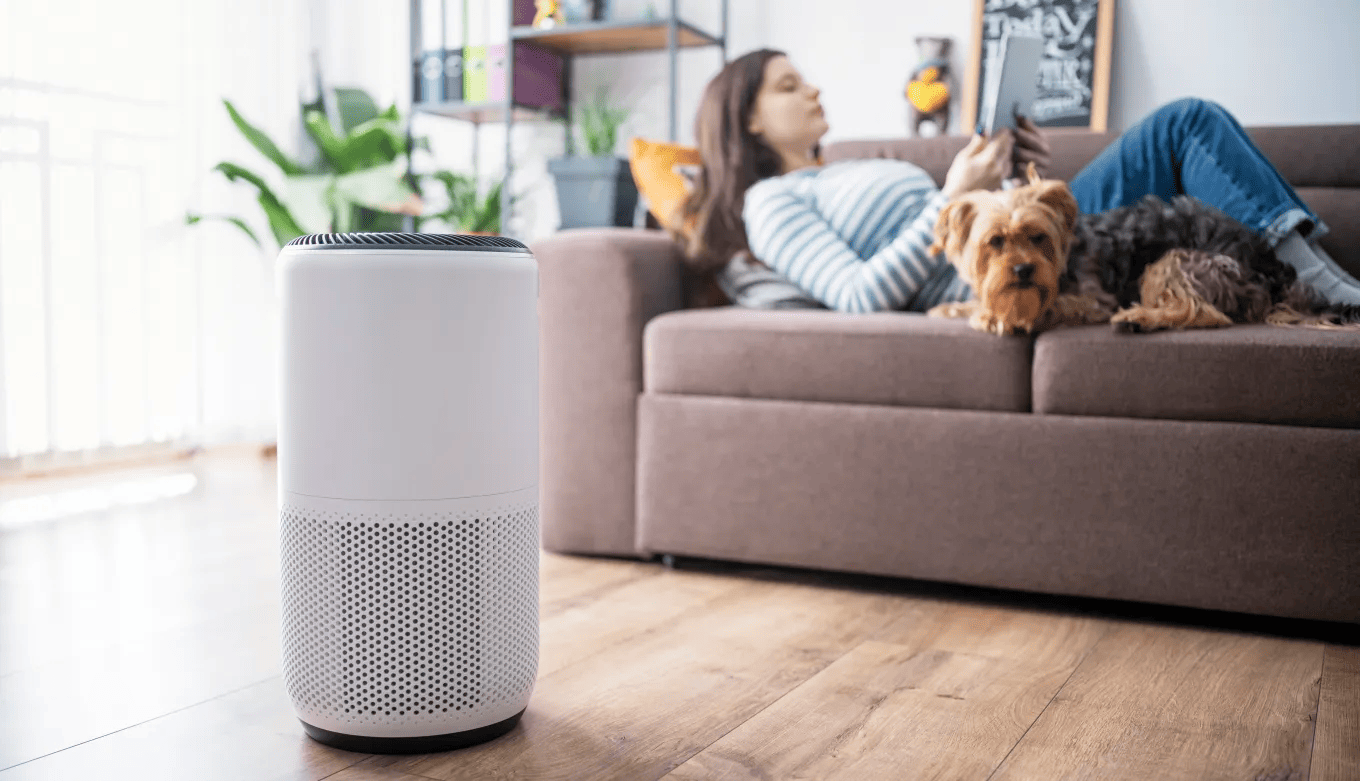 Breathe easy with these powerful and reliable air purifiers. Photo source: Good Housekeeping
A list of must-get air purifiers for a better, cleaner, and healthier indoor environment. 
Introducing the remarkable performance and superior quality of premium air purifiers by Dyson, Sterra, Samsung and LG.
With indoor air quality becoming more important than ever before (even more so than remembering your cousin's birthday), leading brands such as Dyson, Sterra, Samsung, and LG have come to the rescue with their awe-inspiring air purifiers. These powerful machines go well beyond the call of duty, providing cutting-edge technology, mind-blowing performance, and features that purify the air to the point that it seems as if you are breathing in pristine mountain breezes (without the hiking boots, of course). 
Brace yourself for a ride that will leave you in awe of these mighty purifiers of the air. We're going to reveal the key to fresher air in every room of the house.
Come with us as we look at the models' features, enhancements, and unique qualities.
1/ Dyson Purifier Cool™ Formaldehyde Air Purifier TP09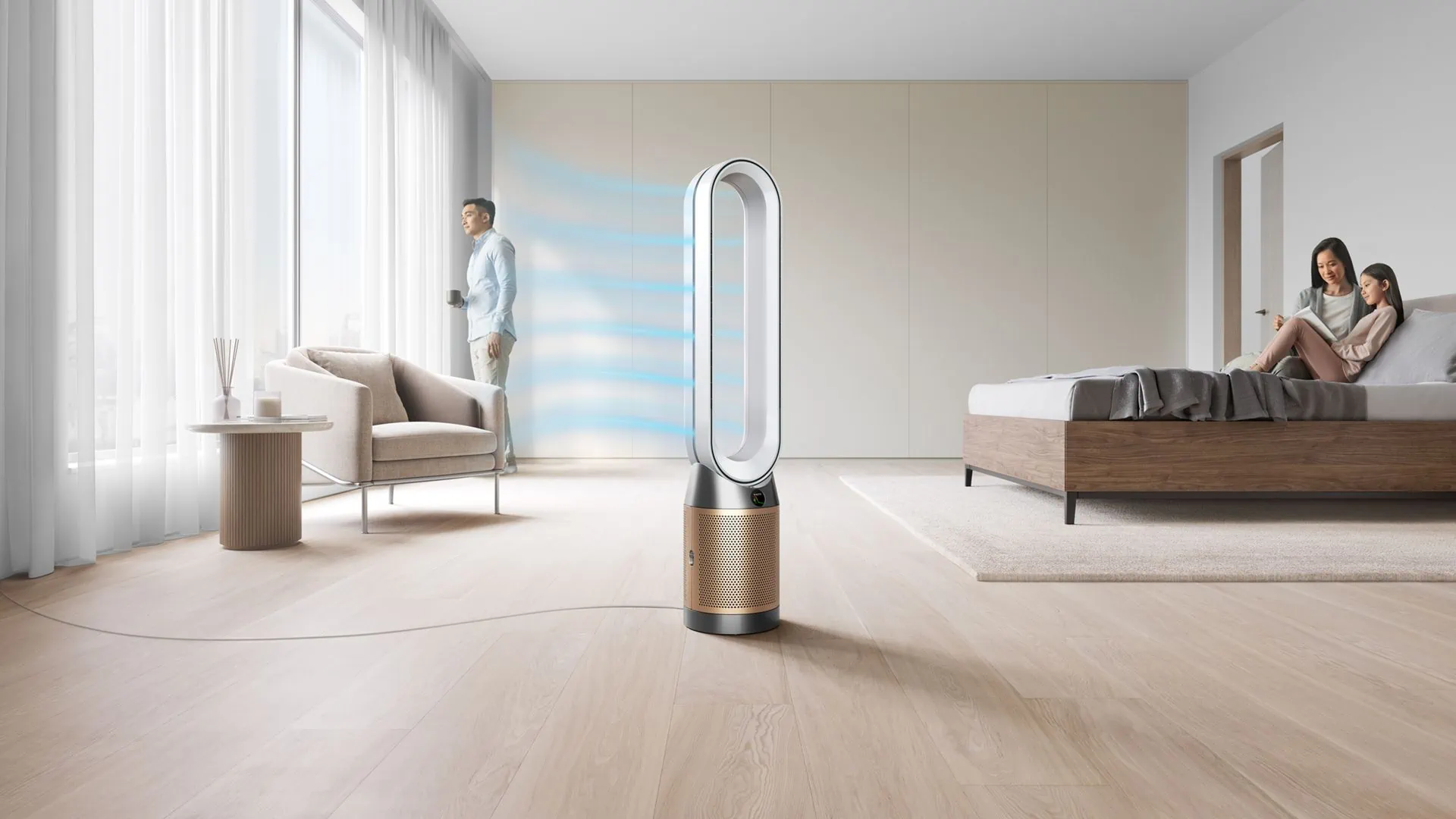 Enjoy cleaner air and quality time together with your family. Photo source: Dyson.my
Prepare to have your air purified to superhero levels with the Dyson Purifier Cool™ TP09. It is the equivalent of having a personal bodyguard protecting you against allergies, dust, and even those annoying viruses (looking at you, COVID-19).  
But that's not all – it's a pro at detecting and eliminating formaldehyde, that sneaky pollutant that ruins your air quality. Wave goodbye to ultrafine particles and household odours as this machine swiftly eradicates them.
The Dyson Air Purifier's cutting-edge HEPA filter also captures pollutants as small as 0.3 microns, including dust, pollen, pet dander, and tiny contaminants. And there's more. With activated carbon filters and advanced sensors, it tackles smoke and volatile organic compound (VOC) odours. It's like having your own personal air quality monitor, but better.
The Dyson Air Purifier also impresses with its intelligent control and connectivity options. The Dyson Link app allows you to effortlessly monitor and control the device remotely, adjust settings, and access real-time air quality data. It's complete control at your fingertips.
And guess what? It's 20% quieter too, so you can enjoy a serene environment while breathing like a boss. With app control, voice commands, and a magnetically attached remote, you'll have the power to purify without any hassle.
Experience the power of Dyson and breathe in the difference. With their advanced technology, superior filtration, and intelligent features, the Dyson Air Purifier sets a new standard for air purification. Say goodbye to airborne pollutants and hello to a cleaner, healthier, and more comfortable living space.
2/ Sterra Breeze™ Air Purifier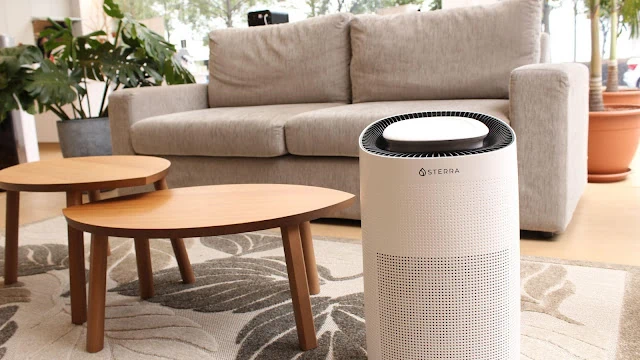 Sterra Breeze™ Air Purifier, your ultimate air purification solution. Photo source: Malaysian Foodie
Imagine having a secret weapon that eliminates deadly viruses, smoke, and all those invisible air contaminants that love to play hide-and-seek. The Sterra Breeze™ Air Purifier is here to save the day, armed with a filter grade so impressive that even hospitals are jealous. 
The Sterra Breeze™ is a powerful air purifier that can eliminate up to 99.97% of airborne pollutants with the accuracy of a laser-guided missile. It can easily cover a 3- or 4-room flat without making a sound while doing its job. It operates with the same subtlety of a gentle whisper, so much so that you could start to question whether it's actually invisible!
However, that's not all this air purifier can accomplish. It can pump out up to 400 cubic metres of air every hour, effectively eliminating any lingering odours and leaving you in a state of serene happiness. Leave unpleasant odours behind and welcome peace and quiet. We can now put an end to our concerns about mould growth and insufficient ventilation as well. If you're looking to clean the air in a small or poorly ventilated space, go no further than the Sterra Breeze™.
This innovative tool also takes advantage of a True H13 HEPA Filter, the same filter used in hospitals and pharmaceutical factories. It's made to thoroughly purify the air in your home, doing away with allergens, irritants, and even dangerous gases.
This remarkable gadget raises the bar for air purification by doing everything from removing airborne pollutants to enhancing the quality of the air within a room. You shouldn't have to settle with subpar air quality. Let the Sterra Breeze™ out, and you'll feel a rush of new air like never before.
3/ Samsung BESPOKE Cube™ Air Purifier, 53 m2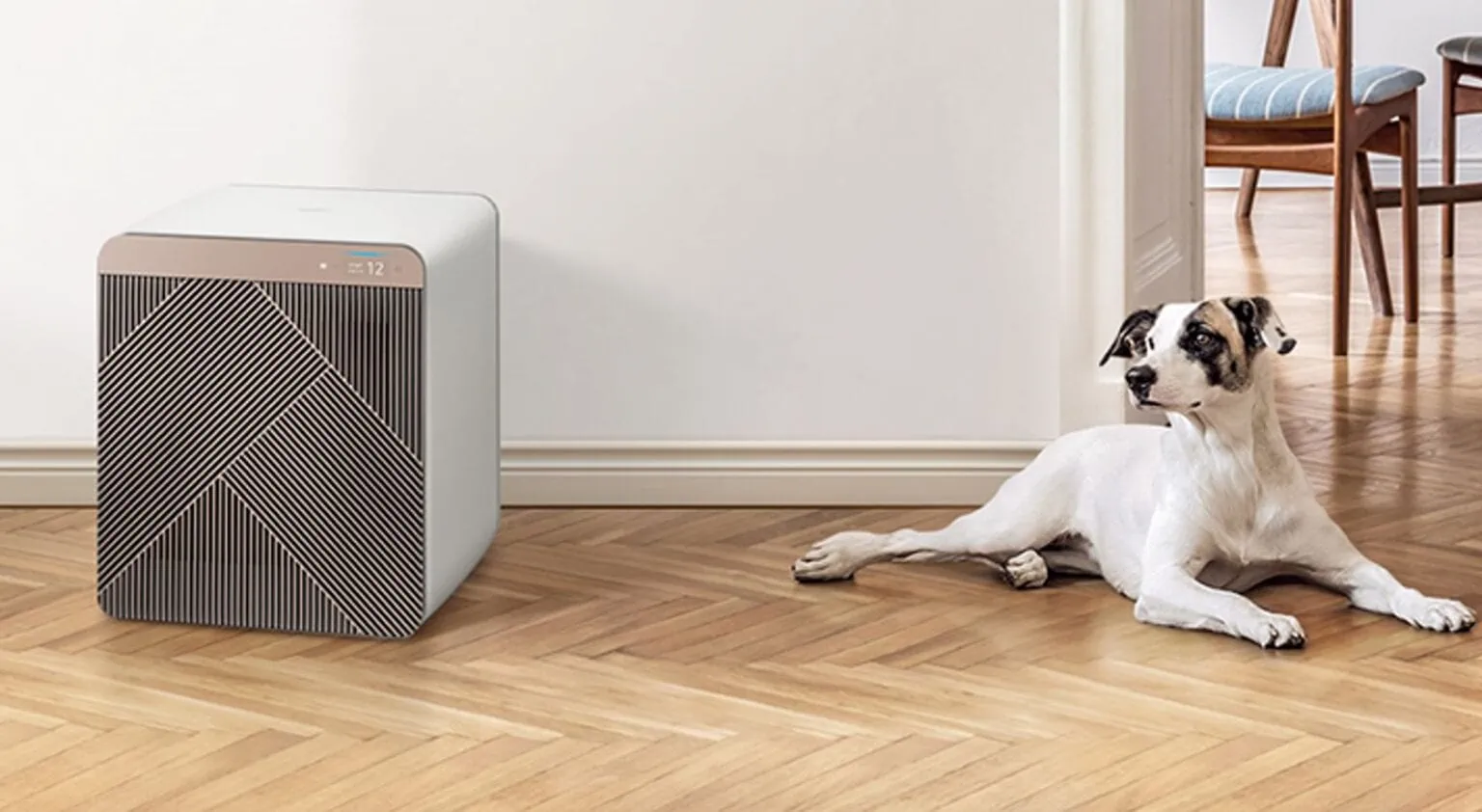 Say goodbye to pet dander and odours, say hello to cleaner air! Photo source: Hitech Century
Introducing the BESPOKE Cube™ Air Purifier, the ultimate weapon against air pollutants. This compact powerhouse ensures you breathe cleaner, hygienic air, elevating your indoor environment to new heights of freshness.
Experience next-level air purification with the BESPOKE Cube™. Its innovative 360 Air Purification technology rapidly purifies even larger areas, drawing in air from all directions with powerful 5-way suction. The intelligent 3-way smart discharge then circulates purified air, creating a fresh and healthy environment throughout your space.
Get ready to be impressed by its multi-sterilization capabilities. The hybrid dust collecting filter, combined with UV LED technology, tackles bacteria, odours, and toxic gasses effortlessly. Worried about noise? Fear not! Its wind-free purification technology ensures a quiet and comfortable environment, allowing you to relax and breathe easily.
And the most exciting thing is… Given that it is so intelligent, it almost anticipates your need even before you do. With interactive displays and WiFi management through the SmartThings app, the BESPOKE Cube™ puts you in control of your air purification experience. It's like commanding your very own air purification spaceship, minus the zero gravity!
Don't compromise on the quality of the air you breathe. Say goodbye to airborne impurities and embrace a healthier, purer indoor environment with the BESPOKE Cube™ air purifier. Your air will never be the same again.
4/ LG PuriCare™ 360º Air Purifier (Double Booster)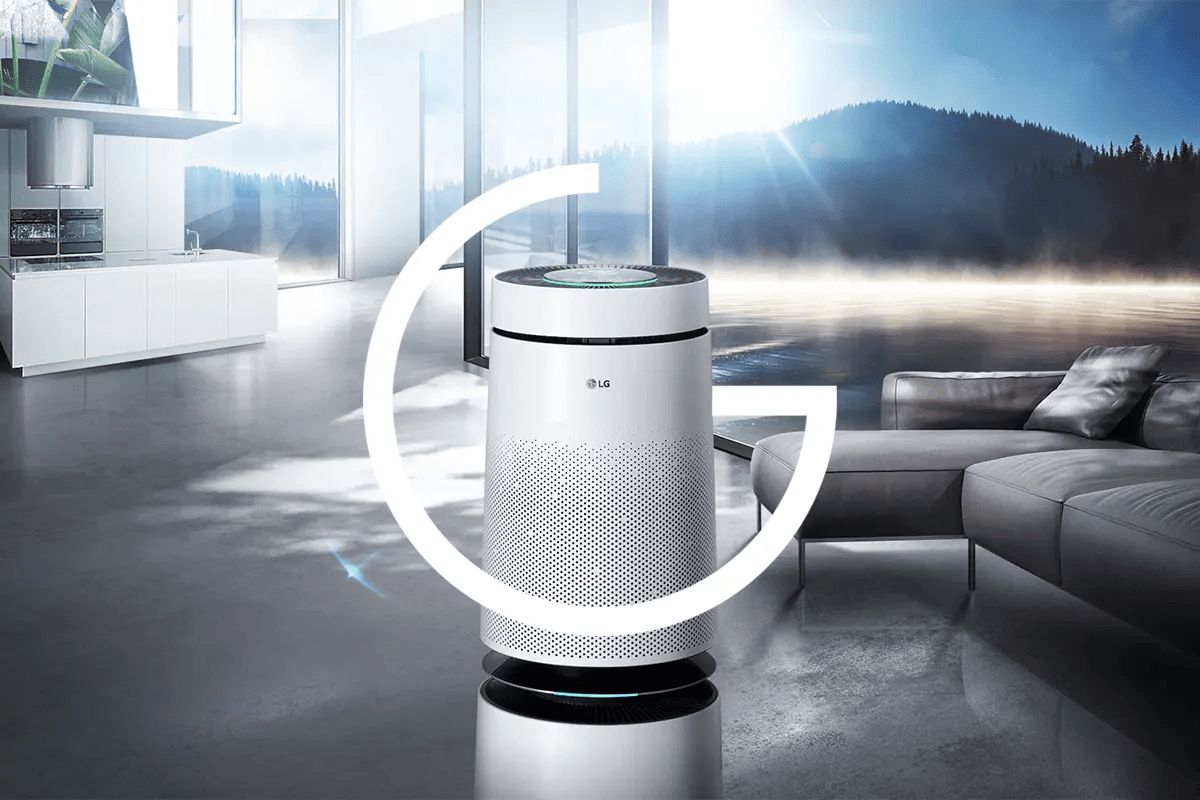 Your ultimate weapon against airborne pollutants. Photo source: LGPuriCare
Get ready to be amazed by the extraordinary capabilities of the LG PuriCareTM 360o Air Purifier. This powerhouse boasts a 360-degree purifying system that leaves your grandma's spring cleaning routine in the dust. With its rising and rotating clean booster, it unleashes a cyclone of clean air to every nook and cranny, ensuring not even a speck of dust can escape its grasp.
But having power isn't everything; intelligence is just as important. Your maths instructor would be green with jealousy at the statistics that the clever indicator provides, keeping you informed about the air quality. And with LG ThinQ™ and remote access, you can control and monitor this air purifier's functions from anywhere, whether you're chilling on the couch or taking a well-deserved vacation. 
The LG PuriCareTM 360º Air Purifier takes special care of your little ones. Its baby care feature filters the air right at floor level, where infants and young children spend most of their time playing. Now, you can rest easy knowing that your little explorers are breathing the healthiest air possible in their own personal oasis of cleanliness and safety.
So, let your worries float away like a balloon as the LG PuriCareTM 360º Air Purifier takes charge of your baby's air quality. Get ready to experience a new level of cleanliness, intelligence, and peace of mind with LG's exceptional air purifier.
Unlock a Breath of Fresh Air
With these cutting-edge air purifiers, you can enjoy a breath of fresh air in your home or office. From the advanced purification technologies to the convenience of smart features, each air purifier offers a unique set of benefits. Whether it's capturing viruses, eliminating odours, or providing comprehensive coverage, these air purifiers are the key to creating a healthier and cleaner environment. Invest in clean air and experience the transformative power of these remarkable devices.
Click the link below for more contents like this!