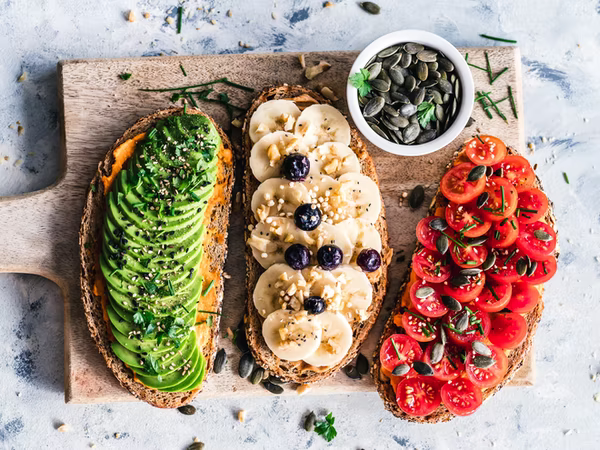 A bathtub is where you want to experience peace freely. Source: Housing.com
Bathtub materials can define the quality of a bath you are taking.
Here are the pros and cons of a few bathtub materials that you should be informed of!
Taking a bath or a shower is liberating, and I know you can never deny that! Letting the water run, soaking yourself in the water and diving into your comfort zone is more like therapy than just cleaning yourself up. But aren't you afraid that your bathtub might break someday when you stand or sit on it? Imagine soaking in the water with your significant other, and it cracks out of nowhere. Oh damn, a pre-planned romantic session would turn into an unexpected disaster indeed!
Well, here is where the question kicks in. Do you really know about your bathtub, or are you just settling down for the bare minimum of it? Bathtubs are hard to choose if you think about it. There are a variety of materials that are being used to make them.  How well-versed are you in this aspect? Just to throw it out there, your bathtub material can even affect the quality of the bath you are taking. But worry not, allow us to give you the insights you need before deciding on replacing your bathtubs. 
1/ Fiberglass Bathtub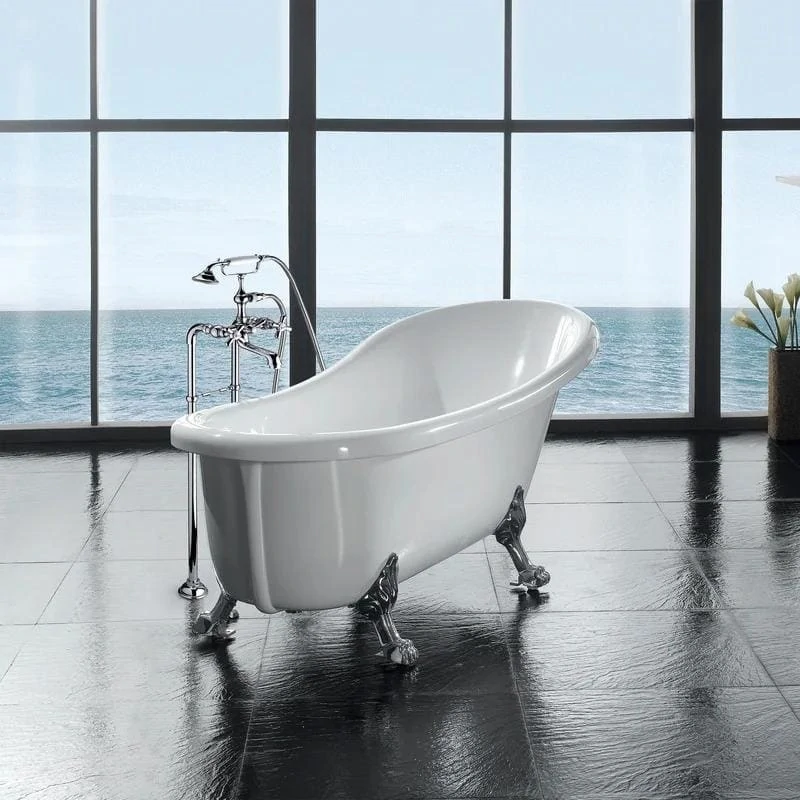 Source: Wayfair
Fiberglass, commonly known as FRP, is the least expensive bathtub material you can get in the market out there. Fiberglass bathtubs are made of layers of fiberglass and polyester resin. 
Pros:
Inexpensive:

Hence, it is affordable if you are on a budget.

Lightweight:

Aids in making the installation process easier than ever.

Easy cleaning and maintaining:

The surface can be repaired even at the finish.
Cons:
Lightweight:

It is of thin material that concerns its stability aspect. 

Less durable:

Thus, they are more prone to face scratching and cracking easily.

Surface Resistance:

The finishing tends to fade off in a short period of time.

Limited choices:

Narrow your options as it comes in limited choices of colours. 
2/ Acrylic Bathtub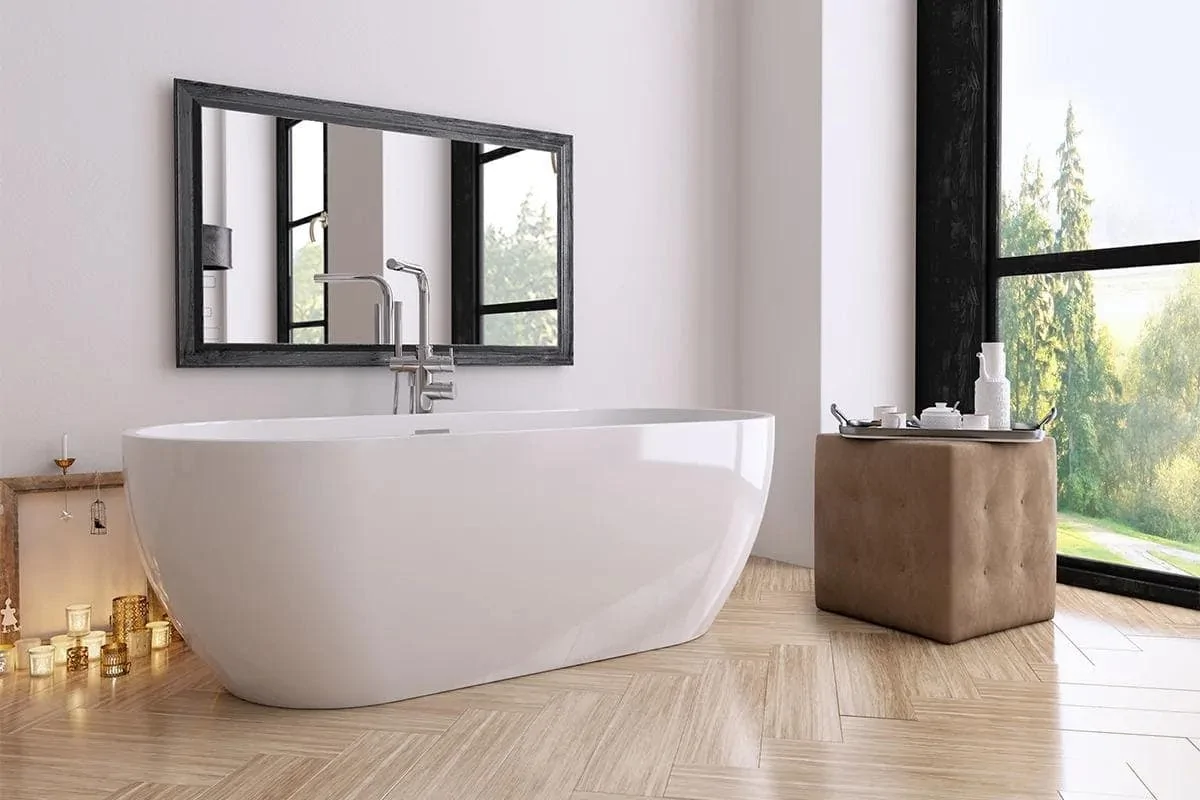 Source: QualityBath.com
Acrylic bathtubs basically lean on fiberglass materials to become better. This type of bathtubs are made of vacuum-formed sheets of acrylic layers that incorporate reinforced fiberglass sheets. Compared with fiberglass tubs, acrylic bathtubs are slightly more expensive even when both appear to have the same advantages. 
Pros:
Affordable:

Cost less than cast iron bathtubs. 

Lightweight:

Easy for installation.

Non-porous surface:

Can be easily repaired.

Strong resistance:

Do not crack or chip easily.

More options:

Provides versatility in colours, shapes and sizes. Hence, you will have more choices to pick from according to personal preferences. 

Retains heat:

Tends to stay warm when dry and at room temperature.

Durable

: Easy for cleaning.
Cons:
Sensitive surface:

Easily scratched during the cleaning process. So, you have to mind the force applied during the process.

Discolouration:

This happens over time.

Be more gentle:

Even if the installation is easy, pay attention to the stress points to not break them.
3/ Porcelain-Enameled Steel Bathtub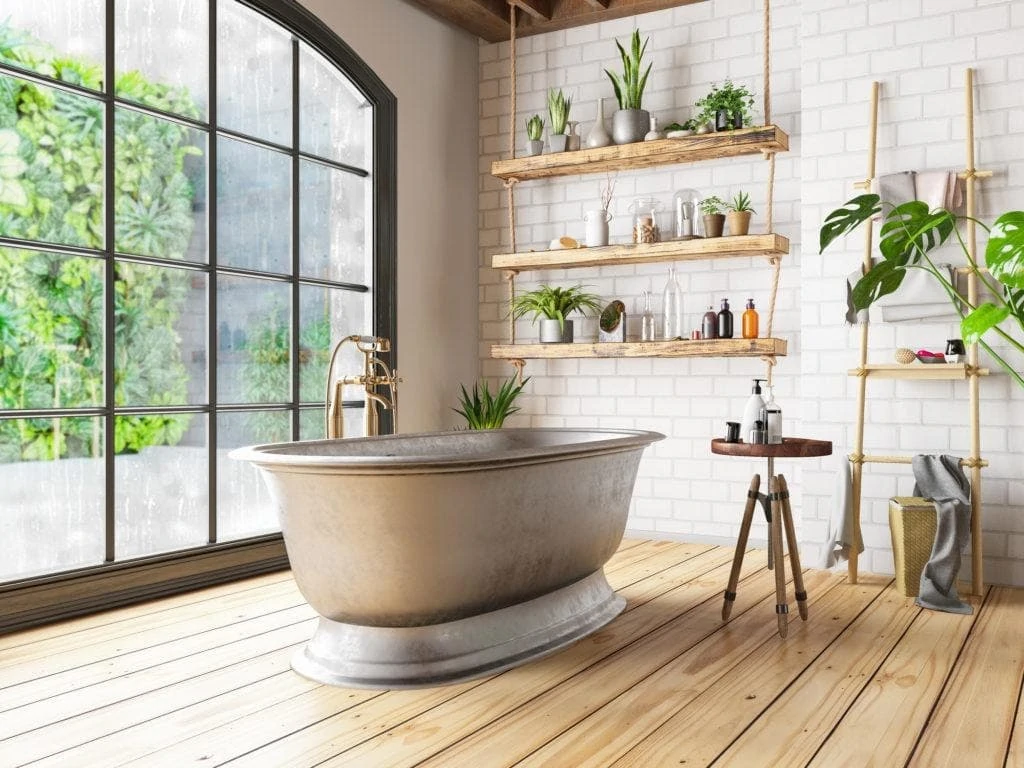 Source: Long Home Products
This is a common option of the bathtub to go for as it is also an inexpensive choice. The tub is constructed with steel sheeting and then finished with porcelain enamel coating. Porcelain enamel coats are steadily resistant to chemical corrosion and also provide thermal stability. Also, the glass-like coating does appear to be visually attractive due to the retainment of the glossy look. 
Pros:
Relatively lightweight:

But it is heavier than fiberglass and acrylic.

Improved durability:

Promises functionality and appearance. 

Easy installation:

It commonly comes in standard sizes of 60 x 30 inches.

This helps the replacement process go swiftly when you decide to switch from a different material tub to a porcelain-enameled steel bathtub.
Cons:
Limited options:

Unfortunately, less choices for colours and shapes.

Chips very easily:

Avoid dropping things on it.

Rust:

Happens in a short period of time when the surface gets dented. 
4/ Cast Iron Bathtub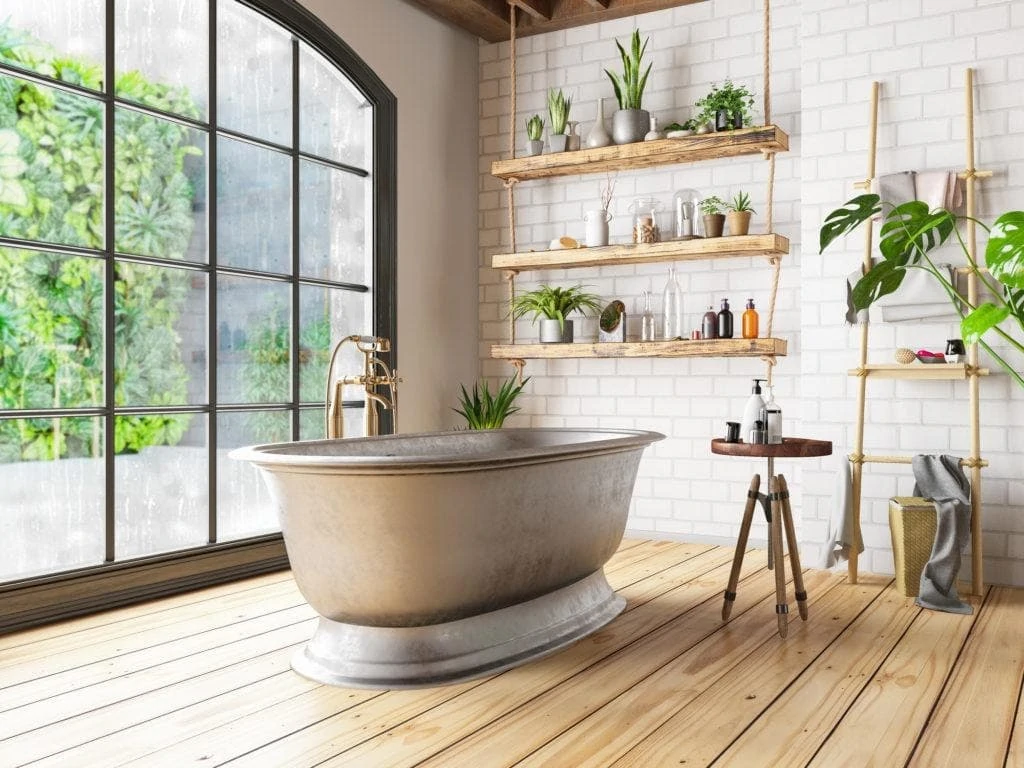 Iconic bathtub material that has been the choice of many for years. Source: Casa Padrino
Cast iron bathtubs are made of molten iron. The making process is interesting as it is poured into a mould to define the bathtub's shape, then finished off with thick layers of enamel coatings. This classic bathtub material is a go-to possibility if you are looking for something that is going to last for years! 
Pros:
Durable:

It is a long-lasting material.

Protected surface:

Don't need to worry about chipping and scratching, as the thick enamel works well in protecting the surface.

Good heat retention:

Becomes an invitation for a relaxing bath.

Versatility:

Richness in look that comes in different colours.
Cons:
Heavy:

Cast iron bathtub is very heavy, so the installation process is going to be hard, and reinforcements of flooring might be needed to support the weight.

Cost more:

Typically expensive, including the labour work needed for the installation. 
5/ Cultured Marble Bathtub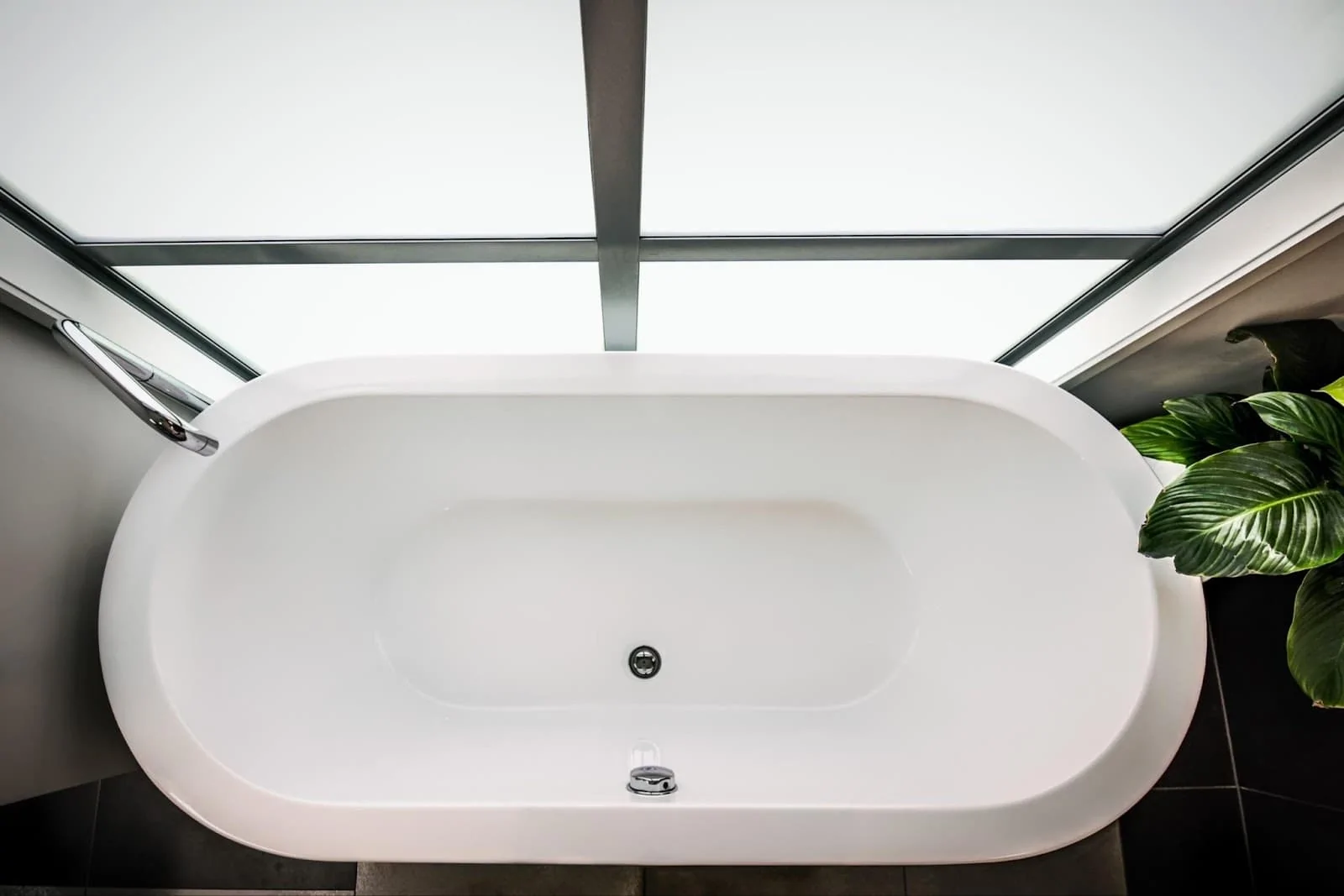 The royale addition to your bathroom. Source: The Cleaning Company
These bathtubs are made of crushed limestone mixed with resin. Then finally, coated with a gel-coat finish. 
Pros:
Multiple options:

Variety in colours, styles and sizes.

Increased durability:

Can last long for a period of time.

Affordable:

The pricing isn't going to be a big problem.

Stain-resistant:

Eventually makes it easy to clean.

Appearance:

It provides a rich look to the bathroom.
Cons:
Coating issues:

Surfaced coating that wears off might be unrepairable.
6/ Stone And Wood Bathtub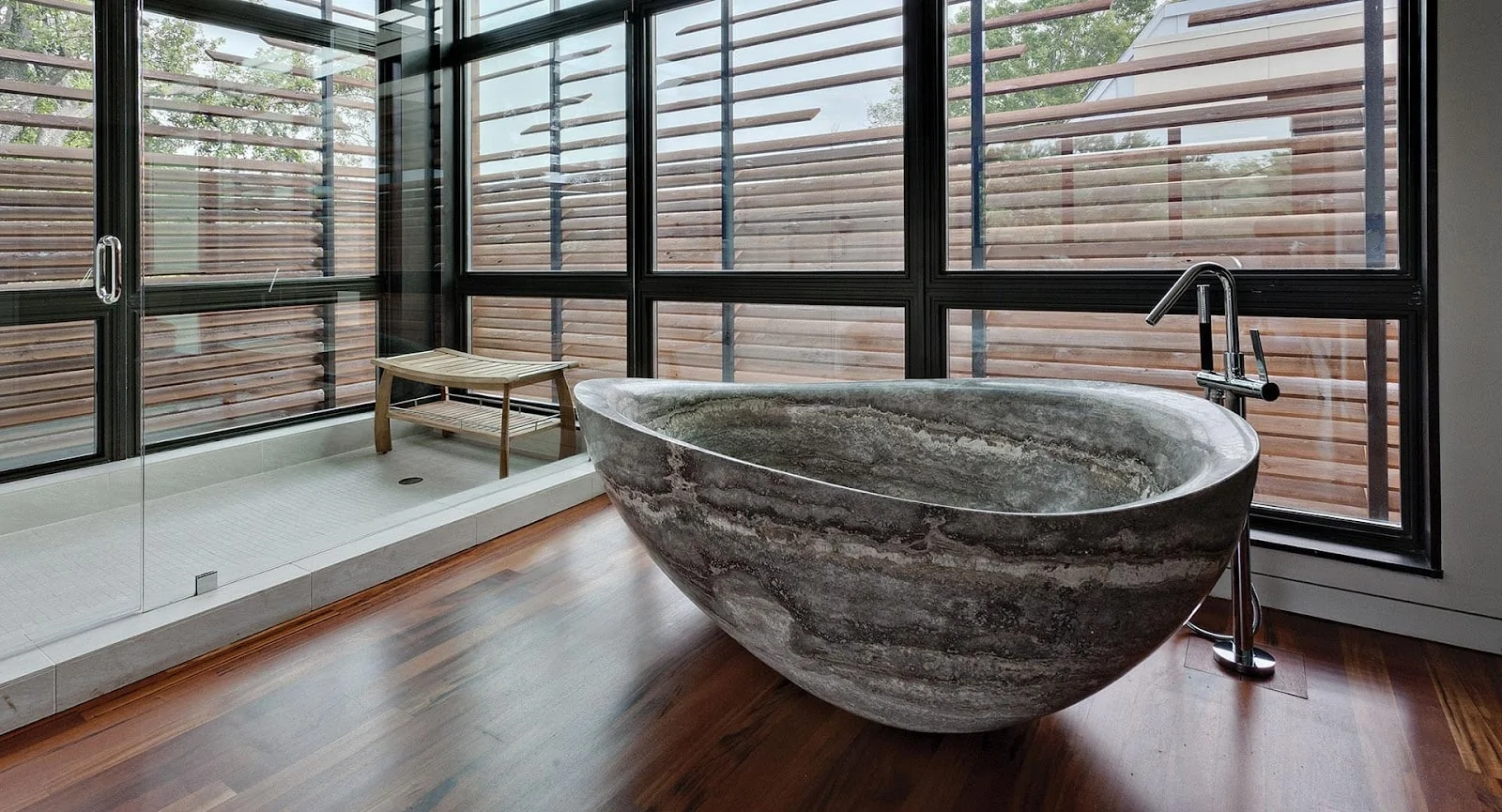 The natural touch to a bathtub. Source: Adorable Home
These bathtubs are generally custom-made orders that hold the elements of wowza! They are typically not common and certainly are an artistic addition to your bathrooms. 
Pros:
Looks amazing:

It has the wow factor due to its beauty and rarity.
Cons:
Heavy:

Heavier than any other material used for a bathtub.

Costs a fortune:

Extremely expensive because usually, it is an exclusive design.

Aftercare:

Be prepared for high maintenance.
Pick Your Fighter!
Choosing the best bathtub that fits your budget and preferences isn't an easy process, to begin with. It needs thorough research and wise comparisons to finally pick the best among the rest. Take your time during the process of selections, and make sure you don't regret a single thing! As varied as the bathtub materials can be, they all each stand out with unique selling points of their own. So, decide carefully and enjoy your bath peacefully!
Looking for more related article? Check them out here: