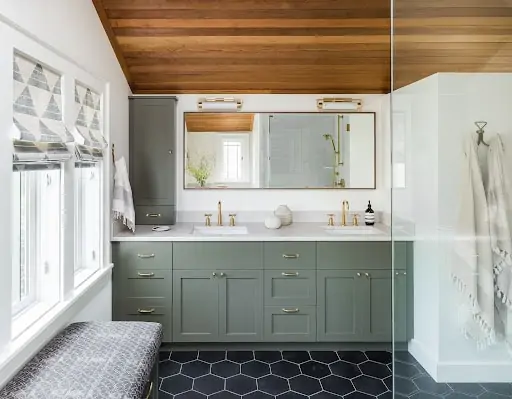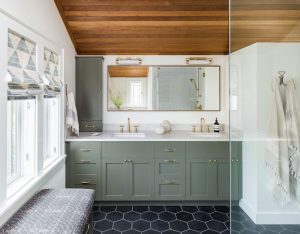 Remodeling or renovations take ages and they're time consuming. Oh, and the amount of money you have to spend on them — Yikes! As though spending your life savings isn't bad enough. Ummm, no thank you. 
We know they're just "bathrooms", but it's also a place where you would spend your personal time. So it's safe to say that the environment should be comforting and well, pleasant. Wouldn't it be nice to do your business no.2 without having to stare at a plain white wall or rusty pipes and door knobs? 
So, not getting the chance to create your dream bathroom is a kick in the bum. Which is why we have created this list of doable, renovation-free ideas to help you upgrade your bathroom interior. 
Wall Plants or Removable Wallpapers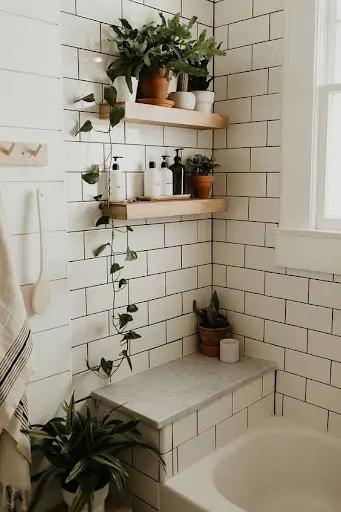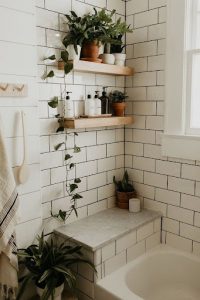 White walls? Boring! Wall plants or removable wallpapers? Yes, please! 
Plants aren't just for your garden, living room, and bedroom. Bathrooms should be considered too. Not only will they brighten your wall, but they also improve the bathroom air. If you don't fancy plants, opt for removable wallpapers. They brighten your boring walls just as much! 
Hang a few plants against the wall or place it on the shelves. Pothos or money plants are a good choice as when they grow, they'll nicely cascade down creating a lush green wall for you. As for the removable wallpapers, go for wood or brick-like patterns to create an edgy look to it. If you feel a little adventurous, try dalmatian prints. By all means! 
Just a reminder, we would suggest you to only opt for either one of these as they create a strong presence individually to your bathroom.  
Funky Vinyl Floor Tiles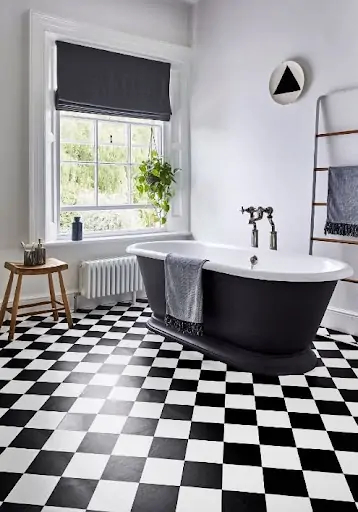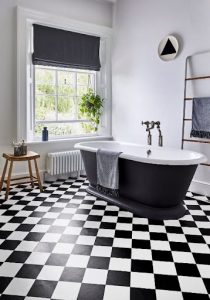 Got a fun personality? Show it through your bathroom floor! 
There's nothing wrong with the conventional square tiles or mini hexagons flooring. But  if you're someone who has a colourful personality, this might be boring for you. Instead, try retro checkered prints or go for those colourful portuguese prints. 
Similarly like your wallpapers, vinyl floor tiles are removable and they have the added benefit of being waterproof. Which makes it best to be used for bathroom floors. Considering they're going to be wet most of the time. 
We'd suggest demolishing your bathroom floor but that can cost quite an amount. So go ahead and get those removable vinyl floor tiles and give your bathroom floor a new look.
Standardized Faucets and Handles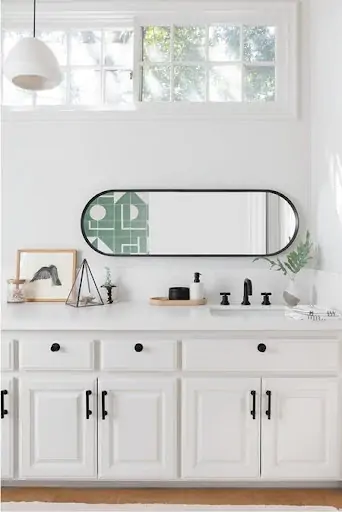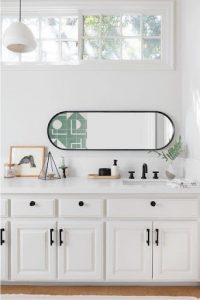 Little details such as fancy faucets and handles can go a long way.
Honestly, to get your dream bathroom, you don't have to make drastic changes like your walls or floor. Changing out even just painting over the faucets and handles in your bathroom can help elevate the whole interior. 
For example, take a look at how the husband and wife of Gray House Studio transformed their whole bathroom by just repainting some door knobs and faucets to have the perfect oil-rubbed bronze finish. Creative to say the least! 
Cover Up Ugly Water Pipes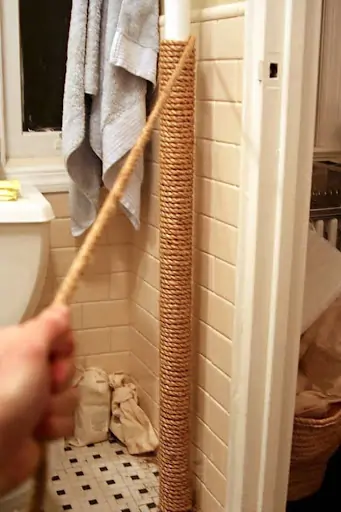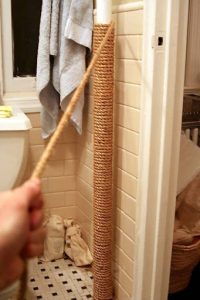 Get a little bit crafty for this one. 
For most houses, your bathroom might have water pipes sticking out of the walls. Unlike walls, floors, and handles, they're not removable. Unless you want a makeshift wall fountain then sure, go ahead! (Please note the sarcasm). 
Anyways if you wish to get rid of ugly visible water pipes by not actually getting rid of it, try covering them up by wrapping some manila rope while providing a little insulation. You could also make use of the leftover wallpapers you have from your bathroom wall. This way, your pipes will blend in and camouflages as though it was never even there! 
Take a look at how our friend over at Apartment Therapy did theirs with the manila rope. Looks hard, but it's quite the opposite!  
Creativity Is All You Need
You don't need to renovate to achieve your dream bathroom or the aesthetic look you always envision. Sometimes, a little bit of DIY and creativity is all you need to do so. 
So, forget expensive renovations and try these cheap, doable ideas instead. Do you have any other ideas for all of us to try? Share them down in the comments!