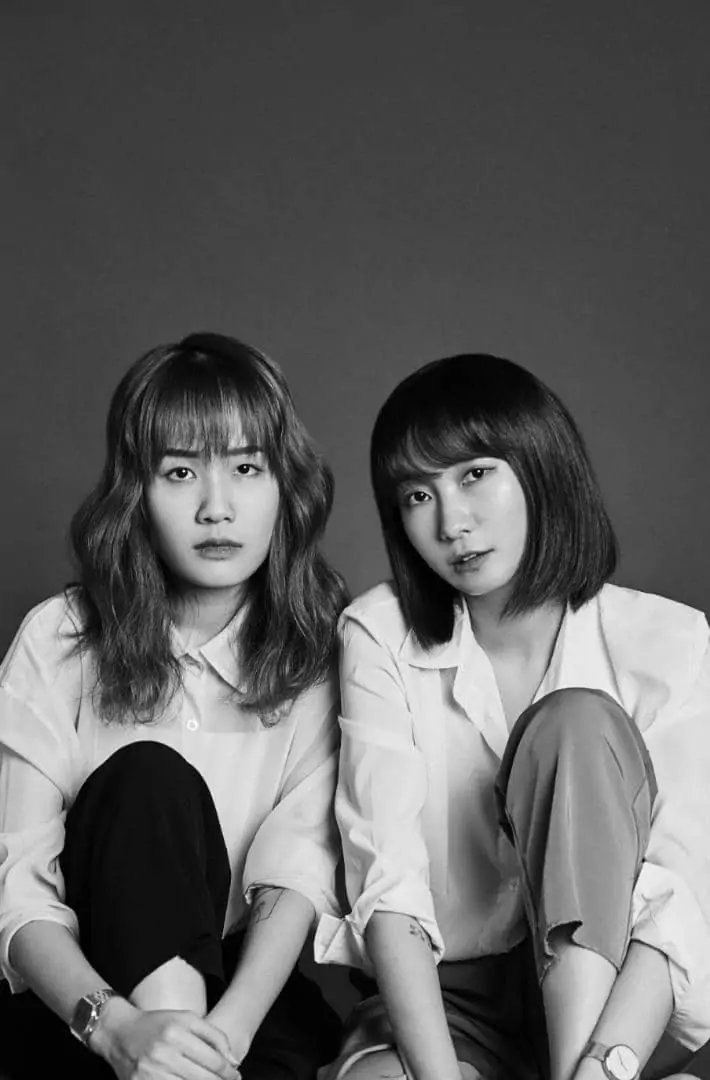 Two rising icons turning dream homes into reality.
A passion that brought two friends together
Communication is a key to success 
Going over and beyond fixed elements 
Growing up, I remember making all kinds of life plans with my best friend. From sharing an apartment to starting a business, we had plenty on our list. But of course, we were just kids then and liked the idea of being in charge of our own lives. Another reason was that we knew we'd have each other's back! 
However, as time passes, we all take different paths in life and meet people who may or may not share our values. For some of us, we are fortunate to meet that one person who shares similar vision and mission, which is rare.
We had the opportunity to speak with two friends who went through this journey together, Eliz Wong and Yong Wei. As we sat together for a small chit-chat in a room lit with positivity and determination, both friends took us through their business together, astounded that their ambitions were not just a pipe dream.
An exciting journey to success
Starting her life journey as a tour guide in Toronto, Canada, before coming back to Malaysia, Yong never knew she had a passion for interior design until both buds started their own interior designing firm, DualSpace Studio. 
Eliz, who previously interned at an architecture firm, shared that her passion for interior design grew after assisting on a project in the interior designing department.
As we continued chatting with the lovely ladies, they changed our perspective on how we perceive things around us, whether it be people or an empty space. They shared similar inspirations that came from their daily lives, such as the people they met, cartoons, art pieces, and old buildings, to name a few. Interesting, isn't it? 
Dwelling on her past assignments, Eliz was given a huge responsibility to design a bungalow from scratch back in her college days, and she walked us through it with a bright smile, "It was only then that I realized how important space planning is when designing a home."
Inspiration comes from every corner
When we think of buildings with unique architectural designs, we often relate to historical structures. Personally, I have always been fascinated by the Colosseum in Rome. Though I haven't seen the beauty myself,  seeing the image gives me goosebumps instantly. 
Both Yong and Eliz had unique insights when posed the same question. Having visited several countries, Yong draws inspiration from the places she has visited, but she particularly admires the distinct flyovers and MRT stations in Kuala Lumpur. 
Eliz, on the other hand, was inspired by an Irish architect and designer, Eileen Grey's work, E-1027. "I fancy how she used foams, and of course, the functionality of every corner and even the placement and selection of furniture in the house inspired me."
Designers, like everyone else, have their own way of doing things. Every designer approaches aesthetics differently; some are more intuitive, while others are more structured. According to them both, there were times when they were inspired by the original site's details, and there were times when the intuitive came first.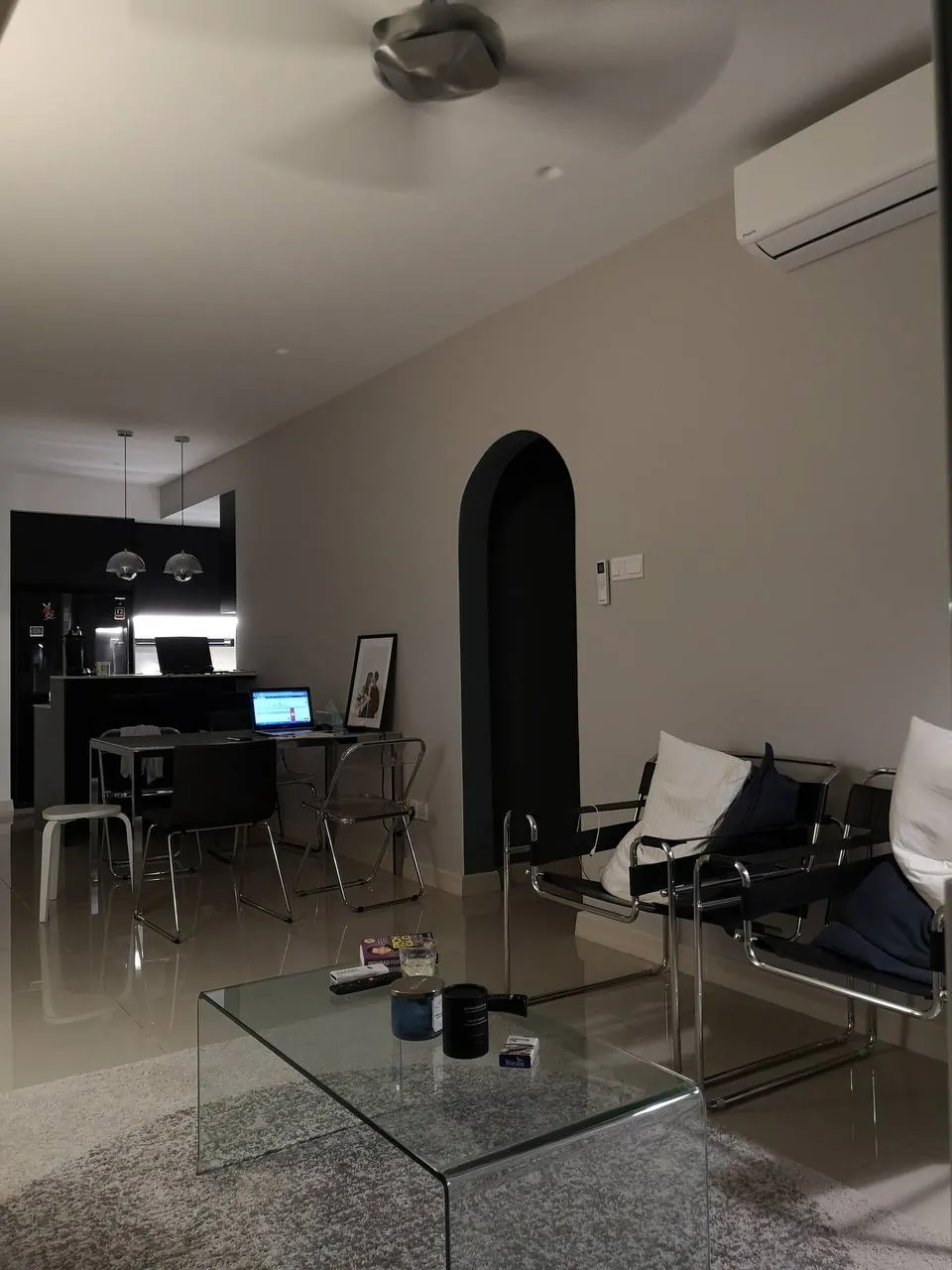 Eliz's home was designed to suit her taste of minimalism.
Taking us on a virtual tour of their home, Yong explained that a house becomes a home when family and friends are present, as well as if it fits your daily habits. "That, along with a good breakfast and coffee," Eliz grinned. 
A DualSpace Studio masterpiece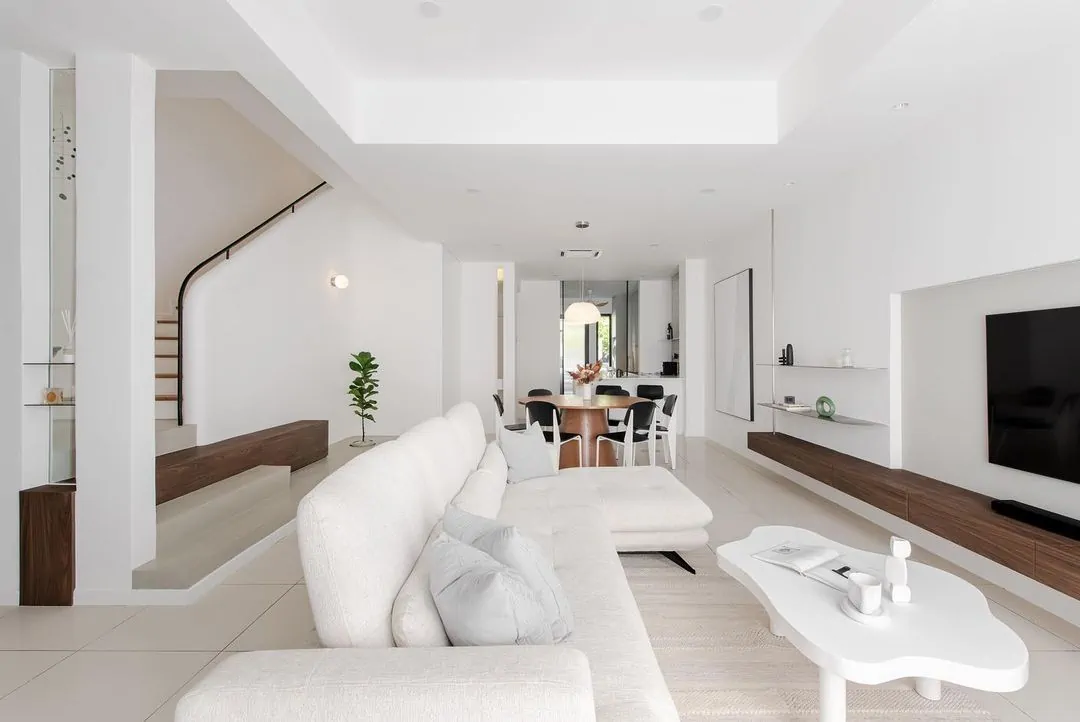 An exceptional layout carefully curated by DualSpace Studio to set a serene atmosphere.
"Designing a home does not require a fixed element. What makes it even more exciting is the freedom to experiment with new designs and materials. Not only homes, but everything we create serves a greater purpose in our lives," Eliz expressed wholeheartedly. 
Nodding to Eliz's statement, Yong continued, "when people appreciate the details of our designs, including furniture, lighting, and commercial projects, it creates a better purpose in my life as well".
A simple yet elegant design of a pantry and working area designed by both partners.
Aside from that, healthy client communication is an essential part of the process. Diving right into a project without understanding what your client truly wants is a disaster! A beautiful day can quickly turn into a raging storm. 
There are times when you must face the music, which is how these two young designers came to be. One way to deal with these challenges is to have good communication and understanding of the client's needs, concerns, and daily habits, and conveying the correct message to the contractors to avoid any clashes. The last thing you need is a crisis. 😉
A memory that never fades 
Reminiscing their journey together, Yong joyfully discussed a time when she and Eliz  used to share songs together in the car while visiting sites and clients. "It was one of the happiest moments," she smiled widely, looking at Eliz as some of us went "awwww!". 
Then, out of nowhere, a voice called our attention to Eliz. She jumped a little in her seat and screamed in delight, "Yay! It was the happiest moment of my life!". We giggled as they went on sharing about their goofy moments together. 
Before bidding our goodbyes, we were curious to find out if they could have dinner with anyone and who they'd like to have dinner with. Yong undoubtedly mentioned her father. The room was deafeningly quiet as we sensed her love and compassion for her father, and vice versa. I personally felt that connection growing up with a single father. 
While we were kids, all we wanted to do was grow up, thinking it would be all fun and freedom. But little did we know, our time with our parents was becoming even more limited. We were moved by her wish for more life advice from him. Nobody knows us better than our parents.
Of course, the room did not remain quiet for long. Eliz broke the silence by saying that she knew right away that she would be thrilled to have dinner with Eileen Grey; her expression said it all. "I'm curious about her background and where she gets her inspiration." 
This once-in-a-lifetime event inspired and moved us all. We wish nothing but the best for Eliz and Yong! If they can do it, you can too. Chase your dreams! 
Looking for more related article? Check them out here: