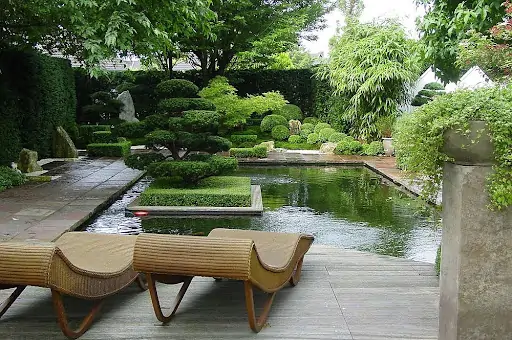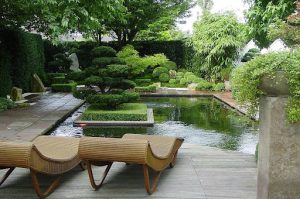 Want to own a backyard as such? Source: Decoist
Beautiful and peaceful garden designs  can promote leisure at its best form.
It is always possible to incorporate nature into modernized garden designs.
Here are 6  garden trends that can make your backyard, front yard and even your  balcony prettier than ever for 2022.
Allow me to describe the world we live in now in one simple sentence: bricks and blocks decorated with glasses and artificial grasses.
A world consisting of concrete buildings trap us within the four walls of a materialistic lifestyle. Urbanization is a blessing to mankind, but at the same time, it takes away the best part of life that we can ever experience; the beauty of nature.
When was the last time that you admired the smallest of plants and the purest of green? Or perhaps you enjoy nature and fancy modern forest designs? If these questions ignited your curiosity, then you are at the perfect place at the perfect time. 
Here are six garden designs that will be trending in the year 2022, and you could start planning your garden designs now itself!
1) A Whole New World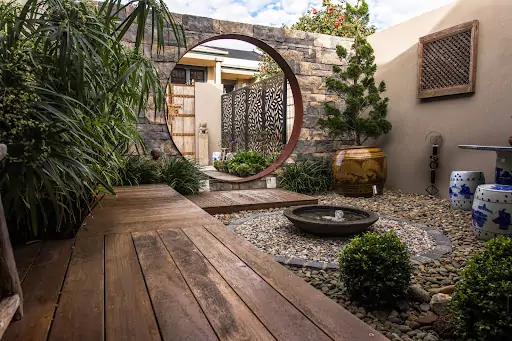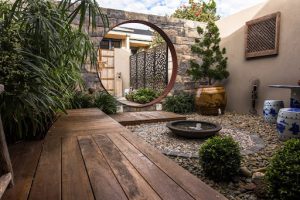 A backyard that invites you to a whole new world of beauty. Source: Houzz.com
Consider adding a touch of Asian with Chinese potteries, and they are by far the most elegant way to incorporate Asian spices into a backyard filled with pebbles. 
The overlapping of brown and green works are appealingly well in painting the imagery of a rainforest. On top of that, a portal-like entrance that divides the two different sides of a landscape design will definitely be something that you want! 
Sometimes, you do not need to learn magic to be Dr Strange! 
A pathway made from wood does not only project a vintage twist to your garden but also has the potential to bring nature to you. 
Colours, materials and concepts are naturally the three most vital elements that possess the power of a great Asian inspired makeover you will ever need in 2022. 
It's about time that you bring back the Eastern beauty to Western architecture. 
2) The Mini Waterfall Zen Garden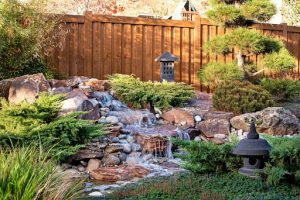 A mini waterfall that can help you destress after a long hectic day. Source:The Garden Artist
Don't you miss the soothing sound of the river flowing and waterfall running?
As impossible as it sounds to have a massive waterfall in your backyard, it is possible to have at least a mini version of it, though. Don't worry, and it is not going to be slippery! 
Imagine playing God and creating your own mini waterfall in your personal space. You get to choose its size, the placement of the rocks, and even how to decorate it.  
As we know, the sound of water tends to help us find our inner peace. So why not consider enjoying your day off sitting in your Zen garden and letting the hymn of nature rejuvenate your soul. 
That's precisely how tranquility feels like!
3) The Koi Land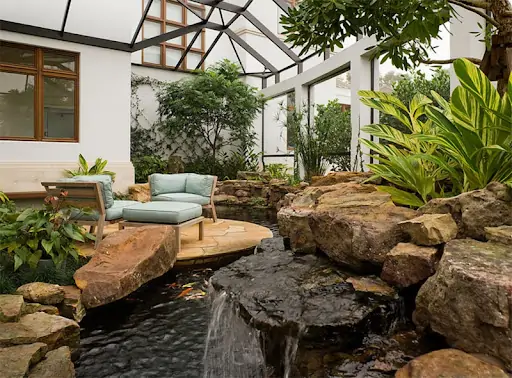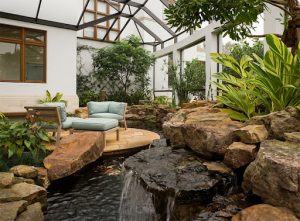 The Koi-centred beauty. Source: Home Design Lower
Nishikigoi or famously known as Koi, definitely screams Asian from its Japanese roots. 
This is better illustrated with a beautiful Koi pond to decorate your backyard. 
While the decoration for a Koi pond can be of various designs depending on individuals' personal preferences, the key point to this landscape is its size.  
The bigger the Koi, the bigger the pond should be. 
This is so that the design works well with the highlight of the concept.
Adding lilies and sculptures to the Koi pond would give the oomph that you are looking for to reinvent serenity. After all, beauty is in the eye of the beholder. 
Koi pond is definitely for the win!
4) Yin and Yang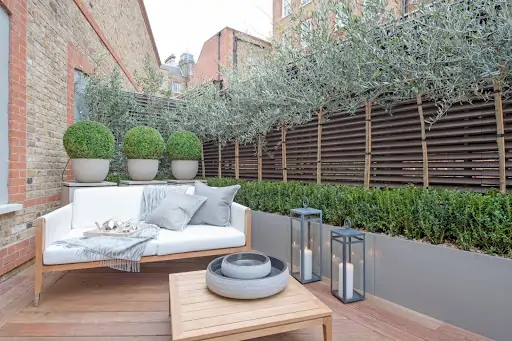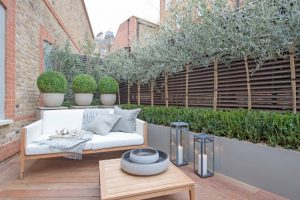 A simple makeover is all you need to experience leisure. Source: Houzz.com
In this 21st century, the concept of designs has taken a drastic toll, especially since the implementation of dark and bright colours in the same space creates a minimalistic vibe.
This collaboration would work well for a garden design if you fancy simple yet trendy creativity for a limited space.
All you have to do is decorate the place with simple furniture and surround the space with plants to live to the design. You can even incorporate lanterns, lights or even sculptures and place them, so  they don't consume too much space in the design.
Add in comfortable pillows, and blankets and that's it, as easy as that!
The sole aspect that would hold this specific garden design together is the wise choice of shades of colours. 
Same as Yin and Yang, it's all about balance.
5) Balcony Garden Designs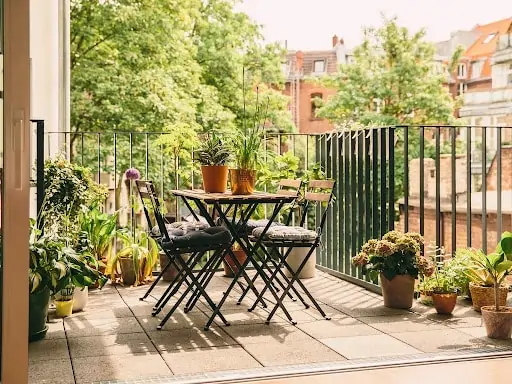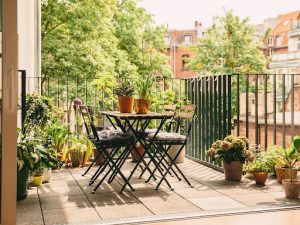 Modern forest on the balcony is more common than ever.  Source: IProperty
We are fully aware that the pandemic has resulted in many being trapped at home and losing connections with the world of human interaction. As saddening as it sounds, this has actually helped in giving a new recognition of balcony gardening.
Basically, individuals became invested in decorating their balconies with various plants to create a personal garden-like space to cope with the pandemic. 
This took a toll and became a trend in today's society, whereby almost every balcony in the cities became a canvas for landscape designs. 
This balcony garden design will definitely stick by us for a longer period of time!
6) Fire and Leisure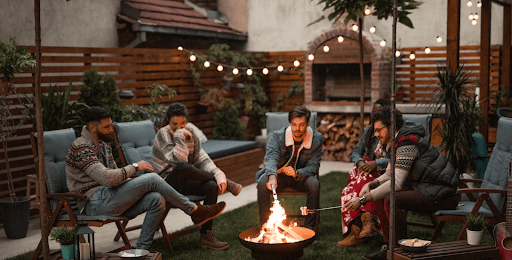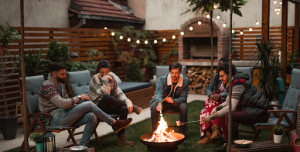 A perfect place for heart-to-heart conversation by the fire. Source: Clever
Want to make your landscape designs more appealing than ever? Campfire is the answer!
A garden hearth is an attractive spot that beautifies the landscape and serves a purpose for relaxation.
A cozy place with fire certainly comes in handy during cold nights. Admiring a sky full of stars with your loved ones while staying warm outdoors will be all you need to call it a day. 
Importance Of Garden Designs
It is highly beneficial to invest in beautifying your front yard with great landscape designs, especially for this post-pandemic season!
This is said so because a feast to the eye can also be a feast to the mind. A decorated garden with plenty of greenery could act as an agency for destressing. Scientifically, the colour green tends to promote optimism and is very refreshing. Through this, you get to enjoy peace of mind by admiring your garden while releasing stress in one way or another.
Besides that, a well-planned garden design can be entirely inviting to experience leisure in many ways. A space that holds immense amounts of privacy and peace will definitely be a great spot for relaxation!
Plan Your Garden Designs Wisely!
2022 is less than two months away from knocking on our doors for a new chapter of unforeseeable excitement. 
But there's no rush!​​ Take a breather and decide wisely on how you will change your dull, empty outdoor spaces into something pleasing to the eyes and the mind. 
Bear in mind, a pinch of creative visionary is all you need.