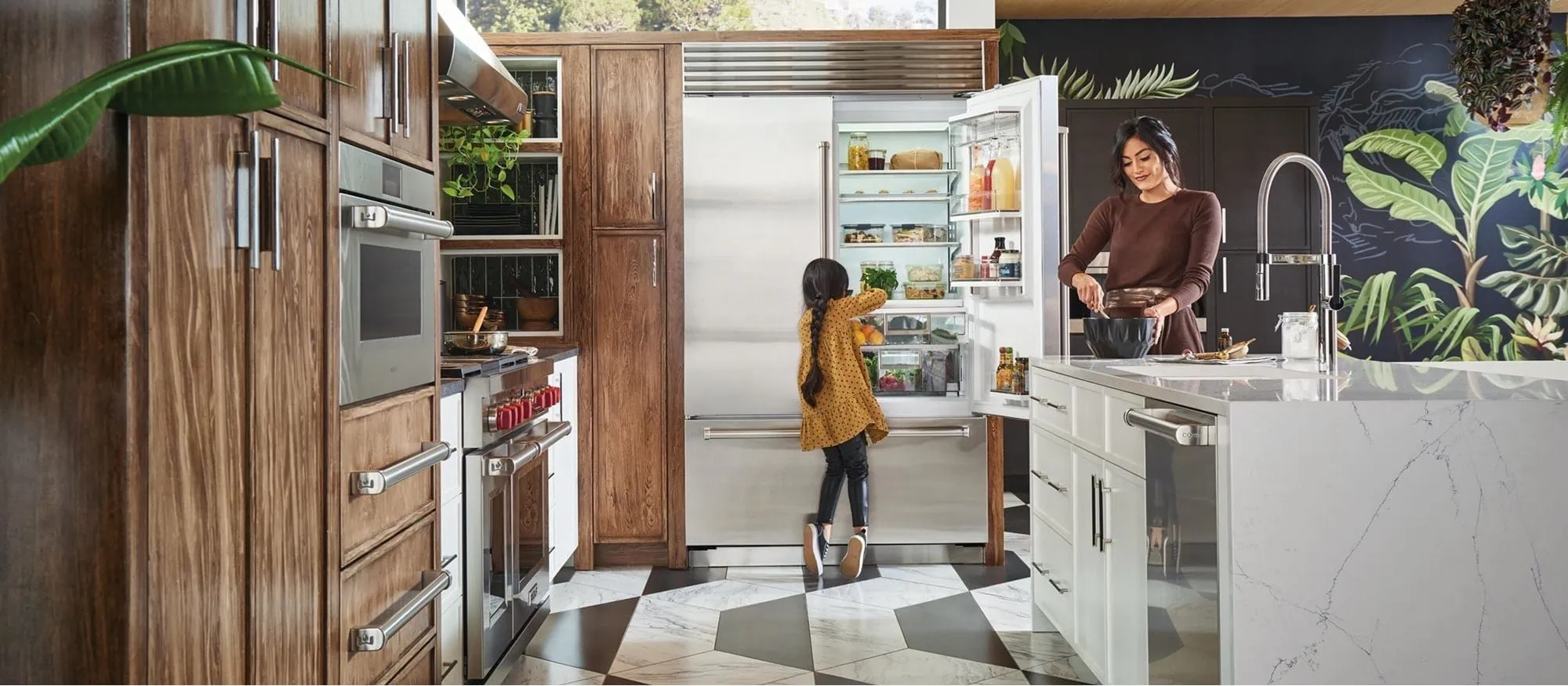 Elevate your living with a premium home fridge. Photo source: Sub-Zero & Wolf Appliances
Upgrading your kitchen and living experience on another level.
5 extraordinary home fridge for your lovely home!
Welcome to the glitzy world of premium home fridges, where refrigeration meets red-carpet glamour. These fridges aren't just appliances, they're style statements that make your kitchen the hottest spot in town. With their sleek designs and advanced features, they're like the supermodels of the appliance world, strutting their stuff and keeping your food fresh at the same time.
But these fridges aren't just about looking good; they're about making your life easier and more exciting. Imagine a fridge that not only keeps your food cool but also helps you manage your groceries, communicate with your family, and even entertain you. It's like having a personal assistant who's also a stand-up comedian—keeping things organised while cracking jokes.
So, get ready to step into the future of refrigeration, where innovation and style collide in a flurry of chilled perfection. It's time to ditch the outdated fridges of yesteryear and embrace the cutting-edge technology that makes your kitchen the envy of all your friends. Say hello to convenience, sophistication, and a fridge that's cooler than a penguin in shades. Let the fridge revolution begin!
1/ Samsung Family Hub Smart Fridge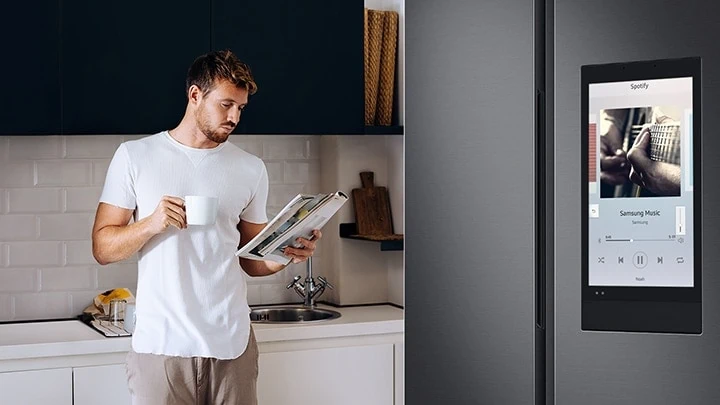 Enjoying coffee, tunes, and kitchen tales with a modern fridge twist. Photo source: Samsung
Say goodbye to the struggles of fridge-living in the Stone Age and enter the realm of the Samsung Family Hub Smart Fridge. This fridge is so durable, it comes with a 20-year warranty on the compressor. That's like having an immortal fridge that's seen it all, from the invention of sliced bread to the rise of avocado toast! And, there's more!
The Family Hub feature turns your fridge into a full-blown family superhero. It manages your food like a pro, communicates with your loved ones like a marriage counsellor, entertains you like a stand-up comedian, and keeps you connected to the world like a social media guru. It's like having the Avengers of fridges right in your kitchen!
Also, let's not forget about the SpaceMax Technology that this fridge boasts. It's like having a magician's hat that can hold an entire grocery store inside. Say goodbye to playing fridge Jenga with your groceries, because now you can fit everything from the essentials to that giant watermelon you impulse-bought at the farmers' market.
But the real magic happens with the All-around Cooling Technology. This fridge is the Leonardo da Vinci of temperature control, ensuring that every corner is cool as a cucumber. No more finding lukewarm milk or frostbitten popsicles! It's like having your own personal cooling squad, keeping your food fresher than a prince on a first date.
2/ Hisense RS686N4AWU 620L Side by Side Inverter Fridge Refrigerator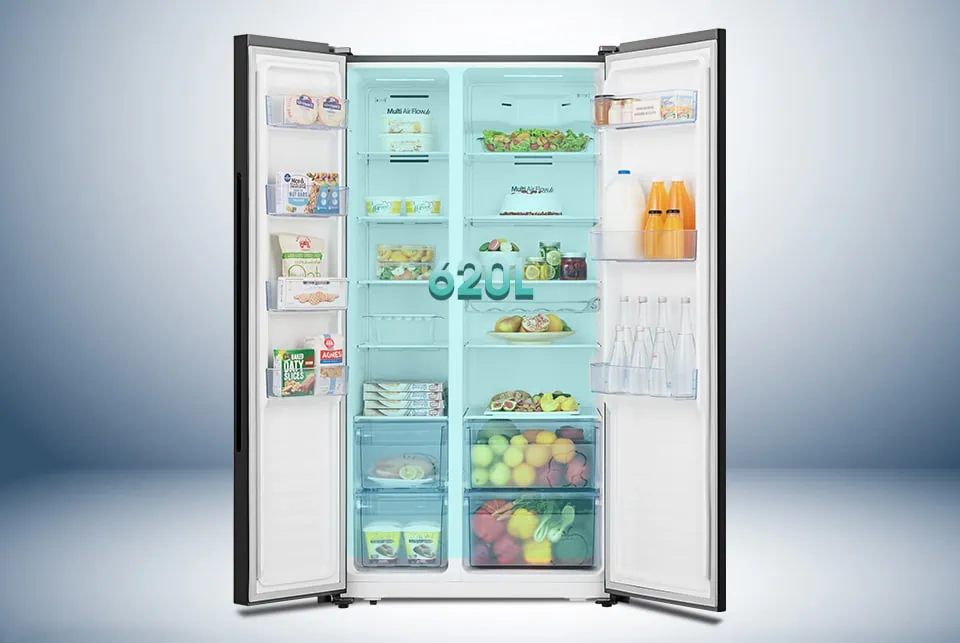 The grocery stash master: a fridge that can handle your foodie fantasies! Photo source: Hisense
Prepare to meet the fridge of your wildest dreams—the Hisense RS686N4AWU 620L Side by Side Inverter Fridge Refrigerator. This fridge is so cool, it could win an award for "Best Supporting Actor" in your kitchen! Let's talk about the inverter compressor. It's like the superhero of energy efficiency, saving more power than a treadmill that only serves dessert. And guess what? It operates so quietly that you'll start wondering if it's secretly practising for a mime performance.
But this fridge isn't just a silent superstar—it's also a style icon. Picture this: a chrome beverage rack that's fancier than a red carpet event for soda cans. And those tempered glass shelves? They're like the fashion models of the food storage world, flaunting your groceries with elegance.
Now, let's dive into the Multi Air Flow system. This fridge is the ultimate cool conductor, ensuring that every food item gets the VIP treatment. No more playing favourites with temperature zones; it's like having a temperature fairy spreading even cooling magic throughout the fridge. And when it comes to freshness, this fridge takes the cake (or should we say, keeps the cake fresh?). With Super Freeze, your food will feel like it's on a tropical vacation, with temperatures stabilised to perfection. And Total No Frost? It's the hero that fights frost accumulation, so you can say goodbye to icy surprises and hello to frost-free freedom.
3/ Haier 4 Door Glass Series HRF-IG525AM(GB)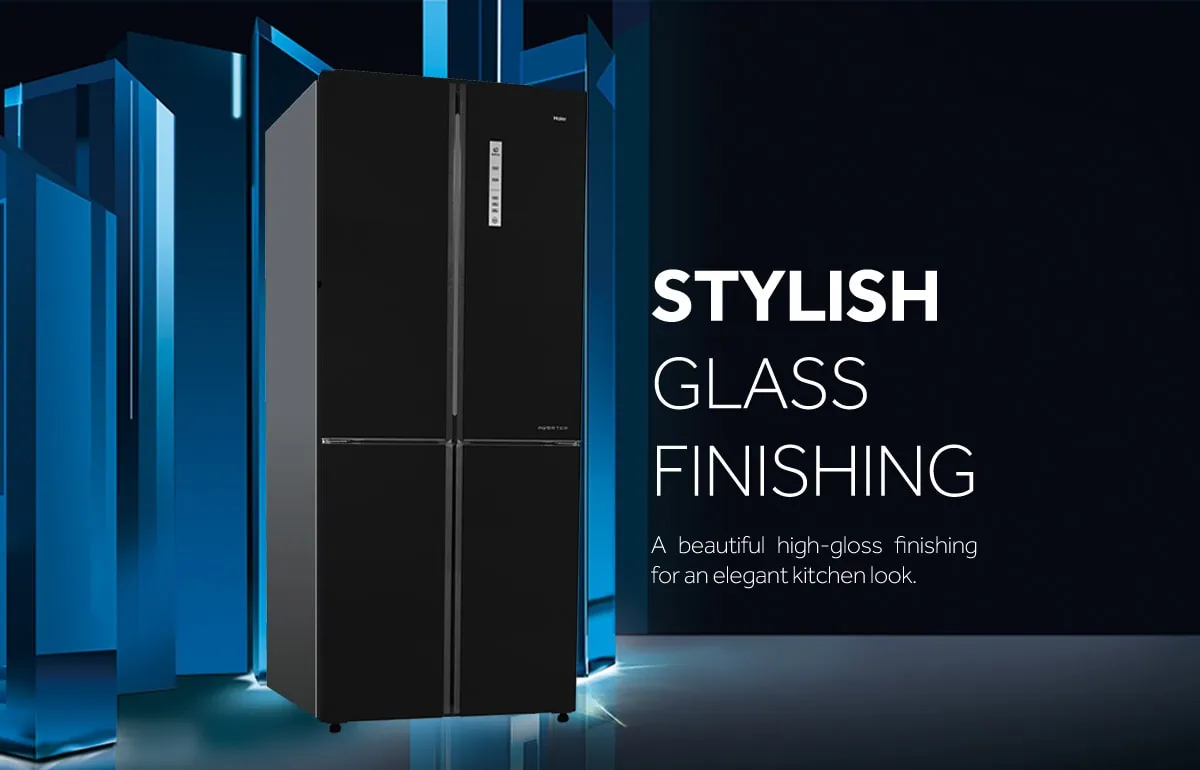 Do you want an elegant kitchen look? Haier is your saviour! Photo source: Haier
Introducing the Haier 4 Door Glass Series HRF-IG525AM(GB) fridge—aka the fridge with a PhD in chill-ology! This fridge is a genius when it comes to saving energy. It's like the Einstein of refrigerators, making other fridges feel dumb for wasting electricity. That's not all! Say goodbye to germs with the T-ABT feature. It's like having a bouncer in your fridge, kicking out 99% of the unwanted party crashers. Your food will be so safe, it could win a medal for hygiene.
And get this—the Humidity Control System creates the perfect climate for your food. It's like a personal weatherman for your fridge. Your veggies will be as happy as sunbathing in the tropics, while your fruits will be chilling like they're on vacation. It's a fridge that turns produce into VIPs. Vacation mode? No sweat! The Holiday Mode with Ultra Power Saving has got your back. It's like a fridge on a mission to save the planet while you sip margaritas on the beach. The fridge of eco-warriors, keeping things cool and green.
Oh, and did we mention style? This fridge is dressed to impress with its top-grade tempered glass finish. It's like a fashionista in the kitchen, turning heads and making other appliances jealous. Your kitchen will be the hottest spot in town, thanks to this fridge's sizzling looks. 
4/ LG 674L Side-by-Side Refrigerator GC-L257CQEL with UVnano® Water Dispenser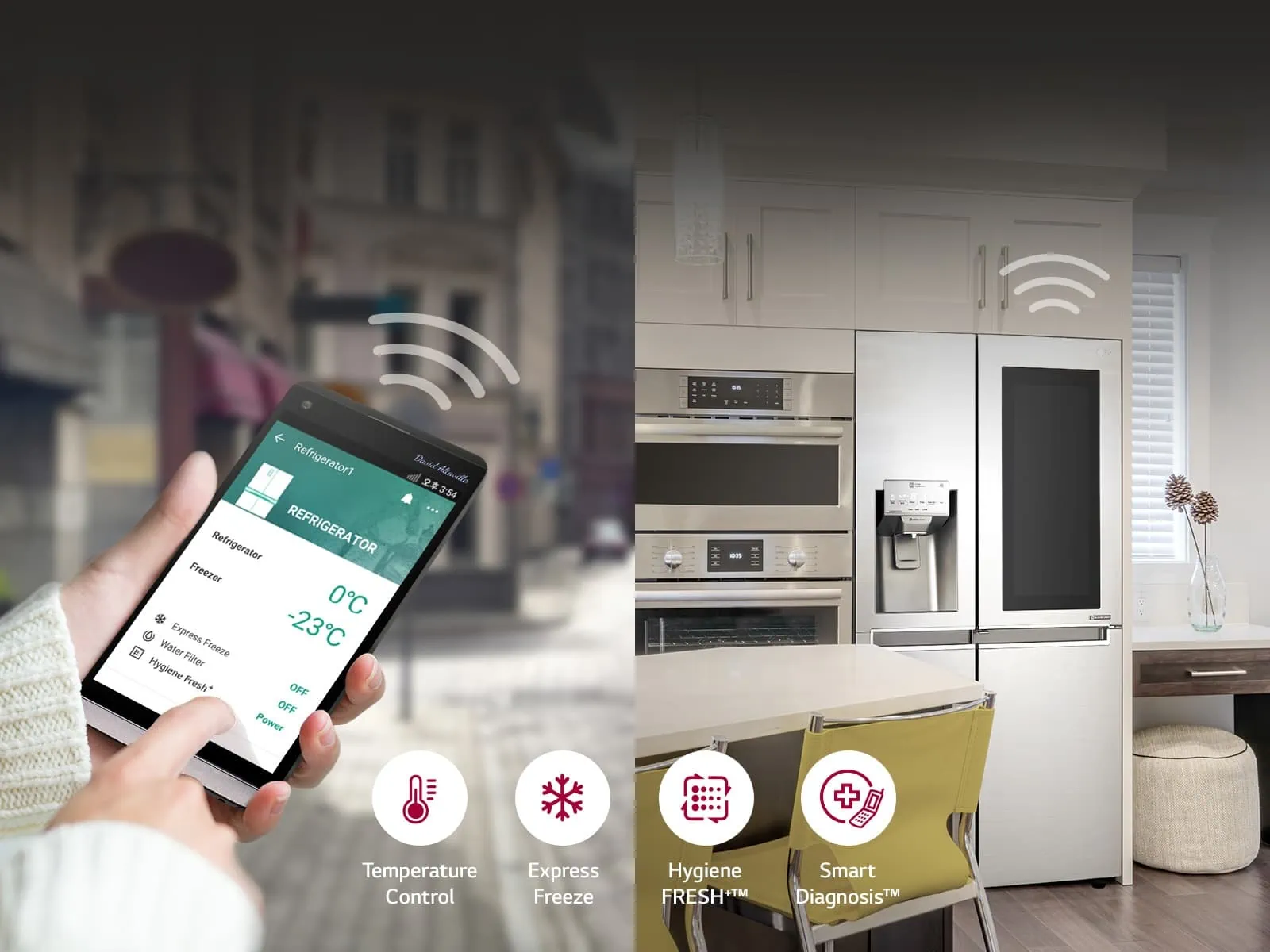 The ThinQ technology, where you can just chillax and control your smart fridge just at your fingertips! Photo source: LG
Introducing the LG 674L Side-by-Side Refrigerator GC-L257CQEL with UVnano® Water Dispenser, the epitome of coolness with a touch of sophistication! This remarkable fridge boasts intelligence that rivals a PhD in "Fridgology." Let's begin with its outstanding energy efficiency, likening it to a champion athlete excelling in an energy-saving marathon. With its exceptional performance, it could power an entire small town while keeping your beloved ice cream rock-solid. Who needs solar panels when you have a fridge that's practically a superhero?
Maintaining cleanliness is this fridge's forte. Equipped with the UVnano® Self-Cleaning Water Dispenser, it becomes an indomitable warrior in the battle against germs. It's as if a squad of nimble ninjas is dedicated to protecting the purity of your water, surpassing even your grandmother's devotion to dusting. Farewell, germs! In addition, the Hygiene Fresh+™ intelligent air filter acts as a secret agent against odours. Its unparalleled effectiveness can neutralise the scent of a skunk within seconds. Your fridge will emanate a fragrance as refreshing as a blooming field of wildflowers, transforming your grocery shopping experience into paradise.
Prepare yourself for the remarkable DoorCooling+ feature. It's akin to a turbocharged cooling system on high-octane steroids. Your beverages will reach an icy chill that rivals the coldness of your ex's heart, while your vegetables will retain the crispness akin to a freshly ironed shirt. It's as if you've stepped into a winter wonderland right in the heart of your kitchen. And the cherry on top? The inclusion of Smart Diagnosis™ and ThinQ technology. This fridge's intelligence is so advanced, it could potentially run for president. With your smartphone as your tool, you can effortlessly control and troubleshoot your fridge, elevating yourself to the status of a tech guru. Who needs a fridge manual when you possess a pocket-sized genius?
5/ Hitachi Japan 586L Inverter 4 Glass Door R-W720P7M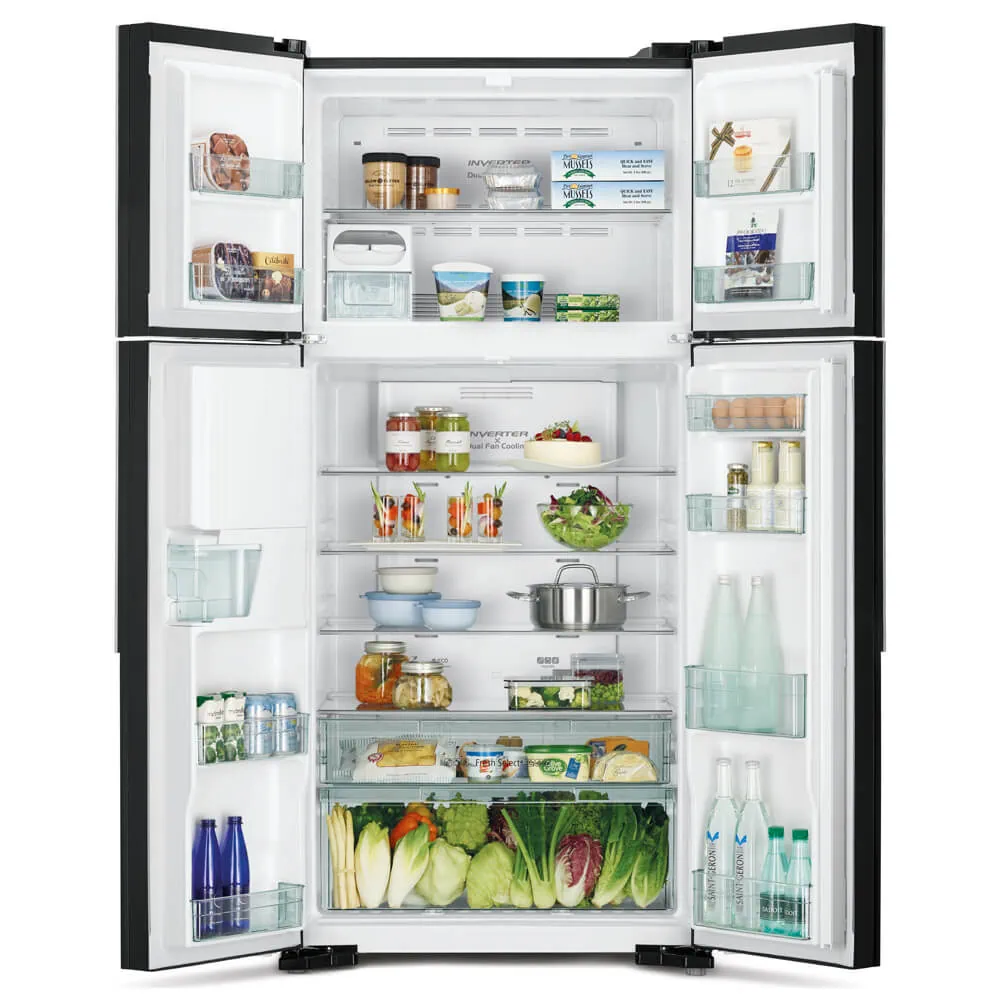 No worries, more snacks: embrace the infinite storage of a mega fridge! Photo source: Hitachi
Allow us to present the Hitachi Japan 586L Inverter 4 Glass Door R-W720P7M—a fridge that outshines penguin vacation spots and rivals the elegance of a royal tea party! Let's delve into its exceptional cooling capabilities. With the Dual Inverter Compressor and Eco Thermo-sensor, this fridge has mastered the art of keeping things cool. It maintains your food's freshness, colder than the frostiest heart and conserves energy like a stealthy secret agent on a vital mission. It's as if you have a fridge that combines the powers of Mr. Freeze and Captain Planet!
But hold your laughter for a moment, because this fridge has yet another feat to boast about. It has been awarded a prestigious 5-star Energy Saving rating by Suruhanjaya Tenaga Malaysia. It's like achieving an energy-saving championship, surpassing its competitors by leaps and bounds. You can proudly tell your friends, "My fridge is a gold medalist!" And let's not forget the in-built water dispenser. It's akin to having a personal water park right in the heart of your kitchen. No more rushing to the sink for a glass of water—simply press a button, and behold! It's a haven of hydration, served with a generous side of convenience.
Now, let's talk about style. This fridge embodies sleekness and sophistication to such an extent that it could grace the red carpet. It's like the George Clooney of fridges, effortlessly stealing the spotlight with its stunning glass doors and elegant design. Your kitchen will undergo a transformation like never before, inviting compliments such as, "Wow, your fridge is Hollywood material!
Trade Your Lame Fridge for a Polar Bear's Pedicure of Coolness!
Upgrade to these premium fridges now and give your kitchen the superstar treatment it deserves. It's time to say goodbye to boring fridges and hello to a fridge that's cooler than a polar bear's toenails!

Click the link below for more awe-inspiring content!