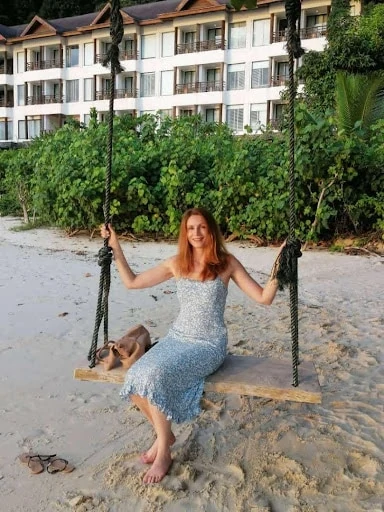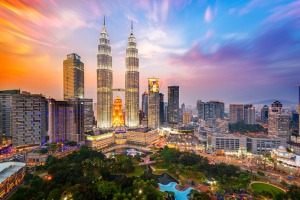 City of lights shining so bright (Source: iStock)
Malaysia, a country filled with various cultures and ethnicities; and it's also a land that displays the definition of respect and integrity to its citizens.
The flag resembles a united nation, and the food is so exquisite that it leaves people coming back for more. 
If you're a local, you will find that the heart and soul of our cuisines reside in the streets of Malaysia. Fine dining? Not quite, but so much better.
From scrumptious char kuey teow from the uncle across the street to the best Ramli burger that no one can beat while enjoying perfect "mamak" food where everyone gathers to watch football as they scream with joy when their favourite team wins the world cup. 
Oh, what a time to be alive when everyone feels united as one. Everyone in Malaysia is considered one big family. The various shades of skin tones and traditional cultures are the perfect excuse for us to show off the beautiful people we have here. 
If our food wasn't packed enough with flavour, wait till you meet the sassy people you will come across Malaysia. This is why here in POKOK, we are nothing but proud Malaysians, "Saya Anak Malaysia".
Did you know Kuala Lumpur was declared as the world's top city to live in for expats? Sounds intriguing doesn't it? Earlier this year, a poll was created to understand the opinions of expats that reside in different countries. 
The poll consisted of questions such as the quality of life, ease of settling in, personal finance and working abroad. 
Malaysia was topped in the overall list. Naturally we are all ecstatic hearing this. Expats involved in this poll praised Malaysia's local culture and affordability of food and resources.
78 percent of the respondents praised the local culture in Kuala Lumpur, and another 77 percent commended on the friendliness of the population towards foreign residents. 
Meanwhile, 80 percent of expats in Kuala Lumpur confirmed their satisfaction with their financial situation. 
Statistics aside, as locals, we are so used to the stereotypes and cultural norms we face in Malaysia that we've never taken a moment to grasp the perception expatriates and tourists might have about our country on a personal level.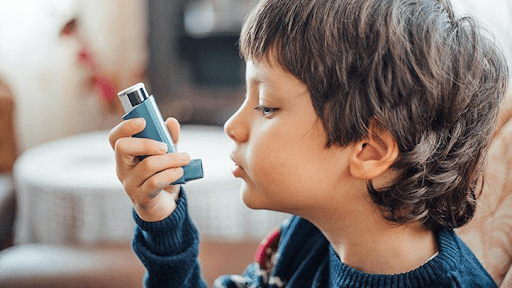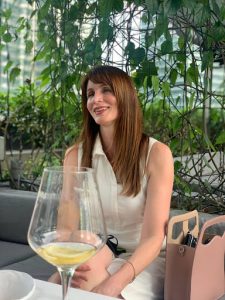 Monica Tindall  (Editor of the Yum List)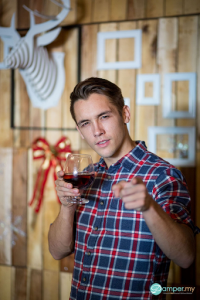 Mark O'Dea (TV personality, Youtuber)
Introducing Mark O'Dea and Monica Tindall, who are expatriates living in Malaysia. Mark has been residing in Malaysia for eight years while Monica has been living here for nineteen years!
Sit back, relax and continue reading to learn more about their experiences in Malaysia.
Reasons for moving here!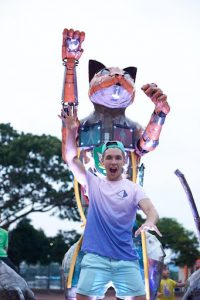 Mark O'Dea goofing around and having fun

Mark O'Dea was born and raised in the United Kingdom, while Monica Tindall was born in Australia. Both were born and bred in Western countries and considered the lands of opportunity.
So why Malaysia? What spell was cast to attract them into moving to Malaysia?
Well, as Malaysians, we automatically assume that different countries have better things to offer career-wise; however, these two individuals beg to differ. 
They both arrived in Malaysia for the same reason: to find new paths in their career. In their eyes, this was the land of opportunity, and clearly, they proved themselves right.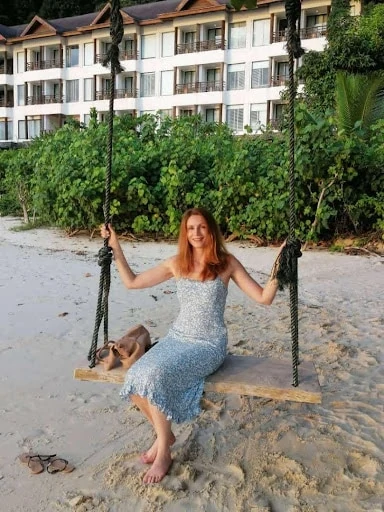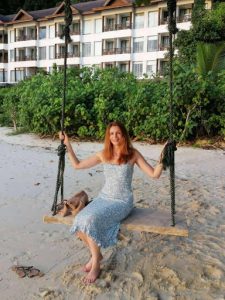 Monica Tindall enjoying her vacation in Datai Bay, Langkawi
Mark O'Dea has now flourished in hosting Astro SuperSport, while Monica Tindall is an editor in The Yum List. 
Settling in Malaysia was not just a stepping stone. Still, the unexpected challenges and adventures throughout their careers shaped them into becoming the role models they have become.
Traditions!
Speaking of adventures, Malaysia is always filled with surprises. From the food we indulge in, to the traditions we love partaking in.
We Malaysians take immense pride in our food, especially for its spiciness.  Trust us when we tell you authentic Malaysians are massive spice lovers. We love chilli so much that even fast-food restaurants only serve chilli sauce instead of ketchup.
Hand a sachet of ketchup, and Malaysians would probably stare at you with utter confusion.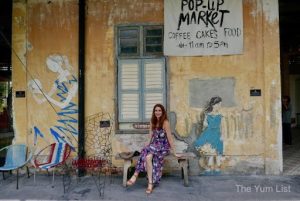 Monica Tindall enjoying her day in the streets of Malaysia 
In most countries, tasty food comes with not so tasty prices, if you get what we mean. However, here in Malaysia, we can assure you the food prices are very affordable. And Monica Tindall is here to back us up on that. 
She said, "When we first arrived, we were excited about how affordable and tasty the food was. We overdid it a bit and ended up with high cholesterol. We've since learned to take those temptations in moderation."
Now we agree that everything should be done in moderation, but is it our fault that the food here is absolutely divine? 
As for Mark, he agreed that almost everything he tasted was pure fire to his tongue, but soon he adapted to our culture and now prefers everything spicy. During his trips back to the UK, he is always on a mission to hunt for spicy foods.
Another uniqueness we get to flaunt is the diversity in our culture and traditions. We have different festivals in a year such as Deepavali, Hari Raya, Christmas, Chinese New year, Vaisakhi and the list just keeps going.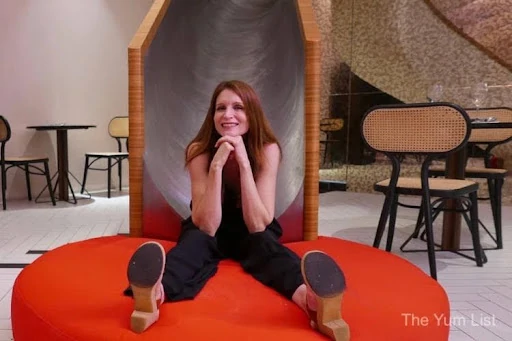 Mark O'Dea scouting for delicious and authentic Malaysian food (Source: Siakap Keli)
Mark O'Dea said, "I love how multicultural the place is and how there are so many different festivals and religions, but everyone seems to get on really well! In my country, different religions will usually keep themselves to themselves. 
Honestly, hearing this statement really warmed our hearts as it finally felt real and wholesome that we Malaysians share a unique bond like no other. Ralph Waldo Emerson once said, "Culture opens the sense of beauty" and we couldn't have phrased this any better.
Culture shocks
As much as we love our country, we cannot deny that culture shocks exist in every country, and Malaysia is no different. What may seem normal to you could be a mind-boggling situation to others.
As for Monica Tindall, her pet peeve was people who often broke road rules and folks cutting in lines. This isn't even shocking if you're reading this as a fellow Malaysian, and it isn't something we should be proud about.
Let's stop these acts, especially habits like breaking road rules because innocent lives are on the line. Life is too precious to waste on incidents that can be easily prevented. 
Here in POKOK, we are all about spreading positivity, and the only way to do so is if you keep yourselves safe. #Safetyfirst.
As for Mark O'Dea, his pet peeve is when people aren't punctual. After reading this, we're pretty sure that a lot of us are hiding behind a wall because all of us can plead guilty to this.  
Although this may come across as a common act here in Malaysia, we must realise that punctuality is a sign of discipline and respect towards our lovely colleagues. 
It's time we all turn over a new leaf and apply punctuality as a daily commitment to our daily tasks. 
Such as work, meeting up with a friend or heading out for lunch. We cannot use the culture card forever, you know.
Most welcoming moment.
Travelling to another country can be nerve-wrecking let alone settling in one. People tend to leave behind their loved ones for years without having any emotional support surrounding them. 
This reason alone is why many people are afraid to take the leap of faith to venture into different countries and pursue something their heart has always desired.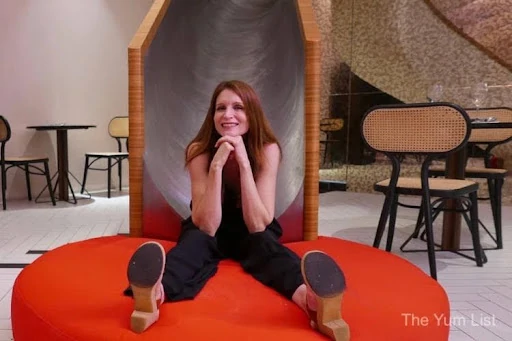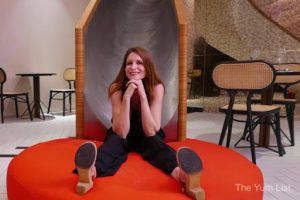 Monica Tindall having fun in Malaysia 
As for Monica Tindall mentioned the times people portrayed their love and affection when they sent food and offered kind words while she was ill or in trouble.  Sometimes little gestures by people are all that matters to feel loved and accepted. 
Malaysians are known for their kind hospitality and endless words of wisdom. If you ever need a cheerleader by your side, count us in.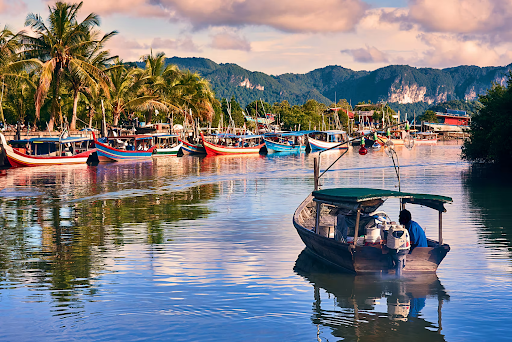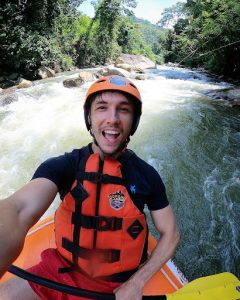 Mark O'Dea having fun on vacation
Getting back to the topic of culture and traditions, Mark O'Dea's most memorable moment was partaking in the festivals that are commenced every year in Malaysia. 
He shared, "I met so many incredible people who introduced me to their culture! I have Indian, Malay and Chinese friends and have been invited to the three major festivals (open houses) and when I was invited I felt so welcome and honoured to be invited! In the UK, you wouldn't just invite anyone over to your house for Christmas, so it was a culture shock, but a delightful one!"
Lets just say no one would be willing to humble themselves to the same level of hospitality that only Malaysia can provide.
Best thing in Malaysia.
Food and festivals are undoubtedly Malaysia's finest treasures; however, Malaysia is also filled with breathtaking views and weather.
The locals may disagree with this statement as it's usually scorching hot here. However, try residing in a country where it gets cold enough to freeze your fingers. Probably best to reconsider your decision.
Monica Tindall and Mark O'Dea both fancy the weather and the gentle nature of the locals here in Malaysia.
However, we are head over heels from the fact that both Mark O'Dea and Monica Tindall share the same love of food here in Malaysia.
The food in Malaysia is truly one of our prized possessions. With the diversity of cuisines, Monica never fails to run out of content to write about in theyumlist.net.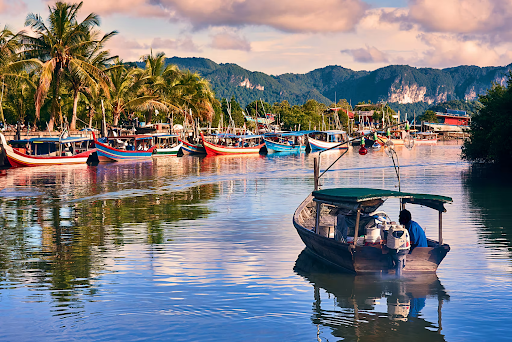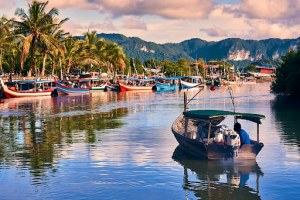 Malaysia truly Asia (Source: Lonely Planet)
Is Malaysia your second home?
What really is the definition of a second home? Is it the second country you've ever visited, or is it the second place that felt like home? Because from our understanding, home is where the heart lives, and every country you decide to reside in should radiate that fluttering feeling in your heart.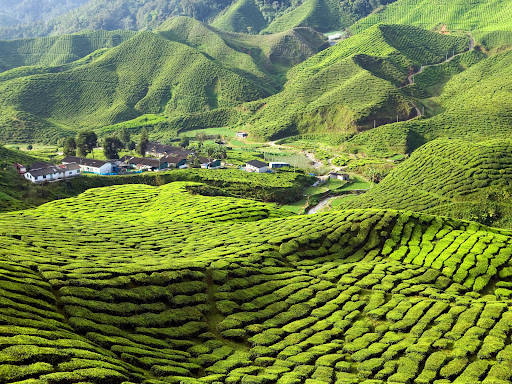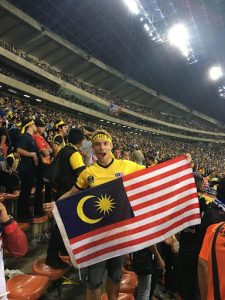 Mark O'Dea supporting the Malaysia's football team
As for Mark O'Dea and Monica Tindall we are thrilled that they both love living in Malaysia and consider this country as their second home. 
Mark O'Dea elaborated, "Yes! I have lived here more than 5 years , have amazing friends , know so much about this country, and never wanted to leave! That feels like a second home to me!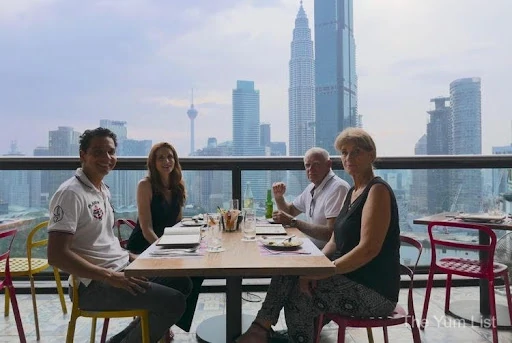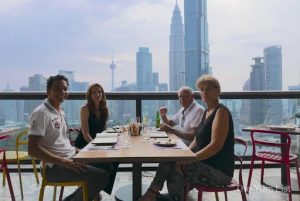 Monica Tindall dining together with her family with the iconic twin towers as her view
While Monica Tindall quoted, "I have lived in Malaysia more of my adult years than in Australia. My friends, career and connections are here, so yes, it feels like home.
Home isn't just the four walls in your home, but it is the place where your heart resides that brings joy and everlasting memories. Some might even call it their "Happy Place".
Struggles that you faced
A massive issue when travelling to different countries is the language barrier. Travelling alone can be tough, so imagine living in a country where the native language is Bahasa Melayu.
The language barrier can be a significant disadvantage, especially when communicating with the locals, as many of them are only fluent in Malay. But remember, nothing is impossible because Mark proved that you could adapt to the culture and language from scratch with a bit of practice. 
Mark said, "The language when I travelled to more rural areas , tapi sekarang saya belajar BM dan saya boleh fasih sikit sikit!! So I have got over that!"
Practice makes perfect, and Mark definitely aced the Malay language. 
As for Monica Tindall, transportation was a challenge before e-hailing services and grab rides were introduced; getting a taxi was literally mission impossible as it was hard to convey their thoughts.
Oftentimes Monica also felt unsafe, which is understandable because who in their right mind would hop into a taxi without knowing the driver and their intentions.
Ever considered moving away? 
The temptation to leave and travel to different countries is always there, and it might never go away because we are all adrenaline junkies by blood. 
It is in our DNA to travel and experience cultures from different countries because you only live once.
As for Monica Tindall, she loves exploring and has had her fair share or travelling around the world. 
Travel restrictions were implemented due to the pandemic. Hence, Monica has to reconsider her travel options.  
Pandemic aside, Monica still loves residing in Malaysia even after all these years. Hence, she decides to keep staying in Malaysia.
As for Mark, it was a completely different reason. Getting homesick is common, especially when you live in a whole foreign country. 
People can easily get homesick from just moving homes, so just imagine not being able to see your loved ones for years.
One fine day you could be working, and at the very next moment, sweet memories from your childhood will start creeping up on you again. 
It's an endless rollercoaster ride of emotions but at the end of the day, remember that you are a strong individual and always remember the light is always at the end of the tunnel.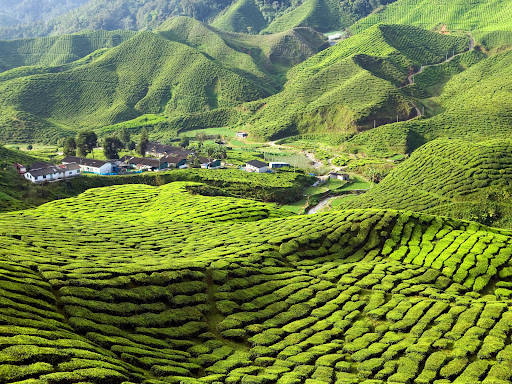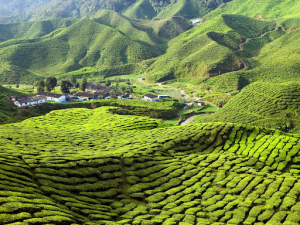 Tea Plantation located in Cameron Highlands (Source: Conde Nast Traveler)
How has Malaysia changed you?
We strongly believe every milestone in a person's life leaves a significant impact. Every decision and experience is a learning process, and it moulds you into becoming the person you were meant to be.
Mark strongly admires the fact that he can now speak in two languages, and the best part, his tolerance to spicy food has skyrocketed from the first time he arrived in Malaysia.
Monica Tindall also agrees that living abroad changes you as a person. In her words, "It opens your mind to a range of perspectives, beliefs, interests and ways of doing things. Travelling and living abroad encourages flexibility, adaptability, compassion and empathy.
Life is all about learning and experiencing, which is why we are glad and honoured that both Monica Tindall and Mark O'Dea have had pleasant experiences here in  Malaysia and here's to having many more cherishable memories in the land of diversity and versatility.