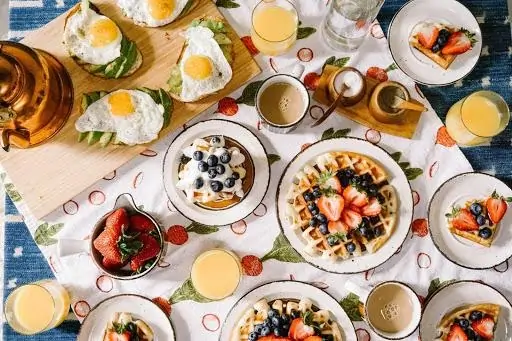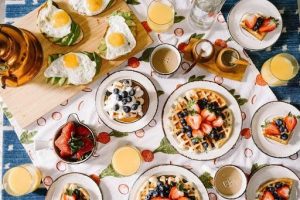 Thinking of changing your profession this year? Try being a chef! 
Despite it being a new year, new you (maybe for most), we're still stuck with the same pandemic, somewhat same lockdown, and the same life uncertainties. 
However, what did change are the internet food trends we have this year. Back in 2020, we had whipped coffee, rainbow loafs, strawberry sandwiches, and a few other weird but delicious food creations. So what does the internet have for us this year? 
As we move towards the second half of 2021, there's a whole new line up of food trends and recipes prepared by the people of the internet. We would say some are extravagant which require multiple ingredients and a number of processes. But there are also simple ones that require minimal effort than the rest and still produce the same level of deliciousness. 
With that said, take a look at these food trends you can try at home. They're simple, tasty and require minimal effort to create them! 
Bite Sized Banana Pancake
Who doesn't love pancakes for breakfast? Or lunch, or dinner even. When it comes to pancakes, any time of the day is suitable! 
Pancakes are conventionally made to be shaped as big as your hand. Maybe slightly smaller if you have massive ones, and, decorated with fruits on top of the finished product. So far, we haven't stumbled upon any recipes that do bite sized, fruit-coated pancakes before. Until now, and how Gen Z's are saying it — They're bussin! 
Take a look at how Maddison from @maddisonskitchen made hers with bananas.
To make it extra easy, we recommend you get pre-mix pancake batter from the store. This way, you get to minimize the process even more. 
Video: https://bit.ly/3xnwzvU 
Ingredients:
Store bought pre-mix pancake batter

Bananas 
Preparation:
Step 1
Using the store bought pre-mix pancake batter, all you have to do is follow the instructions on the packaging to get your batter ready. 
Step 2
Slice the bananas into pieces. Be mindful when slicing them. The measurement should be medium thickness. After that, preheat your pan. 
Step 3
Take a piece of the sliced bananas, dip it into the pancake batter, and cook it on the heated pan. To know if it's cooked, flip it over on each side once it turns golden brown. You then repeat the process until the bananas are finished. A reminder, make sure that the bananas are fully coated when you dip them in the batter.
When you're done, plate your bite-sized banana pancake and pour over some maple syrup, honey, or go for chocolate syrup just like how Maddison did with hers! 
Baked Feta Cheese Pasta
Alright folks, it's pasta time! 
We're pretty sure you've seen this one before as it's all over the internet. We're including this on the list as we've tried it ourselves and to say the least, it was amazeballs! They're delicious, versatile, and you could tweak the recipe a little to fit your preference. 
A few people have tried this, but here's how the original creator, Jenni Hayrinen or @liemessa, made hers!
Video: https://bit.ly/3cKXrhn
Ingredients: 
Your choice of pasta

A block of feta cheese

Cherry tomatoes 

Garlic cloves

Spinach 

Chili

Salt and pepper 

Olive oil
Preparation: 
Step 1
Use an oven safe dish and place the tomatoes as well as the garlic cloves inside it. Pour over olive oil on top of them and mix it well. This is to ensure that both ingredients are coated evenly. 
Step 2 
Place the block of feta cheese in the middle. You can add some sliced chilli on top of the cheese if you prefer a little kick to your pasta. Pour a little more olive oil all over the dish and sprinkle some salt and pepper to taste. 
Step 3
Pop the dish into the oven and bake it for 15 minutes at 400F or 10 minutes at 440F. In the meantime, boil the pasta. Once the oven rings, take it out and smash the ingredients together to create your pasta base. 
Step 4
Add a handful of spinach into the base and your pasta afterwards. Mix everything together and you're good to go. 
Plate your pasta and voila! You're baked feta cheese pasta is done. If you're feeling a little adventurous, you can try out these different variations. They're creative and all taste as good as the original one! 
No Bake, 3 Ingredient Creme Brulee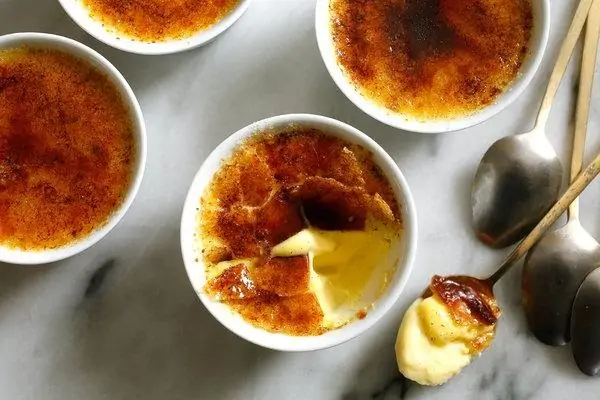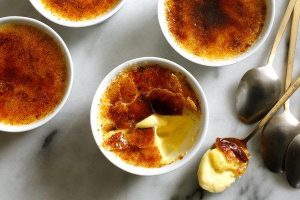 Creme Brulee isn't a common dessert you can find at your nearest cafes or restaurants. Which, if you wish to make them at home, it'd require multiple ingredients and steps to get your final product. 
You're impatient? Well I guess you're in for a treat because this recipe will allow you to whip it up with just 3 simple in house ingredients! Take a look at how Roice Bethel or @noflakeysalt made his! 
Video: https://bit.ly/3xqBZXa 
Ingredients: 
Vanilla ice cream 

3 Egg yolks 

Icing sugar
Preparation: 
Step 1 
Scoop 1 cup of vanilla ice cream into a microwavable bowl and melt it for 45 seconds. Add 3 egg yolks into the bowl and mix it well. The batter should have a pale yellow colour to it. 
Step 2 
Transfer your batter into a pan to cook it. Make sure it's on low heat and stir it slowly until it thickens up. This would only take a few minutes. To know if it's ready, grab a spatula and slide it across your pan and it should show you a thick consistency to your batter. 
Step 3
This time, transfer your cooked batter into any dessert saucer you have at home and freeze it for about 2 hours. 
Step 4
Once it's frozen, drizzle some icing sugar over the top layer, torch it, and you're done! 
Grab a spoon, tap through the creme brulee, hear the sweet, crispy crack, and enjoy your no bake, 3 ingredient creme brulee.
It's Chef Time! 
There you have it. We've listed down 3 different simple and unique internet recipes you can try out at home. 
Now, you're all set for breakfast with the banana pancakes. Lunch or dinner is served with the feta cheese pasta and you have your 3 ingredient creme brulee for dessert. 
Oh, these simple pleasures in life. 
So, try these out and don't forget to let us know how it goes down below!