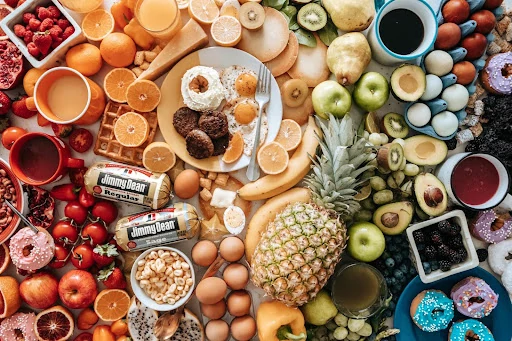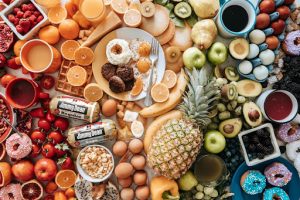 We will never run out of ingredients to experience food at its best form. (Source: Unsplash)
It is fun to experiment on food combinations.
Combine the traditional tastes for an exciting outcome.
Make food addictive, make food flavorful.
Let's be real; food is life, life is food!
It doesn't matter if it is a bowl of rice or even a packet of chips, enjoying food in any form holds power to provide comfort to every individual. 
In this 21st Century, many elevations have been applied to the recipes to make your taste buds dance in excitement. But let's tone it down a little bit, get our microscopic glasses on and pay more attention to the simplest of food combinations that can also work well excitingly.
It's time to get fun and creative!
Ice-cream And Fries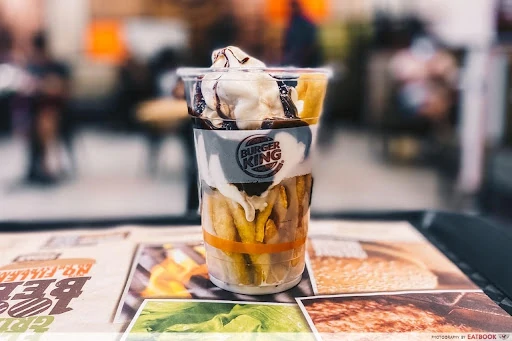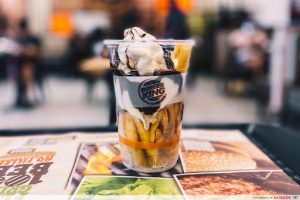 You get to experience the balance of hot and cold in every bite. Source: EatBook
"Will you marry me?"
"Yes!"
Absolutely, the food marriage that you never thought you needed. 
Have you ever thought about combining these two significantly different flavoured foods and making them a go-to snack? The saltiness and hotness of the fries mixing with the sweetness and the coldness of the ice-cream can literally blow your mind away. 
All you have to do is take it, dip it and eat it. 
Watermelon And Salt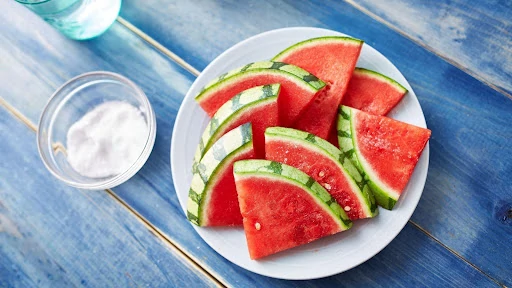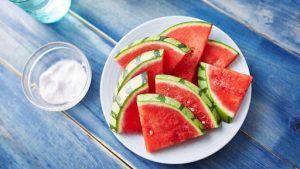 Juicy, sweet and salty, experience all at once. Source: Huffpost
This is the savoury-sweet combo that you never knew you needed!
Watermelon generally has three different taste elements, which are sweet and sour. Sprinkling salt on a cold slice of watermelon can help in lessening its bitterness. Apart from that, it also aids in enhancing the sweetness of the juicy slice!
Indeed, this food combination becomes an ideal option during a hot day.
According to science, our body craves salty food when we lose sodium through sweat. Hence, eating cold slices of watery, tasty watermelon with salt added to them seems like a good idea to get through a sunny day, no?
Let the juice drip down your lips as you enjoy a mouthful of the refreshing bite of savoury-sweet watermelon. 
Mango And Chili Powder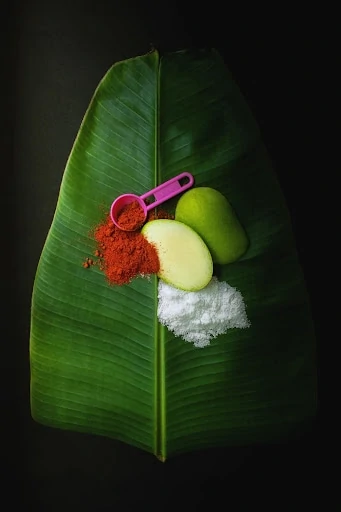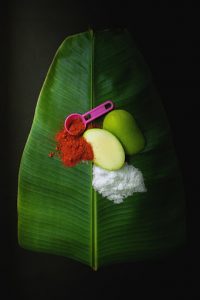 Spice things up whenever you can. Source: Pexels
Interested in adding a little spice to your everyday mango break? I bet you are!
It doesn't matter if it is a sweet or sour mango; coating it with a hint of chili powder before consuming it is highly recommended. A punch of sweetness or sourness that hits after a wave of spiciness is undoubtedly  an experience to live for.
Who knew fruits could also get mouth-wateringly spicy, right?
Peanut Butter And A Burger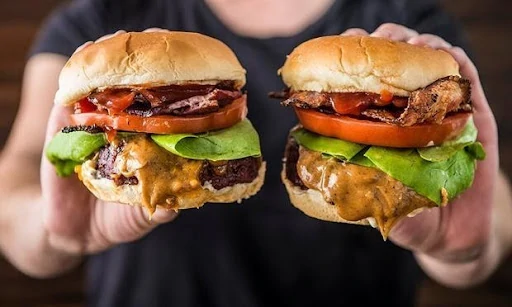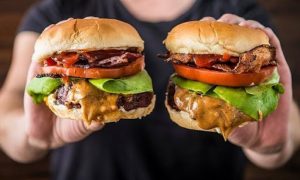 It is never an ordinary burger if you have peanut butter in it. Source: Traeger
What is better than munching on peanut butter jelly toast with a cup of coffee on a Sunday morning? Heaven indeed. 
But how about switching up things a bit further? Has it ever come to your mind to incorporate peanut butter into a burger? I bet! Never in a million years.
Try it, and you might even start preparing that for your everyday breakfast. 
As salty as it sounds, do you know that adding melted peanut butter into chicken or beef patties can make them juicier? You can even substitute the common dressings such as ketchup, chili sauce, mayonnaise and thousand island with melted peanut butter. 
Let it ooze in every bite you take. Sometimes, getting all messy is sexy, you know. 
Honey And Pizza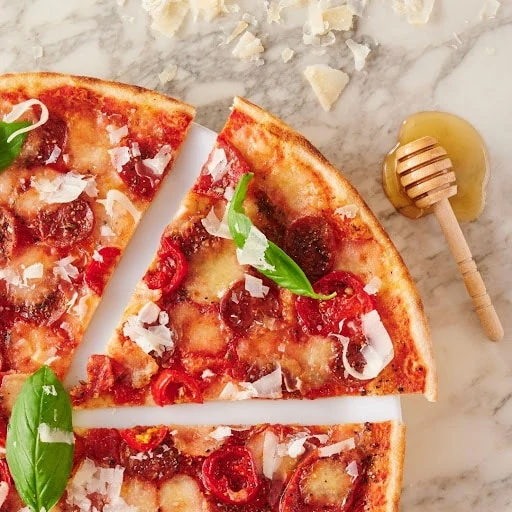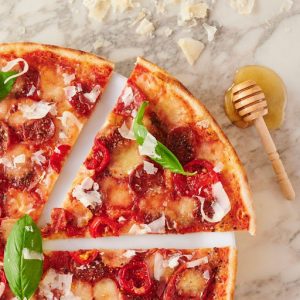 A new definition of pizza. Source: Twitter
"Honey, do you want pizza?"
"I want it honey-ed, honey!"
If you are bored of eating pancakes with honey, for a change, try adding honey on a slice of pizza for a start. 
Yes, we are back at it with the salty-sweet combination, but it's almost like a love story this time. 
All you have to do is drizzle some honey on your pizza and wait for the flavours to explode in your mouth –  particularly, hot honey.
The sweetness of honey plays well with the saltiness of the cheese and the meat toppings on a pizza. It can create a symphony of taste that makes pizza taste even better than before. 
This is a love story with a happily ever after ending. 
Ice-Cream And Sriracha Sauce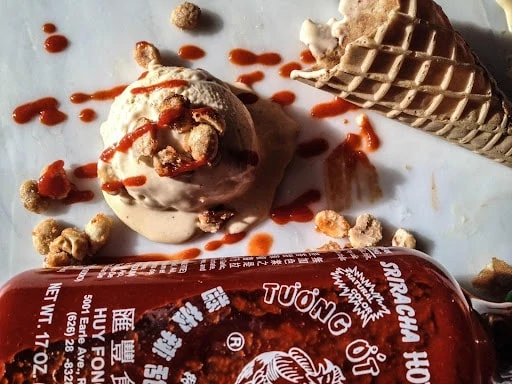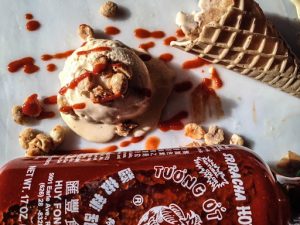 Ice-cream could never have tasted any spicier. Source: An Ice Cream Blog
This food combination might make you scream, quite literally.
Usually, people would consider consuming cold food or drinks to deal with the spiciness in food. But, let's make it adventurous and add the spiciness to the cold food itself. 
Add Sriracha sauce into the ice-cream batter and wait for the flavour to make you go bananas. You can even use it as a topping for your ice-cream. Get a tub of ice-cream and a bottle of Sriracha sauce from the nearby supermarket, then drizzle the hot sauce on every scoop of the ice-cream. 
Taste the sweetness and the spiciness in every lick!
As crazy as the combination idea sounds, life is too short not to take risks ey! Let it be cold, let it be spicy.
Coca-Cola And Peanuts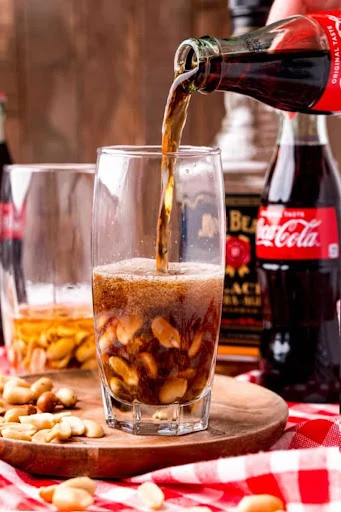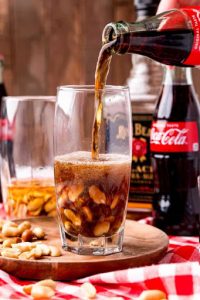 Life changing experience with a glass of coca-cola and salted peanuts. Source: Bread Booze Bacon
No, you are not going to choke on the drinks. Relax.
This food combination is a two-in-one snack that you should try making at home. The perfect fizzy, salted-sweet drink can give you a life-changing experience that could make you addicted to unusual combinations as such.
Trust me, soaking peanuts in coca-cola isn't going to make them soggy and disgusting to consume. 
The saltiness of peanuts will dissolve in the drink, and the sweetness of coca-cola will get absorbed into the peanuts. In a way, it's a mutual victory to be applauded at. 
Stop munching on peanuts and drinking coca-cola separately at this very moment. Instead, start dropping the peanuts into the coca-cola and savour them together! 
Don't Miss Out In Life!
You only live once, so get the curious hat, try these exciting ideas and experience the fun hidden in every combination mentioned above.
Share your story when you have tried them, or maybe if you have something better to suggest, don't be shy to leave a comment below!