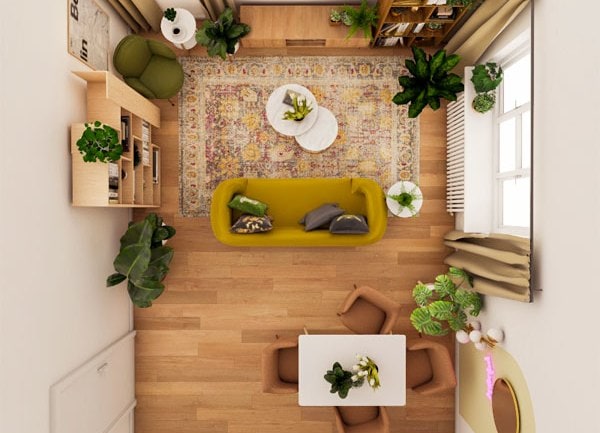 This article was originally published on StylishDekor
Why do we love Mid Century Modern look? I personally love the earthy tones that give that relaxing outside feel. Mixed with iconic furnitures can really make the interiors one of the kind. Let's look at this open plan living room with warm mid-century modern accents.
Here are the room measurements: 26.8m2 /289 ft2 or 4.07m/13.30ft by 6.60m/ 21.6 ft.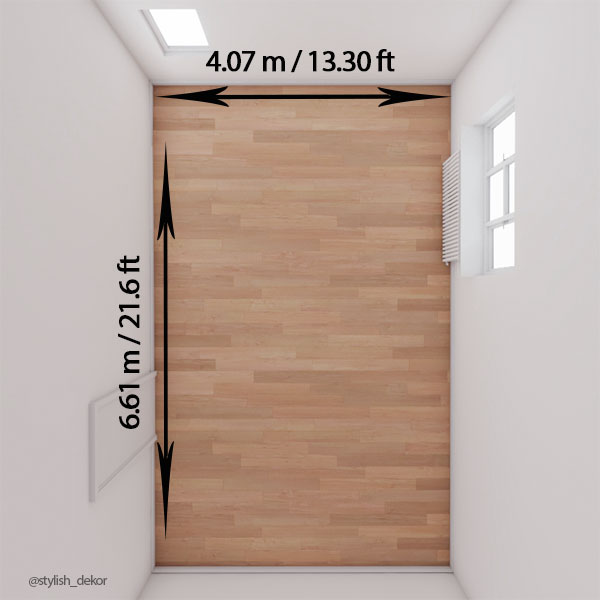 The Layout
The room has a great size for an open plan concept. There is enough space for one wall kitchen, dining area and a living area. Instead of separating space with walls, space is divided with furniture. The dining area is emphasized with an arch wall block, that is decorated with Good Vibe Only neon sign, Parton 60cm Mirror, paired with Vetro Floor Lamp and Monstera Plant.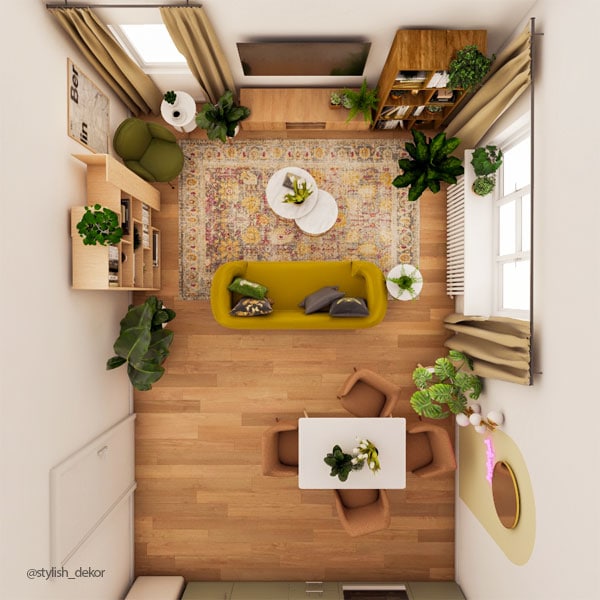 For the dining table, I chose the square Slabay Dining Table simply because it's symmetrical to the one wall kitchen. Together with Orange Lule chairs, it creates perfect family dining. If you wish to see this dining in a different setting you can check out this post. The living area is defined by a colourful Safavieh Gladys Transitional Area Rug 200 x 300.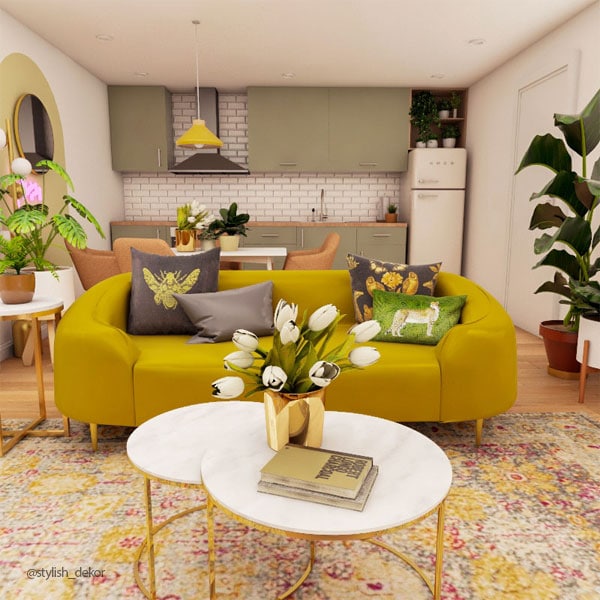 The Decor
Gold velvet Trudy 3 seater sofa is a real show stopper of this decor. Styled with ZRiva Paoletti Cerana Cushion, Lutanky Velvet Cushion and Riva Paoletti Cheetah Forest Cushion, Velvet Gold and Black Animal Print Cushion. All of these cushions have that lush feel with a mix of dark tones, gold and green.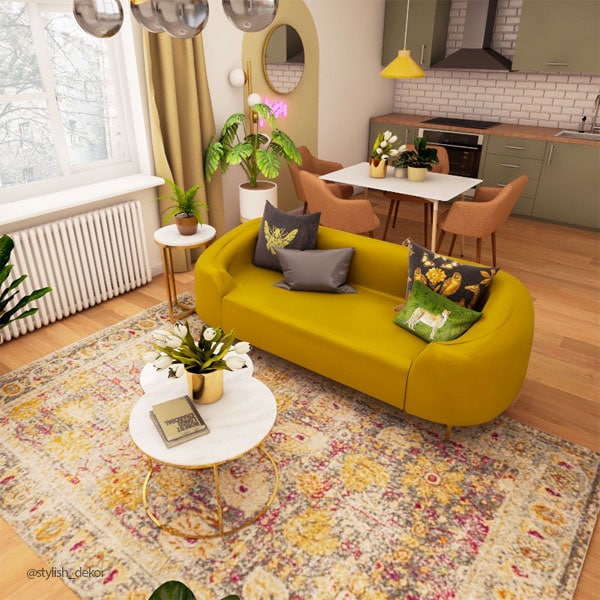 For extra comfort, there is a Round Modern Side Table just beside the sofa. It's the perfect place to place any decorative items or plants. In the middle of the room, there is a Marble Coffee Table which comes in stylish marble and gold finishes.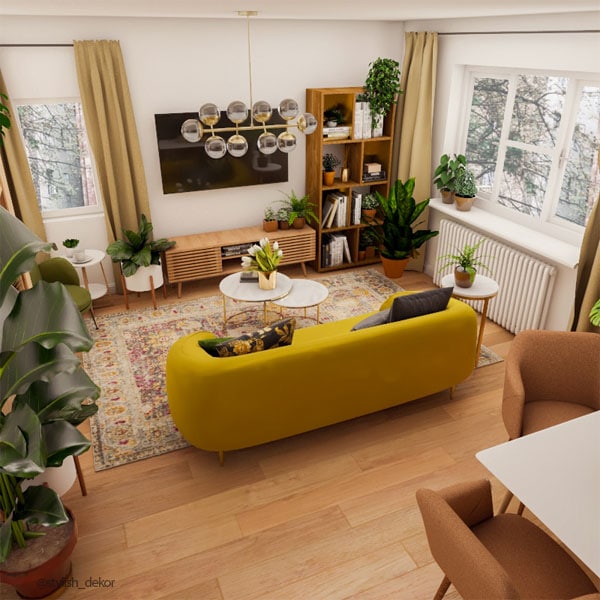 This room has enough space for extra storage. Therefore, there are quite a few shelving units to create that perfect mini library. There is Doyle extending shelving unit on one side and Anderson Shelving Unit on the other. And next to the Anderson unit, there is Tulma TV stand with Oak effect.
Finally, to have the whole library feel there is a cosy corner with Bonnie Accent Armchair and comfortable and Small Round Side Table.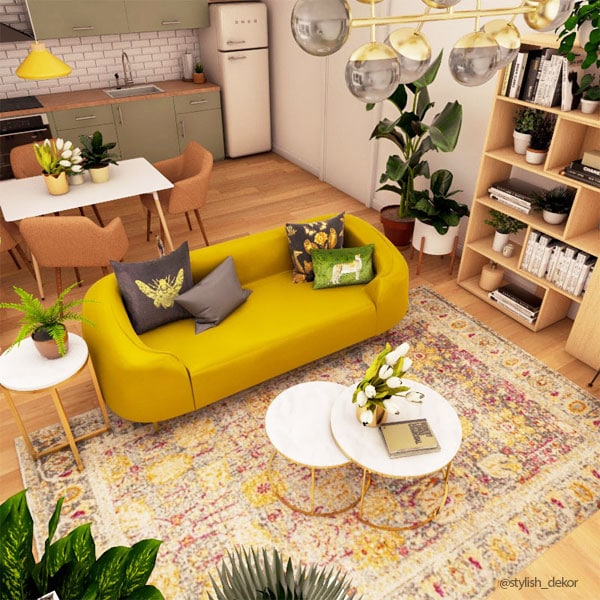 For added glamour, you can't go wrong with Globe ceiling lamp. It definitely adds it's own character to the whole decor
Love the look? Shop the items below!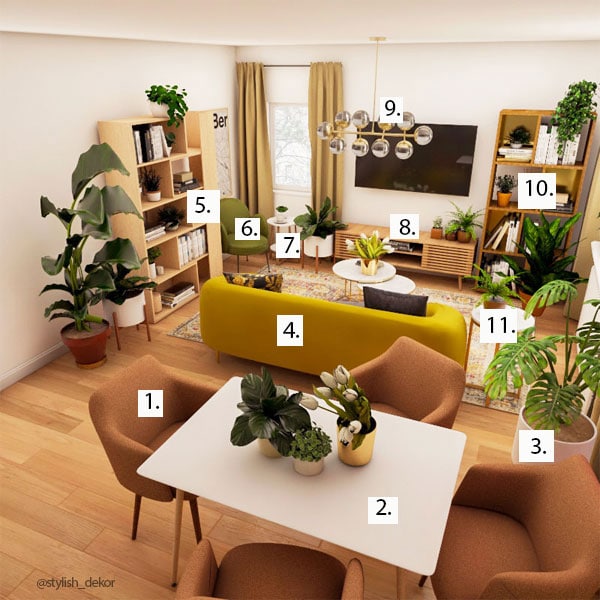 Orange Lule chairs

Salbay Dining Table

Monstera Plant

Trudy 3 seater sofa

Doyle extending shelving unit

Bonnie Accent Armchair 

Small Round Side Table

Tulma TV stand

Globe ceiling lamp

Anderson Shelving Unit

Round Modern Side Table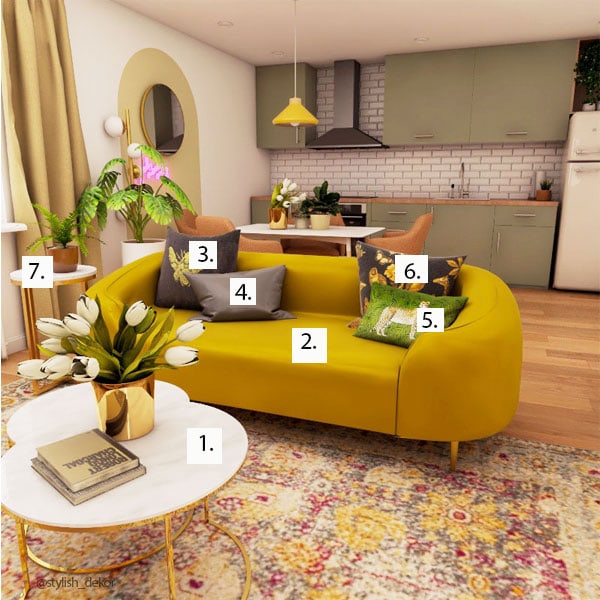 Marble Coffee Table

Trudy 3 seater sofa

Riva Paoletti Cerana Cushion

Lutanky Velvet Cushion

Riva Paoletti Cheetah Forest Cushion

Velvet Gold and Black Animal Print Cushion

Round Modern Side Table

Safavieh Gladys Transitional Area Rug