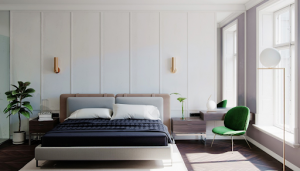 Headboards are all nice and cute until you see the hefty price tag they come with. 
However, with DIYs, there's nothing you can't really do and that includes headboards!
We bring you 5 creative headboard alternatives that you can easily try at home. 
As much as we all reckon the magical touch of headboards and bed frames, it's not always in the cards for some of us. It may seem only natural for every bed to be equipped with a headboard but then sometimes even simple things can become a luxury.
If you're in the midst of finding cheaper headboard options or simply having an itch for some DIY, then you've come to the right place. Yes, headboards are great but what if we say you can elevate your bedroom even without one? 
You heard that right! Headboards are not a necessity, they're just an extra fixture that adds personality to your room. But what better way to express yourself than creating it yourself?  Today, we bring you five of our favourite headboard alternatives for you to try out! 
Mural Walls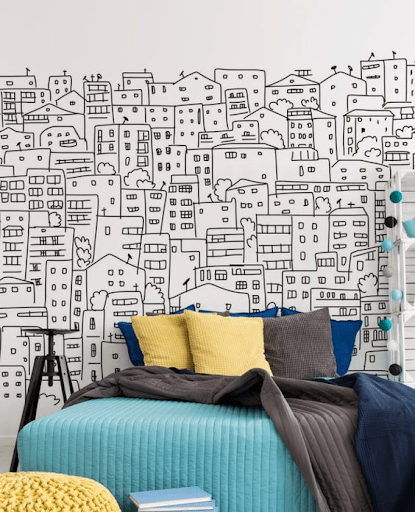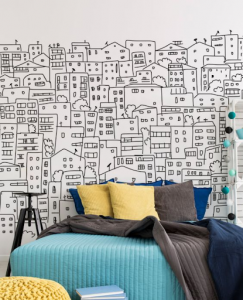 If you're an imaginative person who loves everything about art, then this is the one for you. With this trick, you'll land yourself with not only a headboard but also an outlet to express your creativity. 
We would say this is much more fun than having an ordinary headboard because you can personalise every bit of it. Your mural can be anything you like, from rainbows to even Scooby-Doo! Trust me, walking into a room that is filled with your favourite elements every day is pure bliss. So get your paint brushes ready! 
Hang Up Macrame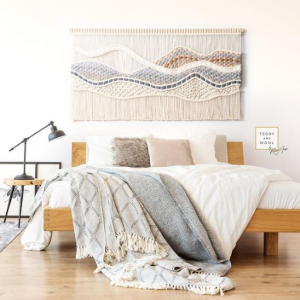 Boho enthusiasts, listen up because you will surely love this. If you are a fan of macrame then consider your headboard problem solved. 
Macrame doesn't just make the perfect home decor, but they are also a great minimalistic alternative for headboards. You can make macrame in any of your favourite patterns and hang them behind your bed, that's all it takes. The art of macrame might come off as challenging but it's actually a really fun craft. So with a few basics, you'll eventually master the art! 
Behind The Screens

If your wallet cries each time you plan to decorate your room, then this trick would be a life-saver. Vintage screens or room dividers are the easiest headboard alternatives you'll ever come across.
If you'd like to add a tinge of boho vibes and a whole lot of cosiness, then we'd suggest you opt for the ones made of rattan or wicker. Its warm tones and natural texture might make you want to stay in bed all day. Plus, it's almost effortless to set up or rearrange. So this version of a headboard won't burn a hole in your pocket nor will it require much of your time! 
Pillow Talk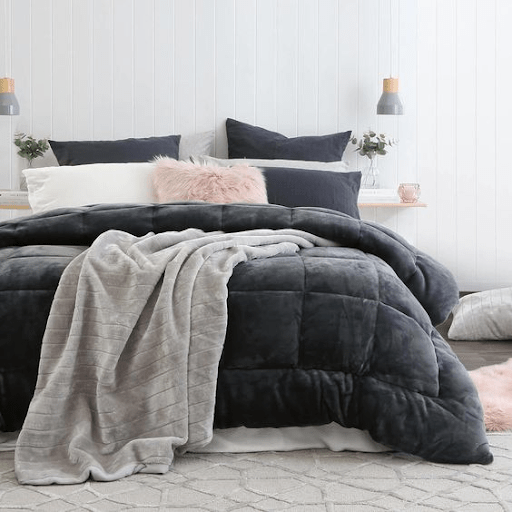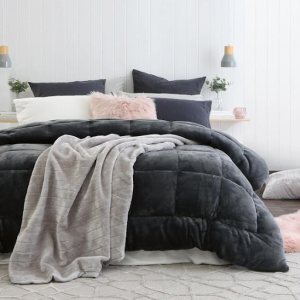 You love reading or having conversations on your bed, but doesn't it get slightly uncomfortable without a headboard? 
Well, we got you covered and that too with a more comfortable option than regular headboards. Who knew a couple of throw pillows could make such a great headboard?  All you need are pillows of your preferred size and simply hang them over a curtain rod behind your bed. To further jazz things up, you can mix and match coloured cushions that'll brighten up your room! 
Washi tapes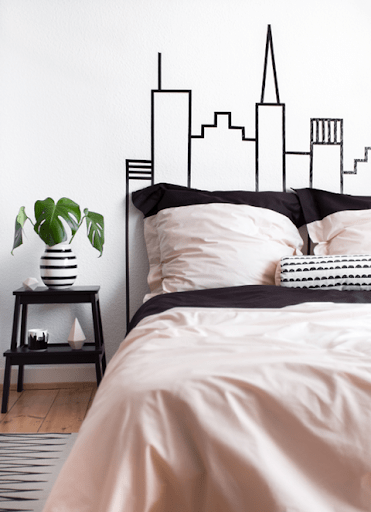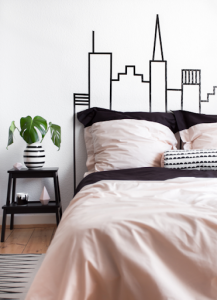 Have you heard of washi tapes? They are a type of decorative paper masking tape that'll surely sprinkle a little magic around your room. 
Don't worry, they're not expensive so you can get lots and lots of them. Just choose any pattern of your choice, outline them on the wall and simply layer it with these washi tapes. It's that simple. You can instantly add colours and fun elements to your room this way. Also, they can easily stick on surfaces and do not blemish them when removed, so you can confidently try this out! 
Time To Jazz Things Up
If you've been putting off getting a headboard because it was busting your budget, your problem just flew out the window. With these budget-friendly yet creative headboard alternatives, you're about to turn your room into a much cosier space. 
Among these five ideas, which one do you think will suit your room best? Or did we miss out on any of your favourite headboard alternatives? Do tell us in the comment section below, drop us an email at info@pokok.asia.ndo5ubdxld-xmz4qwjep42o.p.runcloud.link. We'd love to hear from you!