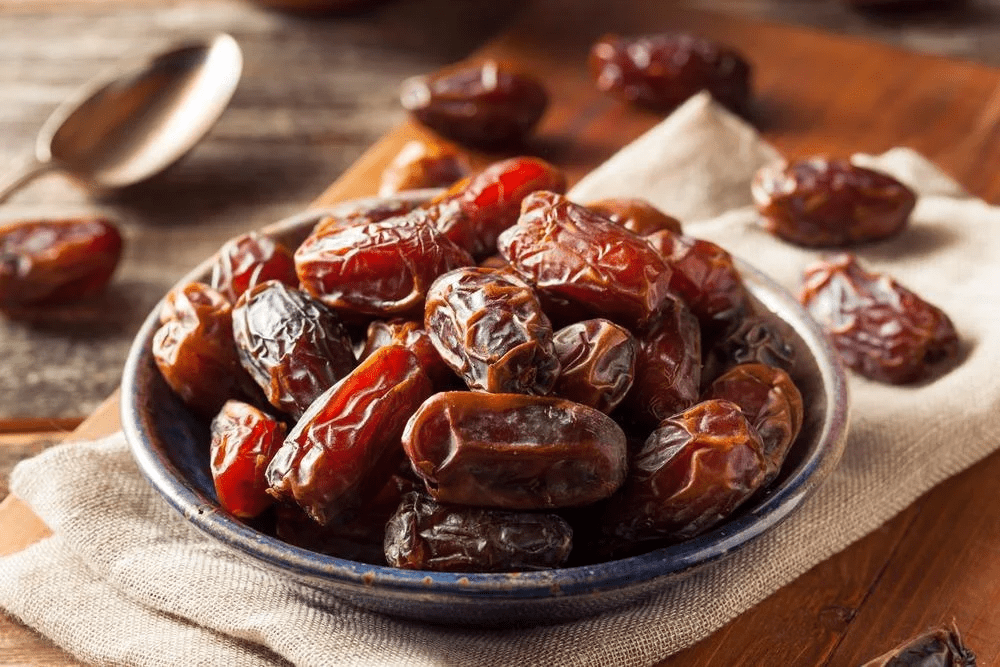 I wonder if I can eat these differently? Source: News Medical
Let's do an experiment using the extra dates 
Who says sweet and healthy don't go together? 
A sudden change in taste doesn't hurt
Dates sure can be full of surprises 
Ramadan is around the corner, and my dad has already bought packs of dates, enough to be eaten throughout the fasting month. In Islam, it is advised to eat 7 dates a day to get all the essential nutrients. 
Furthermore, our Prophet Muhammad argues that dates also prevent us from being poisoned or attacked by witchcraft. You know what they say, "Seven dates keep the doctor away." But other than that, I never get bored of eating dates since it is sweet by itself! As I'm eating them, I wonder if there's more that can be done from this scrumptious fruit? So I used my favourite app, TikTok, to find recipes for dates.
Yummy, yummy! Source: Chef Savvy
A recipe that focuses on my health but can still tantalise my taste buds with the sweetness? Take all of my money, please. This was the first dessert I stumbled upon, and my hands were already trying to reach out for them. Furthermore, the process is not just easy, but healthy too! If you want to check out more dairy and gluten-free recipes, you may visit Emily Daniels on Tiktok. 
You only need these 6 ingredients:
1 1/2 cups of dates, packed 

1/2 cup of peanuts 

1/2 cup of salted natural peanut butter 

1-2 tablespoons of agave or honey 

Few shakes of cinnamon 

About 1/4 cup of chocolate 
So, you take 1 1/2 cups of packed dates, 1/2 cup of peanuts and salted natural peanut butter, 1-2 tablespoons of agave or honey, and throw it all in the food processor. Oh! Don't forget a few shakes of cinnamon. Now grind them all together. 
Press the mixture evenly into the parchment paper pan. Next, you melt 3/4 cup of chocolate and pour it into the mix before freezing them. Finally, thaw them before cutting them into small pieces and share it around!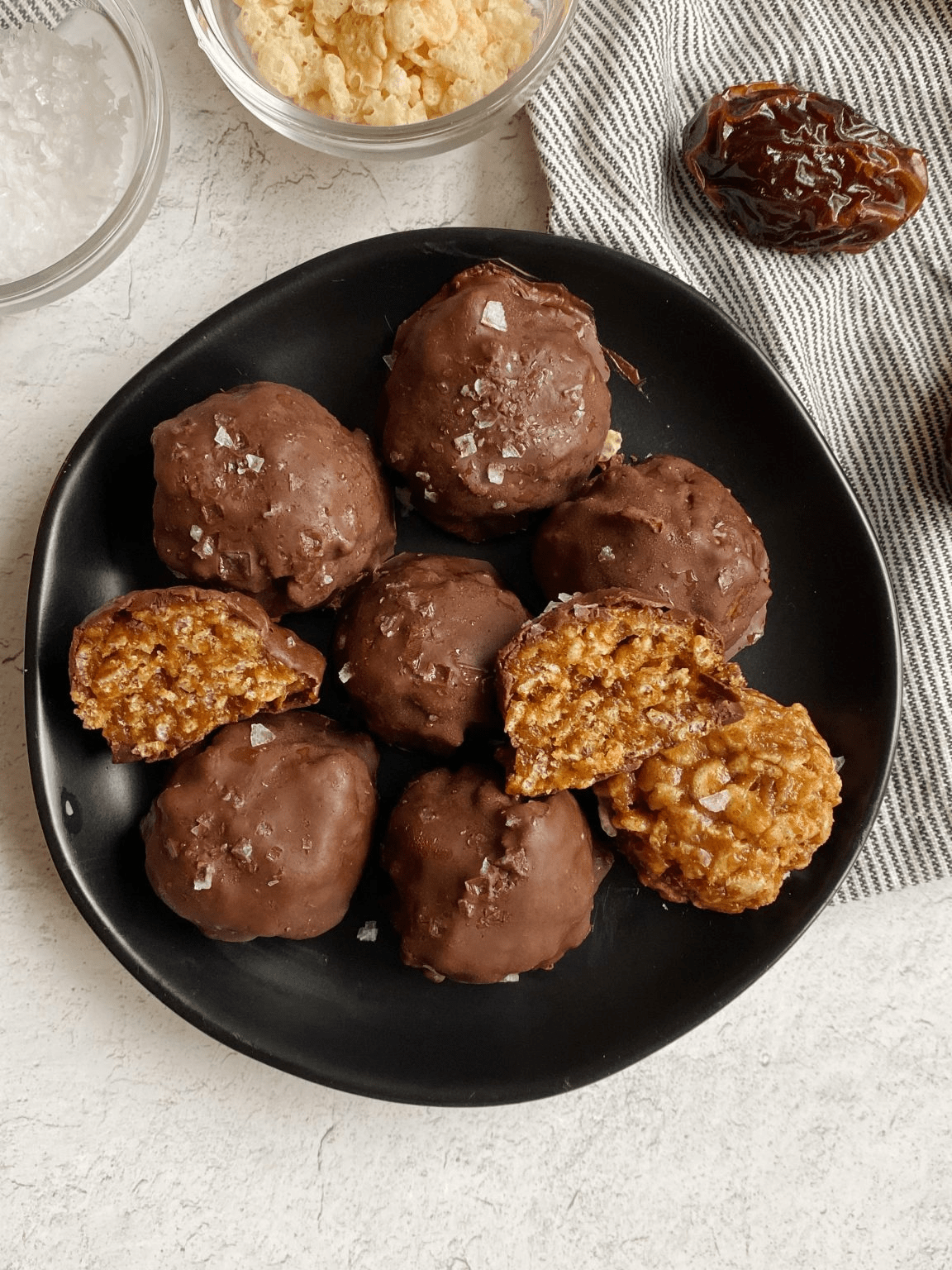 From chewy, to crunchy to a change in taste! Source: Gal Shua-Haim
Date can sometimes be too chewy for some people, making them lose interest in eating the fruit. However, by following this recipe, you'll witness a new type of taste! When you eat it, you'll notice the sticky texture at first, where you can taste the salty flavour. Next comes the hint of sweetness from the chocolate and then the sudden crunch from the cereal and dates.
You only need these 8 ingredients:
2 cups of Medjool dates, pitted 

½ cup of natural almond butter 

3 cups of crispy rice cereal 

¼ cup of plant-based milk 

3 tablespoons of water 

A pinch of sea salt 

¾ cup of chocolate chips 

1 teaspoon of coconut oil 
First, mix your preferred dates, almond butter, plant-based milk, and a pinch of salt. Then blend them together for about 1 minute. But, I feel it doesn't look right. How about you guys? Add a tablespoon of water and continue blending it for about 2 minutes to get that thick, smooth mixture!
Now, transfer them into a mixing bowl and mix it until every spot of it is covered. Putting it aside, you line a baking sheet with parchment paper and start scooping the mixture with a two-tablespoon cookie scoop. If it's too small for you, no worries! You can now roll them as big as you want with your hands. 
When that is done, you freeze the sweets for 40 minutes. While waiting, you can start melting the chocolate chips with coconut oil in the microwave until smooth. You then dip the solid sweets in the melted chocolate before drizzling some of those flakey sea salt. For the finishing touch, you may harden them for an additional 20 minutes. 
And look at that! You now have your delicious date bites to eat for up to 3 months if you store them in the freezer. Enjoy!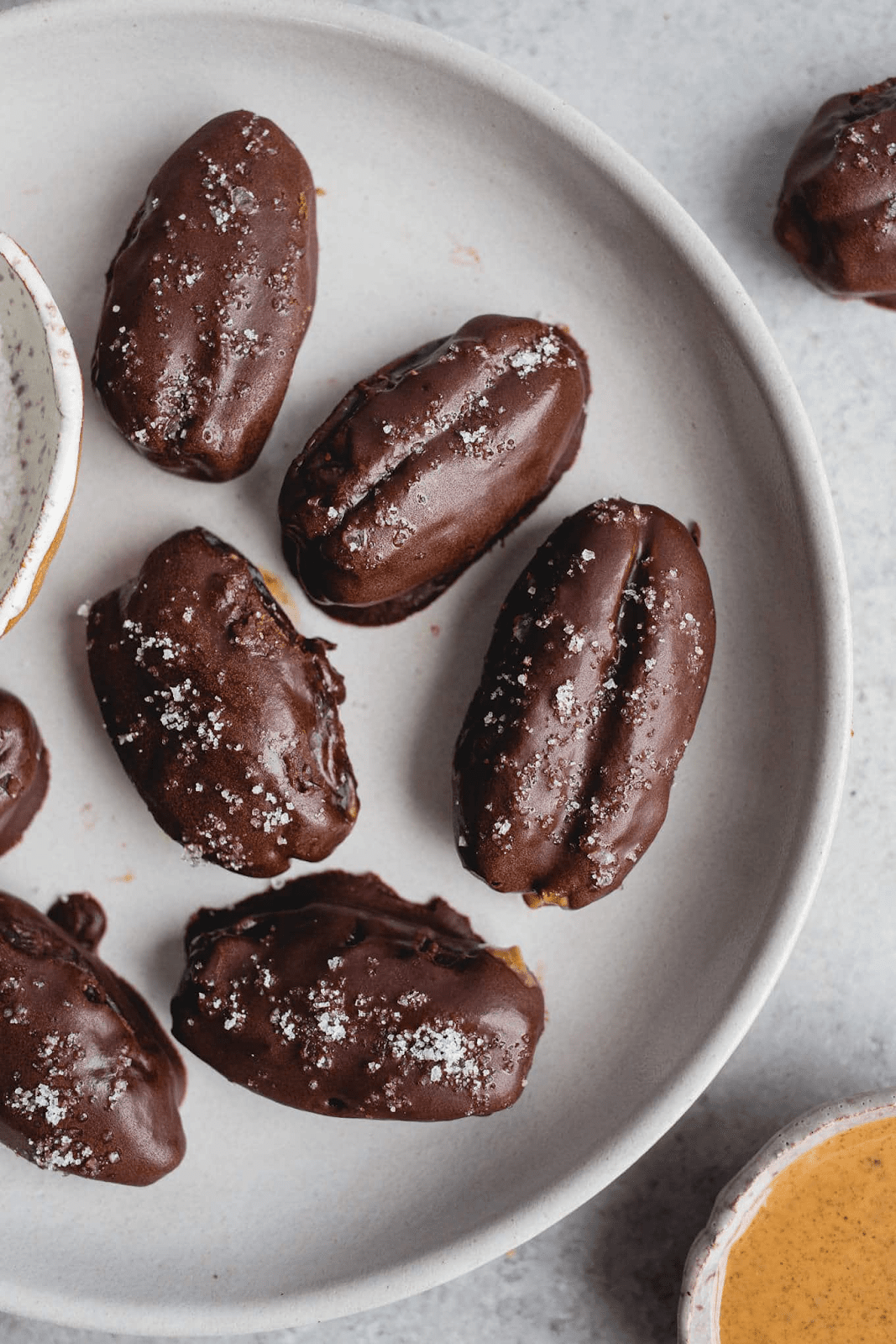 Looks normal on the outside, but incredible on the inside. Source: Salted Plains
If you're having a bad day, and want something to cheer you up, you can try this recipe! The chocolate-coated dates may look like a normal candy, but you will be surprised when you taste the peanut filling. It'll definitely make your day, especially since the combination fits well with each other.  
You only need these 4 ingredients:
Medjool date 

Peanut butter 

Dark chocolate coating 
You take your dates, cut them in half, but not completely! Just a bit will do so that you can add in a spoon of peanut butter inside. As you're doing this, you can melt any chocolate you prefer. 
I'm going to go for dark chocolate. I can imagine how the bitter taste compliments the sweetness of the date in combination with the peanut butter. Now coat the stuffed dates with your melted chocolate and freeze them. Then serve on a nice plate, drizzle some sea salt as topping, and you're done! Just a few ingredients can make such a beauty.
Let the date-creativity do its course
As you know, dates are not just healthy for the body but also for the mind. Hence why it's good to eat it frequently. However, as I've mentioned, celebrating Ramadan with the new norm tends to be hard since things can be repetitive.
When the dates become too dull for you to eat, you revamp them! A creative mind always has its way of coming up with new things. There's always the internet to help and more recipes for you to dive into. And now, you can continue showing your love towards dates!
Looking for more related article? Check them out here: