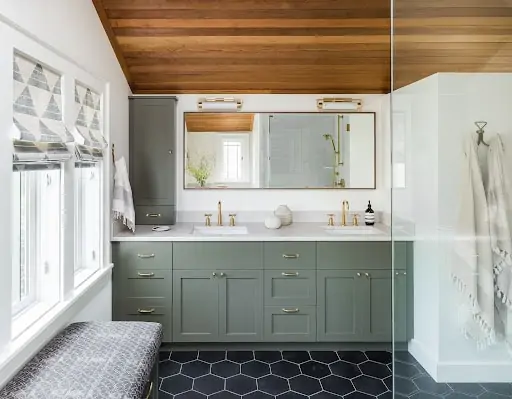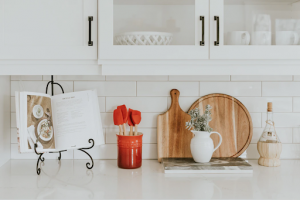 We all love our kitchens until the clutter creeps in.
 What if we told you there's an easy way to conceal the mess?
Together let's explore what's a hidden kitchen and its popular designs!
The craze for big and spacious houses is slowly dying down because most of us prefer smaller and cosier homes these days.  However, smaller homes are great until your space seems too crowded and cramped up. 
And that is exactly why the hidden kitchen trend is taking the world by storm. When we have very limited space, even having a basic kitchen can seem like too much. So if you've been squeezing your brain trying to figure out how to put together a kitchen that is both space-saving and aesthetically please, then consider your problem solved! 
Today, we take you along with us as we check out what's a hidden kitchen and all our favourite styles. With the help of this trick, people can barely tell that you've got enough kitchen space to even become a MasterChef! Come on, let's get right into it. 
What's A Hidden Kitchen?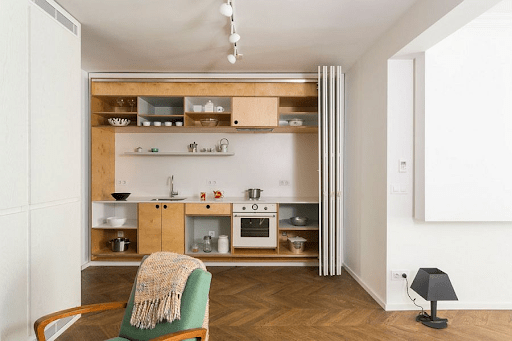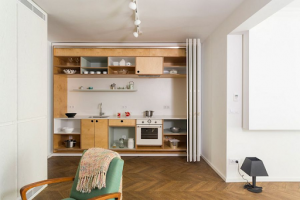 Don't take things literally when we talk about hidden kitchens, we're not planning to erase all traces of your kitchen! Instead, the hidden kitchen trend is all about camouflaging, concealing, and strategic space planning, which comes in handy when efficiently using a space. 
The whole idea is to blend your kitchen into the room inconspicuously, that nobody will even realise it's there! It's more likely to look like a part of the wall or décor rather than an actual kitchen. Well, I don't know about you but there's something about this style that gets me super excited! 
Imagine how luxurious your home would look with ample space and an alluring streamlined design. Now there's no way someone can ever resist that! The best part yet, you can simply hide any mess within seconds. Deep down, isn't that what we all love most about this trend? 
Why Join The Bandwagon? 
A hidden kitchen is definitely more than just a hype, it's a potential solution to some of your kitchen problems. Don't believe it? Then allow us to tell you more! 
Let's say your kitchen is a mess and suddenly you hear the doorbell ring. You have a sudden guest and now you either have time to fix your look or clear the mess. Oh, I can't imagine the tension! However, this need not be the case if you have a hidden kitchen because you can simply tuck the clutter behind doors in seconds. This way, come what may, but your home is always ready for guests! 
Besides, think of all the space it can save you. Behind those magical doors you can have shelves or racks for storage and let's not forget the hundreds of things we can keep in the drawers. This way you can maximise your existing space without needing any new furniture.
We can already sense how tempted you are to get yourself a hidden kitchen. Don't its benefits sound like music to your ears? Now, let us show you some of our favourite hidden kitchen styles, trust us, you'll love it as much as we do! 
Fold It In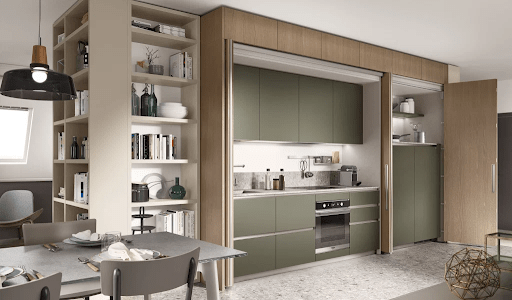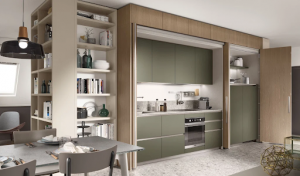 Folding doors are among the most popular styles when it comes to hidden kitchens. You can choose to have it separated into different sections or just a single foldable door. Thank god for the hinges, you can always have it any way you like! 
Don't worry about the doors obstructing you while cooking, they're designed in such a way that the door panels can be easily tucked away in a pocket space. If you're 5'2 like me, then reaching for high cabinetry can be a real struggle. So I'd suggest you have a hidden side compartment where you can easily keep everything at your eye level! 
When a modern and minimalistic kitchen is paired with a sleek exterior, it's just magic! No wonder the Italians love this concept, because we can't help falling in love with it too.  
Slide Away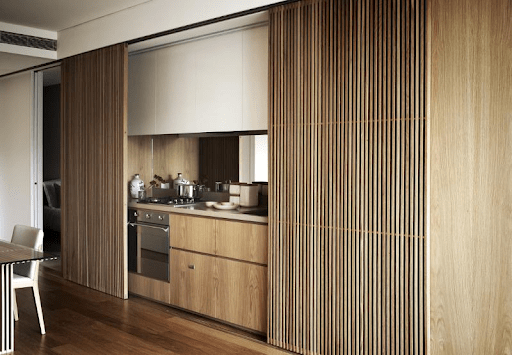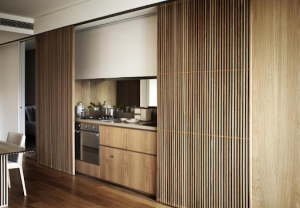 Don't like the hassle of having to fold the doors each time you want to use the kitchen? Well, there's an alternative that you might love! Instead of fixing foldable doors, you can opt for a sliding door. Easy-peasy! 
Sliding doors are a flexible option because they can conceal your kitchen chaos in a swipe and easily blend into your interior design. Yeah, playing peek-a-boo with your kitchen does sound fun, right? These sliding doors come in many exquisite designs with no handles attached, so they can serve as a textured wall that'll capture your guests' attention at a glance. 
From contemporary to environment-friendly designs, you have a sea of options to choose from! Personally, my inspos are the timber screen door and perforated slats from Koichi Takada Architects. So, do check them out! 
Tucked away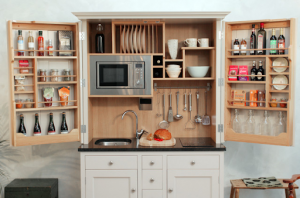 When we say we have something for everyone, we mean it! You love the whole idea of a hidden kitchen but your budget keeps haunting you? Or do you have very little space to work with? If your answer is yes, then this style is perfect for you! 
Unlike the previous hidden kitchen styles, this one truly maximises your storage space. It has doors with built-in shelves for you to store your cooking ingredients and other necessities. So if you're always running back and forth to get stuff while cooking, then this will be really helpful to you. 
What most people would love about this style is that they're super renter-friendly because it doesn't require any extreme renovations. So if your landlord has kept your hands tied with thousands of restrictions then you might want to try this cupboard kitchen style by Culshaw. 
The Magic of Hidden Kitchens 
A kitchen is the heart of any home because our day-to-day lives revolve around it. From fixing yourself a cup of hot coffee in the morning to cooking a scrumptious dinner for the family after work, we start and end our day there. 
Therefore, it's very important to have a kitchen that allows you to cook up a hearty meal in comfort. So if there's a hidden kitchen canvassed with an aesthetically pleasing overview that saves space? Take my money already! 
Among these three designs, which did you like most? If you're a fan of hidden kitchens like us, do tell us more about your favourite designs. We'd love to hear from you in the comments section below. Meanwhile, don't forget to catch more interior design trends on our website!