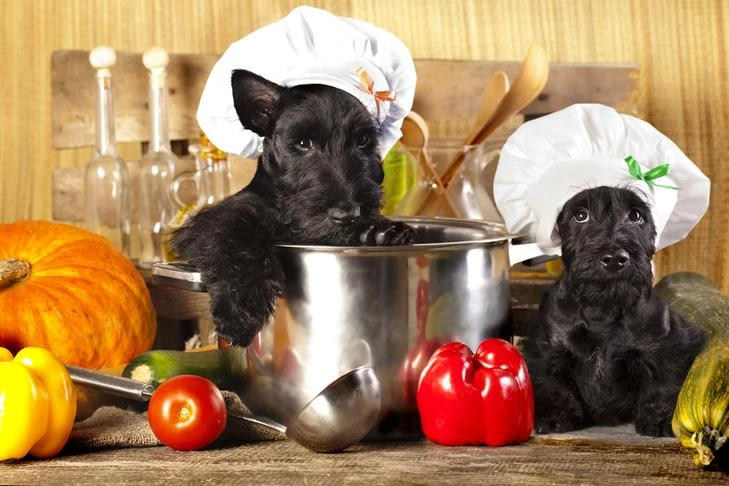 Wait. I thought cooking is only for humans?! Source: American Kennel Club 
DIY pet food is cheaper and healthier
An apple a day keeps the veterinarian away
Even humans can't turn down a peanut dog cookie
How about a recipe that busts fleas?!
Trust me when I say this; pet food can be more expensive than human food. Do you have any idea how much money my family spends on our cats and dogs? Hundreds of ringgit per month! Imagine that. Pet lovers can certainly relate to my predicament.
So I have been surfing the internet lately, searching for DIY dog recipes to reduce our food budget. And I am not disappointed. Reading through all the articles, I have to say that cooking your own pet food is way cheaper and healthier. 
Pet food from the shops is full of preservatives, but they are also expensive.  Talk about a poke in both eyes. Well folks, it is time to don our pink frilly aprons and get messy. Because today, we are making our own dog treats. Woof!
1/ Frozen Apple Cubes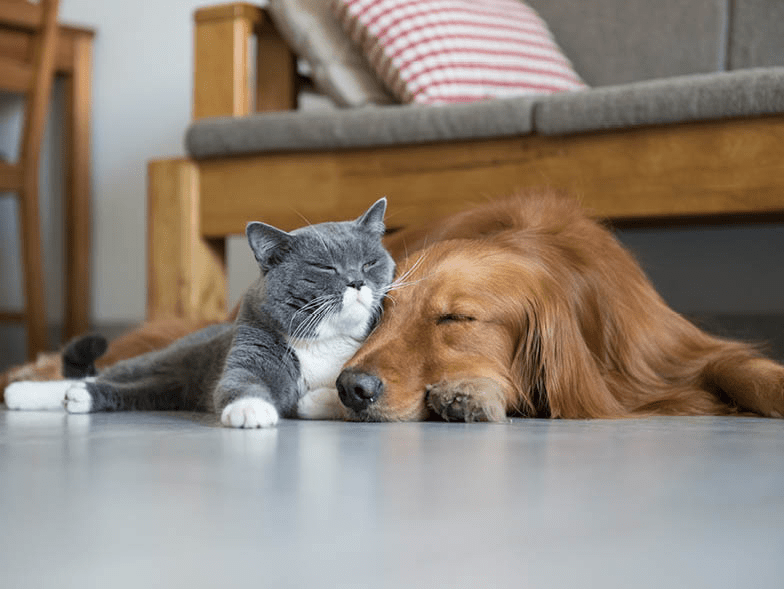 Just like ice-cream, but healthier. Source: Irresistible Pets
An apple a day keeps the veterinarian away! Have you heard this before? Of course, you don't. Because I just made it up. Apples are not only good for humans, but they are equally beneficial to dogs, being packed with fibre, vitamin A and vitamin C. 
This frozen apple dog treat is not only a healthy alternative, and it is a good choice to cool your dog down on a hot afternoon. Now how do we do this? You only need three ingredients:
Two apples

One cup of Greek nonfat plain yoghourt

Water
Slice the apples into small pieces after removing the seeds and the core. Mix them with yoghurt and a splash of water in your blender, then grind until it reaches a liquid consistency. Pour the mixture into an ice cube tray and freeze it. Done!

2/ Peanut Butter Cookie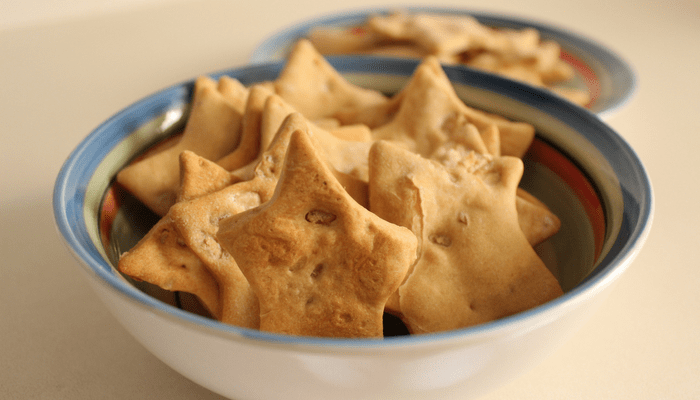 Pfftt, this isn't just for dogs. Source: PuppyLeaks
Unless you have a peanut allergy, you will find it tough to turn away from the creamy, nutty taste of peanut butter. The same goes for our dogs. As a bonus, the peanut butter dog treat is super easy to make, and boy does it give the kitchen an appetising smell.
 You only need four ingredients:
Two cups of  flour

Half cup of creamy peanut butter

Two eggs

60 ml of water
First, preheat the oven to 350° Fahrenheit. Thoroughly mix the flour, peanut butter and eggs in a large bowl, then add in a bit of water (1 tablespoon at a time) until the mixture turns into dough. 
Roll out the dough and cut out your favourite shapes with the cookie cutter. I love turning them into cute little gingerbread men! Done? Place the treats onto a baking sheet and bake them for about 15 minutes. Once the bottom starts to darken, you know it is ready to be served.
3/ Flea Prevention Dog Treats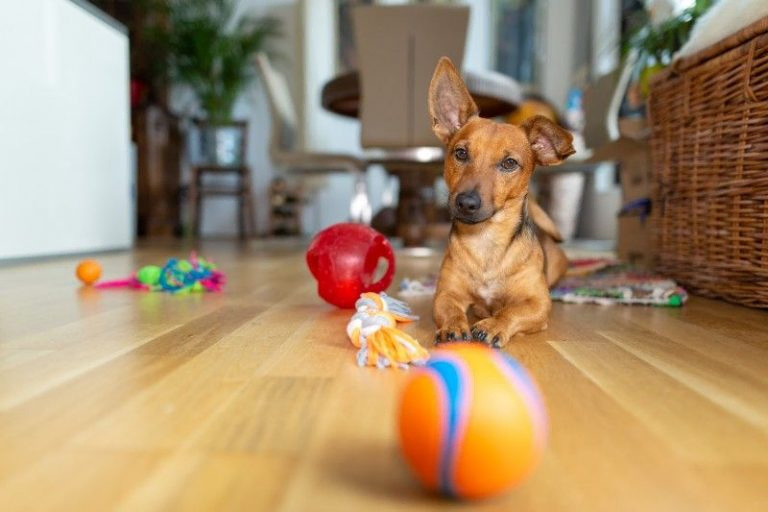 I wonder if this works for humans. Source: Health Starts In The Kitchen 
Talking about fleas, I can already feel the itchiness on my flesh. My cat once had a terrible flea infestation, and trust me…you don't want to know about it. Anyway, I stumbled upon a website called Health Starts In The Kitchen, and I have found several recipes that deal with fleas and itchy skin. That is good news because over-the-counter medications aren't cheap either. Enough talk, let's start baking!
You only need two ingredients:
Two tablespoons of melted coconut oil

Half cup of brewers yeast, slightly rounded
Combine coconut oil and brewers yeast, then blend them into a smooth consistency. You can either put them into a sauce squeeze bottle or a plastic condiment bottle that has a one-quarter inch opening. 
After that, fill them into a silicon mould and transfer them into a refrigerator to be frozen. Here is another piece of good news! You can store it in the refrigerator for up to six months! Give only one treat per day for dogs that are under 10 pounds.
4/ Diabetic Dog Treats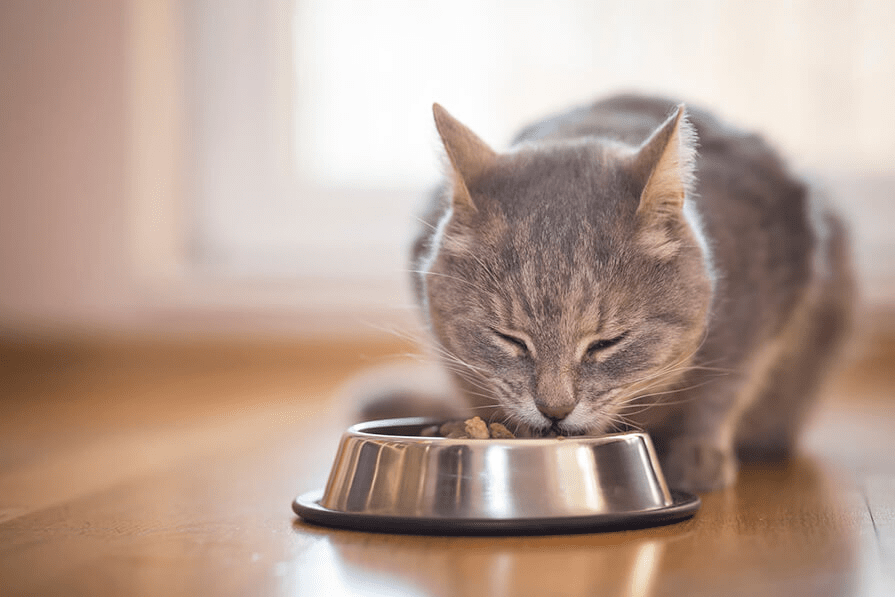 Dogs get diabetes? Source: allrecipes
It's wonderful to discover all these health-related recipes off the internet because I am totally into pet wellness. Allrecipes.com has even come up with a dog treat that helps with diabetes. This is so interesting, and I just can't wait to put on my apron and start baking. Get me the list because here goes nothing!
You only need these three ingredients:
Half cup of whole wheat flour

Two eggs

One and a half pounds of beef liver, cut into pieces
Firstly, preheat the oven to 350 degrees Fahrenheit. While waiting for it to heat up, you can line a 10×15 inch jelly roll pan with parchment paper. Good? Now place the liver into a food processor and grind it into a sticky constituency. If you still have room, add flour and eggs, then repeat the same process.
Otherwise, transfer the flour and eggs into a bowl and beat them using a wooden spoon. Spread the mixture evenly in the jelly roll pan and bake for 15 minutes in the oven or until the centre is firm. 
Here is my favourite part. Cool and cut the mix up into squares using a pizza cutter. Just a little quality check before serving. The constituency of your treat should be soft, like a sponge. But, no worries! I am sure your gud boi will love them either way. For a longer shelf life, store them in the refrigerator.
Just for the gud bois
Man's best friend has been dispensing unconditional love to us for a very long time. Perhaps we could show some love by dedicating our time towards making some treats for our gud bois. 
But remember, we reserve these very special treats only for the goodest of the gud bois. Has your doggy been a gud boi? I know they are. All dogs go to heaven, am I right?