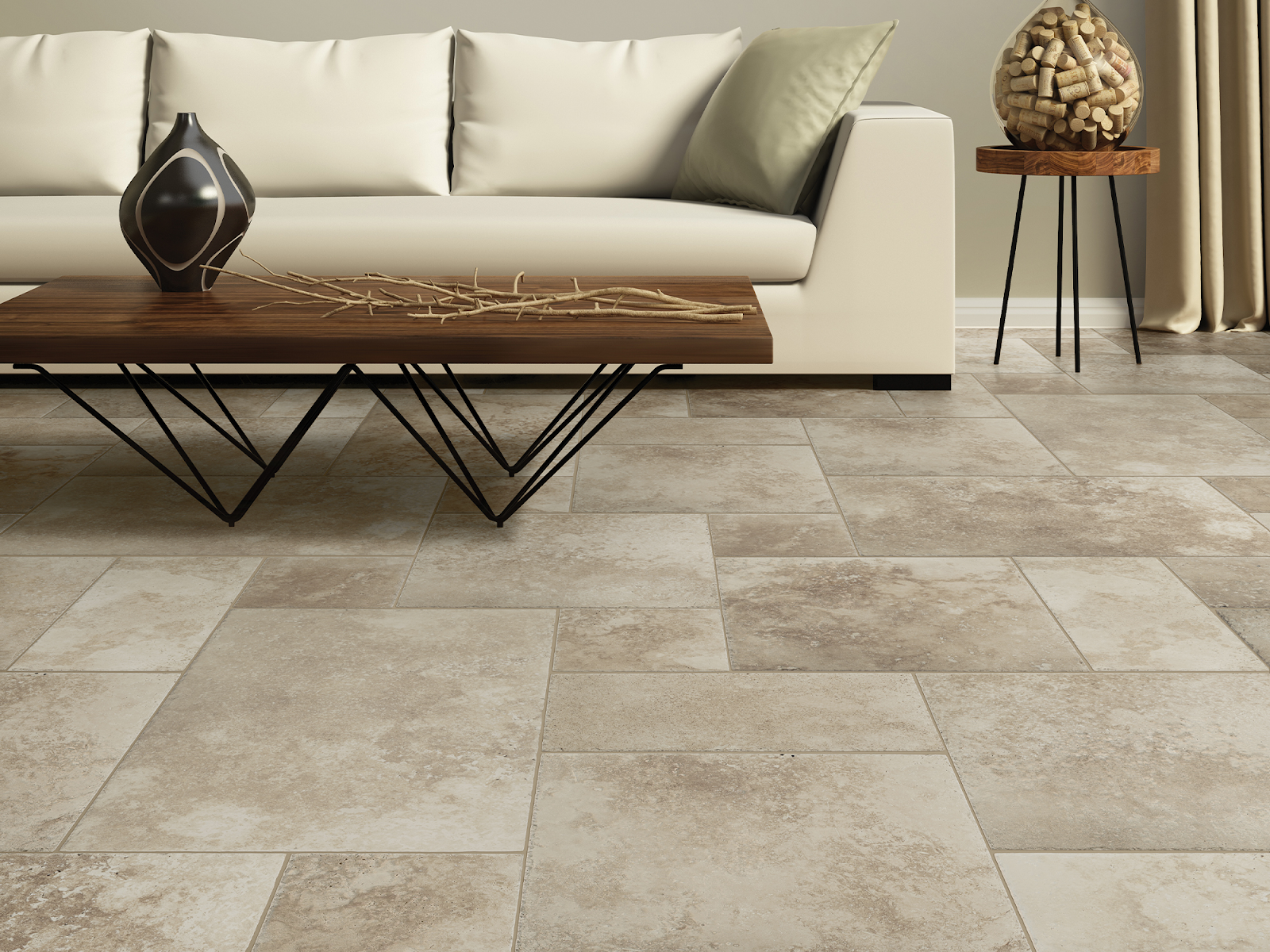 Add a luxurious feel to your home with this stunning tile—source: Interceramics. 
Have you heard?
Travertine is not only stylish and durable, but it will also add value to your home.
Not only that, they are extremely versatile and will compliment any style or spot in your home while adding an air of luxe!
Want to learn ways you can incorporate this gorgeous stone into your home? Read on! 
From Travertine tile's dreamy-sandy hues that exude an aura of warmth and visual calmness to its natural buffed matte finish that remains unmatched, it's no wonder it is taking the world by storm!
Travertine has been, in fact, used extensively by the Romans as a building material for their amphitheatres, temples, and bathhouses. Some might even call it a defining characteristic of Roman architecture, which begs the question; why is everyone talking about it now? 
The answer is not that far off. As we move towards an era of zen decorating where minimalism, calm-neutral colours and clean lines are the holy grail, there are a gazillion other reasons why this tile should be on the top of your list, but that would take forever. Here are a few important ones;
1/ Cost 
If the mere cost of this tile does not move you, nothing else will. Imagine this; you get the perfect tile for your perfect home at a perfect price without breaking the bank while achieving that upscale, elegant yet calm look you have always dreamt of. Sounds incredible, doesn't it?  
2/ Durability 
They might be lightweight, but do not let that trick you into believing Travertine tiles are anything but durable. Their non-slip qualities make them perfect for any bathroom plus because they are resistant to extreme temperatures making them suitable for thermal and acoustic insulation. Along with their stunning appearance, they are the true definition of versatility. 
3/ They cut easily 
If you're looking to cut or shape your tiles later in the future, this is your baby. They are very easy to cut through; they make the perfect tile to incorporate, especially if you have any small or oddly shaped spaces. You're welcome. 
So now you are probably thinking, how do we incorporate this gorgeous tile into our home? Don't worry. I got you; here is how:
A grand entrance for a grand home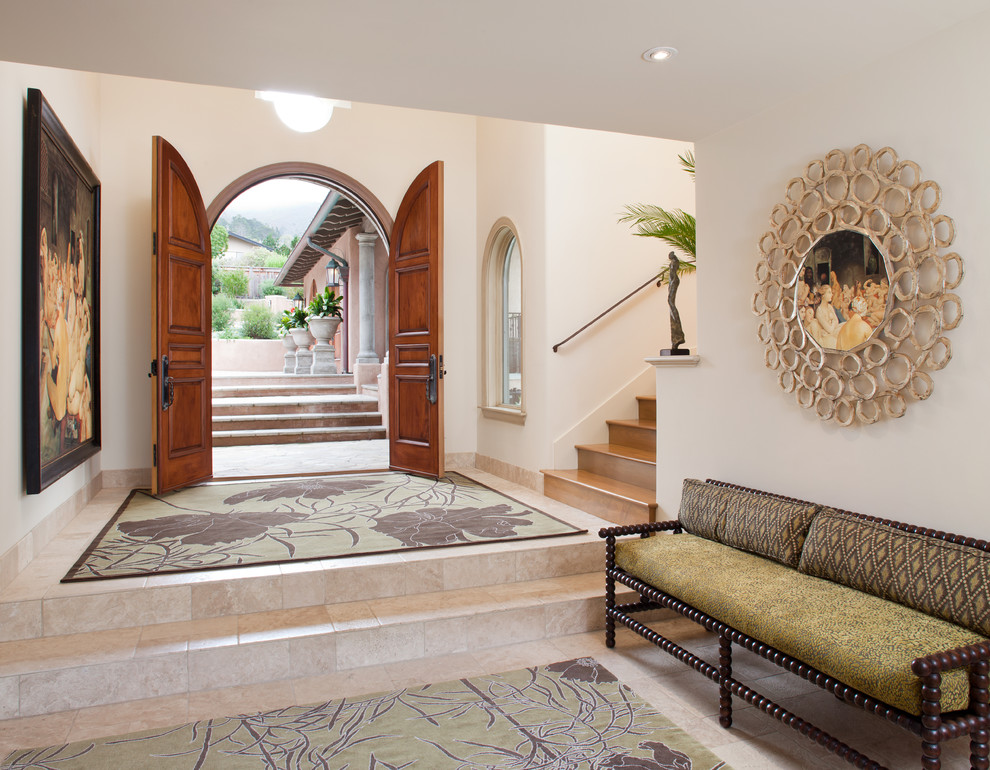 A beautiful Tuscan Travertine entryway. Source: Houzz.com.
Look no further than this tile to add a luxurious aesthetic to your grand foyer. Travertine, known for its uneven or chiselled qualities, looks phenomenal in traditional and modern settings, whether large pavers or Travertine mosaic tiles are used. Besides, there aren't many floor materials that can give your entryway a rustic yet sophisticated look. *wink*
Your bathroom could never!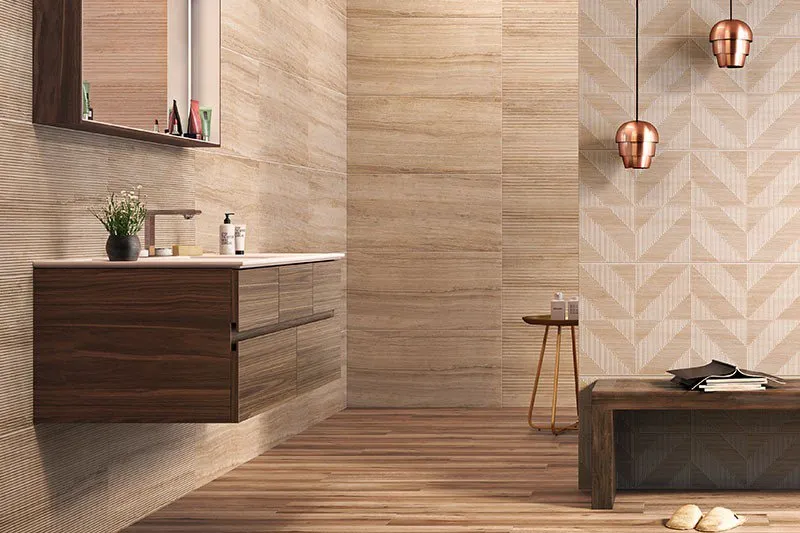 It is not only beautiful and easy to care for but is also a perfect bathroom tile—source: freshdesignblog.com.
You cannot spell Travertine without versatility in the same line, and what better place to explore its adaptability than in the bathroom? The options to choose from are limitless, from having Travertine mosaic tiles on your shower walls to custom tile work patterns. When set on a diagonal, this tile can create stunning diamond geometry, elevating any shower stall from ordinary to luxurious, especially when combined with its natural matte finish. Talk about absolute perfection!
Beauty that extends to the great outdoors!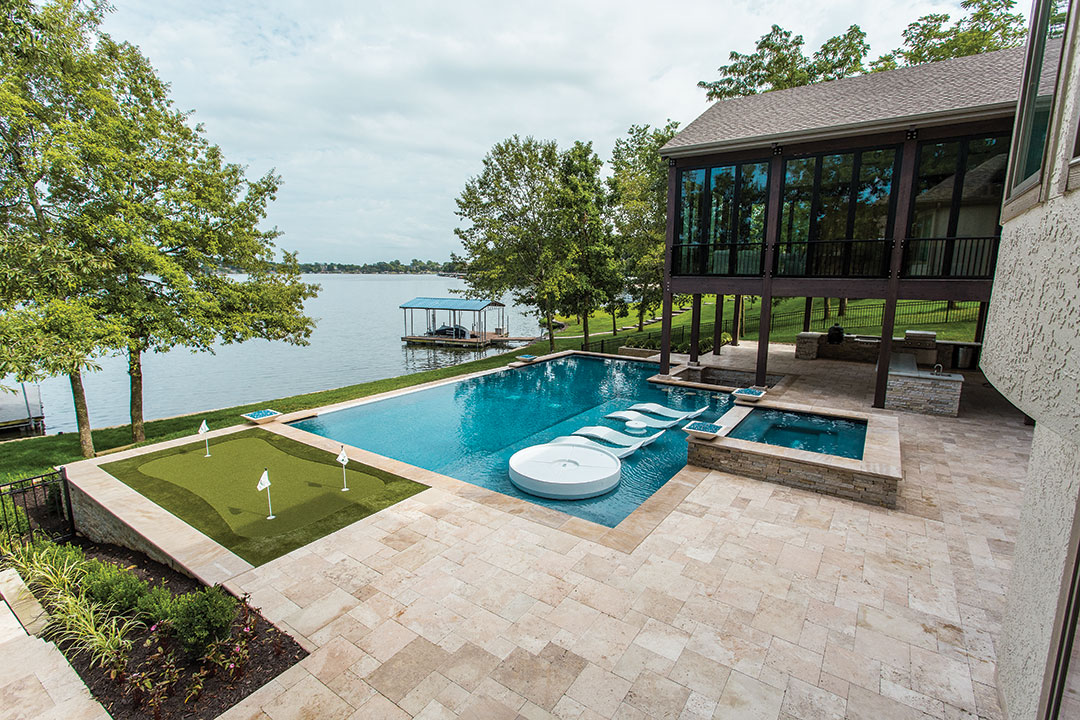 This tile is perfect for pool decks—source: swimmingpool.com.
Travertine can be used to enhance not only the interiors of your home but also the exterior. Whether you are looking for garden pathway stepping stones, making decorative knee walls, or using them for swimming pool decking, you will appreciate how versatile they are as a decorative or functional material. Like many other natural stones, it can retain its beauty through long summers, and since they have a timeless look, they also age gracefully over time. 
Add an air of luxe to your home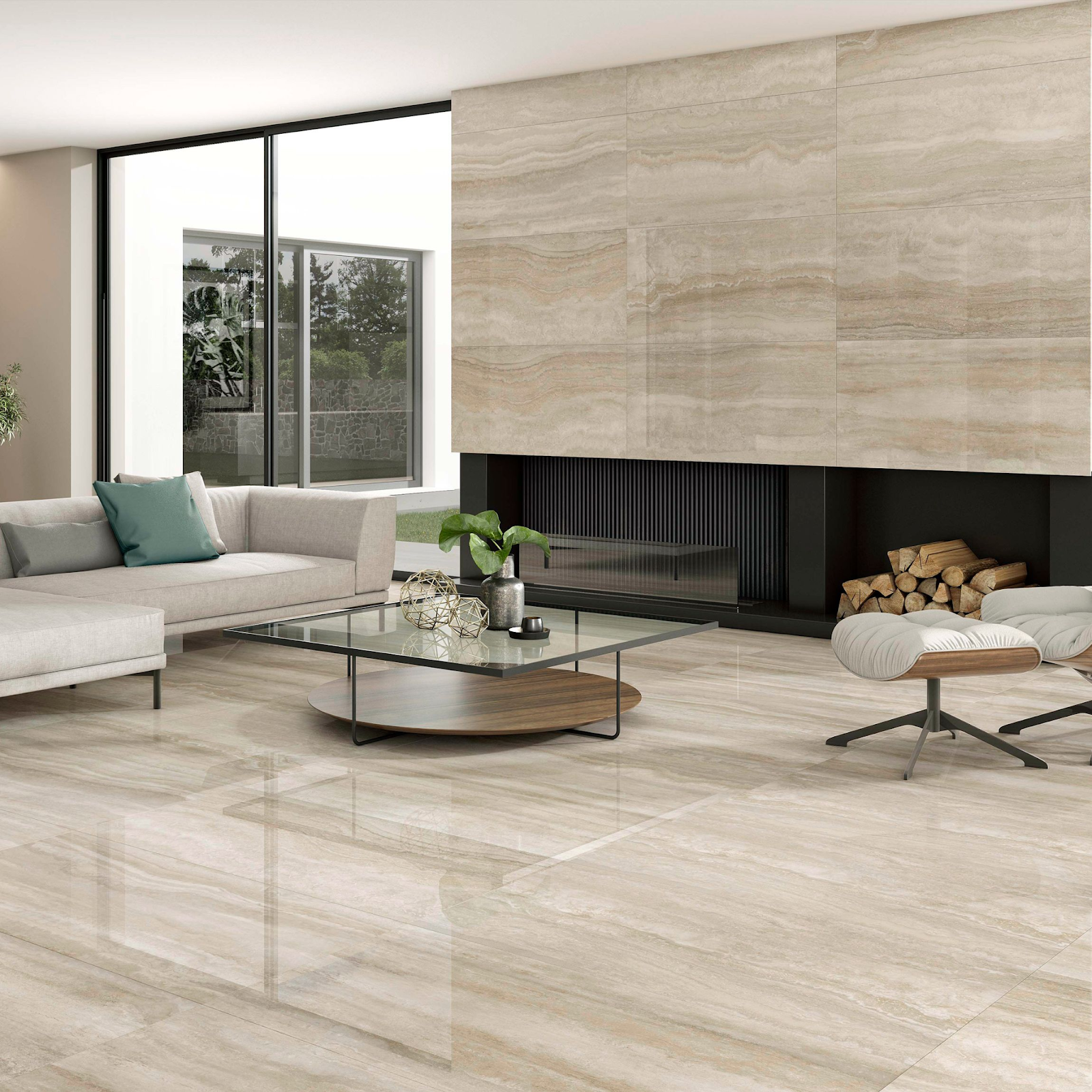 Polished Travertine will work wonders for your living room. Source: tilemountain.co.uk
If you are looking for that pizzazz and want to add a grandiose feeling to your home, polished Travertine is the Midas touch you have been seeking. Using large pavers with thin grout lines is one way to utilise the beauty of this wonderful stone, as it creates an illusion of a vast expanse of it that goes as far as the eye can see. To go for a more dramatic look, pairing dark and warm finishes to your interior and little pops of colour will instantly turn your home into a highly coveted space. 
Create an awe-inspiring kitchen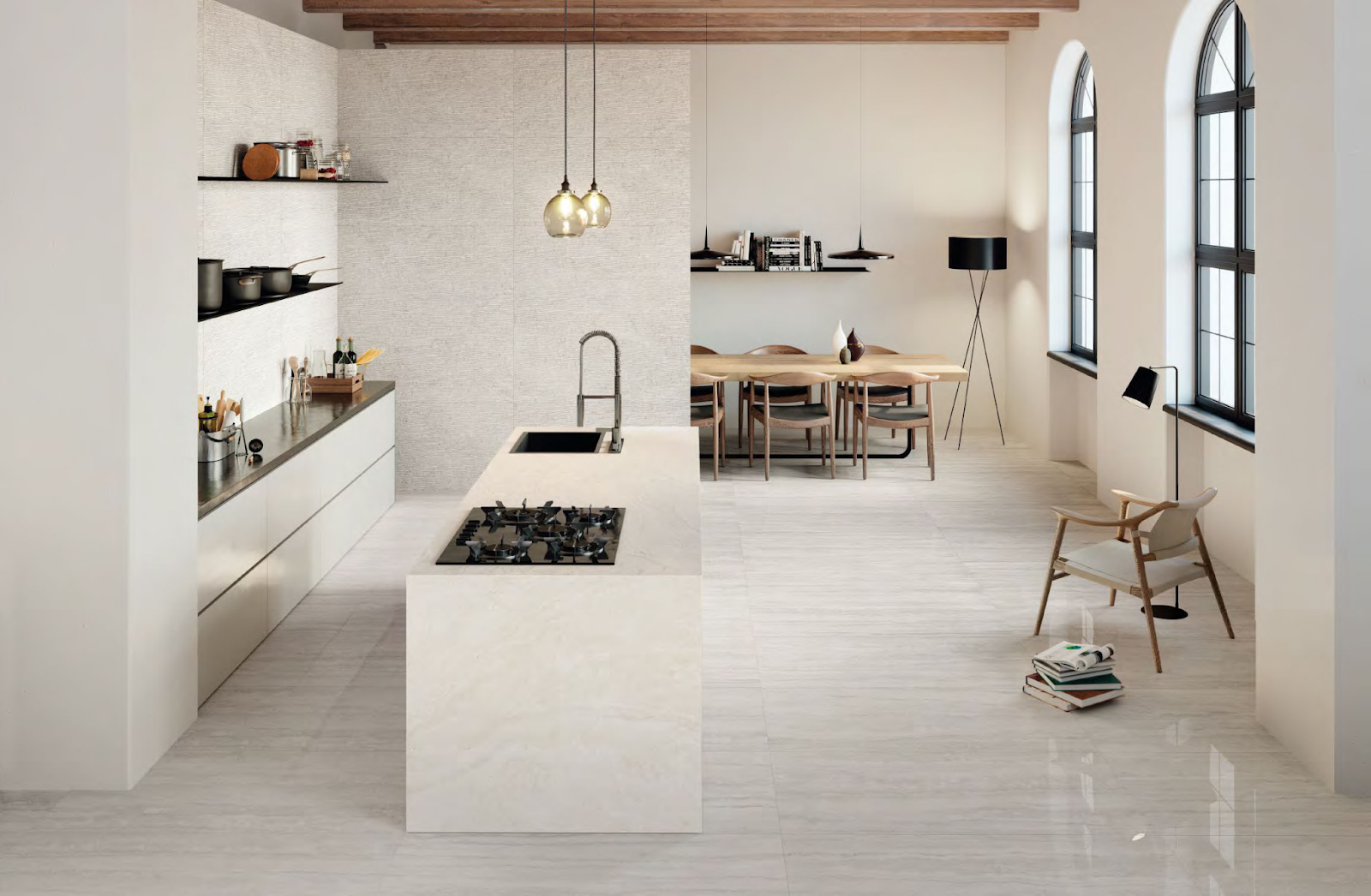 A serene elegance. Source: groovetiles.com
Your kitchen is the one room where you go above and beyond to show off the appliances and finishes, and with a Travertine backsplash, countertop and flooring, your kitchen will most be definitely the talk of the town. You can look into Travertine mosaics for your stove wall backsplash, and for custom details, consider hiring a Travertine tile artisan to recreate that one-of-a-kind look. Seriously, the possibilities are endless when working with this astonishing stone! 
Travertine to the world!
Hey reader! We would love to know your thoughts and views on this beautiful tile and how you have used it in your home. Let us know in the comment section below!
Looking for more related article? Check them out here: