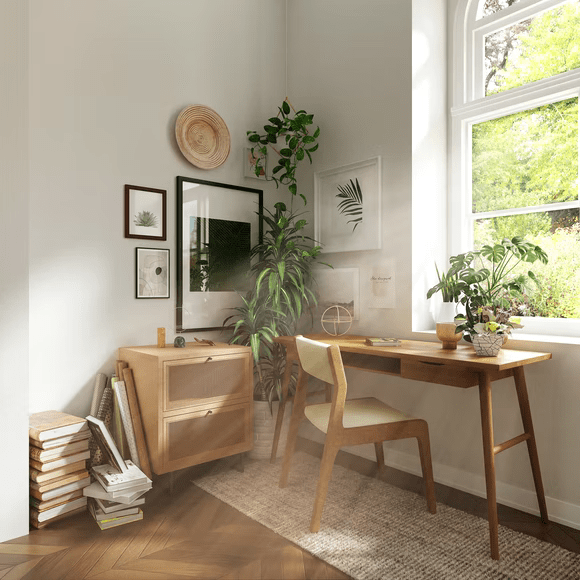 Zen – a feeling of peace, oneness, and enlightenment. Source: Spacejoy
Go with natural and light decorations
Choose minimalist furniture
Pop in some soothing scents
As we grow up, we might find ourselves spending our time lying in bed rather than socialising during our weekends, and that's perfectly fine! We human beings have moments where we need to recharge ourselves and have a thorough rest, which is why creating a Zen space becomes vital.
Listen, folks, having more sleep time is not enough to have a good rest! You should find your inner peace and cultivate a calm mind in order to rest completely. Creating a Zen space is more than having aesthetically pleasing decorations or how big the space is. You should find yourself slowing down with a peaceful feeling in mind despite the hustles of life. If you're ready and excited to create a space with zen, hop on the train as I will show you the tricks to do so.
1/ Go with natural and light decorations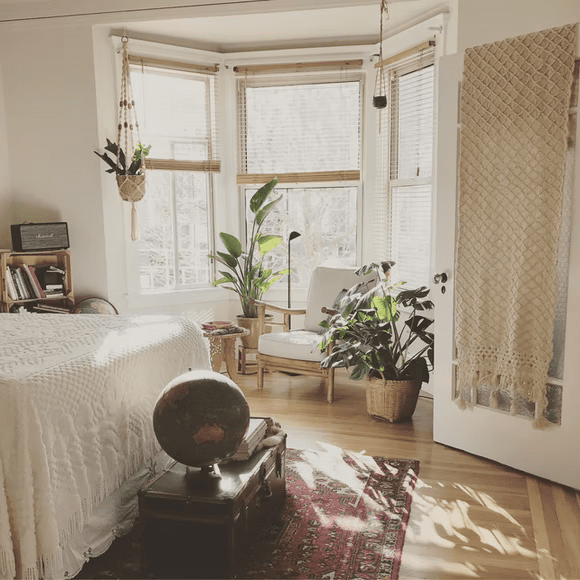 Happiness is the place where zen lives. Source: @rachlvalente
One of the essential tricks to creating a zen space is to go with simplified elements for your decorations. To capture that traditional zen aesthetics, you may stick with neutral and earthy colours such as beige and brown for the decors. 
As for me, throw pillows with brown covers for the beige bed instantly creates that relaxing vibe for my room. If you're someone who leans towards a modern contemporary style, then great! 
A pop of black and white scheme for your decorations could create a combination of contemporary zen styles. While you can keep it bold with natural textures like stone and bamboo, do remind yourself that less is more in a zen aesthetic.
2/ Choose minimalist furniture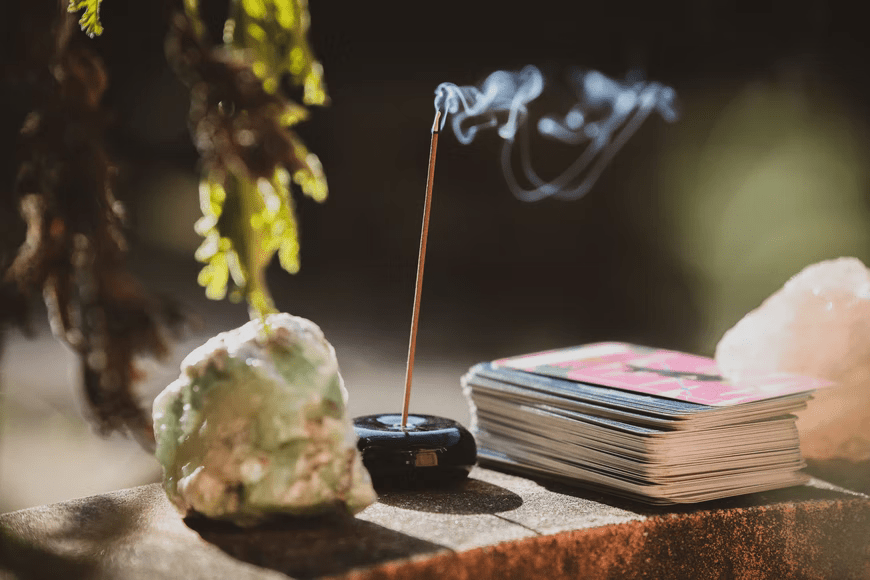 Simplicity is the ultimate sophistication. Source: That.minimalhome
I mean, zen is all about incorporating simple and easy lifestyles right? It's not just the concept of minimalism. A zen space should look beyond materialism and create a decluttered environment for ourselves. With fewer elements in your bedroom, you would be more mindful of yourself, which gives you a mental pause from life.
Pick chairs and tables with simple and sleek designs. Even when we mentioned simple, it also has to appeal to our preference as well as look good in the living space. For the zen vibe, you can never go wrong with wood elements and neutral colours with simplistic designs. I would add a warm table lamp to keep it cosy and calm for my knitting corner for that final touch. 
3/ Add in greeneries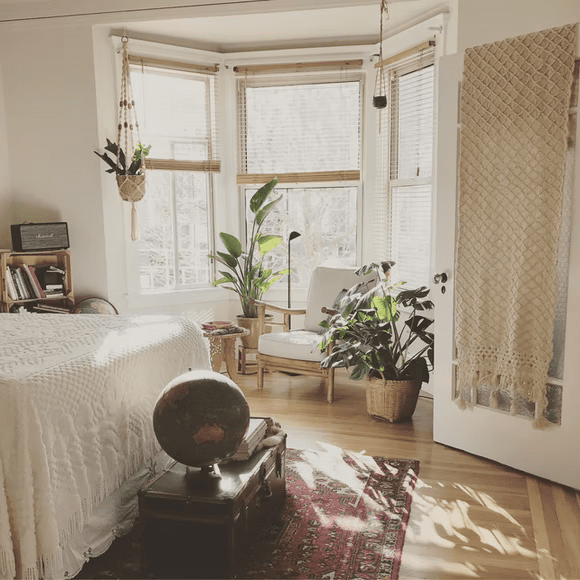 Greens are the best friend of zen! Source: Timothy Buck
Little did you know, plants are more than just decorations since it aids in stress reduction too! Greens such as snake plant is the perfect bedroom plant as it is easy to care for, and only needs indirect sunlight and little water.
Just suitable for new plant parents like me! Think about it. Not only does it produce quality air in your home, having that pop of green in your room is also therapeutic, isn't it? To create a zen space, it is also essential to have a good quality of sleep and a peaceful state of mind. People with insomnia should have a chamomile plant nearby to induce sleep and reduce anxiety.
Not unlike the snake plant, it doesn't require frequent watering and only moderate to low sunlight. With such benefits, my love for greens definitely grew a little more as I'm writing this article.
4/ Pop in soothing scents for zen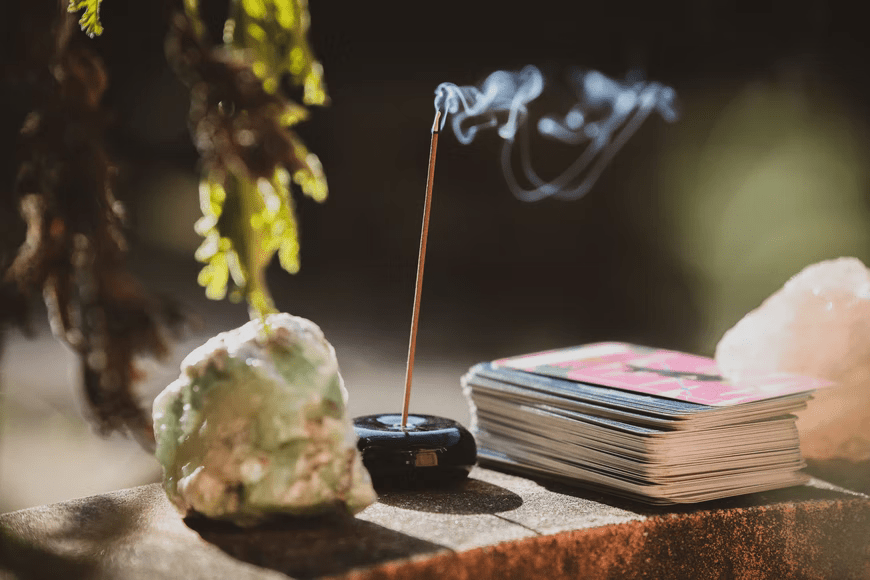 Use the power of smell to reach deep into yourself. Source: Caroline Attwood
Among our five senses, the sense of smell has the ability to influence our emotions and with it, our ability to connect to a space. Some may utilise essential oils, diffusers and candles to find calmness and relaxation in their space. 
Personally, candles are my top favourite as the flickering, and soft dim lights give me the sense of being healed, especially when I am feeling anxious. Among the scents, the Lavender candle is my go-to as it can soothe my racing thoughts and unwind me.
The delicate and floral smell would instantly calm me down while supercharging the room to create that zen space I so treasure. If you're looking for something woody and smoky, a vetiver scent that smells like uncut grass on a warm day might be good for you! 
Its musky and heavier scent can be found in candles, and it also has a calming effect that promotes mental clarity. As for me, switching between scents adds novelty while bringing peace and zen to my cosy space.
Focus on yourself to discover than inner zen
Regardless of all the techniques we discussed, the key point of creating zen in our lifestyle is by cultivating a peaceful mind. Couple that with a zen-inspired decor and the accompanying features we described, and you will find a sense of tranquillity unlike any other. And what about you? What way do you think is best to effectively create a zen room? Let us know in the comment session below.
Looking for more related article? Check them out here: