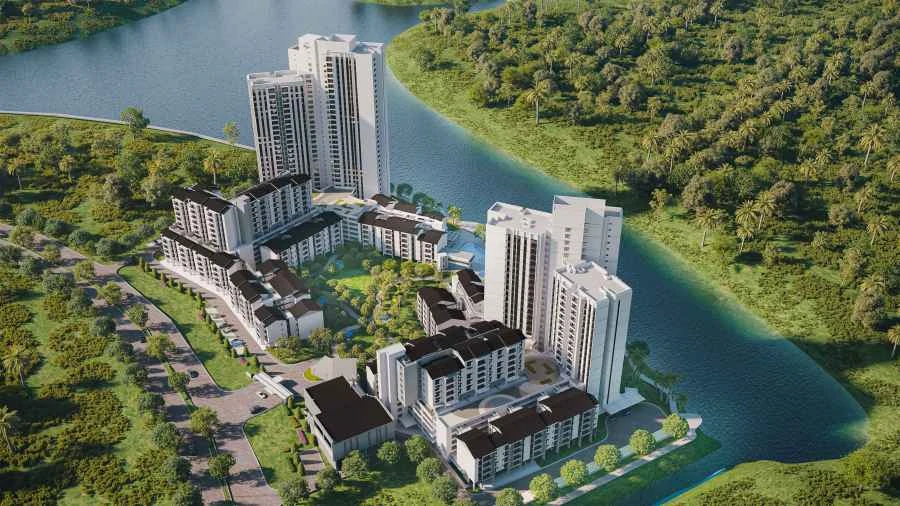 An artist's impression of Myra Cove.
This article was originally published on the New Straits Time.
Cyberjaya, which is located in Sepang, Selangor, and will be revitalised as part of Cyberview Sdn Bhd's new master plan for the smart city, is expected to grow in popularity. Cyberview will concentrate on the creation of technological clusters within the Cyberjaya ecosystem. The master plan also includes initiatives to attract more investments, as well as to drive R&D and commercialisation in Cyberjaya.
As a result, the introduction of Myra Cove by boutique developer Myra to this aspect is timely. Myra Cove is aimed at young couples who want to live in a central location while enjoying affordable options compared to Putrajaya's neighbouring vicinity. Cyberjaya was established in 1997 primarily to house multinational corporations and data centres. Many advantages, such as connectivity, tourist attractions, prime location, and urban amenities, have contributed to the town's steady rise in residential and commercial development. According to Wendy Lim, general manager of Myra, the current property market is either heavily skewed towards the wealthy and expats with luxury homes or caters to the investor market with small-sized residential units.
"Our goal with Myra Cove is to build spacious and generational homes for families to grow into," she said. The project spans 11 acres of freehold land and includes a mix of high- and low-rise condominiums. It has units ranging in size from 872 square feet to 2,067 square feet and 14 distinct floor plans designed to meet the needs of various lifestyles. Lim said that the company is launching phase 1 of the project, with a gross development value (GDV) of RM180 million.
According to her, phase 1 or Tower A will have 279 units spread across 24 levels, divided into four distinct blocks, A1 through A4. The phase 1 units are designed to appeal to three distinct homebuyers. Smaller units (800+ sq ft) are intended for students, expats, and single professionals, while larger units (1,200+ sq ft) are intended for first-time homebuyers, couples, and government employees. The larger units (1,500+ square feet) are designed for multigenerational and upper-middle-class families. According to Lim, each unit has three bedrooms, two bathrooms, and two parking spaces. "Rather than following the herd, Myra believes in going against the grain to make homeownership a stress-free experience, especially for first-time homebuyers who have already faced several challenges in the past year.
"We want to build a close-knit community where every homebuyer can enjoy affordability and practicality in a simple yet vital space called home," she said. Lim said that as the reality of living with the pandemic sets in, more Malaysians recognise the value of having adequate space for indoor and outdoor recreational activities. She said that Myra Cove is an ideal investment for homeowners seeking a balance between urban and nature because 48 per cent of Cyberjaya's total land is reserved for public amenities and greenery for residents to promote wellness and sustainability.
According to Lim, the project prioritises sustainable design in its landscapes by balancing functionality, texture, colour, light, and shadows, focusing on the connection between nature and people. Residents have access to a gym overlooking the lake and pool, an indoor basketball/futsal court, an indoor badminton court, and a co-working space, as well as an infinity swimming pool, a BBQ area, a sun deck, and lounges. Lim said that residents could also enjoy communal activities in the multi-purpose function room and dining area.
"Covid-19 will never truly be out of everyone's lives, and the need to have a home is even greater as it has proven to be a sanctuary for many during the past year. With Myra Cove, we hope to provide numerous layouts that are seamlessly adaptable to the needs and wants of every family," Lim said. Residents will also benefit from the existing infrastructure that has helped transform Cyberjaya into a resident-friendly town over the years. The ELITE Highway, SKVE Highway, MEX Highway, and Putrajaya-Cyberjaya Expressway also provide access to the development. Residents can easily travel by public transportation using the LRT Kelana Jaya, LRT Putra Height Ampang & Sentul Timur, Putrajaya Sentral, KLIA Transit Line, and the soon-to-be-built MRT 2.