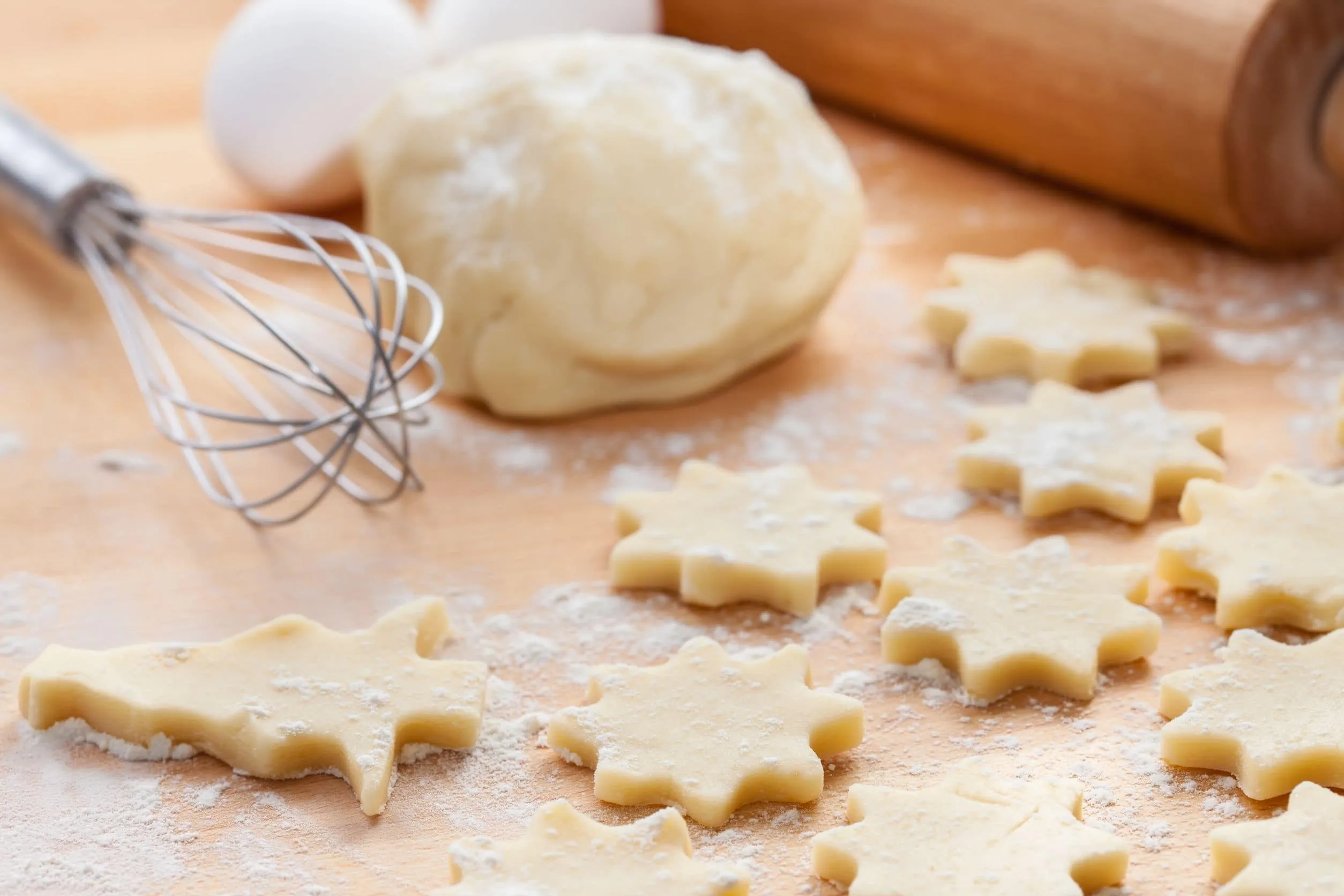 The oftenly bought cookies can be made by yourself too! Photo source: Kuali
3 hassle-free kuih raya recipes to try this Eid
Throw together a few simple ingredients for some kuih raya treats!
As a child growing up in Malaysia, Hari Raya was the most exciting time of the year for me. I remember feeling giddy with anticipation as the month of Ramadan came to a close and the day of Eid drew nearer. It wasn't just about the religious significance of the occasion – although that was important too – but it was the prospect of seeing my family, eating delicious food, and making memories that would last a lifetime. 
For me, Hari Raya was a time of huge reunion with family and friends. I remember being surrounded by so many people, all of whom I loved and cherished. We would gather together in our kampung, which was always bustling with activity. Everyone would be busy with gotong-royong, a communal effort to prepare for the festivities ahead. 
One of my fondest memories from this time was making kuih raya with my mom. She would dedicate one whole day to baking all sorts of delicious treats, and I would help her every step of the way. Of course, the recipes we made together were far more complicated than the ones I'm sharing with you now, but it's these memories that I hold dear. It wasn't just about the end result – it was the intimate moment I got to spend with my mom and siblings. 
So, as you spend these last few days of Ramadan with your loved ones, I urge you to take the time to create your own special memories. Call for the young ones to help you make some kuih raya, and savour the moment. Here are some easy and timely kuih raya recipes you can make for your family this Syawal. Trust me, it'll be a tradition that you'll look forward to every year!
1/ Biskut Suji by @moeirajohnson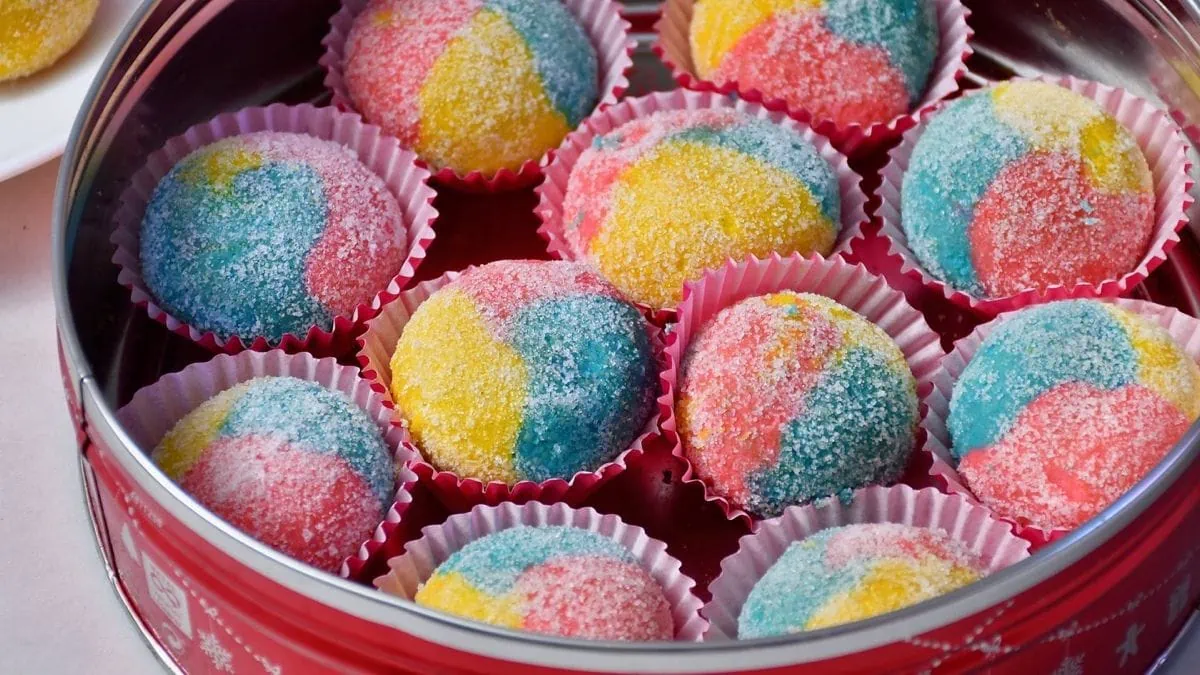 The colourful biskut suji. Oh! So pretty. Photo source: Pinterest
Unlike the funky look of this cookie, biskut suji is actually one of the easiest kuih raya to make. With only three ingredients to whip up, the cookies shall be done in no time!
You'll only need: 
Ghee 250g

Caster sugar 250g

Wheat flour 500g
Looking at the list, how complicated would the process be? It's almost hassle-free!
First things first, you will need to mix the ingredients altogether. Once thoroughly combined, the dough should be separated into sections so they can be dyed (any colours of your choice).  This part is actually optional. You can skip this step if you want to have the original (plain) version.
Once you're done with that, there is nothing much left to do. You just need to roll the dough into small balls and bake! Or should I say fry? Because you can just put them in the air-fryer ,and voila!
Your biskut suji is ready to be served, coated with sugar.
For a tutorial, check out this video!
2/ Almond cluster @amiowmiow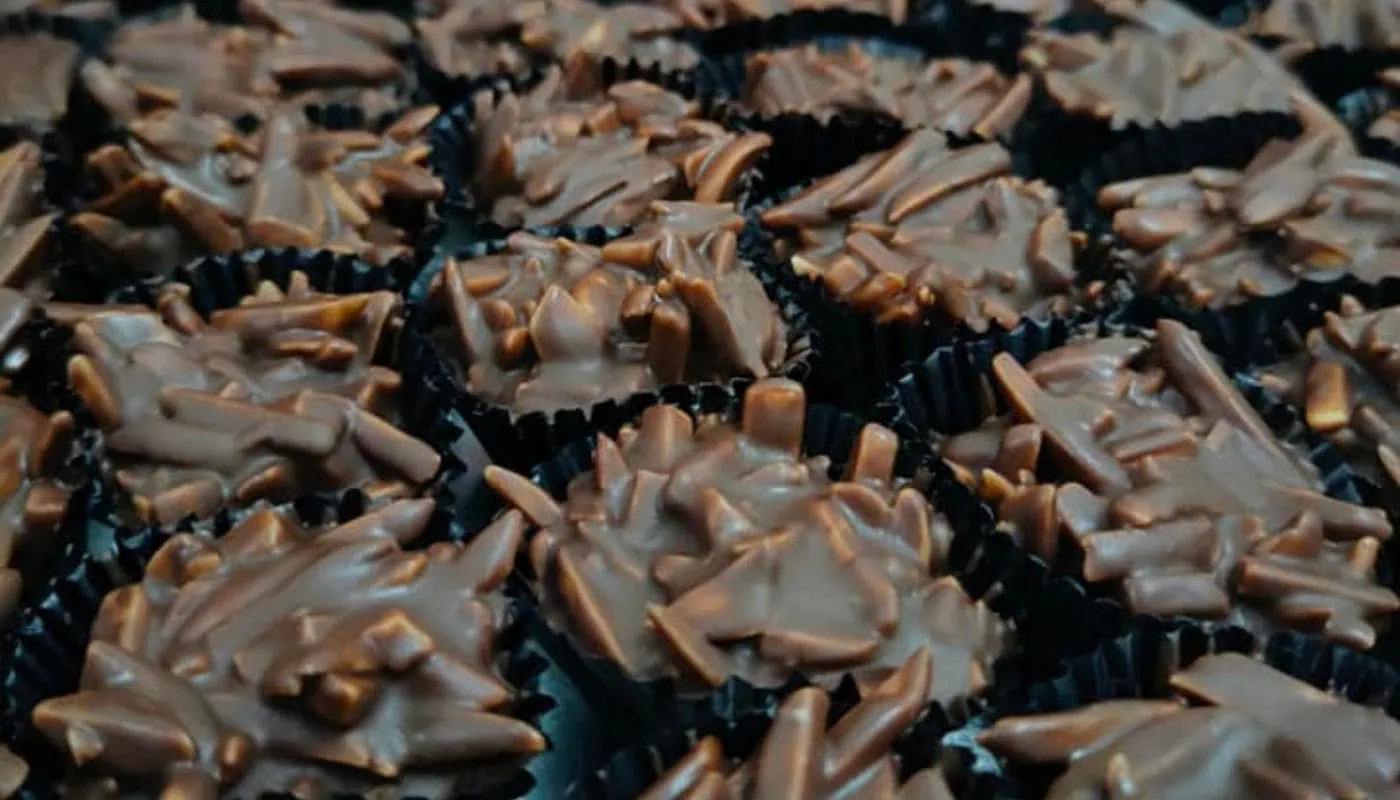 If it's chocolate, nothing could go wrong. Photo source: RASA
If you think the ingredients couldn't get any less, wait till you see this list.
Ingredients:
Almond (250 g)

Chocolate of any kind (300 g)
Yes! That's all! However, the process is slightly intricate to me since the chocolates need to be melted using the double-boiling method. 
Start by roasting some almonds and melting the chocolate. Once everything is ready, fold the almond into the melted chocolate. The kuih is basically done at this point. The only step left is setting them into bite-sized pieces and leaving them to harden in the fridge. 
Here's a video of how it's made!
@amiowmiow

Kuih raya paling senang guys, 2 bahan je🤍
3/ Biskut Florentine by @murniwanis
Brittle and crunchy all the way! Photo source: Jaja Bakes
This cookie requires a little bit more ingredients than the rest. But fret not! The recipe is just as easy to follow.
Here's what you need:
Florentine powder (500 g)

Almond flake (250 g)

Pumpkin seed (250 g)

Sunflower seed (250 g)

Black sesame seed (100 g)
Firstly, combine all the ingredients together and put about one teaspoon of the mixture into small cups. Make sure to arrange the cups on a baking tray and bake them at 160°C. After 15 minutes, there you have it. Golden brown crunchy bites ready to be enjoyed with your favourite chocolate sauce or just as it is! 
Watch this video and see how easy it is to make these!
A Moment to Cherish
Now, as an adult, I still look forward to Hari Raya every year. And while I may not have as much time as my mom did to spend on preparations, I still try to carry on the tradition of making kuih raya. These simple and easy recipes are perfect for me, and I love inviting my friends and family over for a cookie-baking session. It's a treasured experience that I hope to pass on to my own children someday.
Click the link below for more awe-inspiring content!